CT to FL Day 5
Chesapeake City, MD to Solomons, MD

The entrance to basin in Chesapeake City was dredged a few years ago but it has once again shoaled in...alongside the docks we had 6 feet at low tide but when we arrived at high tide the depths were about 7 feet... 3 foot tide meant at low tide we were not leaving the basin with plowing through what I am sure is mud bottom... so, we needed to leave early before low tide and with a favorable current exiting the C&D Canal.
Slack tide before the ebb was at 0219... max ebb at 0402.... slack at 0628... low tide at 0651... optimum departure time would of been 0219 or shortly afterwards... NOT HAPPENING! Set the alarm for max ebb at 0400... but we snoozed the alarm for 30 minutes and did get up until 0430...


We tossed the dock lines at 0530... about mid tide and still had favorable current for exiting the C&D Canal. It was a chilly morning... 28 degrees when we left the dock... BRRRRRR!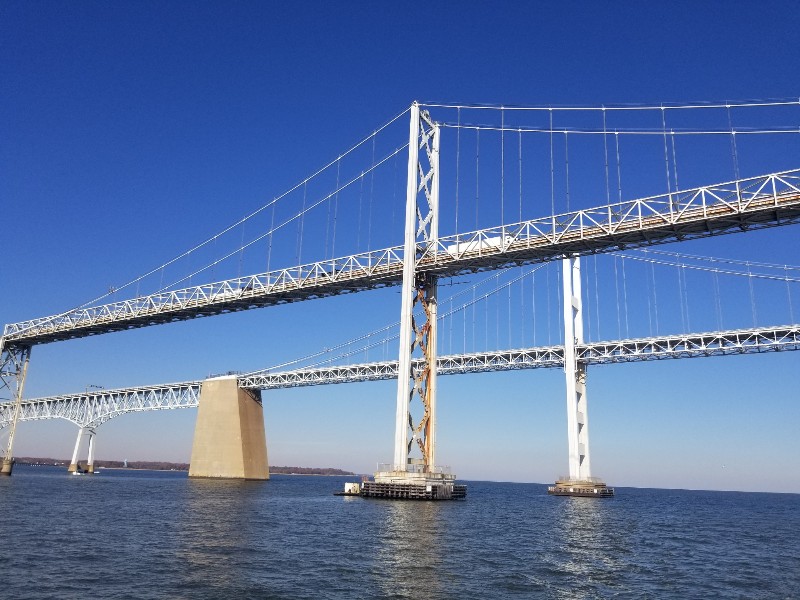 We had the favorable current until well below the Chesapeake Bay Bridge... but nothing horrible against us... slowest I saw was 6.1 knots.

Today's destination initially was Herrington Harbor South and we made a reservation for there... tricky part today was planning where we wanted to be on Thursday for Thanksgiving... Friday for my birthday and we also had some weather coming on Friday... Gale Force Winds Warning... after several phone calls... we changed plans to go to Calvert's Marina in Solomons, MD... This meant a longer day than we wanted but fit our needs for the next 3-4 days. We canceled our reservation at Herrington Harbor and made new reservations for Calvert's Marina... ETA around 1830... it will be dark but much better than the last two days of cruising arriving at midnight.

We arrived to Calvert's Marina at approximately 1820 and were securely docked with power on at 1830. Our position tonight is N38°19.928', W076°27.435'. We traveled today for 13 hours covering 88.62 nautical miles averaging 6.8 knots.


Posted at 6:46 PM


CT to FL Day 3 and Day 4
Layover Chesapeake City, MD

After running for 34 hours in the last 48 hours we opted to take a couple of days off and stay put in Chesapeake City... we were tired... and we had friends coming on Tuesday to visit from the Baltimore area... Cathy and Jim Fisher.

We'll head back out again on Wednesday weather permitting.


Posted at 9:00 AM


CT to FL Day 2
Atlantic City, NJ to Chesapeake City, MD

We left Atlantic City, NJ at 0730... Seas were relatively calm with an easterly swells about 2 to 3 feet.... destination planned for today... Cape May, NJ.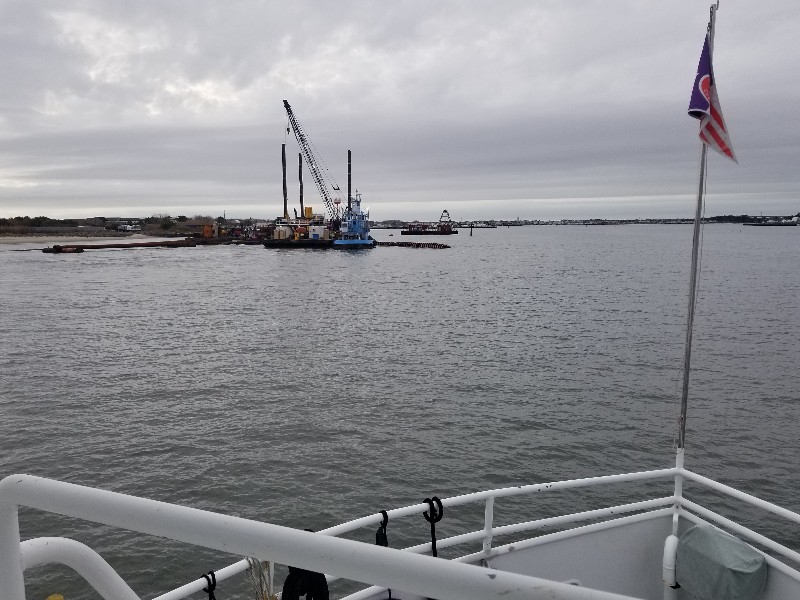 At approximately 1230 we arrived to Cape May and making plans to anchor near the Coast Guard Station... When we arrived to the anchorage area we found it filled with barges, tugs and dredge pipe... there was a small section open but feared it would be too close to the Coast Guard Station... plan B... Stop at a marina.
Well not a lot of options for marinas that we like the dockage rate... Found one that was reasonable at $1.50 per foot... Miss Chris Marina... taking to them to see if they had a slip we would fit in and they told us they could accommodate us but that we would be sitting in the mud at low tide... but no worries it was soft mud... We passed on that marina....


Back to plan A anchoring... Checked the weather for the night and next day... discovered that the wind was going to pick up out of the NW late night and blow 25-30 kts on Monday... that speed and direction would of made the trip from Cape May up the Delaware Bay to Chesapeake City horrible... 20 to 30 knots would of put the waved directly on our bow and we have done Delaware Bay with those conditions... it SUCKED... we decided to go to plan C...

Plan C was to continue on to Chesapeake City today... the Delaware Bay would be calm with less than 1 foot seas... the downside was the tide/current was not in our favor... we would have the current against us the entire trip... but we decided that slow and clam would be better that windy and fast... plus it would of been opposing wind and current... that idea of that made plan C a go... we continued on... destination Chesapeake City.

The current against us was strong... we were only able to make 5 to 6 knots... made our eta around midnight...

We ran across the flats rather than the ship channel to get a little less current... the flats can be riddled with crap pots and would be tough in the dark to see them... luck seemed to be with us... we did not see a single crap pot... that is until the sun set and the pots came out... tried to see them as best we could but after a couple of close calls and almost hitting a crap pot or two... we made a 90 degree turn to port and headed to the ship channel.

Once in the ship channel we would be free of crap pots but we slowed down a lot... making 4.5 to 5.5 knots... we would get a reprieve from the current as it was approaching slack and slowing down... we slowly saw our speed creep up and by the time we made it to Reedy Point we were almost back to normal cruising speed making 7 knots... then we turned in the C&D Canal... it was like the brakes being applied... back to just under 5 knots...

We chugged along for another 2 plus hours and made to Chesapeake City, MD at approximately 2330 and were securely docked at the city docks 2345. Our location for night N39°31.626', W075°48.668'. We traveled today for 16 hours and 15 minutes covering 100.2 nautical miles averaging 6.2 knots.


Posted at 12:08 AM