CT to FL Day 21
Port Royal, SC to Kilkenny Creek, GA

Last night we stopped at the Dockside Restaurant in Port Royal, SC. We had an awesome dinner... Susan had Potato Crusted Grouper and I had the special which was a Cajun Grouper and Shrimp over a Grits Cake and Cajun sauce... both were fantastic! I highly recommend this restaurant.
When we arrived there were signs... "No Overnight Dockage" but we spent the night... dropped a hundred bucks in the restaurant... damn if we were not getting to stay overnight on their docks. No problems and we had a very nice evening.
We departed at 0715 and headed down Port Royal sound with a boost of speed from the current... 9 knots plus at times... of course we had the tropical stretches that we slowed down but not that much today... saw the speed over 7 knots most of the day.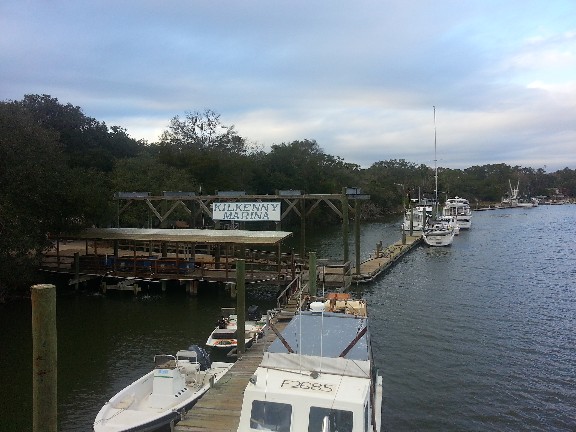 Destination for the night was Kilkenny Creek Marina in Georgia... WOW! we got into Georgia today... one more day and we'll be back in Florida... YAY!
We arrived to Kilkenny at 1600 and were met by two of the nicest men to help us dock. Our approximate location is N3147.314', W08112.155'. We traveled today for 8.75 hours covering 65 nautical miles averaging 7.4 knots.


Posted at 4:48 PM


CT to FL Day 20
Charleston, SC to Port Royal, SC

We departed from St. Johns yacht harbor at 0730 this morning and began our trek south...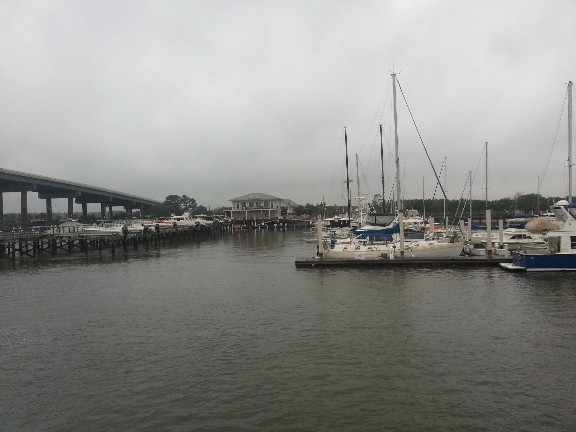 destination tonight planned for Beaufort, SC. We had another day of "yo-yo" currents and a lot of wind... saw gusts over 30 knots today. The wind was not a big issue since we were inland on the ICW... the only place that any waves had enough space to fetch up into anything significant size was on the Coosaw River just before Beaufort. We saw some 2-3 foot waves on that leg of the trip.
Other weather... RAIN and more RAIN... but north of us it was SNOW so can't really complain about it... just thankful we got far enough south to miss the SNOW. A few times the sun did try to shine but only for a few minutes.
We did cross paths again with the trawler we traveled with yesterday... not sure of the boat name spelling but it sounds like... "DORCAS ANN"... believe it is a 43 foot Albin. Very nice people aboard... they were ahead of us all day and we would see them from time to time in long straight stretches. We did talk on the VHF a couple of times... they stopped at Port Royal Landing Marina in Beaufort... we continued on for a couple more miles to Battery Creek.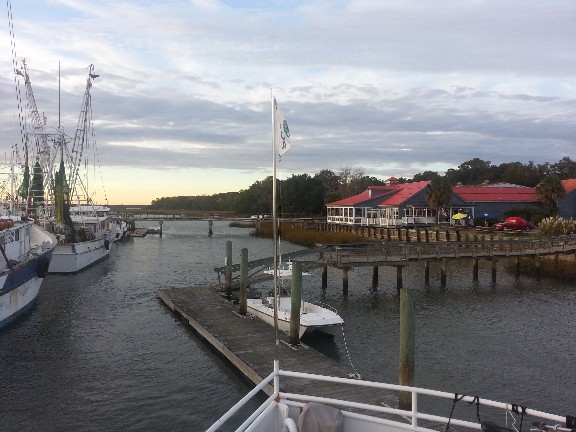 We wanted to try a new spot... possible FREE dock at a restaurant... Dockside Restaurant in Port Royal on Battery Creek. We called them and said we could come to their dock with "SAILS" but after arriving we are wondering about the overnight dockage as there are signs stating "NO Overnight Dockage"... It's a seafood restaurant and from the reviews we read it should be pretty good.... we'll see.
We were securely docked at 1645 at N32°22.525', W080°41.775'. We traveled for 9.25 hours covering 61 nautical miles averaging 6.6 knots.


Posted at 5:19 PM


CT to FL Day 19
McClellanville, SC to Charleston, SC

We awoke this morning at 0530 for an early departure planning to go Beaufort, SC but found it to be very very foggy... could barely see the bow of the SAILS from the pilothouse windows. I already knew it was going to be dead low tide and could of dealt with the shallow water but this fog was something else. I went back to bed and set my alarm for 0630... sunrise was at 0700.
Alarm went off as set at 0630... I got up and checked to see if the fog seemed any better with the sun coming up very soon... I think it was actually worse than earlier. Dead low tide... pea soup think fog... we're not leaving today I thought to myself.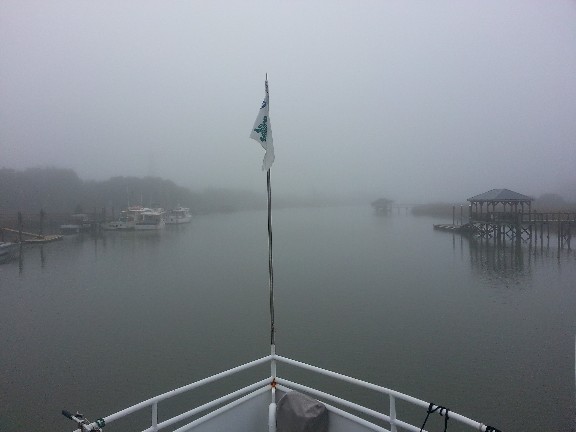 Checking the weather the forecast was for the fog to disappear around 1000 so we waited... waiting would also help with the tide... we had a good breakfast and about 0845 the fog appeared to be better as we could see maybe an 1/4 of mile down the canal... a lot of fishing boats had left so we made the decision... we're off... 0900 we tossed the dock lines and were underway out the canal toward the ICW.
We got into the ICW and the fog seemed to zoom in around us and we had less than 1/8 of a mile visibility... we continued slowly radar running and eyes staring into the mist.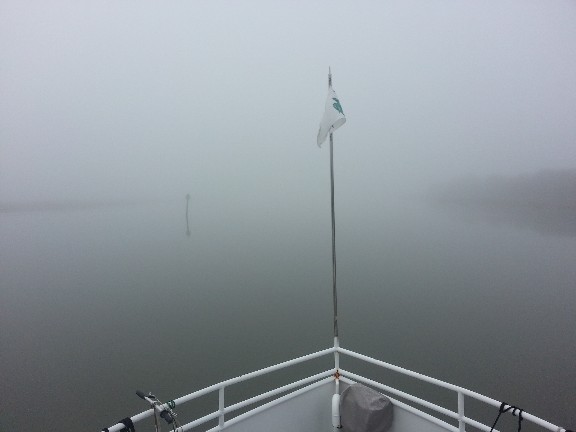 The tide had come in quite a bit... the depth sounder was bouncing around between 6 and 7 feet... barely moving at 4.5 knots... it really sucked!
So, we moved on to plan B... scratched Beaufort and changed to Charleston. We wanted to stop at a marina that had a courtesy car so we could pick up some provisions... We would go to St. John's Yacht Harbor on the Stono River just south of Charleston.
About 6 miles north of Price Creek we heard a boat hailing another boat we had passed the day before... they switched from 16 to 68 on the VHF and we also switched to listen in and try and determine their location... the boat hailing was a trawler and they were hailing a sailboat we had passed yesterday... anyway, the sailboat was not hearing the trawler and they never connected on 68... the trawler was asking about fog conditions on the ICW... I hailed them and we switched to 68 and I reported the fog conditions to them as 1/8 visibility and they thanked me.
About an hour later we were just past Price Creek and I started getting a blip on the radar of a boat ahead of us... could not see it but it was there... we were catching it...as we got within visual range they hailed me... it was the trawler we had talked to earlier they had been anchored in Price Creek and had just left hoping things were better than I reported to them... we chatted for a minute or two and they asked me to take the lead and they followed me... sure not a problem. I passed and they stayed close behind us... in fact they followed us all day until we reached Charleston and the fog had cleared... then they passed and continued ahead of us down Wapoo Creek and through Elliot's Cut. We exited the cut and turned to port and they continued down the ICW. They too were headed to Beaufort tomorrow so our paths may cross again.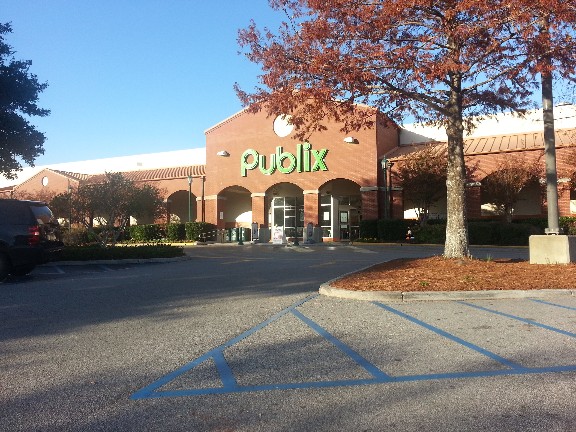 We arrived to St. John's Yacht Harbor and were securely docked at 1445. Our location approximately N32°45.225', W080°00.613'. We traveled for 5.75 hours covering 38 nautical miles averaging 6.6 knots.
We checked in at the marina office right away and registered for the courtesy car and we were off to Publix... Susan was excited to get to go to Publix for the first time since we left Punta Gorda in April.


Posted at 7:29 PM