FL to CT Day 22
Layover Murrell's Inlet, SC

Said our goodbyes this morning... had a great visit with Sharon and Mitch Lozinski.

Do a little maintenance on SAILS this afternoon and we get back underway to CT on Monday morning.


Posted at 1:38 PM


FL to CT Day 21
Layover Murrell's Inlet, SC

Family visiting from Fort Mill, SC.. spent a great day and night with Sharon and Mitch Lozinski.


Posted at 1:37 PM


FL to CT Day 20
Dewees Island, SC to Murrell's Inlet, SC

We pulled anchor at 0730 and underway north up the ICW... destination today Waca Wache Marina, Murrell's Inlet. SC located on the Waccamaw River. We have family driving from Fort Mill, SC to spend the weekend with here at Waca Wache... YAY!
Seems like this was the first nice day since we started the trip 3 weeks ago... bright and sunny and not real windy... and it is cooler than it has been... was 55° last night and low 70's today... was wonderful cruising weather... and from the boat traffic everyone else thought it was a good day to move... must have had a dozen boat pass us heading north and several heading south... tons of small boat traffic as well.
Favorable current most of the day pushing us over 7 knots plus all day... arriving to Waca Wache at approximately 1600... after some dock ballet moving from one to spot to another, we finally settled in a slip on the inside of the fuel dock... it was time to feed SAILS... we've traveled just over 1,800 nautical miles since the last feeding... have approximately 750 nautical miles to get back to Stamford.
Finished fueling SAILS at approximately 1745... She was real hungry... good thing we arrived today for fuel... the dock guys told a fuel truck was arriving tomorrow morning and price was going up $1.50 a gallon... we got the last of the low price fuel.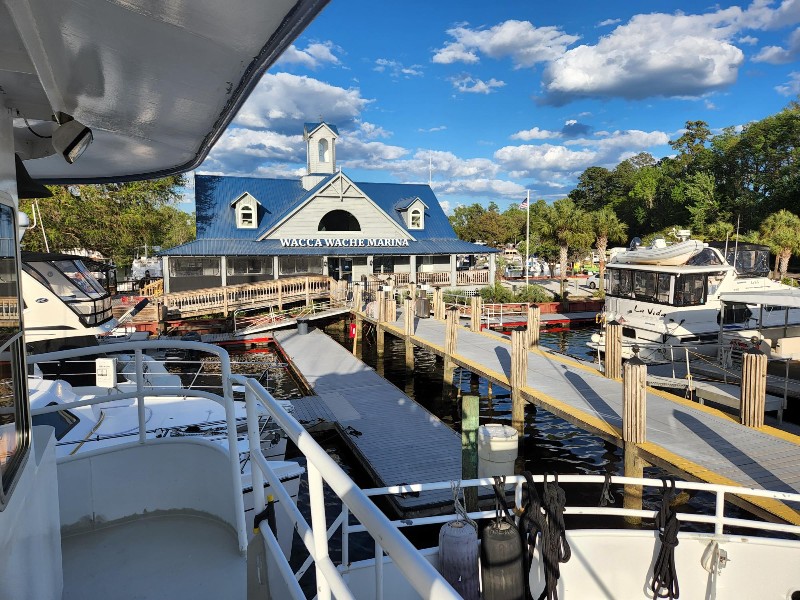 Our position for the weekend is
N33°33.750', W079°05.174'
. We traveled today for 8.5 hours covering 62.1 nautical miles averaging 7.3 knots.


Posted at 7:46 PM