CT to FL Day 14
Layover Oriental, NC

We delayed our departure this morning so that Susan could visit the farmer's market that opens at 0800 here in Oriental. The area that the farmer's market sets up was only a few hundred feet from the town dock and at 0800 there was one person setting up... Susan went down to check it out and soon returned. The market did not start till 0900 in the winter... so we decided not to wait and go ahead get underway.
It was a good idea but the starboard engine would not turn over... same engine that we had trouble with 2 days ago... but it seemed different today... it appeared locked up hard.
I did a little research and found that there was a Yanmar service dealer here in Oriental... Deaton Yacht Services... I gave them a call and the owner John Deaton came out in a few minutes and took a look at things... a lot of possibilities but nothing definitive other than we were not going anywhere today. He had no service technicians working on Saturday and he was on call today... Deaton Yacht Services is also TowBoatUS Oriental... :)
So, the plan at this point is wait here at the Oriental Town Dock till Monday morning and we will move SAILS to their boat yard on Whitaker Creek... a couple of miles from our current location.
Since our location at the town dock is very tight they are going to come over with a towboat and assist us in getting away from the dock and turned around. We can then go to the boat yard on one engine.
So, we are here in Oriental till Monday when we move to Deaton yacht Service on Whitaker Creek


Posted at 9:46 AM


CT to FL Day 13
Belhaven, NC to Oriental, NC

We departed from Dowry Creek Marina, Belhaven, NC this morning at 0725. No rush to get out this morning as we only planned to go to Oriental, NC…. Typically about 6 hour run. It was still a little windy with a 15 knot north wind that was forecast to produce 1-2 foot waves on the Pamlico Sound and the Neuse River.
The forecast was fairly accurate for the Pamlico but we experience a little rougher seas on the Neuse River… 3-4 foot following seas… a little rougher than anticipated but not a an uncomfortable ride.
Only saw one other boat heading south today… a sailboat that was a mile or so behind us all day and they pulled into Oriental behind us.
We arrived to Oriental at approximately 1330 and docked at the original town dock. We were secure at the dock at 1340. Our position tonight is
N35°01.489', W075°41.738'
. We traveled today for 6 hours and 15 minutes covering 43.25 nautical miles averaging 6.9 knots. A photo from the webcam pointed at the town dock.


Posted at 1:08 PM


CT to FL Day 12
Pungo River Anchorage to Belhaven, NC

The wind picked up after anchoring last night as it forecast to and was windy all night long and was still blowing 25 knots when we woke up around 0600. We prepared to leave as the wind was out of the northwest and would not affect us that much in today's planned trip to Oriental, NC.
0645 and I went to the pilothouse to get SAILS fired up and ready to go... port engine starts... starboard engine does not start... not good! Went to engine room to see if I could determine the problem. Acted as if the battery was low as starter would not turn the engine over. I tried starting a few more times with nothing but the starter grunting at me. I checked all the wiring connections to battery and starter... hooked up a quick cross over with jumper cables to the other start battery and tried again to start the engine... nothing... well nothing but smoke from the starter... it was very hot and smoking. It was toasted.
Luckily, I have a spare starter aboard... dug it out and the tools and about an hour later we had a new starter installed on the starboard engine. I tried to start the engine and it groaned over a few times and started... believe I had really drained the battery in my earlier attempts... but we were running.
Out to the foredeck... started pulling up the anchor.... winds still howling at 25 knots... this makes getting the anchor up much more fun... and this anchorage bottom is mud... mud and more mud... so getting the anchor up took some time... hosing off the mud and fighting with the wind... took about 30 minutes and we were underway heading down the Pungo River at 0845.
The winds were really picking up and blowing steady 30 knots with higher gusts... we decided that this was going to make the Pamlico Sound and the Neuse River a bit rougher than we were up to at this point. We opted to stop for the day in Belhaven, NC... specifically, Dowry Creek Marina which was only about 5 miles away. This has to be one of the shortest days awe have ever cruised.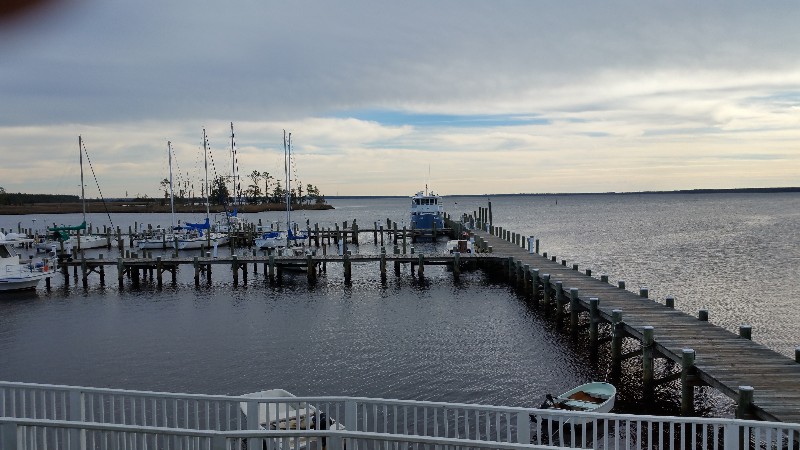 We were securely docked at Dowry Creek Marina at 0945. Our position tonight is
N35°31.969', W076°32.126'
. We traveled today for 1 hour covering 5.1 nautical miles averaging 5.1 knots.


Posted at 12:31 PM