CT to FL Day 34
Skidaway Island, GA to Jekyll Island, GA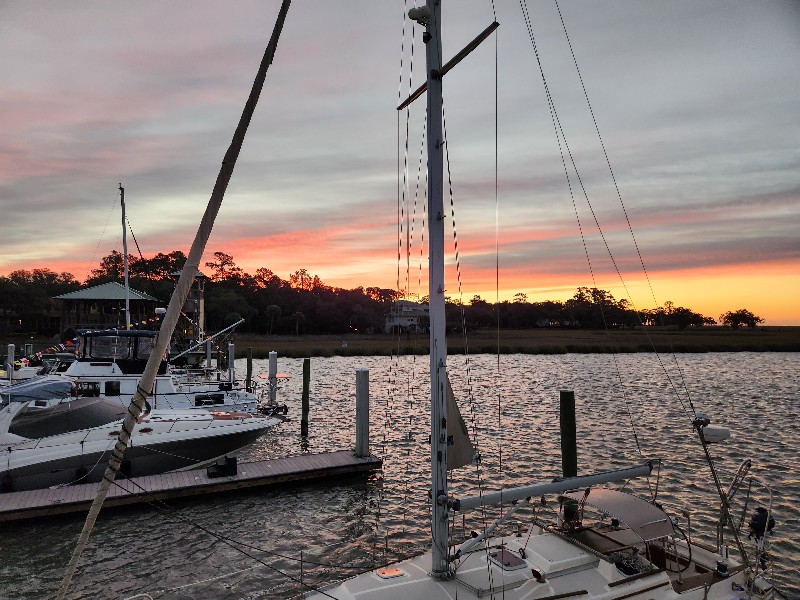 Bitter cold this morning... Cold front passing over the east coast dropped temps to in the teens overnight and with the wind single digit wind chill... 19° when we dropped dock lines and departed... 0730 underway.
Winds were strong all day 20 to 25 knots out of the WNW... making open sounds a bit lumpy but for the most part we were in protected water and no waves.... just windy... believe the highest temp we saw today was 27°.... Brrrrrrrrrr!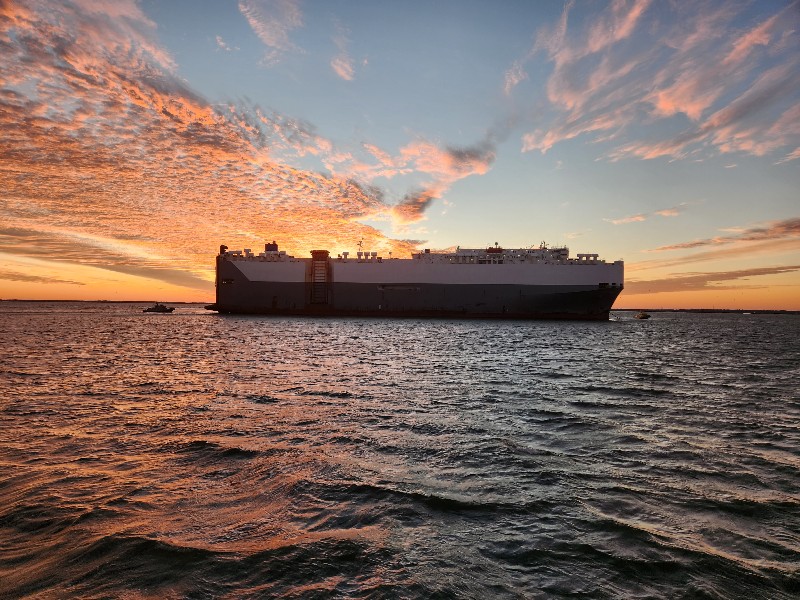 Saw only one boat today... it was ship that was disable in Brunswick... 650 ft Car Carrier "Treasure" was beam across the channel.... plenty of room to get around him... We heard him hail the Coast Guard announcing he had lost propulsion and was anchoring in the channel... when we passed two large tugboats, and two pilot boats were on scene... pretty cool!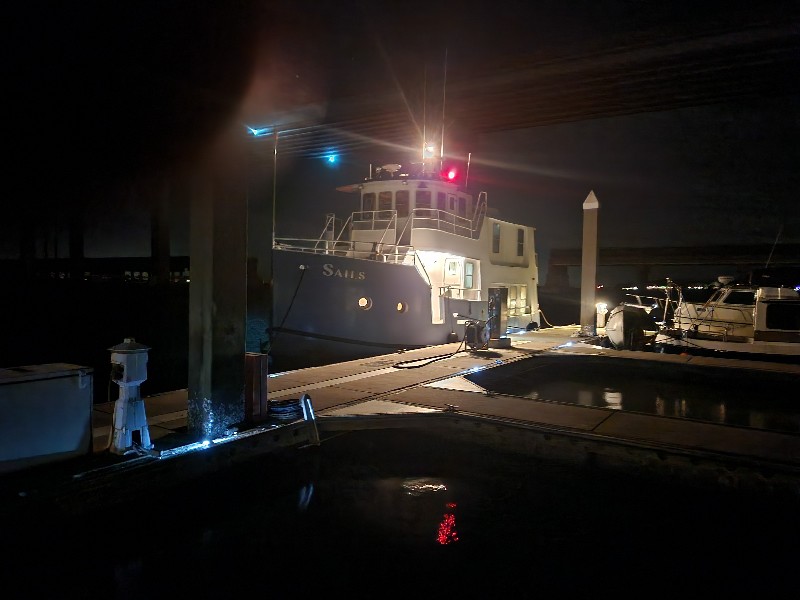 We arrived at our destination for night at Jekyll Harbor Marina at approximately 1815 and were secure on the dock with power at 1830... Our location for the night
N31°02.818', W081°25.357'
. We traveled today for 11 hours covering 73 nautical miles averaging 6.6 knots.


Posted at 7:39 PM


CT to FL Day 33
Burnside, GA to Skidaway Island, GA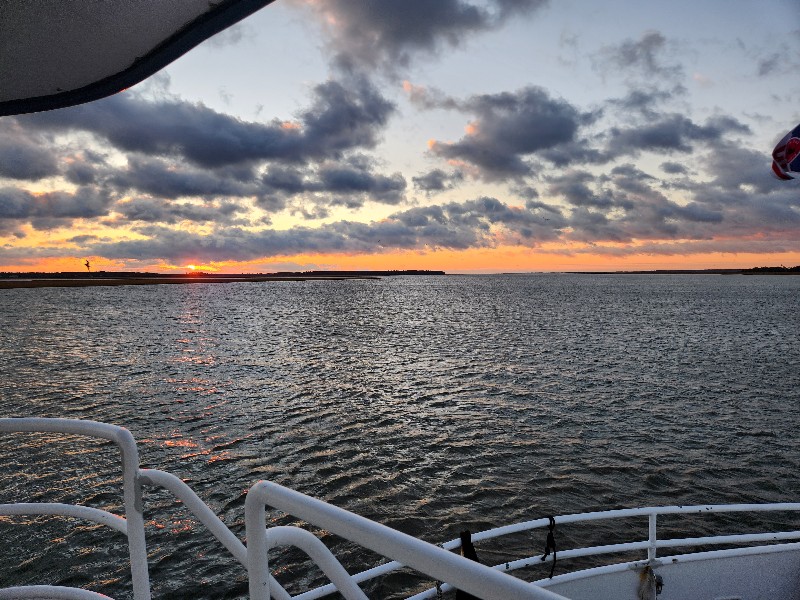 Forecast for today was for high winds... 25 to 30 knots with gusts to 40 knots... we decided to not move today... however the anchorage we are in is not that protected from winds so we found the closet marina to us.... Delegal Creek Marina on Skidaway Island....about 5.5 nautical miles from us. We weighed anchor and were underway at 0730.
The winds were a steady 30 knots with frequent gusts over 40 knots on our stern and the current was running against us... running at about 5.5 knots... waves were 2 to 4 feet. We had to make a turn to port into Delegal Creek and waves and wind were now on the beam... was a bit hairy for a few minutes until into the creek with some wind break from land on our port side.... still had the winds but no waves.
Docking at the marina was almost hands free... slow down allow wind to drive us to the dock... BANG we hit fairly hard but that was expected with the beam winds at 30 knots...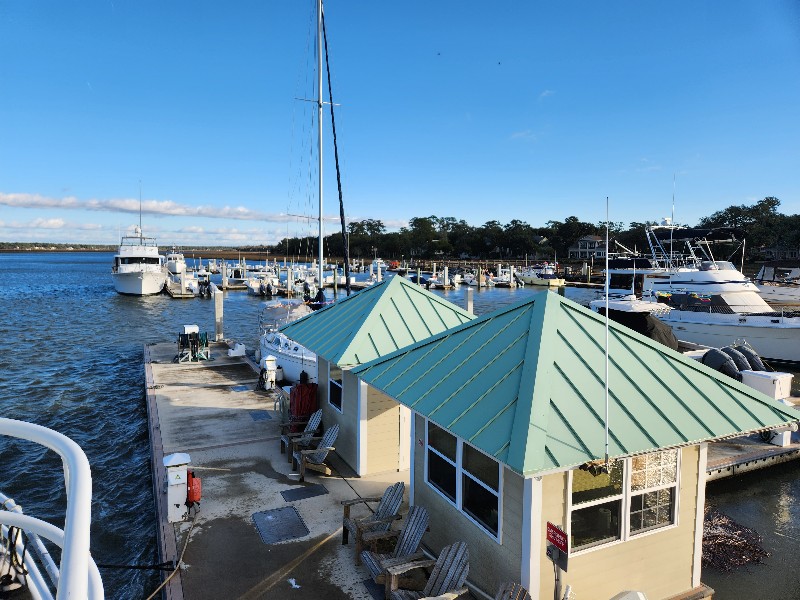 We arrived to Delegal Creek Marina at approximately 0830 and were secure on the dock with power at 0845... Our location for the night N31°53.390', W081°03.737'. We traveled today for 1 hour covering 5.5 nautical miles averaging 5.5 knots.


Posted at 10:09 AM


CT to FL Day 32
Fenwick Island, SC to Burnside, GA

I overslept this morning... alarm was set for 0600 and I thought I hit snooze... instead I hit alarm off... woke at 0700... oh well not that bad...
Being at anchor getting underway is a little faster than getting off the dock so we were underway at 0730... 20 knot plus winds and rain... YUK!

Winds were forecast to taper off by mid-day... which they did and the rain stopped shortly after we departed...so was not that bad of a day... only needed some sunshine and would of been great!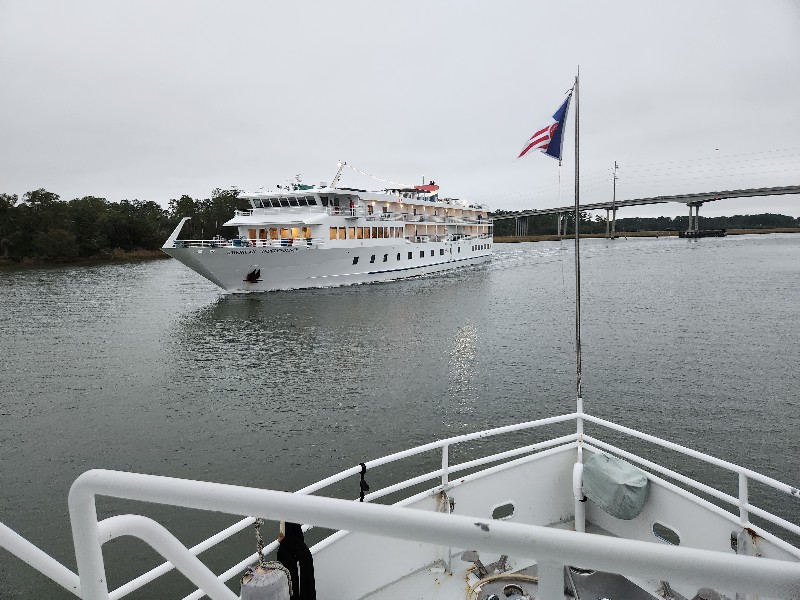 Coolest thing today was meeting the American Cruise Lines Ship "American Independence" at Skidaway Narrow Bridge on the ICW south of Isle of Hope... it's a big boat or rather ship to meet and pass on a narrow stretch of the ICW.

We arrived to our location for the night at Possum Point on the Vernon River at 1815 and were securely anchored at 1830... N31°55.626', W081°06.774'. We traveled today for 11 hours covering 73.7 nautical miles averaging 6.7 knots.


Posted at 7:14 PM