CT to FL Day 32
Pahokee, FL to Alva, FL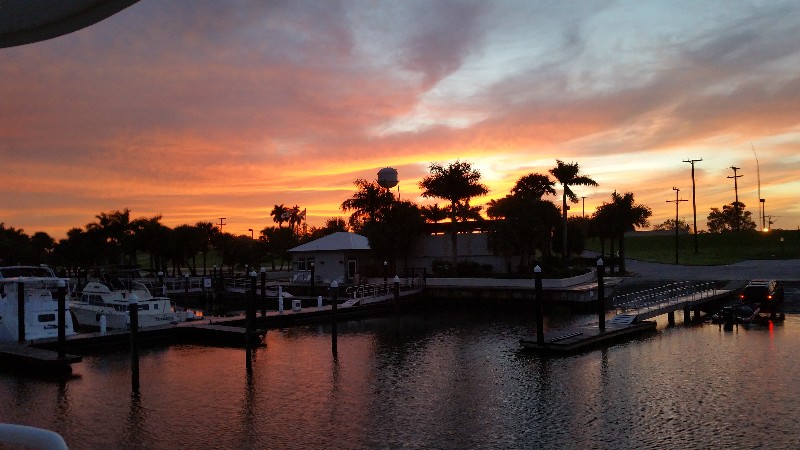 We left Pahokee this morning at 0700 a few minutes before sunrise. We headed south down the rim canal of the lake for about a mile and took a marked channel back out in to the lake that was south of Rocky Reef. This allowed us to go due west across the lake rather than follow the rim canal around the bottom edge of the lake.
We had two locks to go through today... Moore Haven and Ortona Locks. We arrive to Moore Haven Lock about half mile out to give them time to ready the lock chamber for west bound traffic... he told us we would have the a green light to enter shortly...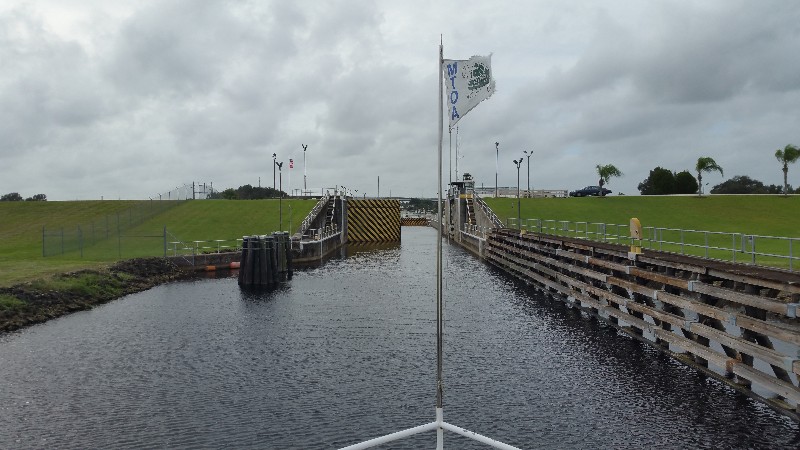 just as we arrived at the lock he hailed us VHF 13 and said there was a problem with one of the gates... it would not open and it would take an hour to correct... he asked if we wanted to enter the lock with only one gate open... said there would be about 24 feet clear... SAILS is 18 feet wide so that left 3 feet each side... I responded we would enter the lock. It looked and felt like the 24 feet was a lot smaller as we approached and passed through... no issues tied up and they lowered us 4 feet and we were off.
Next lock was Ortona and we had no issues there... we were lowered 8 feet in abut the same amount or time it took them to lower us 4 feet in Moore Haven... he really did it fast.
There were three bridges one we needed to open at Ft. Denaud and the other two we can clear when I lower the antennas and mast... Labelle and Alva bridges. No issues or major delays.
We had one more lock on the Okeechobee Waterway at Alva... W.P. Franklin Lock... the locks now close at 1700 and our ETA there was 1730... we did not even try to make it... we decided to stop at the W.P. Franklin Lock Park... they have 8 slips for boats and it's a nice stop for overnight.
We were securely docked at 1730. Our position for the night
26°43.389'N 081°41.452'W
. We traveled today for 10 hours and 30 minutes covering 63.3 nautical miles averaging 6.0 knots.


Posted at 5:33 PM


CT to FL Day 31
Fort Pierce, FL to Pahokee, FL

We left Fort Pierce this morning just before sunrise and returned to the ICW and headed south. Destination for the day planned as either Port Myakka Lock or father depending on currents an speed we were able to make.
Currents did not seem to play a par tin todays cruising at all... only one place do I remember having any negative effect from current against us... leaving the ICW and entering the St. Lucie River we had current on our nose for a few miles.... no where did we actually get a boost in speed.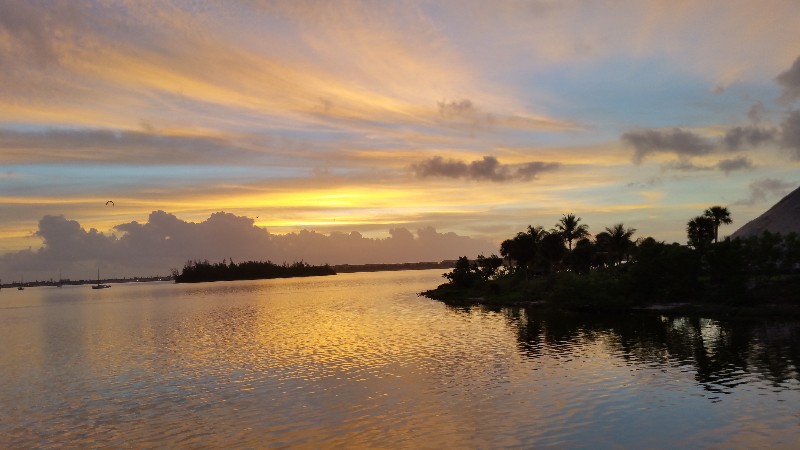 We had one bridge and two locks to deal with today. The Roosevelt Bridge in Stuart that is also adjacent to an automated railroad bridge that can really hold you up. Today we barely made it through the bridge and the railroad bridge siren went off and red light started flashing... Train coming... monitoring on the VHF that train held up the ICW traffic for about 40 minutes... luck was with us there.
The first lock is the St. Lucie Lock and again luck was on our side and we were able to enter the lock chamber with no delay.... about 20 minutes to raise us 14 feet and we were off heading west across the Okeechobee Waterway.
Next lock was at the edge of Lake Okeechobee and just over 20 nautical miles away. The locks close at 1700 and we had 3 hours to make it there... doing the math 5.5 knots on one engine times three hours... 16.5 nautical miles... a little short... so we had to keep the starboard engine on as long as we could to try and reduce the gap between us and the lock and the 1700 deadline. Both engines running we were making 7.1 knots without pushing too hard.
We were able to run for about an hour and a half... maybe a little longer... at this speed before I saw the engine temperature starting to rise... but it was enough... when I shut it down we were still making 6 knots and had an ETA to the lock at 1640... 20 minutes to spare.
We locked through at 1642 and it was decision time... continue across the lake with an ETA to Clewiston of 2000-2030 or divert to Pahokee with an ETA of 1800-1830. The radar showed a band of rain approaching the lake from the SW so we opted for Pahokee and hopefully get in before the band of rain hit.
It was a good plan but the band of rain hit us about 20 minutes out from Pahokee... winds picked up to 20 to 25 knots and it poured for maybe 15 minutes then it was past us... still some light rain but the heavy rain and winds were gone and we were able to actually see to enter the marina.
The surprise to us was that the marina was pretty much empty and abandoned. A few boats on a couple of the docks but it appears that this marina in Pahokee is no longer open. The restaurant at the top of the docks was open and appeared to be very busy. Very sad was a very nice marina.... in the middle of nowhere but nice.
We were securely docked at 1830. Our position for the night
26°49.529'N 080°40.091'W
. We traveled today for 11 hours and 30 minutes covering 64.0 nautical miles averaging 5.6 knots.


Posted at 6:57 PM


CT to FL Day 30
Cocoa, FL to Fort Pierce, FL

We left Cocoa docks this morning at 0715. Destination for the day planned as Fort Pierce, FL.
Uneventful day... small current against us most of the day keeping us around 5.5 knots. We actually passed 2 boats today... with running on one engine everyone is passing us so it was kind of neat to actually pass a boat. Had a dozen pass us... several of the same ones that have been passing every day.
We arrived to Fort Pierce, FL and were securely docked at the Harbortown Marina at 1745. Our position for the night
27°28.013'N 080°19.631'W
. We traveled today for 10 hours and 30 minutes covering 58.8 nautical miles averaging 5.6 knots.


Posted at 5:48 PM