FL to CT - Day 41
Bay Head, NJ to Brick, NJ

Checking long range forecast we did not see a break for at least a week...so we decided to find a marina. A few minutes of Googling and phone calls we found a fantastic location... Traders Cove Marina and Park in Brick, NJ a couple miles south of us.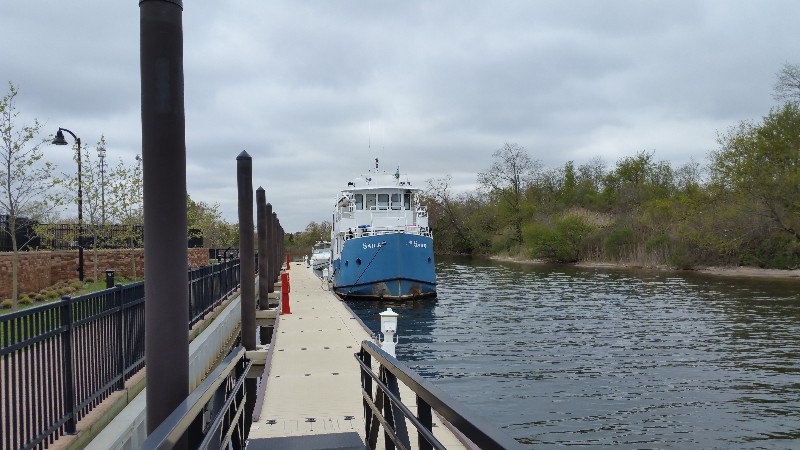 All other marinas in the area were $3.00 a foot and S20 for electric... Traders Cove was $25 per night including electric...:)
We pulled the hook and left for Traders Cove... 45 minutes later we were docked totally protected from the winds.
Our position until the weather breaks
Traders Cove Marina
. We traveled today for 45 minutes covering 1.8 nautical miles averaging 2.3 knots.


Posted at 8:08 AM


FL to CT - Day 40
Layover Bay Head, NJ

Waking this morning and checking the weather reports we found that conditions had not gotten better... in fact they had gotten worse and there was no chance of making the trip north to New York from Manasquan today. Winds were now NE 20-25 knots with gusts to 30 knots and seas increasing to 6-7 feet. This leg normally take us about 6 hours in good conditions seas and winds like this would slow the trip to 8-9 hours and beat the crap out of SAILS... it was just not safe to attempt this today. We will have to hold up here in Bay Head, NJ till conditions improve... :(


Posted at 9:39 AM


FL to CT - Day 39
Atlantic City, NJ to Bay Head, NJ

Checking weather this morning we found that conditions offshore were deteriorating... winds were increasing to NE 15 - 20 knots with 25 knot gusts and 4-5 seas with a very short 7 second period. This was much worse than what we had just had coming from Cape May to Atlantic City yesterday. So we made the decision to transit north inside from Atlantic City to Manasquan, NJ.
We departed at 0630 and headed west toward the NJICW had a slight current against us for about an hour and then we picked up a boost as we approached Little Egg Inlet. Of course immediately past the inlet the current was back on our nose slowing us down to less than 6 knots. An our or so north of the inlet the current subsided and we were running at normal speed 6.5 to 7.0 knots.
Several places we were at idle speed despite any currents as it was just too shallow to run any faster. Depths running less than 6 feet at first it was just in some of the typical problem areas but several places we ran at idle for miles with depths not even registering on the depth sounder... sounder flashing 5.0 and LAST over an over on screen. Sounder does not function well when it's under 5 feet deep... there is only 4 inches between SAILS' bottom and the actual bottom... YIKES!
We did mange to make it through all the way to Bay Head, NJ just before the Point Pleasant Canal where we had to make a decision as to continue up the canal and out Manasquan Inlet and on to New York... looking at buoy reports we saw sea state to be waves 5.6 feet off Barnegat and 4.1 feet at the entrance to New York Harbor... ENE winds at over 20 knots both buoys. We also had been monitoring several boats on the VHF that were offshore moving north... many were looking for options to exit and come inside and all were reporting heavy short seas... even a couple of fishing trawlers talking to each pulling there dredges and heading back in. These reports made the decision for us... we looked for somewhere to anchor for the night and hope for better conditions in the morning so we could continue on to New York and then Connecticut.
We found an anchorage on Active Captain labeled Metcalfe that was just at the south end of the Point Pleasant Canal and would make a good staging point for leaving in the morning... fingers crossed that conditions would improve overnight.
We stopped for the night at 1530 and anchored at
N40°03.947', W074°02.937'
. We traveled today for 9 hours covering 53.0 nautical miles averaging 5.9 knots.


Posted at 7:26 PM