CT to FL Day 25
Port Royal, SC to Fernandina Beach, FL

We left Port Royal Landing at 0730 and continued south... however, the plans today were a little different in that we would be leaving the ICW and going offshore... final destination to be Fernandina Beach, FL eliminating the Georgia ICW and it's winding swamps and many shoaled areas.
We left the ICW via Port Royal Sound and had 116 miles and 19 plus hours to go.
We did not have a great start in that current was against us as we exited the sound and well out in to the Atlantic.... eventually we did get up to 6 knots and a few times we ran at high as 6.7 knots. We were approximately 15 miles offshore at the mid point of the trip but even this far out felt the effects of tidal currents at the various inlets we passed.
The sea conditions were awesome.... not flat calm but an easterly 2 foot swell with about a 12 second period... felt like gently swinging in a hammock... very comfortable ride.
Very little boat traffic... a shrimp boat as we exited Port Royal Sound... a ship off Savannah, GA and a couple of other fishing trawlers along the way. We could hear a lot of boats we had been traveling with on the VHF... all of which had taken the ICW through Georgia.
It had been cloudy all day and I expected the trip to be a very dark one but was surprised to have the clouds disappear and the moon illuminate the water to the point we could of turned off the radar. But, all good things come to an end and near Brunswick, GA the clear skies turned to FOG... pea soup thick FOG. We could see to about 100 feet past the bow of SAILS.
The fog remained with us for the rest of trip offshore and through St. Mary's Inlet into Fernandina. When we reached the ICW again we left the fog behind us and has clear skies the last 30 minutes to the marina.
We were securely docked at Fernandina Harbor Marina at 0330. Our position for the night
30°40'13.9"N 81°27'59.2"W
. We traveled today for 20 hours covering 116 nautical miles averaging 5.8 knots.


Posted at 10:22 AM


CT to FL Day 24
St. Johns Island, SC to Port Royal, SC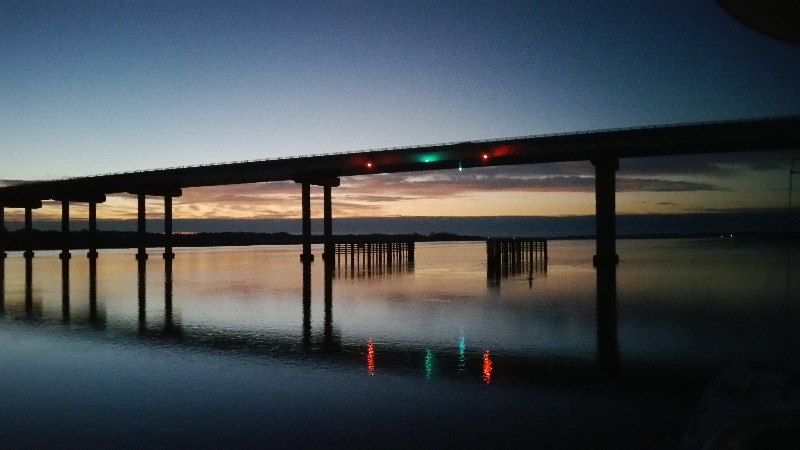 We left from St. Johns Island at 0645 and headed out to the ICW with destination today as Beaufort, SC area.
We had current on and off today... for the most part slowing us down. Speeds as low as 3.2 knots at times and over 8 knots others.
We arrived to the Beaufort area at approximately 1700 and called Port Royal Landing Marina for dockage. They were just closing but said they would wait for us to arrive. We wanted to use their courtesy car to restock a few groceries. Susan was excite in that we would be able to go to Publix.
We were securely docked at 1730 for the night at position
N32°23.693', W080°40.699'
. We traveled today for 10 hours and 45 minutes covering 57.6 nautical miles averaging 5.4 knots.


Posted at 6:18 PM


CT to FL Day 23
Georgetown, SC to St. Johns Island, SC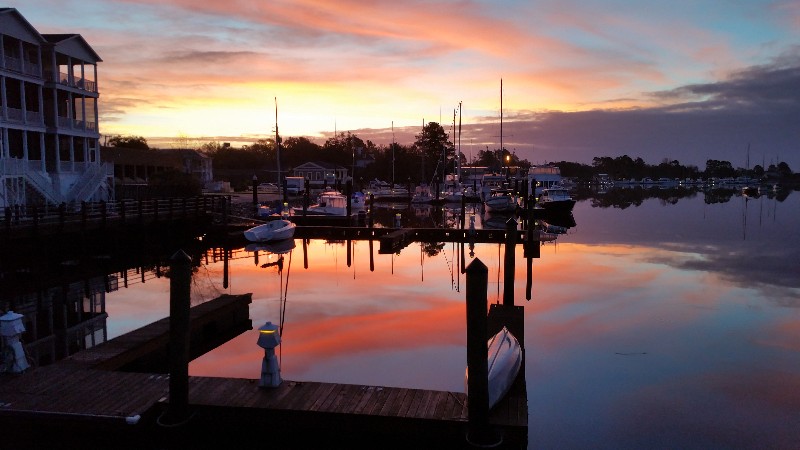 We left Georgetown at 0730 and headed south down the ICW bound for Charleston, SC.
We had current against us for a good part of the day but did have some short runs with a boost from the current.
We arrived to Isle of Palms just before Charleston at almost dead low tide. This is a bad area for shoaling and dredging is currently taking place. We had to call the dredge on the VHF to arrange for passage... very tight getting past him but we did fine.
We continued on after sunset to St. Johns Island and docked for the night at St. Johns Yacht Harbor. Our position tonight is
N32°45.236', W080°00.669'
. We traveled today for 12 hours covering 614 nautical miles averaging 5.2 knots.


Posted at 6:09 PM