CT to FL Day 13
Belhaven, NC to Oriental, NC

We departed from Dowry Creek Marina, Belhaven, NC this morning at 0725. No rush to get out this morning as we only planned to go to Oriental, NC…. Typically about 6 hour run. It was still a little windy with a 15 knot north wind that was forecast to produce 1-2 foot waves on the Pamlico Sound and the Neuse River.
The forecast was fairly accurate for the Pamlico but we experience a little rougher seas on the Neuse River… 3-4 foot following seas… a little rougher than anticipated but not a an uncomfortable ride.
Only saw one other boat heading south today… a sailboat that was a mile or so behind us all day and they pulled into Oriental behind us.
We arrived to Oriental at approximately 1330 and docked at the original town dock. We were secure at the dock at 1340. Our position tonight is
N35°01.489', W075°41.738'
. We traveled today for 6 hours and 15 minutes covering 43.25 nautical miles averaging 6.9 knots. A photo from the webcam pointed at the town dock.


Posted at 1:08 PM


CT to FL Day 12
Pungo River Anchorage to Belhaven, NC

The wind picked up after anchoring last night as it forecast to and was windy all night long and was still blowing 25 knots when we woke up around 0600. We prepared to leave as the wind was out of the northwest and would not affect us that much in today's planned trip to Oriental, NC.
0645 and I went to the pilothouse to get SAILS fired up and ready to go... port engine starts... starboard engine does not start... not good! Went to engine room to see if I could determine the problem. Acted as if the battery was low as starter would not turn the engine over. I tried starting a few more times with nothing but the starter grunting at me. I checked all the wiring connections to battery and starter... hooked up a quick cross over with jumper cables to the other start battery and tried again to start the engine... nothing... well nothing but smoke from the starter... it was very hot and smoking. It was toasted.
Luckily, I have a spare starter aboard... dug it out and the tools and about an hour later we had a new starter installed on the starboard engine. I tried to start the engine and it groaned over a few times and started... believe I had really drained the battery in my earlier attempts... but we were running.
Out to the foredeck... started pulling up the anchor.... winds still howling at 25 knots... this makes getting the anchor up much more fun... and this anchorage bottom is mud... mud and more mud... so getting the anchor up took some time... hosing off the mud and fighting with the wind... took about 30 minutes and we were underway heading down the Pungo River at 0845.
The winds were really picking up and blowing steady 30 knots with higher gusts... we decided that this was going to make the Pamlico Sound and the Neuse River a bit rougher than we were up to at this point. We opted to stop for the day in Belhaven, NC... specifically, Dowry Creek Marina which was only about 5 miles away. This has to be one of the shortest days awe have ever cruised.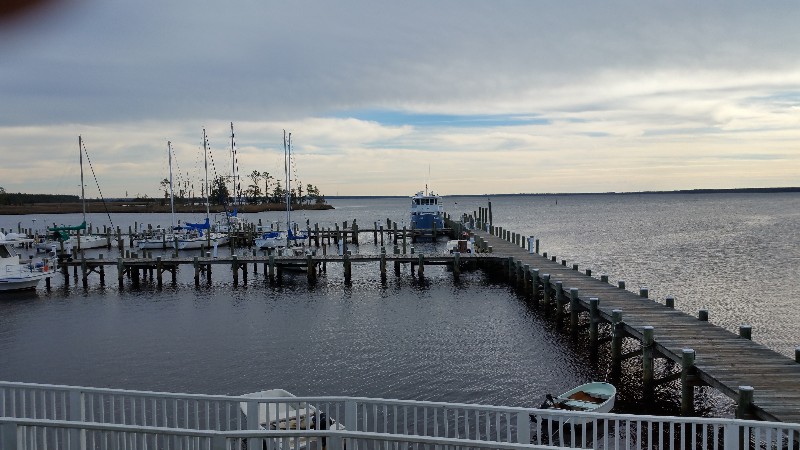 We were securely docked at Dowry Creek Marina at 0945. Our position tonight is
N35°31.969', W076°32.126'
. We traveled today for 1 hour covering 5.1 nautical miles averaging 5.1 knots.


Posted at 12:31 PM


CT to FL Day 11
Coinjock, NC to Pungo River Anchorage

We departed from Coinjock Marina at 0710... there was dense fog alert issued until 1000 however there was not a trace of fog to be seen... it was a very clear morning.
We found the fog as we exited the North River in to the Albemarle Sound... it was like passing through a wall... clear on one side... dense fog on the other with at most 500 feet of visibility.
This fog remained with us all the way across the Albemarle Sound and into the Alligator River. As we approached the Alligator River Bridge we could not see it and had monitored on the VHF that it was not opening due to the dense fog... reason... It was not safe for car traffic and they feared they would not see the flashing lights and gates down.
We waited about 30 minutes before the fog had cleared enough to allow to swing the bridge open for us and the other 5 boats waiting for an opening.
About a mile past the bridge the fog just disappeared... again like walking through a wall... pea soup think to nothing.
We continued down the Alligator River and were soon approaching the A&P Canal. (Alligator River / Pungo River Canal) when we heard a tug and barge hailing another boat on the VHF asking them if they were anchored. The other boat responded... Yes, we're anchored... do you have enough room to get around us? The tug captain responded are you broken down?... the other boat replied... no we stopped and anchored to have a little picnic. The tug captain replied... Not to wise to anchor in the middle of the channel... you need to move... they replied... no problem we were just doing that as we are done with our picnic.... Too Funny! We passed this boat about an hour later... small sailboat with a young couple sailing it.
Sun was setting and we decided we would stop and anchor at the far west end of the A&P Canal. There is a nice anchorage area to the northwest that we have anchored in many times.
We arrived to anchorage at 1730 and were securely anchored for the night at 1740. Our position tonight is
N35°33.460', W076°28.128'
. We traveled today for 10 hours and 30 minutes covering 68.4 nautical miles averaging 6.5 knots.


Posted at 6:21 PM