CT to FL Day 23
Jekyll Island, GA to Jacksonville, FL

We departed from Jekyll Island this morning at 0650. Our destination for today was Jacksonville, FL.
First obstacle for the day was St. Andrews Sound... crossing in high winds can make the crossing very nasty. Today was not that bad.... NE 15 -20 knot winds were producing 3-5 seas in the Atlantic but the breakers off the sound cut these back some... we saw 2-3 waves on the most easterly leg of the crossing. It did however pickup as we proceeded down the ICW along Cumberland Island with wave on our stern at 3-4 feet.
It was an ebb tide so we fought current quite a bit today and also dealt with a lot of shallow water... just past Fernandina Beach was tricky and several others places along the way. We overheard several boat hailing TowBoatUS that had gone aground.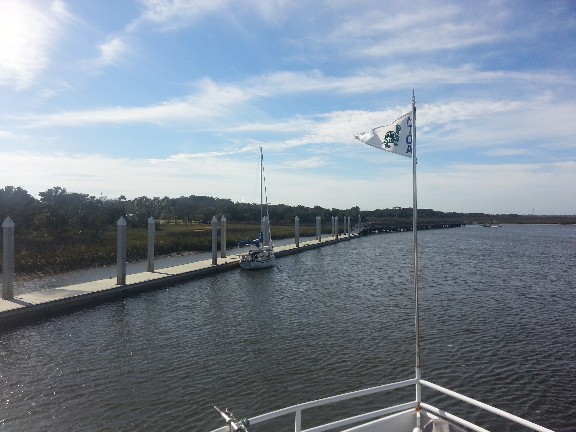 Best part of the entire day was we arrived to FLORIDA! Still 8 days or so before we reach our final destination Punta Gorda, FL... but it's just nice to be back in the Sunshine State... and it was sunny all day!
We arrived to Jacksonville, FL at 1350 and docked the free docks at Sisters Creek located at N30°23.890', W081°27.502'. We traveled for 7 hours covering 46.7 nautical miles averaging 6.7 knots.


Posted at 2:20 PM


CT to FL Day 22
Kilkenny Creek, GA to Jekyll Island, GA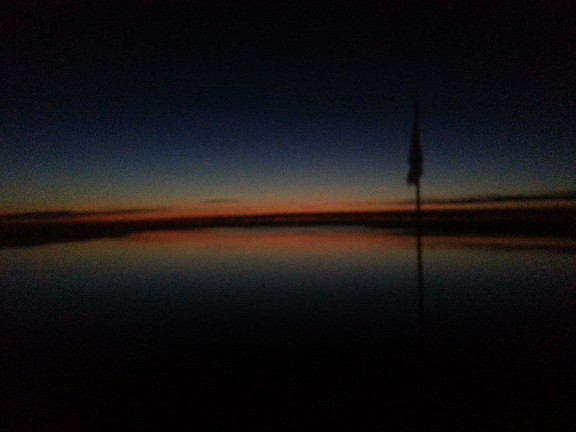 We departed from Kilkenny Creek before sunrise at 0630. Destination for the day Jekyll Island, GA.
We arrived to Jekyll Island, GA at 1530 and docked at N31°02.543', W081°25.387'. We traveled for 9 hours covering 62 nautical miles averaging 6.9 knots.


Posted at 4:47 PM


CT to FL Day 21
Port Royal, SC to Kilkenny Creek, GA

Last night we stopped at the Dockside Restaurant in Port Royal, SC. We had an awesome dinner... Susan had Potato Crusted Grouper and I had the special which was a Cajun Grouper and Shrimp over a Grits Cake and Cajun sauce... both were fantastic! I highly recommend this restaurant.
When we arrived there were signs... "No Overnight Dockage" but we spent the night... dropped a hundred bucks in the restaurant... damn if we were not getting to stay overnight on their docks. No problems and we had a very nice evening.
We departed at 0715 and headed down Port Royal sound with a boost of speed from the current... 9 knots plus at times... of course we had the tropical stretches that we slowed down but not that much today... saw the speed over 7 knots most of the day.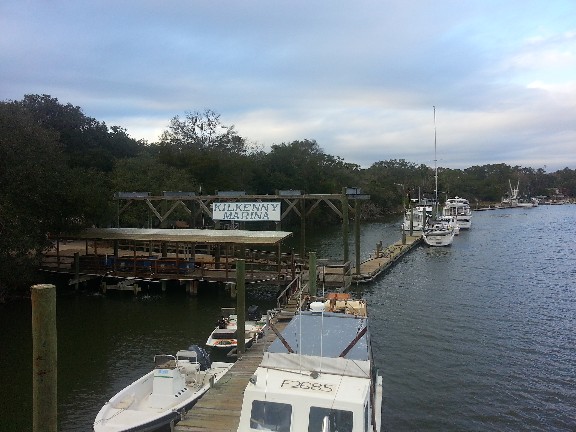 Destination for the night was Kilkenny Creek Marina in Georgia... WOW! we got into Georgia today... one more day and we'll be back in Florida... YAY!
We arrived to Kilkenny at 1600 and were met by two of the nicest men to help us dock. Our approximate location is N3147.314', W08112.155'. We traveled today for 8.75 hours covering 65 nautical miles averaging 7.4 knots.


Posted at 4:48 PM