Rock Point to Daytona Beach, FL
Florida to Rhode Island- Day 6

Last night Chuck and Arlene Custer joined us in the anchorage at Rock Point... we enjoyed some cocktails on their boat and then moved over to SAILS and we had a lovely dinner together.

We pulled the anchor and departed from Rock Point at 0800 hours… the Chuck and Arlene Custer on TURTLE TROT left a few minutes before us as they needed to stop and get fuel and water. Then they would catch p to us in Cocoa, FL… I have mentioned it before but we always plan a stop in Cocoa, FL… either for the night or lunch…. Today it was going to be for lunch… we had about 4 hours to get there… so our 0800 departure would put us in Cocoa right at lunch time… Ryan's Village Pizza… some of the best New York style pizza I have tasted… and they make a 24 inch pie… I get Meat Lovers… it's awesome!

We arrived to Cocoa at 1140 hours and docked at the Cocoa City Docks… they allow you to tie up for FREE for 3 hours… we have spent the night there several times though. I had some banking that I had not had a chance to complete before we left Punta Gorda and there was a Wells Fargo just a mile and half from the docks… so after we were secure I was off to the bank on my bike. We had a little time to kill to wait for Chuck and Arlene to arrive from Melborne where they had stopped for fuel and water.

I arrived back from the bank and TURTLE TROT was tied to dock behind SAILS… TURTLE TROT had discovered a problem during the night and had a leaking expansion tank on their water system… I googled on my phone where the closest West Marine was and found it was just a mile and half away… we called them and they had the expansion tank that they needed in stock… Chuck borrowed my bike and was off to pick up a new tank. It was not very long before he returned and we were off to Ryan's Village Pizza for lunch… we had a great lunch and returned to boat about 1500 hours.

The plan was to continue on after lunch… however, Chuck wanted to repair his water system… we were very tempted to also stay and depart from Cocoa in the morning… bellies full of pizza a nice nap sounded great! But, we really needed to cover some more ground I order to make it to Fernandina Beach on Sunday. So we tossed the dock lines and departed from Cocoa at 1530 hours… TURTLE TROT remained and in Cocoa to complete repairs and leave in the morning.

We were not sure how far we would go but we would get as far as we could… New Smyrna Beach was the original plan… that was about 7 hours away… we would arrive there between 2200 and 2230… we decided that is what we would do… and we arrived in New Smyrna Beach just over 7 hours later at 2209 hours… we wanted to go to the FREE city docks but upon arrival found that they were currently being revamped and there was no way to use them safely… next available location was Rock House Creek about 20-30 minutes further north on the ICW… a quick 180 and we were off to Rock House Creek… upon arriving there we found 6 other boats already anchored… this is a small narrow anchorage… it looked like there was a spot we could slip into… but when I turned the bow into the creek the wind hit us… we had been in the lee of the wind for so long that we totally forgot that it was blowing 25 knots out of the east... and Rock House Creek runs east to west… so we had 25 knot winds… there was a strong current in the creek… tight space… and it was dark,,, very very dark… decided it would not be safe to try to anchor under these conditions and did another 180 and returned back to the ICW heading north… Next available destination Daytona Beach… approximately 12 miles further north.

We arrived to Daytona just after midnight and exited the ICW west just north of marker 44 into an anchorage area… there were probably 15-20 boats already anchored here… we found a suitable location and dropped the anchor in 8 feet deep… I let out 100 feet of chain as it was still blowing 25 knots and with higher gusts… at approximately 0015 hours we were swinging on the anchor in the wind at approximate location N29°11.774', W081°00.192'… I set the anchor drag alarm and laid down to get some rest… but could not really sleep under these conditions… maybe an hour or so later… beep, beep, beep, beep was heard… the anchor drag alarm was going off… I went to the pilot house and it appeared that we had not moved from our original position… but we were hanging in a different direction… the current had picked up and was causing to hang in a more north-south orientation… I had set the drag alarm for 50 feet… 100 foot of chain out… I attributed the alarm to be a false alarm… I rest the drag alarm and this time to 100 feet and again laid down to try and get some rest… I did dose off and on but it was not a restful at all… it was just NASTY out.

Today we traveled for 12 hours and 10 minutes covering 82.35 nautical miles averaging 7.01 knots.


Posted at 9:37 PM


Stuart, FL to Rock Point
Florida to Rhode Island - Day 5

Before I post about today's trip... I have to post a funny thing that happened last night... we were sitting in the salon watching a little TV before we went to bed.. it was about 2130 hours when I noticed some flashes of light coming through the galley door window. I got up and looked out the window and saw 2-3 people with a camera and looked like they were taking photos of the boat. Then I noticed the angle of their camera… it was pointing up at an unusually high angle and they were really close to the boat... they snapped a shot and then they motioned with their hand as if talking to someone on our boat... Then I heard noises from the pilothouse deck above me... I went to the pilothouse and looked out... sure enough 3 kids on the deck posing for a snapshot… I whipped open the pilothouse door… it wacked one of them in back… boy were they surprised… I yelled at them… "What do you think you are doing??? This is a private vessel and your trespassing… get off now! " They were all shocked and starting telling me… sorry… we're so sorry… over and over… they exited quickly from the boat and also quickly up the docks away.... We always get a lot of people walking the docks stopping and looking at SAILS, asking questions, taking photos… but this was the first time we ever had someone just jump right onboard for a photo shoot…. LOL

Anyway, after a good nights sleep we departed from Stuart at 0700 hours... getting a later start than planned but we were doing a shorter day. Destination being an anchorage behind a small island at ICW statue mile 925... Rock Point is how it is referred to in Skipper Bob's Cruising Guide… approximate location N27°59.340', W080°32.776'.

Getting back to the ICW was nice… but the currents are always a pain to deal with… you either get a boost or fight against it… today we had a boost coming out of the St. Lucie River… but once we hit the ICW and turned north… current on our nose… but it was back and forth all day… I'd say overall we had equal effects.

Tons of boat traffic today… so many that I gave up keeping track of them… and like always we had a lot of non courteous boaters… waking us as they passed… one in particular was getting a lot of attention from the other boats… not trying to use a stereotype.. but it was a "SeaRay" from Naples, FL… won't mention the name but he was called a lot of names today over the VHF… can't mention those names either… LOL

It was rather windy today blowing 18 to 20 knots with gusts to 25 knots… but being on the ICW there was nothing more than a moderate chop and cruising was not a problem.

Today we will have some friends joining us in the anchorage… Chuck and Arlene Custer aboard their boat TURTLE TROT… we were suppose to rendezvous in Fort Myers but they had some issues with the head on their boat and needed to get it corrected before continuing… luckily it was a quick fix and were back underway quickly… anyway, they will be anchoring with us tonight and then traveling with us to Fernandina Beach for the MTOA Southern Rendezvous.

Today we traveled for 9 hours and 15 minutes covering 60.4 nautical miles averaging 6.53 knots.


Posted at 5:04 PM


Moore Haven, FL to Stuart, FL
Florida to Rhode Island - Day 4

We departed from the Riverhouse Marina in Moore Haven just before sunrise at approximately 0630 hours. The first task of the day was to go through the Moore Haven Lock… we arrived at approximately 0630 hours and were able to enter the lock chamber with no delay… a quick 1 foot rise and we were back underway at 0658 hours.
Lake Okeechobee water level is down… that's the reason for the outer locks having restricted opening schedules…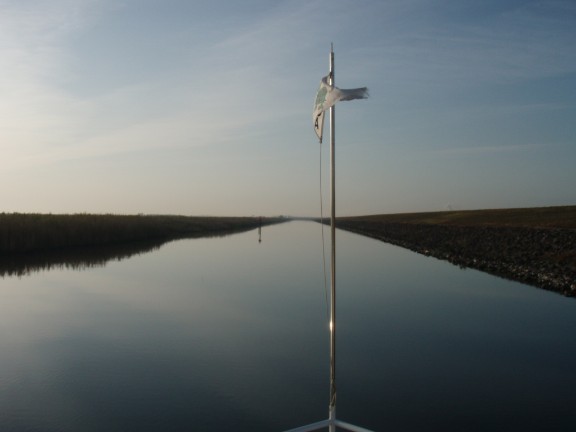 Route 1 across the lake according to the Army Corp of Engineers website had a navigable depth of 5.91 feet… so it would be slow going in many locations… the rim canal from Moore Haven to Clewiston had a few spots where we saw 6 foot on the depth sounder… and the channel from Clewiston out in to the lake was very shallow… I saw many places where it was less than 6 feet.
Once into the lake we had two boats pass us… a 38' trawler cat and 40' trawler… the trawler was taking some shortcuts that I would of not even tried… cutting the corners of the channel… he made it without any problems… but I would not of done it… with his corner cutting he did get quite a ways ahead of us… not sure what his hurry was as the St Lucie Lock was either 1300 or 1500… there was no way he could make the 1300… the trawler cat and I followed each other across the lake and we went through the Port Mayaca Lock together… but after the lock he took off and was soon out of sight.
Not sure why the Port Mayaca Lock was even functioning… when they opened the gates on the St. Lucie side there was no noticeable change in water height… and the gates open and close on that lock REAL SLOWLY… took a long time to lock through.
We did have see a lot of boat traffic heading west back towards Fort Myers… at least a dozen power boats passed us… several were the same make… I assume they were dealer boats either coming or going to a boat show… and of course none of them were very courteous boaters… if they did slow down it was to a "plow through the water" speed that made their wake even bigger… not that any of their wakes really had much effect on us… it's just the principle of the thing… they should slow down and be courteous.
We had about 20 miles to make the St. Lucie Lock by 1500 and we needed to average over 6.5 knots to make it… the problem was the water depth… for SAILS to get up to cruise speed she likes minimum 10-12 feet of water under her keel… we were running in 7-10 feet most of the way… so keeping the 6.5 knot average was touch and go… but we managed to make it… arriving at the St Lucie Lock 1459 hours.
And who did we see there sitting and waiting for the lock… the 40' "corner cutting" trawler and the 38' trawler cat that had passed us earlier… rushing ahead did nothing for them…


After the lock we did not have far to go to reach our destination for the night… one more bridge that opens on demand.. Roosevelt Bridge" in Stuart… made that bridge with very little delay and just east of it we turn to starboard and dock at the Stuart City Docks… approximate location N27°12.136', W080°15.218'.

Today we traveled for 10 hours and 5 minutes covering 62.12 nautical miles averaging 6.16 knots.


Posted at 5:50 PM