FL to CT - Day 28
Swansboro, NC to Hobucken, NC

While in Swansboro we were able to spend teh eveing with our good friend Chris and Frank Erwin... lovely dinner on Emerald Isle.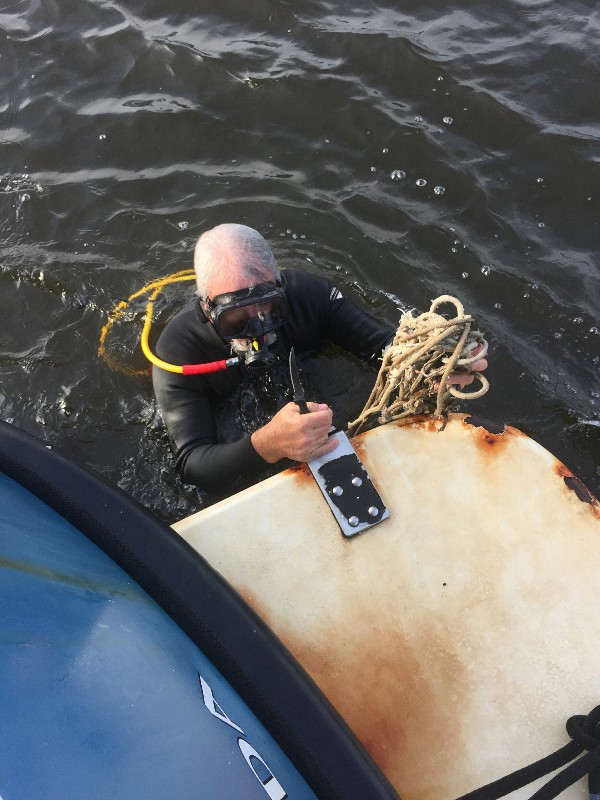 Yesterday while coming ot Swansboro we had teh vibration on the starboard prop haunting us again... I decided that I need to check it out and dove under SAILS before leaving Caspers. Had to cut away about 20 feet of 1/4" briaded line form the prop... took about 15 minutes to clear it off.
We departed the marina at approximately 0845 and headed back to ICW... NO VIBRATION... AWESOME! had a nice boost of speed from the current pushng well over 7 knots as we headed toward Moorehead City... I assumed once we hit the inlet that we would lose the speed... but today was our lucky day... we hit just as the curretn was switching from ebb to flood and soon we were back up to over 7 knots.
Our plans were to stop in Oriental, NC for the night... we love Oriental and tomorrow being Saturday Susan was excited to be able to go to the farmers market they have on Saturdays. We dock at the town docks and the market is right next to them. We check the the docks via the webcam they ahve to see if there is space... The docks were full by noon... 5 boats taking up all the available space... our dinghy is not working that well so anchring in Oriental Harbor was not going to work... so, no farmers market this time.
We did still have the curretn pushing so we opted to coninue up the Neuse River and get that behind us. The winds were SW 15 - 20 knots with gusts to 25 knots... seas were 2-4 feet. so, we had a following sea that provide a gentle rock... very comfotable trip up the Neuse River.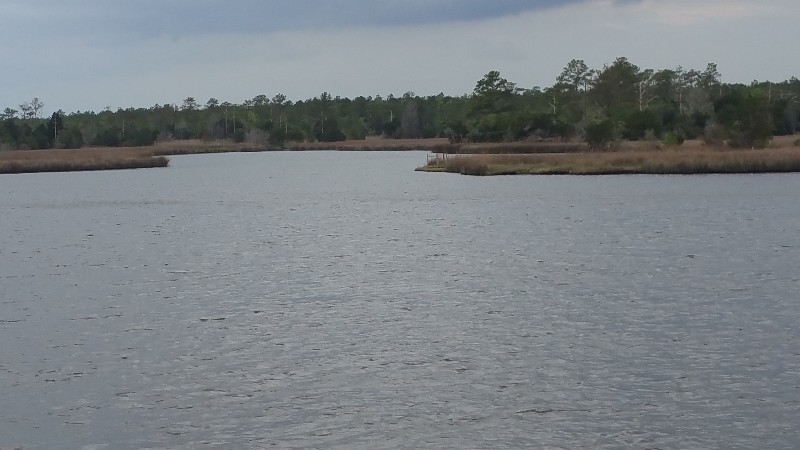 We exited the Neuse and headed up the Bay River to the Hobucken Cut... left the cut at day mark 23 and anchored in Gale Creek at 1700. Our location for the night
N35°12.589', W076°35.500'
. We traveled today for 8 hours and 15 minutes covering 59.0 nautical miles averaging 7.2 knots.


Posted at 5:08 PM


FL to CT - Day 27
Carolina Beach, NC to Swansboro, NC

Last night we were joined by our new friends Cathy and Mike aboard TRAWLER LIFE... they came in about half hour or so after we docked. We went over to assist them docking if we could and say hello... of course we made plans to have a cocktail later that evening aboard their boat.
They have a 36 foot Prairie that they have done some marvelous things to... has a ton of space inside and great storage... and they have create a screen porch of sorts behind the fly bridge... VERY COOL! We had a had a great time with them. They are going to slow down a bit so we will soon be well ahead of them as we push to get back to New England... but we will stay in touch... they are SUPER! Time for me to get back to work!
We departed this morning at 0800 and headed out of the channel of the marina to see a 60-70 foot motor yacht aground just outside the ICW channel with black smoke pouring out it's exhaust... we turned in to the ICW and headed toward Snow's cut... watching them in our rear camera I saw him get off and fall in behind us.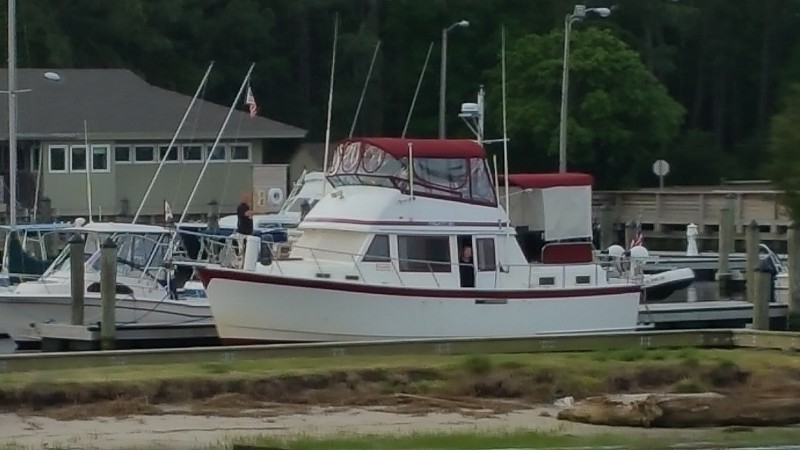 I took a photo of TRAWER LIFE as we passed the marina in the ICW... Looked like they were getting ready to leave.
We had a lot of bridges to wait on today... 4 bridges to go through... all on a schedule and all but one we needed to be opened...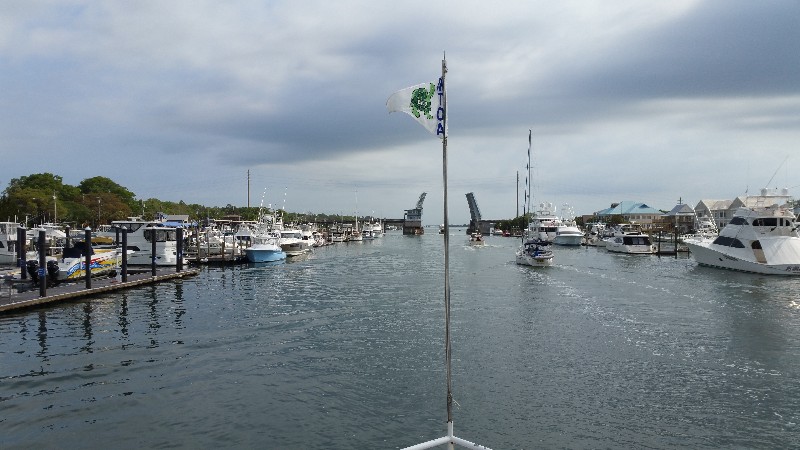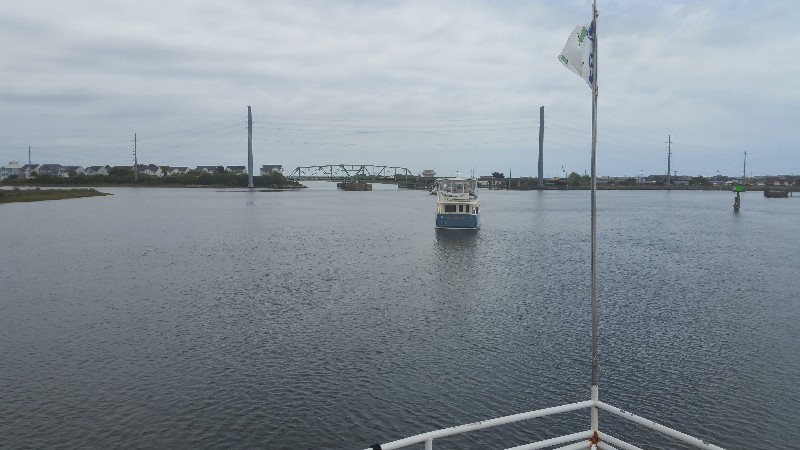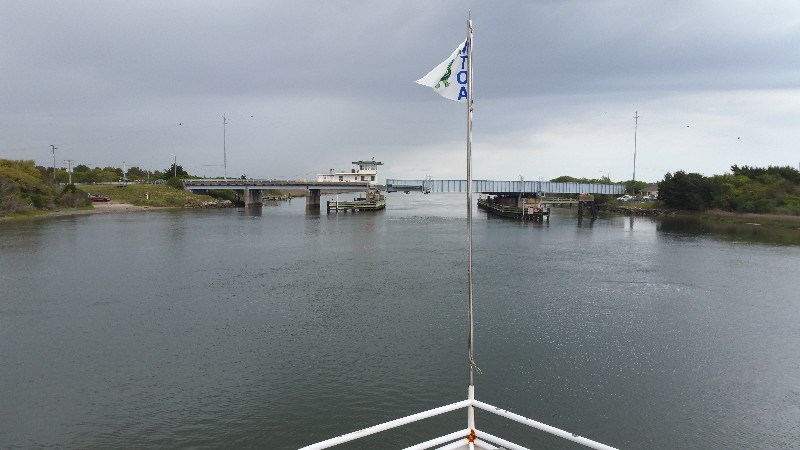 We were able to time our arrivals so no real long delay at any of them... )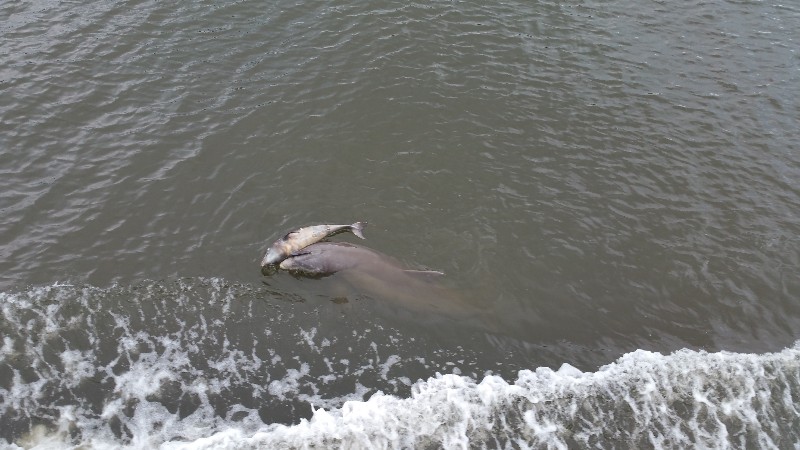 We did see one of the saddest things I think we have ever seen on the waterway... just before Topsail Island Bridge we came upon a mother dolphin next to her deceased baby... she would not leave the baby's side nudging it with her nose as if to try and wake the baby up... so so very sad to see.... :(
We arrived to our destination for the night at Caspers Marina in Swansboro, NC at approximately 1700. Our location for the night
N34°41.113', W077°07.275'
. We traveled today for 9 hours covering 58.7 nautical miles averaging 6.5 knots.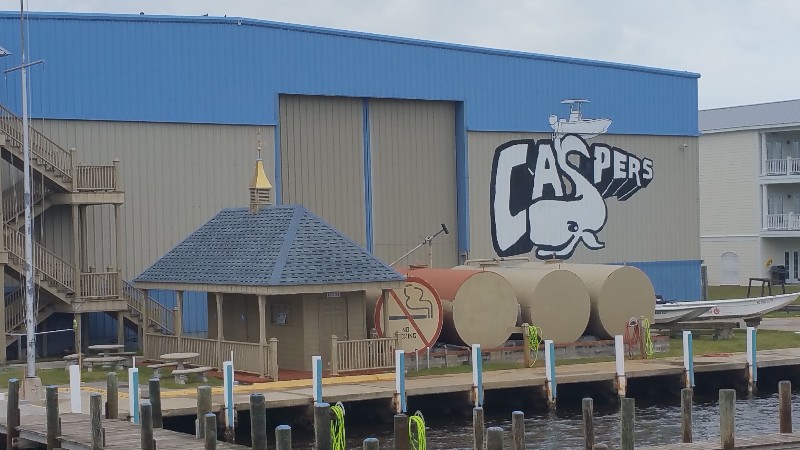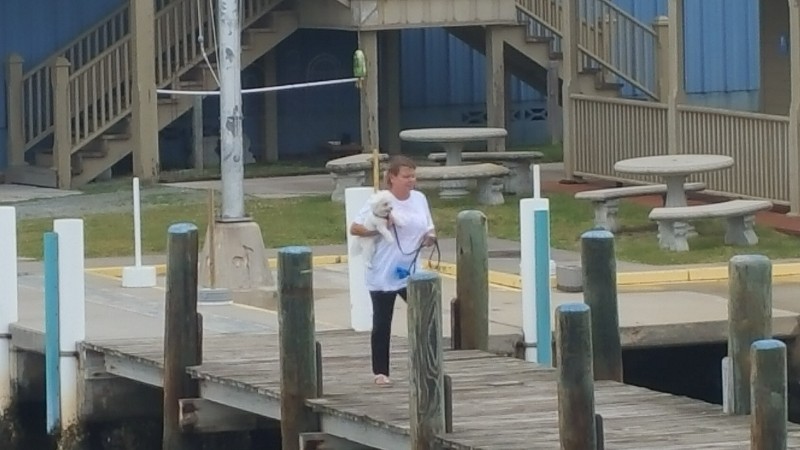 Posted at 5:00 PM


FL to CT - Day 26
North Myrtle Beach, SC to Carolina Beach, NC

One of our favorite places to go while at Barefoot Landing is The Flying Fish for Happy hour... we made there but missed happy hour by minutes... but we did have a beer and a couple of shots... My pleasure was an Oyster Shooter and Susan had Fireballs. We did not see anything on the menu that we really wanted so we went walking around to find someplace different to try... we came upon Bully's Pub and Grille... Susan got her burger fix and tried a buffalo chicken sandwich... it was good but we probably will not go back real soon.
When we got back the dock and SAILS we ran into another couple Mike and Cathy... they had been out to dinner at Greg Norman's and had a great meal... maybe we should of went there... anyway, we stood on the dock talking with them for about 30 minutes or so and eventually ended up aboard SAILS to enjoy a nightcap together. They are doing the loop and started in Florida... their boat is named... TRAWLER LIFE. They are super people and hope we get to see them again along the waterway.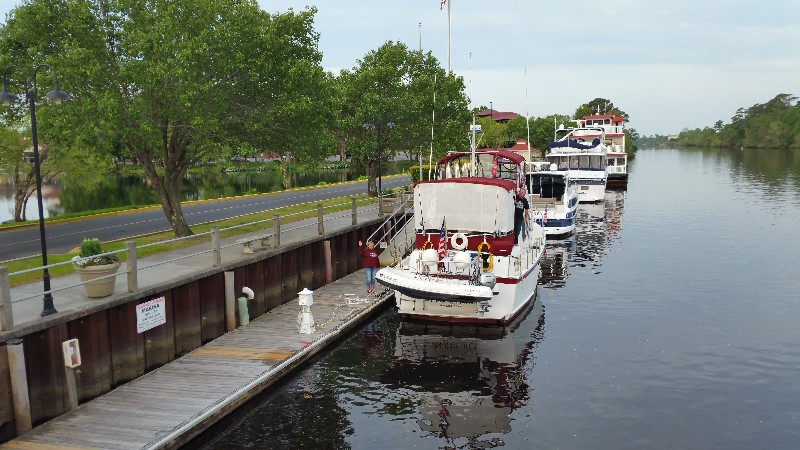 We departed Barefoot Landing at 0745... several boats that had been docked had already left... ahead of us our new friend Cathy and Mike were getting ready to leave as well... shot a photo of them as we pulled away.
The forecast today was for 10-15 knot NE winds shifting to 15-20 E winds in the afternoon... forecast was slight off... winds were E 20-30 knots all afternoon... saw a few gusts to 35 knots... really tired of the wind... had a couple of nice days before today... let's hope the wind goes away soon.
Today the excitement was at Lockwoods Folley Inlet... heard a vessel aground hailing TowBoatUS... as we approached we could see them listing a little to one side... they were trying to get off and had the boat in reverse... you could see the prop wash rushing towards the bow of the boat. Just as we arrived we saw them jump backwards... they had ungrounded themselves... YEAH! Well... then they proceeded to back up towards the channel right in front us... I had slowed to near idle speed luckily as they were 100 feet in front of... they whipped it around and took off forward and what did they do again but go on the wrong side of the marker and nearly ran aground again... they pushed through it throwing up mud and sand behind them... they continued north and we followed at a safe distance... was not sure what they were going to do next but I wanted to well behind them... :) And I was glad I did stay back... next day mark we came to they suddenly veered to port heading right toward shore... aground again... saw the dry stack puffing black exhaust smoke and they were backing in front of us again... this time they stopped and waved us on... I slipped past them and continued north... they followed us all the way to
Southport... nice boat... 47-50 foot Nordhaven... just a little less bottom paint now... :)
All day we were up and down in current... one minute pushing over 8 knots and the next back to 6 knots... then we came to the Cape Fear River at Southport... as we turned into it... I watched the speed drop... 6.5... 6.0... 5.5... 4.5... 4.0... 3.8 knots... :( Never saw it go over 5.1 knots all the way up the river to our stop for the night... Carolina Beach State Park Marina.
We were secure at the dock with power on at 1615. Our location for the night
N34°03.014', W077°55.153'
. We traveled today for 8 hours and 30 minutes covering 49.4 nautical miles averaging 5.8 knots.


Posted at 4:33 PM