CT to FL Day 1
Stamford, CT to New York, NY

Our summer season is over and again time to head south… we were a little delayed due to a problem with our anchor windlasses…we had taken them to Ideal Windlass in Greenwich, CT to be refurbished September 11, 2013… 9 weeks later we were able to pick up "one" of the two windlasses we left with them… one is still at Ideal waiting on parts. Anyway, we picked it up the one windlass on Tuesday November 19th and by the end of the day Wednesday we had the windlass installed and working… however, we still had 500 feet of chain and anchors laying on the dock that needed to go back into SAILS.
Thursday morning I had one last dock-to-dock tow scheduled at 0800 and then back to get the chain and anchors back in SAILS.
Thursday morning tow went well and I was back to Stamford by 1130 and we began the chore of getting the chain back into SAILS. The starboard chain and anchor was all manual labor… no windlass to retrieve it., but it went well and the port chain and anchor was a breeze… topped the water tanks off… prepared the towboat for tow and we were ready to depart at approximately 1300.
At 1320 we had the towboat in tow on the hip and were underway out of the East Branch of Stamford Harbor bound for Oyster Bay to drop off the towboat. I called Mitch my boss and let him know we were underway and he suggested rather than us bring the towboat all the way to Oyster Bay that I run the towboat (alone) to Oyster Bay and he would run me back out to SAILS… sounded like a great plan to me, although Susan was not so keen on the idea of being alone underway on SAILS but she agreed it would be fasted than towing the towboat to Oyster Bay with SAILS.
I left on the towboat and was off to Oyster Bay. I picked up Mitch and we returned to SAILS and he dropped me off at approximately 1430. Mitch headed back to Oyster bay with the towboat and we were underway toward New York City our destination for the day.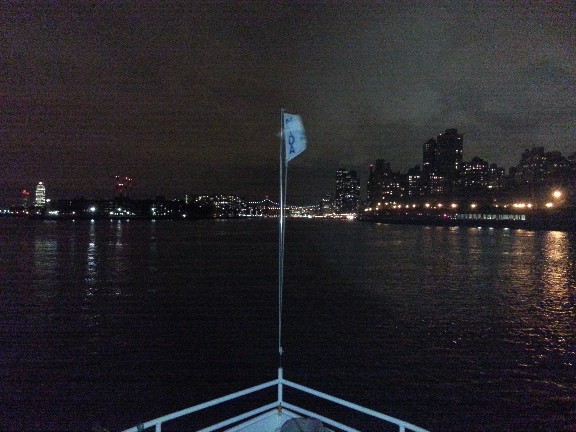 We were running a little later than I had hoped so we would not have the best conditions for transiting Hell Gate in the East River. I had hoped to hit Hell Gate while the there was an ebb tide… but we would actually arrive at slack tide. This was not terrible but it did cause us to have the current switch to on our bow and we spent the last hour with a fairly good current against us.
We arrived to our final destination at Liberty State Park behind the Statue of Liberty at approximately 1900. Our dinghy is not working that well so, before anchoring we docked temporarily at the Ferry docks to walk Beecha. By 1930 we were securely anchored at N40°41.756', W074° 03.858'.
We had traveled for 6.2 hours covering 38 nautical miles averaging 6.3 knots.


Posted at 8:34 PM


Trip Statistics
2013 Trip
Punta Gorda, FL to Stamford, CT

We departed from Punta Gorda, FL on March 22, 2013 and arrived to Stamford, CT on May 12, 2013.

Overall: 52 days
Moving: 29 days
Stopped: 23 days
11 days on the hard at the Owl Creek Boatworks in Alva FL.
1 day anchored in Pelican Bay for pleasure.
7 days at the MTOA Southern Rendezvous in Fernandina Beach, FL.
3 days in Portsmouth, VA waiting for weather.
1 day in New York, NY waiting for weather.

Distance traveled: 1,700.65 statute miles
Moving: 226.25 hours
Averages:
59 statute miles per day
7.52 miles per hour
7 hours and 48 minutes per day

Marinas, Docks, Anchorages:
8 nights PAID docks
2 nights PAID Mooring Ball
12 nights FREE docks
7 nights anchored.


Posted at 12:36 PM


FL to CT Day 29
New York, NY to Stamford, CT

After hanging out for a day in New York we departed on the final leg of our journey north at 0645. According to my calculations this departure time would place us at the Battery about 2 hours after low tide. Arriving at this time gives you a favorable current up the east river and it continues into Long Island Sound.

Initially, we had a current against us as we crossed Hudson River toward the Battery running at less than 6 knots for about a half hour… we entered the mouth of the East River and we were met with a boost of current taking to 8 knots very quickly. The farther we proceeded up the East River the faster we went… 8.5… 9.0… 9.5… 10… 10.5… at 11 knots we leveled off and maintained 11 – 11.3 until we reached Roosevelt Island and our speed increased again to 11.8 knots… we passed through Hell Gate where the East River and the Harlem River meet… the East River has sort of an S-curve in it just at this point and through this curve exceeded 12 knots… our speed through the water was 7 knots… we were getting a 5+ knot boost of current. It was awesome!!!

After this the East River widens up and the current slows down but we were still doing 8.5 to 9.0 knots all the way to Long Island Sound at the Throgs Neck Bridge where we slowed to 7.5 to 8 knots.

We rode at this speed to just past Execution Rocks where we slowed to 7.3 – 7.5 knots which we maintained for the next couple of hours as we approached Stamford.

We reached Stamford at 1100 and were securely docked at the Stamford Harbor Park Marina at N41°02.490', W073°31.858'. We traveled for 4.25 hours covering 35.4 nm averaging 8.4 knots.


Posted at 12:12 PM