SC to CT Day 11
Layover Chesapeake City, MD

This morning the boats that were at the Town Dock had left so we decided to move over to the Town Dock about 1,000 feet away.

I then got into the problem with the port engine... it was definitely not pumping raw water... removed the raw water pump cover plate and immediately saw that the impeller was bad... all eight blades sheared off... Great a simple repair.., I pulled the impeller... which came out way too easily... located and removed the eight sheared blades... upon inspecting the pump housing and shaft I noticed why the impeller came out so easily... the shaft splines were also badly worn to the point that the entire raw water pump needed to be replaced.... :(

Was able to locate a Yanmar dealer in Annapolis that located a raw water pump for me and is having shipped in next day air... of course we are a hour half away by car from Annapolis... rented a car from Enterprise for one day...can drive to Annapolis tomorrow and pick up the pump.. return and install it.

Luckily we had our friends Cathy and Jim Fisher meeting us today for lunch in Chesapeake City so they were able to give me a ride to Enterprise to pick up the rental car on their way home.

Fingers crosses all goes as planned and the pump arrives to Annapolis tomorrow.... so for now we are here in Chesapeake City for another day.



Posted at 5:40 PM


SC to CT Day 10
North Beach, MD to Chesapeake City, MD

We left Herrington Harbour Marina this morning at 0700 and headed north on the Chesapeake Bay... destination for the day... Chesapeake City Town Dock.
We had current assisting us till about 1100 and it slowly started turning against us... soon we were running 6 knots.... slow going....


Then to add to the day the port engine alarm went off... overheating... Quick shut down and off to the engine room to see if I could see anything outstanding that might be causing the problem.... nothing but a HOT engine... no visible leaks. We continued on one engine... 6 knots seems fast compared to the 4 knots we were making now.

After the engine cooled down enough to check the water level... I found that it was not low on coolant... I started the engine and appeared and sounded like there was no raw water flow coming out of the exhaust... so I assumed the raw water pump impeller failed. After we dock tonight I'll check it. Have spare impellers onboard.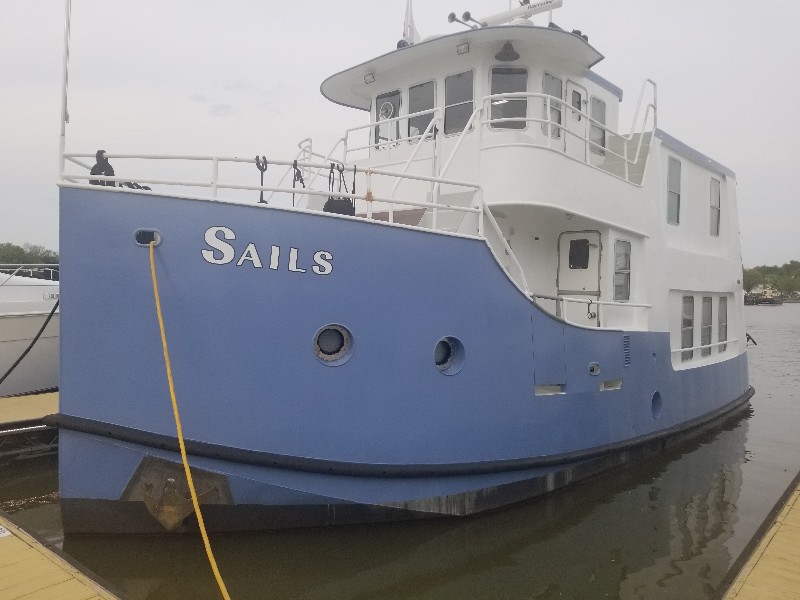 We arrived to Chesapeake City at 1715 only to discover that the town dock was full... on to plan B dock at Chesapeake Inn Marina... It was packed no dock space that we could see... then we heard a go-fast boat start and they were tossing lines... they pulled out and we pulled in... We were docked at 1730. Our location for the night at N39°31.592', W075°48.640'. We traveled today for 10 hours and 30 minutes covering 62.1 nautical miles averaging 5.9 knots.


Posted at 6:31 PM


SC to CT Day 9
Reedville, VA to North Beach, MD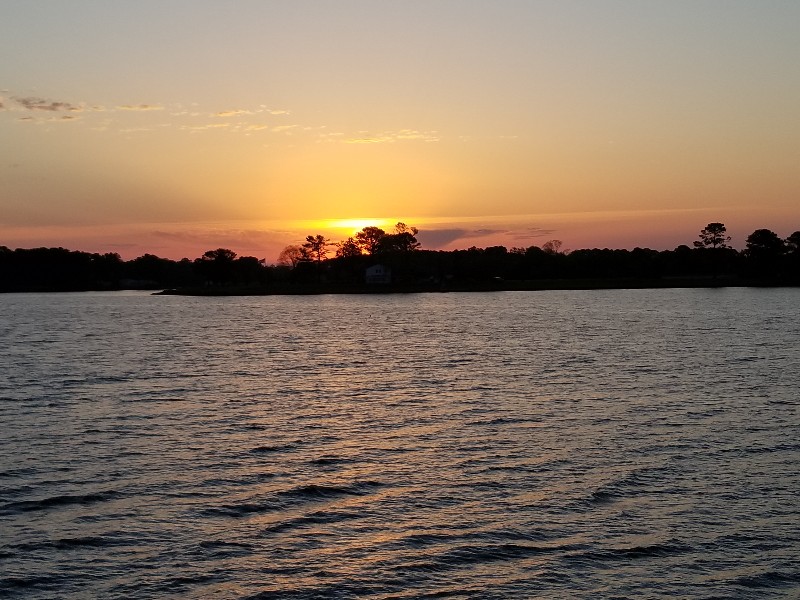 We departed from Reedville this morning at 0615 with a beautiful skyline as the sun came up... best part of the day!
Forecast sunny skies and SE winds 10-15 knots seas 1.2 feet... we never know what to expect... sunshine or cloudy is normally correct... winds are fairly accurate most of the time... sea state is a dice roll...
Today we got two out of three... sunny and less winds than forecast but for some reason we still had some large wave action... 3 to 4 footers.... It did calm down around noon but was rough for several hours...

Most of the boat traffic we saw today was cargo ships.... 4 to be exact... 3 heading up the bay toward Baltimore and 1 heading south toward Norfolk. Saw some boats on AIS but were never close enough to see them other than with binoculars.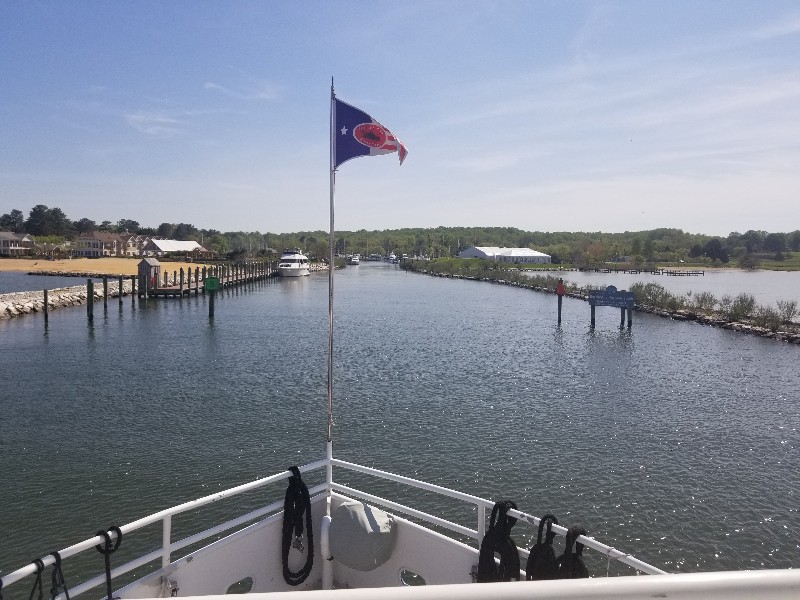 We arrived to our destination for the night... Herrington Harbour South at 1545 and docked at the fuel dock. First stop the fuel dock.. SAILS was hungry. we took on 732 gallons of diesel... 416.3 hours of use since last fuel up... equates to 1.76 gallons per hour fuel burn... 1,270 miles traveled... equates to 3 miles per gallon.

We were finished fueling at 1645. Since the marina was closing at 1700 they said we could stay on the fuel dock for the night rather than move to a slip... perfect! Our location for the night at N38°43.583', W076°32.550'. We traveled today for 10 hours and 30 minutes covering 64.9 nautical miles averaging 6.2 knots.


Posted at 6:25 PM