CT to FL Day 45
Fort Myers, FL to Punta Gorda, FL

This morning the alarm did not wake us... it was the sudden onset of wind and rain... wind started blowing and then it the sky let loose with the heaviest rain we have seen the entire trip south.
We debated on staying at the marina another day due to the rain and wind but checking the foreast the rain would soon be over... the wind was to be with us all day... NW 20-25 knots with gusts to 30 knots... not the best but doable... we decided to leave as soon as it quit raining.
Rain stopped around 0700 and we were away from the dock at 0730 heading down the Caloosahatchee River with a very favorable current pushing us to almost 9 knots in several places... but we knew it would not last... soon we would turn to head up Pine Island Sound and we would have this same current pushing us now against us.
With the windy conditions I was surprised to see as much boat traffic as we did... several small boats zipped past us and a lot of anchored small boats that were fishing.
On Pine Island Sound the current was slowing us to between 5 and 6 knots... the 25 knots winds on our bow were probably also contributing to the slow down... Seas were 2 feet in a short chop... not an uncomfortable ride but a wet one with the winds blowing spray up as high as the pilothouse windows.
We reached Boca Grand Pass and turned up Charlotte Harbor and once again had current pushing us again... not 9 knots but a good push... waves were now around 2-3 feet on our port side... still not uncomfortable but no longer getting the spray on the pilothouse windows. The favorable current slowly dissipated as we got closer to Punta Gorda running at our typical cruising speed for the last hour.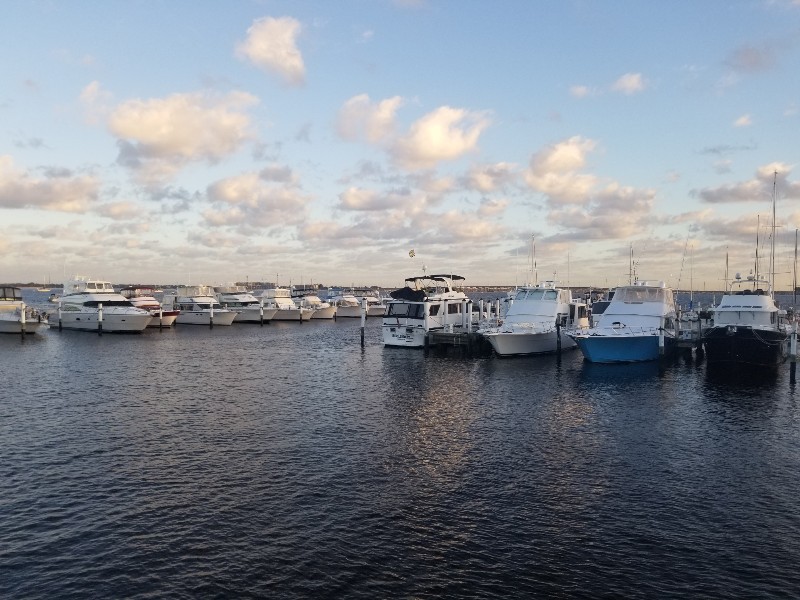 We arrived to Fishermen's Village Marina and were securely docked at 1530... our location for the next month
N26°55.751', W082°03.875'
. We traveled today for 8.0 hours covering 54 nautical miles averaging 6.8 knots.
We were greeted at the dock by several of our good friends... it was great to see them... some of them we had not seen in several years.


Posted at 4:22 PM


CT to FL Day 44
Moore Haven, FL to Fort Myers, FL

WE left this morning from Riverhouse marina in Moore Have, FL at 0730... it was a bit foggy but not enough that I had to use radar... just enough to be aggravating...
Two locks today... first lock was the Ortona Lock... we arrived at 0920 and for some reason it was not 0955 that we were able to enter the lock... exceptionally long wait for there to be no east bound boat traffic locking through... he did lower us really quickly... dropping us 8 feet. We were underway out of the lock at 1015.
We did have a bit of favorable current running at 7.0 to 7.2 knots most of the day... never having any current opposing us... nice when you have a day like that.
We had three bridges between the locks... Labelle Bridge that no opening is required when I lower the VHF antennas and mast... the Fort Denaud Bridge is a low swings bridge and requires an opening and the Alva Bridge we might of been able to clear but it would of been real close so I requested an opening to be safe.
We arrived to the next lock... the WP Franklin Lock at 1230 and had very little wait to enter the lock... dropping 2 ft. in about the same time that the Ortona Lock dropped us 8 ft...


We had one more bridge... the Wilson Pigott Bridge that we did not require an opening after lowering everything.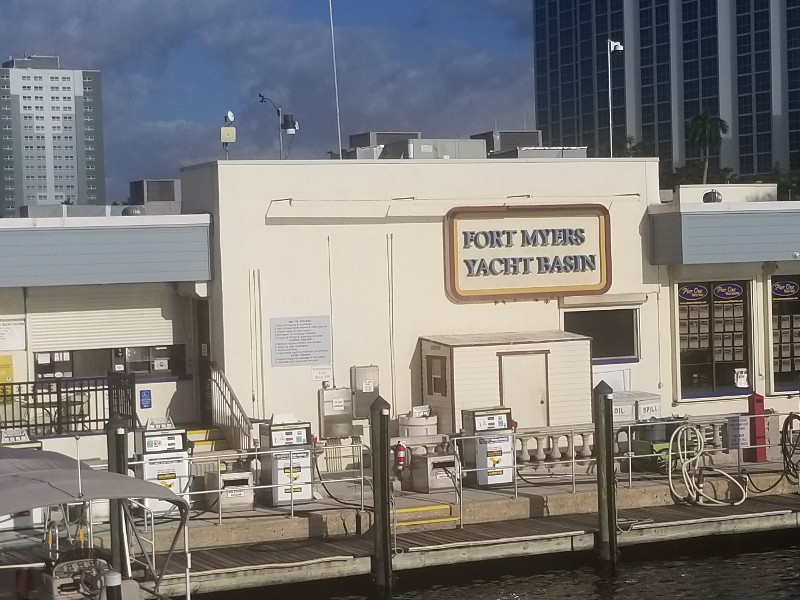 We were going to anchor tonight but decided it was just too warm and it is supposed to rain... so we opted to go to a marina where we would have AC and a nice cool evening. We made a reservation at the City of Fort Myers Yacht Basin.

We arrived to the Marina and were securely docked at 1530... our position for the night N26°38.859', W081°52.203'. We traveled today for 8.0 hours covering 47.65 nautical miles averaging 6.0 knots.


Posted at 4:29 PM


CT to FL Day 43
St. Lucie, FL to Moore Haven, FL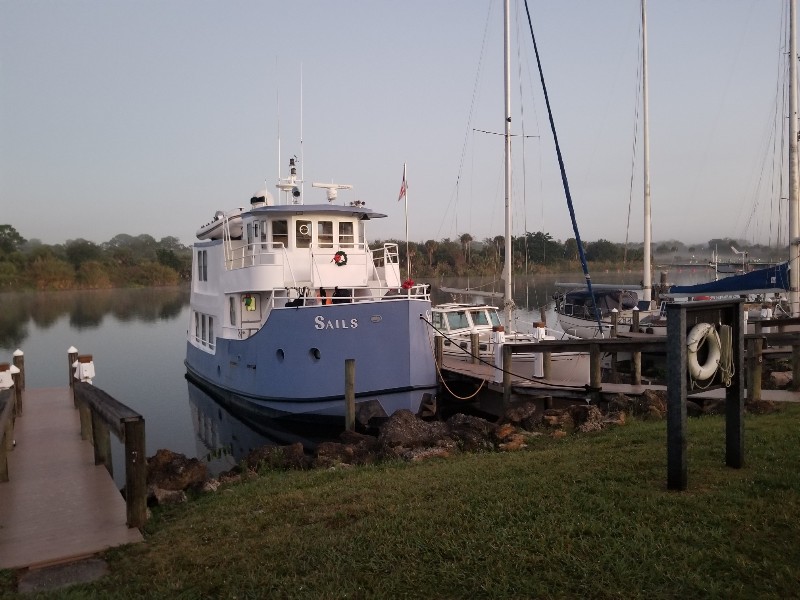 Alarm went off at 0600... but this morning was a snooze morning... I would of hit snooze a few more ties but my phone only gives me three 5 minute snoozes and then it shuts off...
Tried to stay up and see the New Year in but last time I remember was 2245... so we go off the dock a bit later at 0715 and headed down the St' Lucie Canal toward Lake Okeechobee.

Today we would have two locks to go through... Port Mayaka Lock and the Moore Haven Lock... in the past the Port Mayaka Lock is a drive through not having the lock through... today we had to lock through with the lock raising SAILS 1.5 feet... did not take long and we were back underway in 15 minutes... exiting into Lake Okeechobee.

About two hours across the lake and we came to Clewiston, FL... where we turn on to the Rim Canal... Clewiston has a lock from the rim canal into the town... Rowan and Martina is locate3d there... never saw this lock operating that I can remember... but it was today and there were several small bass boats sitting and waiting right in the middle of the rim canal channel... I don't have much leeway here and have to stay in the middle of the channel due to water depths... I slowed to idle speed and started my 90 degree turn from the lake channel into the rim canal channel... these small boats waiting for the lock were scrambling to get out of the way... I think it surprised them that I was not stopping for them... they all managed to get out the channel...

We came to the Moore Haven Lock next... well next implies right away...actually it was a couple of hours after the bass boats... had to wait a few minutes for the lock to prepare for us to enter... we were in and out within 30 minutes dropping SAILS about 4 feet.... about 10 minutes to our dock for the night in Moore Haven... we had made reservations through DockWa earlier in the day at Riverhouse Marina.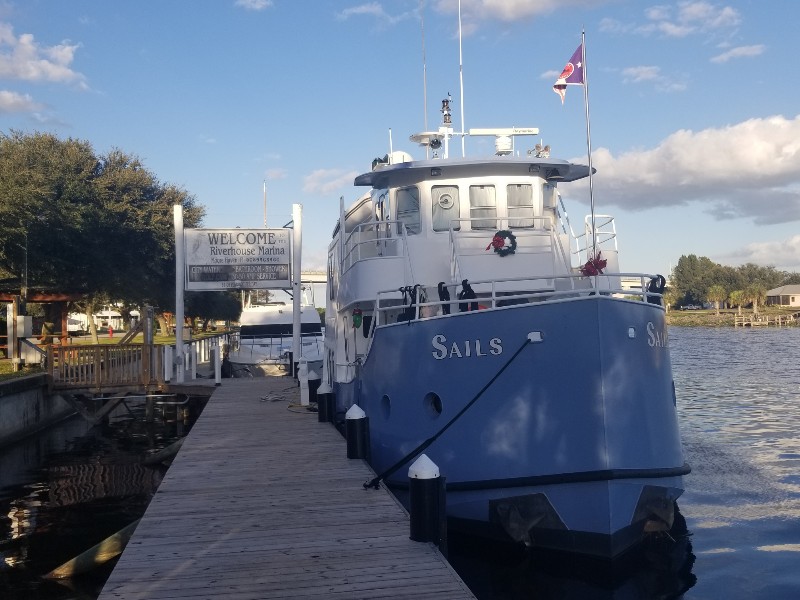 We arrived to Riverhouse Marina and were securely docked at 1600... our position for the night N26°49.864', W081°05.437'. We traveled today for 8.75 hours covering 54.55 nautical miles averaging 6.23 knots.

There are two marinas here... the Moore Haven City Docks and Riverhouse… we always try to support the privately owned marinas if we can... Riverhouse has new owners now and they have really improved the marina from last time we were here... it was nice to see.


Posted at 5:24 PM