FL to CT - Day 25
Bucksport, SC to North Myrtle Beach, SC

We left Bucksport this morning at 0900 with a full load of Bucksport sausage... short day planned to Barefoot Landing Marina in North Myrtle Beach, SC. I have some work to catch up on and need a good WiFi connection and Susan loves it here... :)
A lot of boat traffic moving north today... was 45° last night but suppose to be 88° today. Sail boats, power boats, trawlers, small runabouts... everyone was out on the water. Can't blame them it's a gorgeous day.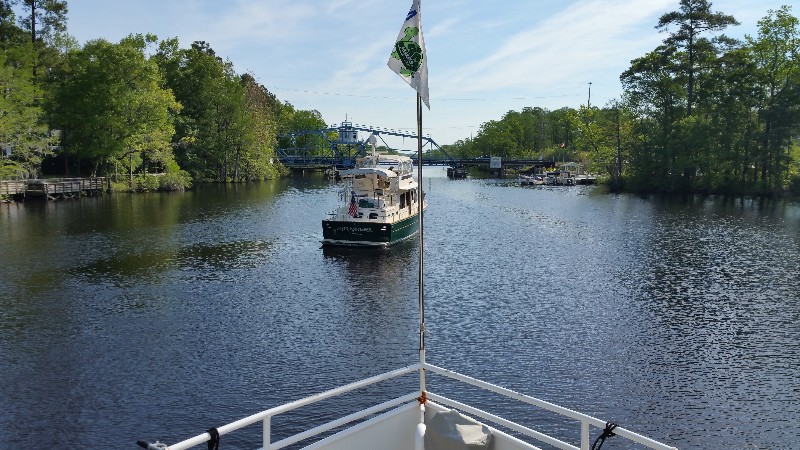 We got held up at the Socastee Bridge shortly after leaving Bucksport... sat and waited abut 15 minutes for an opening... trawler ahead of us and a couple of sailboats behind us. Good thing was we had current in our favor the entire day pushing at 7.5 to 8.0 knots.
We kept hearing on the VHF a boat names ENTICER from Newport, RI... everyone was complimenting them as they passed the boats behind us... When it passed we saw why... 1935 wood motor yacht with teak, teak and more teak... not sure what make it was but it was beautiful.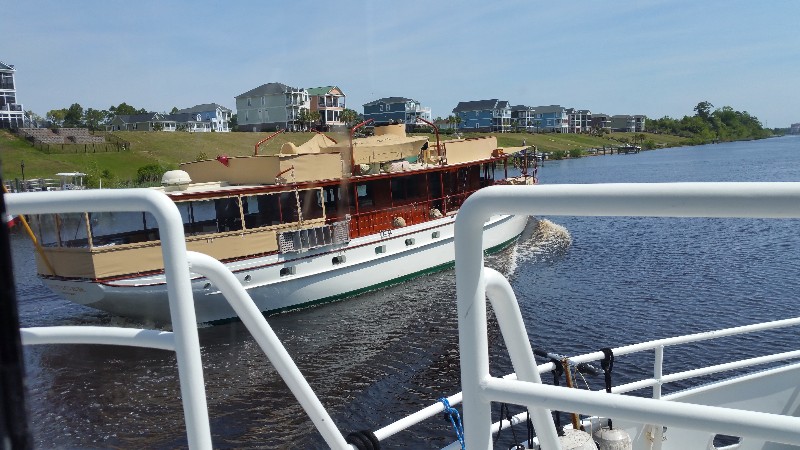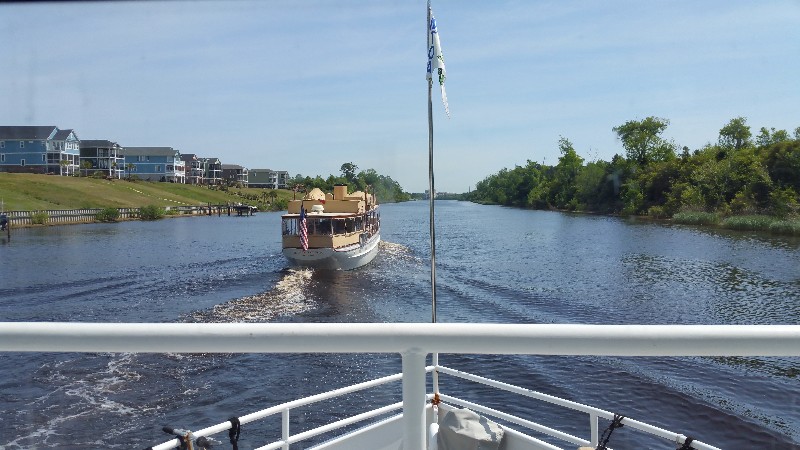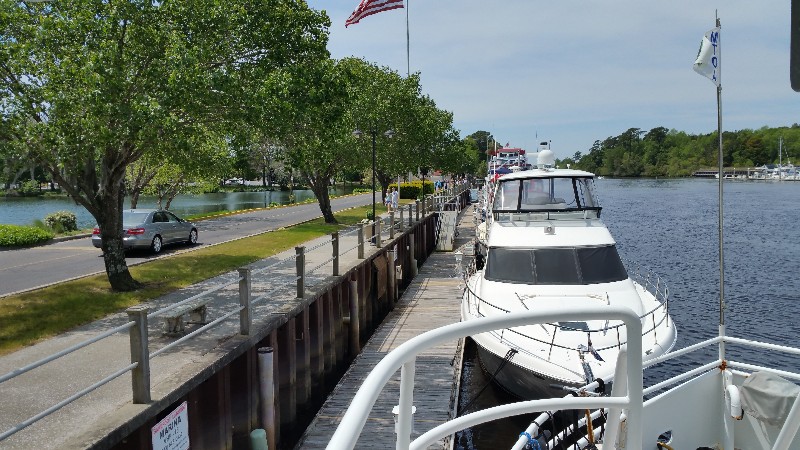 We arrived at Barefoot Landing Marina at 1200 and were secure at the dock power on at 1215. Our location for the night
N33°48.076', W078°44.734'
. We traveled today for 3 hours and 30 minutes covering 20.9 nautical miles averaging 6.0 knots. Those waits at bridges sure kill your average speed... :)


Posted at 12:16 PM


FL to CT - Day 24
St. Johns Island to Bucksport, SC

The evening on anchor was great... nice cool breeze... windows open... 48°... Brrrrr! I ask why are we heading north?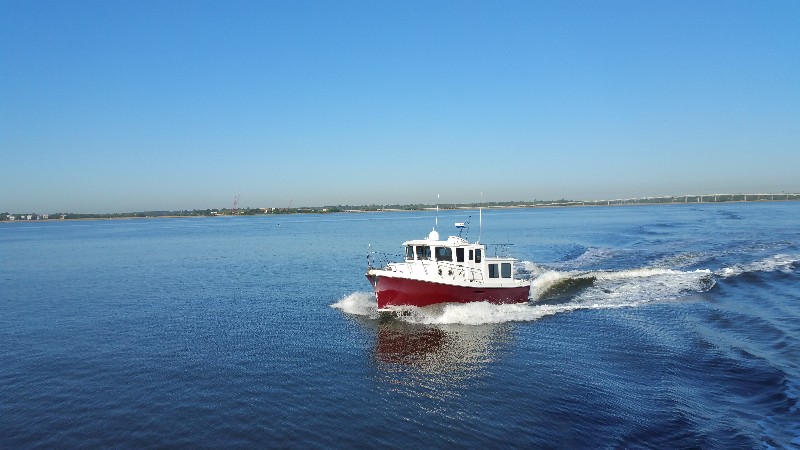 We pulled the anchor and were underway at 0745... short distance back to the ICW and Elliot's Cut toward Charleston. EArlier I had seen C_LIFE depart the St. John's Yacht Harbor and just before we left another bost we first met in Delegal Creek Marina... BIRD OF PREY also left the marina. We followed them through Elliott's Cut and passed them just before the Wappoo Creek Highwway 30 Bridge... but soon they passed us across Cherleston Harbor... heard thema few times on the VHF throughout the day but never saw them again... very nice folks that were in the process of doing the Loop.
We had a falling tide as we Sullivan Island Narrows under the Ben Sawyer Swing Bridge toward Islae of Palms... in thepast this has been a real trouble area with very skinny water... last year heading south they were dredging this stretch and as we passed through there were no issues... appears the dredging is holding up well.
Can't say the same thing about the ICW near McClellanville... as we passed through this area is was almost dead low tide and our depth sounder stopped wroking a few times falshing that dreaded... "LAST" with 5.0 feet on the guage... we have a 5 foot draft so needless to say we were pushing through the mud a few times... hate when this happens... :)
As we were passing through Estherville Minim Creel Canal toward Winyah Bay we came to the Tom Yawkey Wildlife Center Bridge... this is a barge that they swings across the canal and drop ramps on both sides to allow cars to pass... in the last 15 trips north and south we have nver seen this closed... today ot was closed... w3e waited about 10 minutes and a few cars passed across... think it was employees as they all had the Wildlife Center logo on the side of them... slowly the barge swung out of the way... pretty cool to watch it operate.
Our planned destimation of Georgetown was just ahead... we had picked up the incoming current at this point and were being pushed 8 knots up the Waccamaw River... it was only 1600... great speed... we opted to continue till we lost the boost of speed... 2.5 hours to Wacca WAche Marina... a good stop... reached it and still had current... another hour to Bucksport Marina... we continued... arriving to Bucksport at approximately 1930.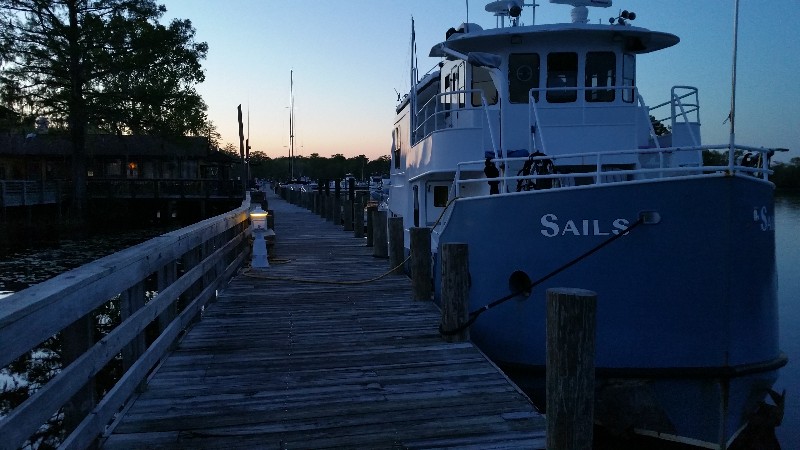 We were secure at the dock with power at 1945. Our location for the night
N33°39.046', W079°05.670'
. We traveled today for 121 hours covering 83.12 nautical miles averaging 6.9 knots.


Posted at 8:34 PM


FL to CT - Day 23
Port Royal, SC to St. Johns Island

After arriving we noticed some fellow MTOA members docked across the fairway from us.... Robert and Kay Creech aboard C-LIFE. We were able to spend a little time with them having cocktails on their boat and dinner at the marina restaurant. Always nice to run into good friends like the Robert and Kay.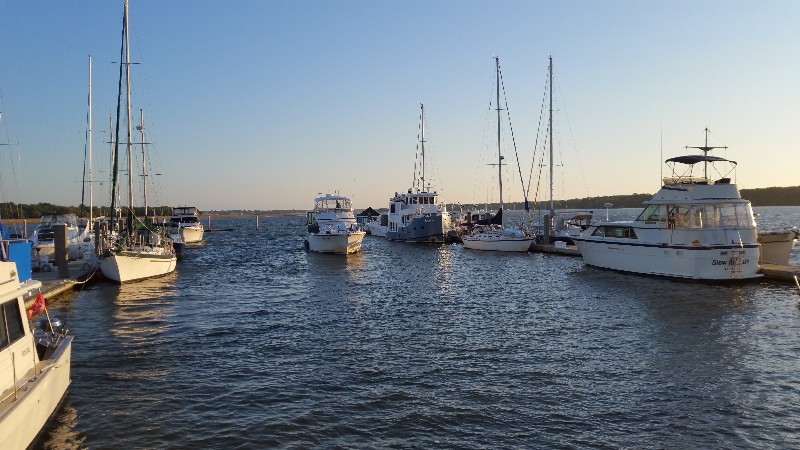 In the morning wind and current conditions were going to make it tough for Robert and Kay to get off the dock without hitting either the boat in front or behind them without a dockhand. Little after 0700 I went over to assist them getting off the dock and watched as they backed out of the fairway. Once they were clear I returned to SAILS and we were off the docks at 0730.
As we backed away from the docks I felt a vibration in the steering wheel... normally only feel this when the props are fouled with barnacles... I knew that was not the case and figured it was just backing in the strong current.
Once out and clear of marina I brought SAILS up to cruising RPM... VIBRATION in the starboard engine... checked the engine room camera and all looked good... put the engine in reverse and increased RPM slightly... felt vibration for a few seconds and then it stopped... back in forward and vibration was gone... evidently during the night the current had swept something into the prop and undocking fouled it in the prop. A couple of time during the morning as we cruised I felt the vibration for a brief period and then it would stop... something on the prop was freeing itself... no vibration all afternoon... at this point I am not diving under the boat... but may have to if vibration comes back tomorrow.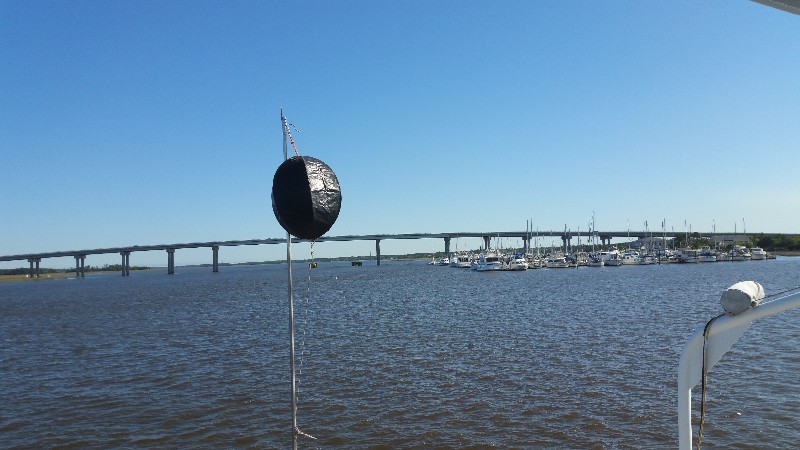 We arrived to Elliots Cut just before Charleston and turned to starboard and continuing up the Stono River toward St. John's Yacht Harbor... no marina tonight though... we dropped the hook just north of the marina at 1630. Our location for the night
N32°45.440', W080°00.654'
. We traveled today for 9 hours covering 57.4 nautical miles averaging 6.4 knots.


Posted at 4:45 PM