GA to CT Day 5
Carolina Beach, NC to Swansboro, NC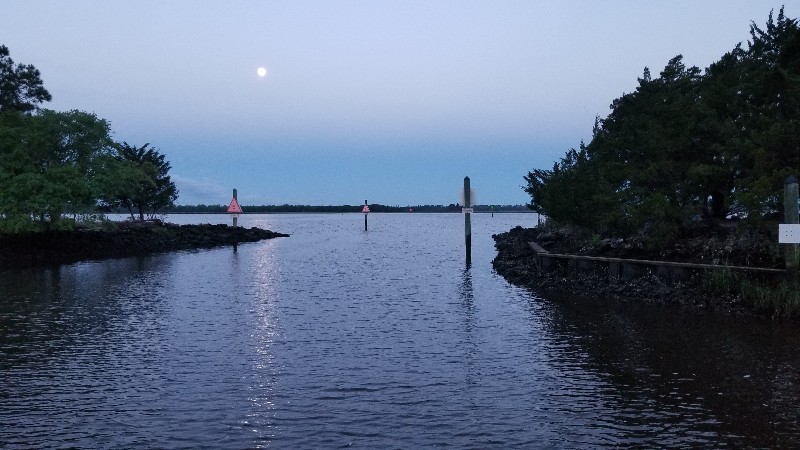 We left a bit later than planned... wanted to get away by 0700 but did not get off the dock until 0730... weather was 1000% better than yesterday... no wind and sunshine... YAY! Missed sunrise but there was a great moonset as we left the marina.
Getting away 30 minutes later than planned totally destroyed my bridge timing for openings... Wrightsville Beach Bridge opens only on the top of the hour... we could not make the 0900 so we had to slow way down to make the 1000... easier to slow down and arrive just minutes before the opening than to sit and wait at the bridge for the opening.... especially today as the "No wind" from earlier had increased by the time we reached the Wrightsville Beach Bridge... plus we had a strong current on our stern... so slowing down for the bridge arrival we lost the speed boost from the current also... :(
We made the 1000 opening from this point forward we have 3 more bridges... Figure Eight Bridge which we would be able to clear today with the tide state (no opening required)… the Surf City Bridge which was just replaced with a high rise...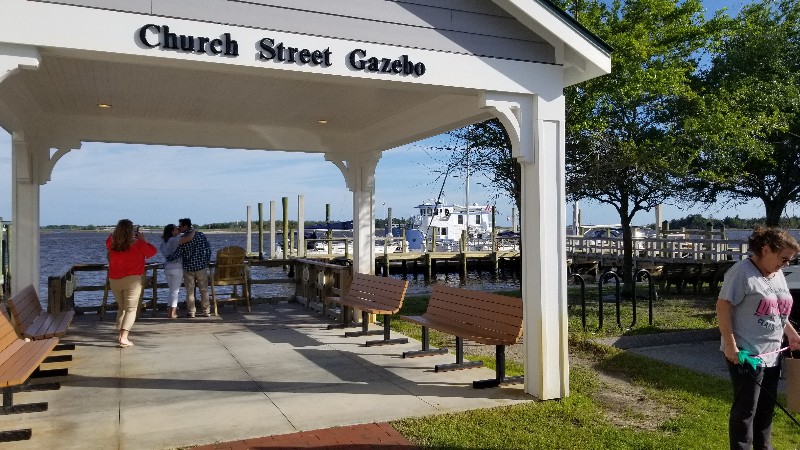 and then the Onslow Beach Bridge. The late departure also messed up our timing for the last bridge and we again had to slow down to arrive just before the opening time... and again we had a strong current pushing us... sucks to not be able to utilize the boost in speed when you get it...


We arrived to Swansboro, NC and it was time to stop... two longs days prior take a toll on you and an early night was nice. We docked at the Church Street Docks at approximately 1645 and were securely docked at 1700. Our position tonight is N34°41.159', W077°07.161'. We traveled today for 9 hours and 30 minutes covering 59.1 nautical mile averaging 6.2 knots.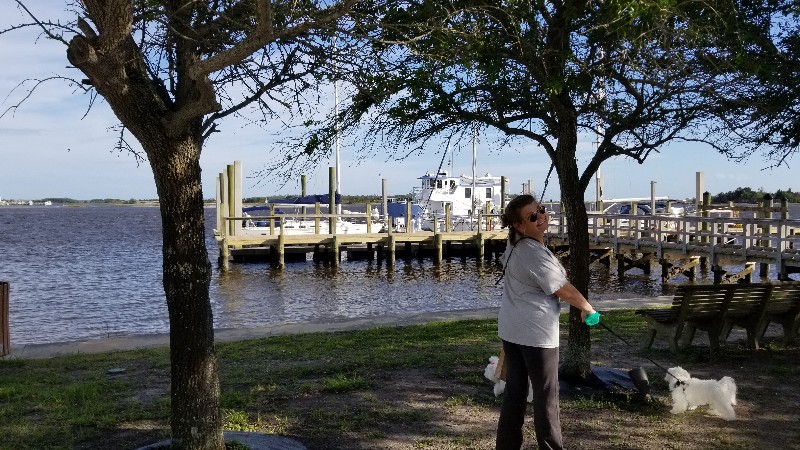 Posted at 6:08 PM


GA to CT Day 4
Murrells Inlet, SC to Carolina Beach, NC

We left Wacca Wache Marina at 0710... it was a dark and gloomy morning with forecast of 100% chance of rain with 20 -30 knot winds... cold front to cross the area late afternoon... not the best forecast for cruising but being in the ICW you're well protected from the wind... rain you get and as long as it's not a real heavy rain you can navigate without any issues.
virtually no other boat traffic out today... which we assumed with the forecast. We did have one boat that was docked at Wacca Wache in front of us leave just before 0700... they were very nice couple that we had dinner with at the Deck 383 Restaurant at the marina. They were on a 50ft Nordhavn and had been traveling non-stop since leaving Marathon... They came inside to the ICW at Georgetown. They were going to Southport to stop and visit family that was on Oak Island... enjoyed our evening with them.
We stopped at Bucksport Marina to buy some of their famous sausage... I love it... Susan thinks it tastes like dirt...
But we always stop and pickup sausage.

Shortly after leaving Bucksport the rain started and it continued for a few hours... heavy for brief periods and then just light drizzle... not pleasant to cruise in weather like this... we just hoped to make it to our destination for the night before the line of the cold front hit... it was forecast for leading winds gusting to 50kts... it appeared as we would make it.

As we reached the Southport the winds started picking up...seeing gusts to 30 knots and the rain started... timing was good for current and we had a flood current pushing us up the Cape Fear River... 8 plus knots but the wind continued to increase... looking the weather radar the line of the cold front was very close to us... winds started gusting over 45 knots... never saw the 50 knots but there's really not much difference between 45 and 50 when it comes to wind... it was WINDY and ROUGH... our timing to make it to dock before the front was off... it was here and we had 5 miles to go... about 35 to 40 minutes if we maintained the 8 knots. The wind subsided a little as the leading edge of the front crossed over us... down to 20 knots... LUCK was with us... 15 minutes out from the marina the rain stopped... winds dropped to less than 15 knots and we were able to get into the dock very easily....

Arriving to Carolina Beach State Park Docks at approximately 1825 and were securely docked at 1840. Our position tonight is N34°03.014', W077°55.153'. We traveled today for 11 hours and 30 minutes covering 76.5 nautical mile averaging 6.7 knots.

Sorry no photos today... was just not a "photo" day with the weather.


Posted at 7:08 PM


GA to CT Day 3
Charleston, SC to Murrels Inlet, SC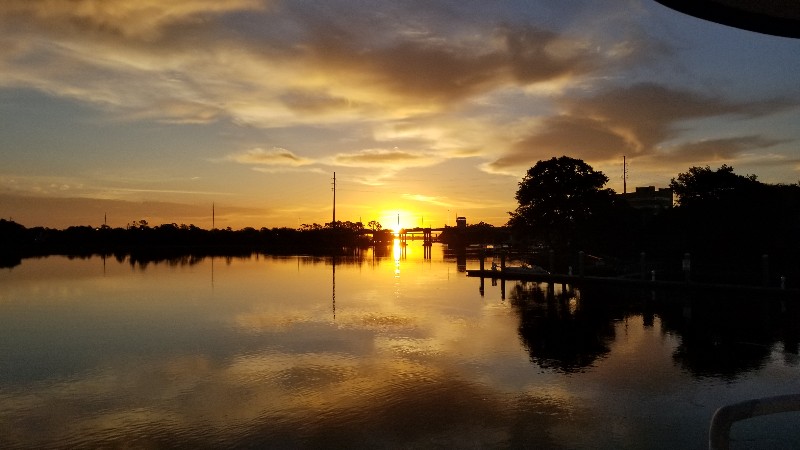 We were awake early and pulling the anchor...underway from the Wappoo Creek anchorage at 0645 with a beautiful sunrise to watch as we headed toward Charleston Harbor. As we approached the Charleston City Marina a few b oats pulled out ahead of us heading north as well... they were running much faster than we were and soon were out of sight.
Another beautiful day and horrible head currents slowing down most of the day... typically seeing between 5 and 6 knots... we did have a few areas where we got a brief boost in speed.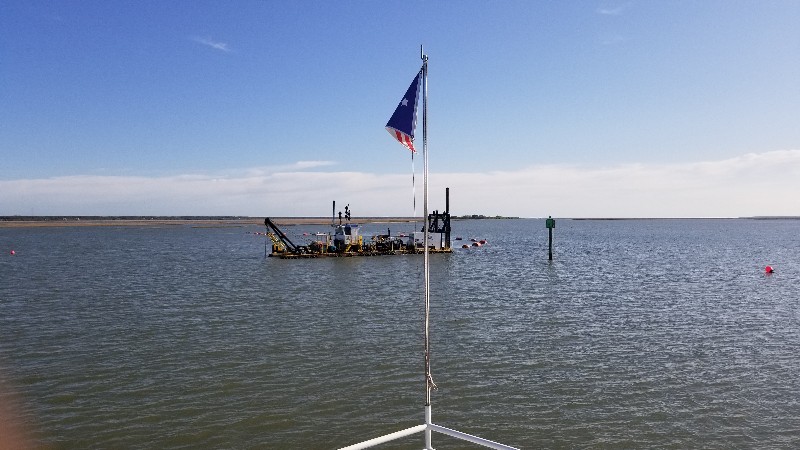 We had a good tide for running from the Ben Sawyer Bridge to the Isle of Palms area east of Charleston.... We did have to deal with a dredge at work just east of Isle of Palms... they did not leave us much room to pass between them and the green day marker... a bit of a tight squeeze.
The tide was dropping and by the time we reached the McClellanville area it nearly low tide and the water was REALLY skinny... had two boats following us assuming I knew where the deep water was.... however, I did have a new tool this trip... the US Army Corp of Engineers Surveys... imported into an app on my phone... AquaMap... and it worked great... took us through the area and no groundings... a positive thing... Soon as we past the trouble spots both boats hailed and passed us... thanking me for leading them through the area.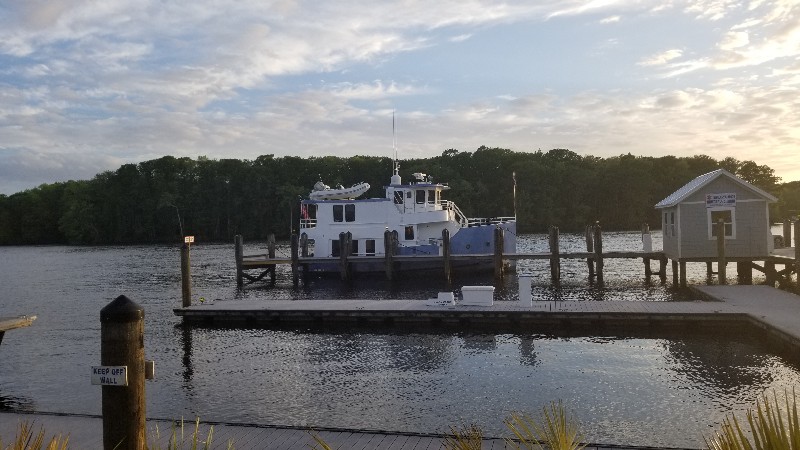 We had planned to stop in Georgetown but at the last minute changed our mind and continued on north on the Waccamaw River stopping for the night at Wacca Wache Marina. We were securely docked at approximately 1845. Our position tonight is
N33°33.724', W079°05.172'
. We traveled today for 12 hours covering 74.8 nautical mile averaging 6.2 knots.


Posted at 9:15 PM