CT to GA Day 2
Oyster Bay, NY to Staten Island, NY

Last night we had a weather system pass over us in Oyster Bay... NW 20-25kt winds with gusts up to 40 knots... was a very noisy evening on the boat... The winds died down around 0200 and I was finally able to sleep.... even being at a dock it's every noise you hear and wonder what that noise was that keeps me awake.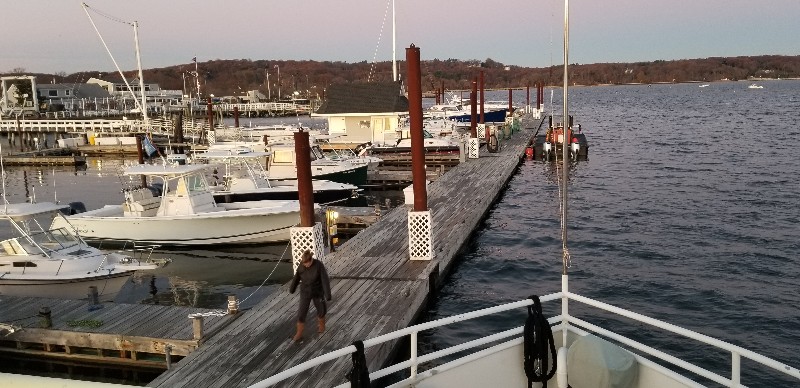 We woke early around 0530 to check the weather forecast to decide if we go or stay... the forecast looked good so we opted to leave. Was a chilly morning temperature was 33° and still had a NW 5-10kt wind... I went the pilothouse to prepare to leave and when I turned on my computer (use for main navigation)… Microsoft had decided it was time to upgrade my windows Operating System...
I was not presented with an option to continue or update later.... it was happening NOW!... after watching the progress bar for nearly 2 hours slowly increasing... 10%%, 15%, 20%... etc... the computer rebooted and then prompted with me "undoing changed made to you computer please wait..." that was it I could navigate without the computer... we dropped the dock lines and were underway at 0730.
It was not like we were cruising blind... we have redundant systems.... two dedicated chartplotters, an iPad and my Android phone... I just prefer to use my computer running Coastal Explorer.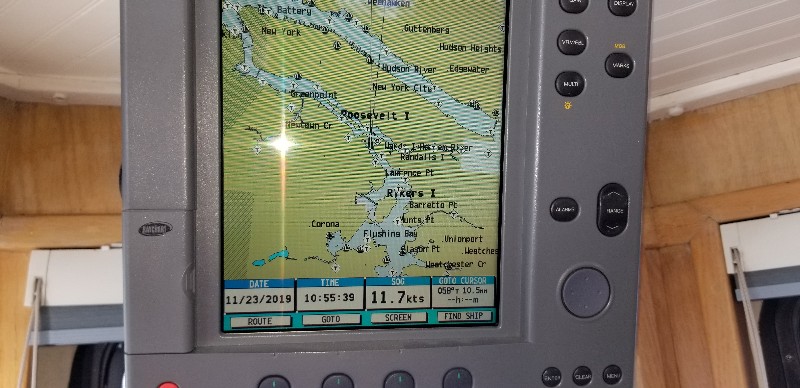 We had planned to leave at 0600 for timing of the current at Hell Gate on the East River... I checked and the late departure did not cause any adverse effects... it actually had us arrive at Hell Gate at peak ebb tide... 4.5 knots of current pushing us to over 12 knots... 12.6kts was the highest I observed on the chartplotters. The earlier departure time would of had us arriving just after slack tide.... would not of boosted our speed but is easier on Susan... she hates the way the water is churning with turbulence at the peak speed.

When we left we really did not have a plan for the day's destination... we had thought we would go to behind the Statue of Liberty and anchor initially... we had another weather system coming through late Saturday night and ending Sunday late so we needed to hang for a day... the anchorage behind the Statue of Liberty offers fairly good wind protection but you are anchored and run the risk of dragging.... plus was temps were forecast to be VERY COLD over night and Sunday... we can always run the generator while at anchor but we will not let it run all night while we sleep... just not safe... so we ruled out anchoring. Another option was to continue on Manasquan, NJ... This would extend our day by 4-5 hours... which would have us arriving just at sunset... which was not an issue but there is really no good place to spend two nights there... Marinas are pricey and we normally do a dock and dine there eating at the Shrimp Box and spending the night on their dock... but staying any longer was probably not a good idea... the one night is pushing it. We thought of Sandy Hook but it seems so far out of the way... we had some friends talk about Great Kills Harbor... did a little research... made a phone call or two and found a great deal at Nichols Great Kills Marina....made reservation and would be at a dock with power in a well protected harbor.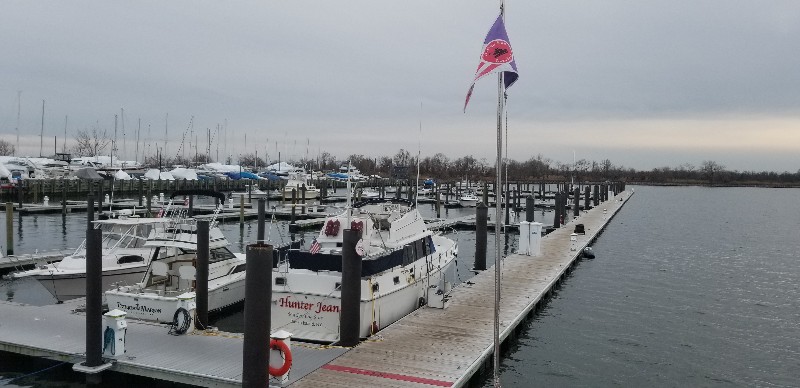 We docked at Nichols Great Kills Marina at approximately 1330... Our location for night N40°32.311', W074°07.910'. We traveled today for 6 hours covering 47.2 nautical miles averaging 7.9 knots.


Posted at 4:07 PM


CT to GA Day 1
Stamford, CT to Oyster Bay, NY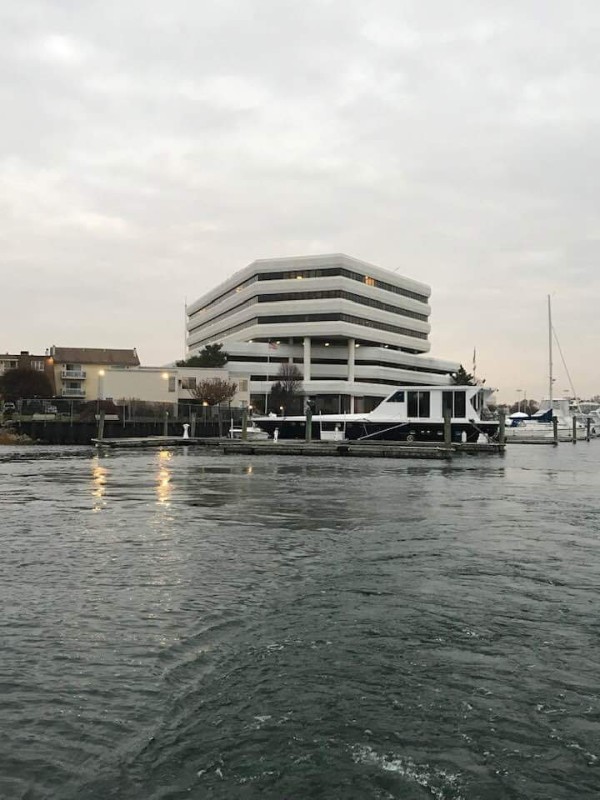 First day of our trip south... up early before sunrise to finish up some last minute tasks before departing. Taking the towboat back to Oyster Bay had to load the dock box in the towboat, secure the towboat to SAILS and prepare a towline... much easier towing with the towboat than with SAILS.
Needed to stow a few things so they would be secure for cruising. Remove the boarding steps from the dock and several other things... all completed by 0645 and we could just see the sun rising over the horizon... Cloudy forecast so we would not be seeing the sun for long. 0700 and we were away from the dock bound for Oyster Bay, NY.
It was 48° as we headed out of the marina... a bit windy.. there was a small craft advisory in effect... winds SW 15-20kt with gusts to 30kts Seas 2-3 feet.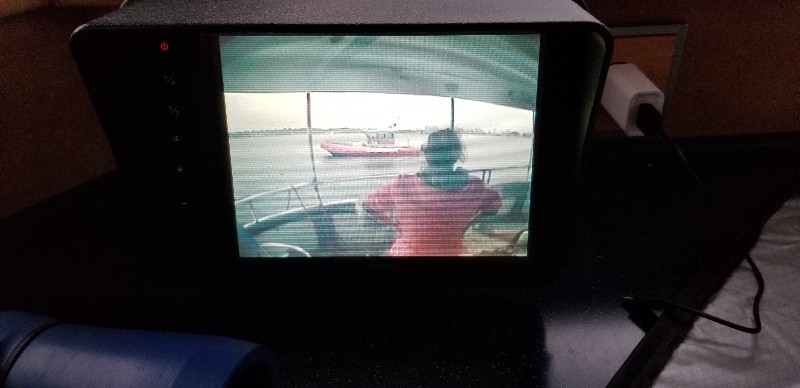 Once well out of the marina into Westcott Cove we stopped and moved the towboat from alongside to a stern tow... would keep it in stern tow as we crossed Long Island Sound... a bit too rough to keep it alongside SAILS.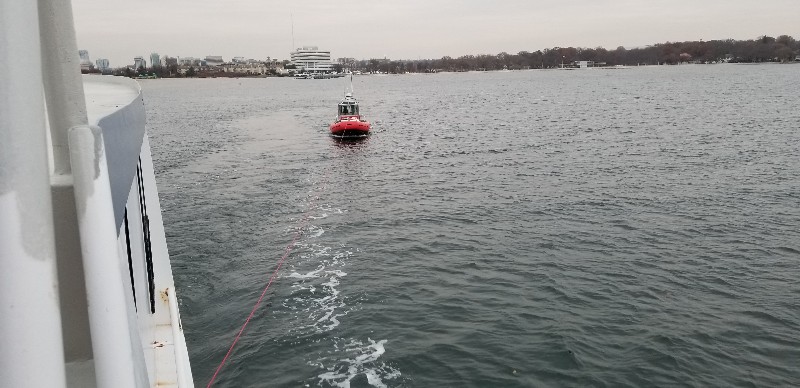 There was not much boat traffic to speak of... a tug and barge heading into Stamford was all that we saw until we reached Oyster Bay where a few commercial clam boats passed us heading out.
We arrived to Oyster Bay and Calm waters... we stopped and moved the towboat back alongside SAILS and continued toward Oyster Bay Marine Center where we would spend the night.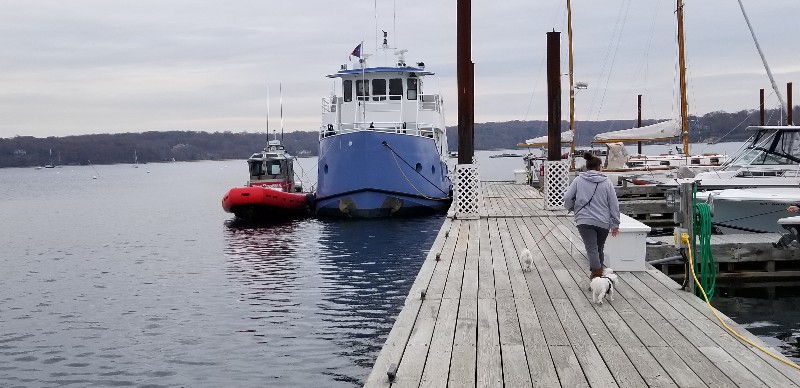 We docked at approximately 0900... Our location at
N40°52.685', W073°31.657'
. We traveled today for 2 hours covering 10.4 nautical miles averaging 5.2 knots.


Posted at 2:08 PM


Trip Statistics
2019 Trip North

We departed from Coffee Bluff Marina, Savannah, GA on April 16, 2019 and arrived to Stamford, CT on May 2, 2019.

Overall: 17 days
Moving: 15 days
Stopped: 2 days
2 days in Hampton, VA to visit friends.

Distance traveled: 1088 statute miles
Moving: 143.2 hours
Averages:
72.5 statute miles per day
7.6 miles per hour
9.5 hours per day

Marinas, Docks, Anchorages:
3 nights PAID docks
1 nights mooring ball
12 nights FREE docks
1 nights anchored


Posted at 9:38 AM