FL to CT Day 12
Titusville, FL to New Smyrna Beach, FL

Was very windy and noisy night on the mooring ball… winds were steady all night over 20 knots… checked several times and saw winds gusting to 28 knots… our bow line was singing all night long as it slipped side to side through the mooring's painter line eye…. Neither of us or the dogs got a lot of sleep.
Wind did settle down a bit around sunrise to 15 to 20 knots out of the SW… with the SW wind we were in the lee of the land, so it was windy but not rough as it had been during the night with the SSE winds.
Dropped the mooring line at 0730 and we were underway north with a destination of New Smyrna Beach, FL. We had plans to meet our dear friends Charlotte and Peter Behr… we have not seen them since 2017… looking forward to catching up with them today.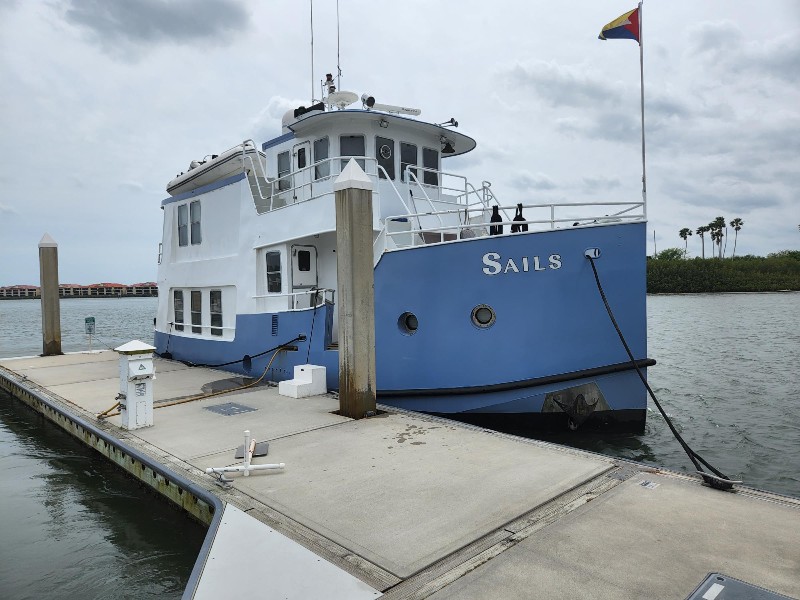 We were secure for the night at New Smyrna Beach Marina at approximately 1145. Our position for the night is
N29°01.902', W080°54.847'
. We traveled today for 4.25 hours covering 28.34 nautical miles averaging 6.7 knots.


Posted at 12:21 PM


FL to CT Day 11
Fort Pierce, FL to Titusville, FL

Started pulling anchor at 0730… underway at 0745 and back out to ICW heading north to Cocoa area.
Very windy today with D winds over 20 knots all day which pushed up quite a chop... waves 2 to 3 feet on the stern all day. We also had a push from current or wind that kept us moving at over 7 knots all day. With the extra we decided to cruise a little longer and changed our destination from Cocoa to Titusville where we hoped to pick up a mooring ball.
We called Titusville Marina to reserve a mooring ball. We were told they are first come first serve and unable to reserve one… but that there were several balls currently available… this was around 1400 that we called… still had 4 hours to go so hopefully there would be a ball available when we got there…. Otherwise plan B was to anchor and it's supposed to blow at night 20- 25 knots… I would have been awake all night worrying about dragging anchor…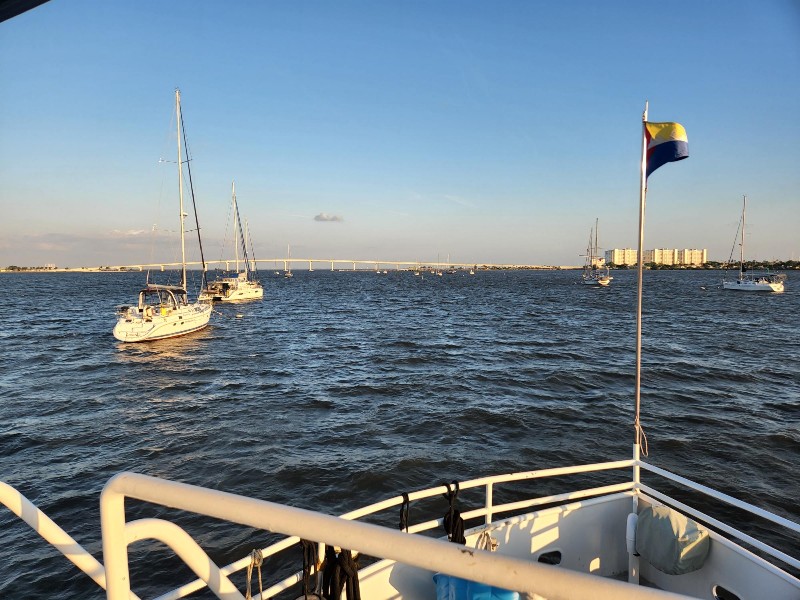 We arrived to the Titusville Mooring field and there were 3 balls open… YAY! We took the one furthest to the north end of the mooring field… was blowing 20-25 knots and that made picking up the mooring interesting… lost the boat hook on first attempt and had to swing around and pick it up… attempt 2 was successful picking up the mooring ball.

We were secure for the night at Titusville, FL at approximately 1800. Our position for the night is N28°37.612', W080°48.419'. We traveled today for 10.25 hours covering 75.9 nautical miles averaging 7.4 knots.



Posted at 7:02 PM


FL to CT Day 10
Lantana, FL to Fort Pierce, FL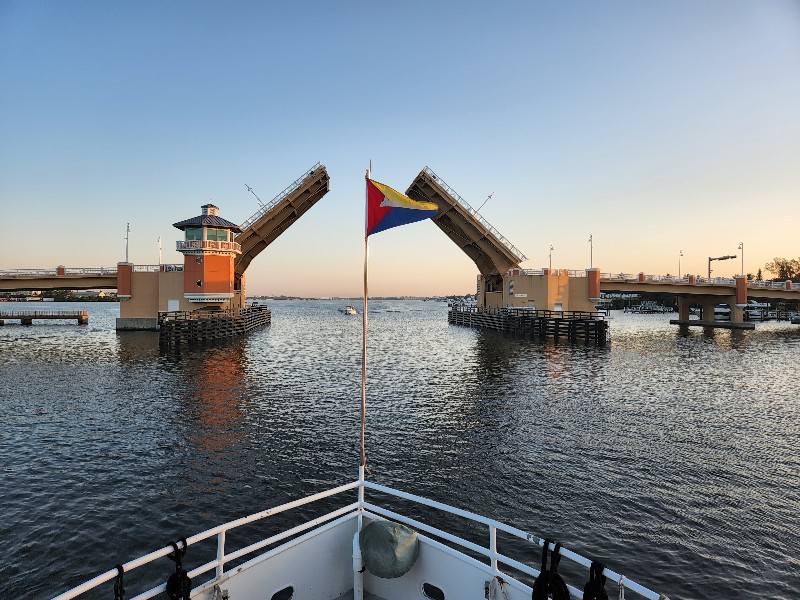 Up early at 0630 to prepare to leave by 0730... we were just below the Lantana Bridge which we needed an opening... bridge opening on hour and half hour so first opening during daylight was 0730. We pulled the anchor allowing just enough time to be in position at the bridge for it's o730 opening. Plans for today were to go to Fort Pierce and anchor.
I had thought we were done dealing with bridges, but we had several more along our path today... most we could pass under with the mast and VHF antennas down, so I put them down after Lantana bridge and left them down until we went under the last bridge... Hobe Sound Bridge... from this point we had only high rise bridges... YAY! At least for today...


We arrived at our destination for the night at Fort Pierce. FL at approximately 1545 and were secure at anchor for the night at 1600. Our position for the night is N27°28.027', W080°19.008'. We traveled today for 8.5 hours covering 57.8 nautical miles averaging 6.8 knots.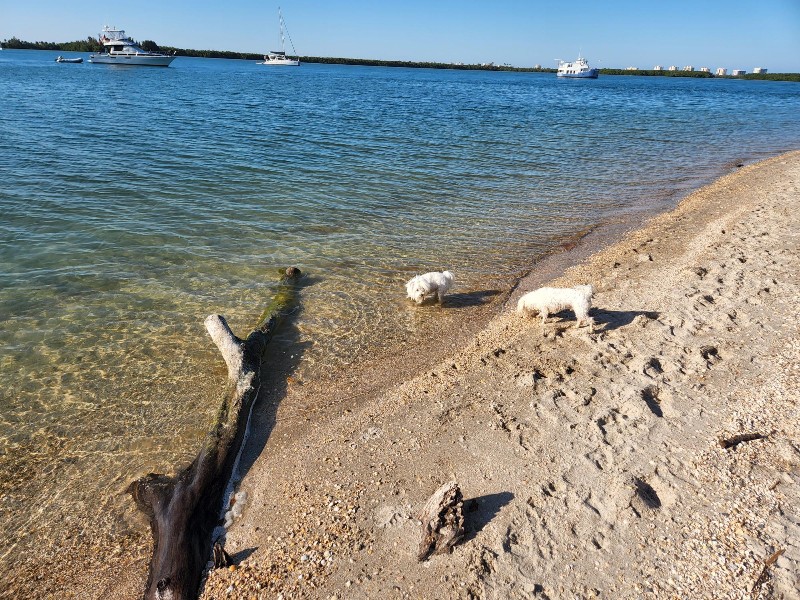 After we were settled and sure anchor was set we dropped the dinghy in the water and took the dogs to the beach on the small island we were anchored next to... spent an hour or so playing on the beach... Lily and Herman loved it.



Posted at 6:59 PM