FL to CT Day 13
Savannah, GA to Beaufort, SC

Slept in this morning till 0800... plans are to go to Beaufort, SC today and it's not that far so no need to get up before sunrise.
Was a nice day on the water... not too windy and sun out 90% of the time... was actually nice and cool... only down side were the bugs... so think they were collecting on the window screens... had to clean them off a couple of times as they were actually making hard to see through the screens.
A few boats passed us... mostly smaller recreational boats out fishing or just enjoying the day.
Currents were against us most of the day... occasionally we did get a boost in speed but for the most part we were running between 5-6 knots.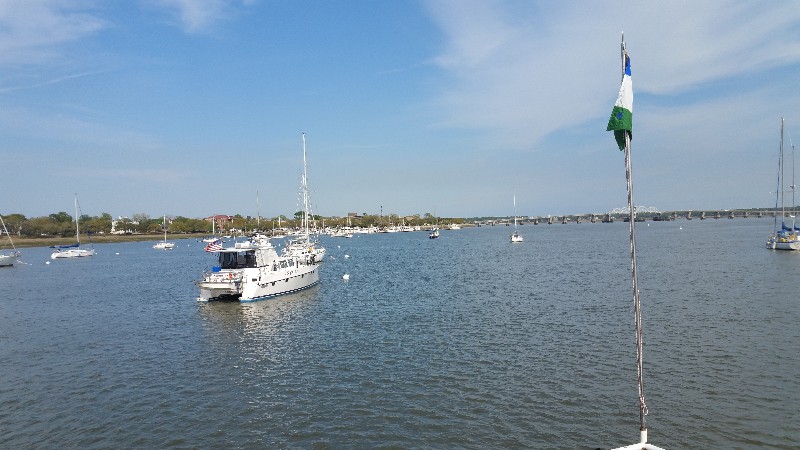 We arrived to Beaufort at approximately 1600... we were going to anchor but decided last minute to take a mooring ball... hailed the Beaufort City Marina and we had a ball assignment and happen to be directly adjacent to it's location... 5 minutes in to the ball... 5 minutes to get secured and we set for the night at 1615.
N32°25.724', W080°40.809'
. We traveled today for 7 hours and 30 minutes covering 45.1 nautical miles averaging 6.1 knots.


Posted at 3:41 PM


FL to CT Day 12
Kilkenny, GA to Savannah, GA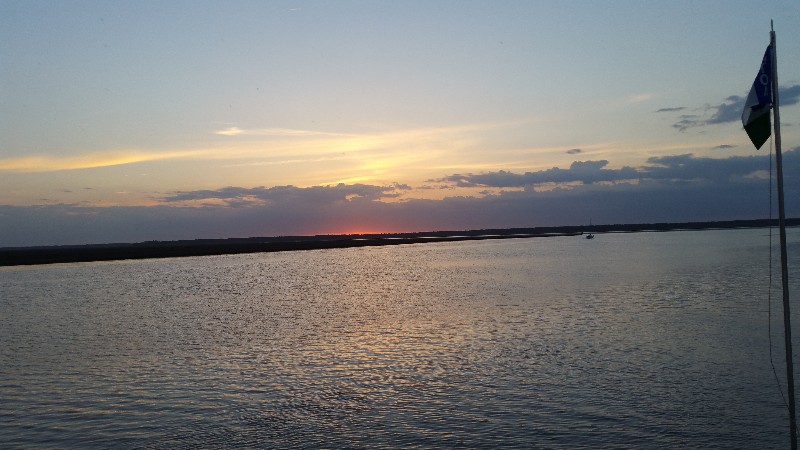 We pulled anchor and were back underway this morning at sunrise... 0730. Had a quiet and DARK evening on the hook. Very dark and the stars were out and filling the sky... it was beautiful!
Had twio sailboats in the achorage area with us overnight and they both left just before we did... we passed one of them but never did catch the other sailboat. We had the same Mainship "WildFlower" pass us and again wake us.... some boaters just do not get the idea of being courteous.
It was a short day planned only going to Isle of Hope Marina. Two years ago, we won a gift certificate for a free nights stay at the last MTOA Rendezvous we attended in Fort Pierce, FL. Have tried to use it several times and have never been able to get a slip... "Marina Full" every time we called. I think leaving early this year gave us the edge and we were able to get a slip.
Along with the free night we won a gift certificate for dinner at the Driftaway Cafe... so we will use the marina loaner car and have dinner there tonight.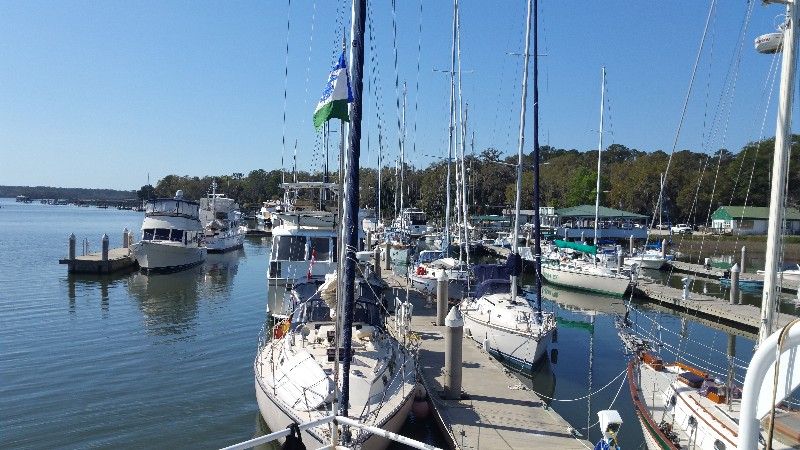 We arrived to Isle of Hope Marina and were securely docked at 1045...
N31°58.836', W081°03.350'
. We traveled today for 3 hours and 15 minutes covering 21.2 nautical miles averaging 6.5 knots.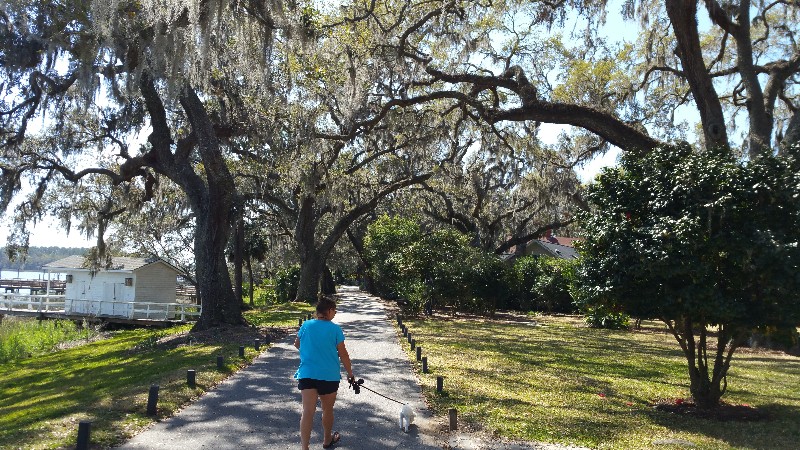 After we checked in at the marina office we took a short walk around the area... huge live oak trees with Spanish moss form a canopy over the road... it's just beautiful! Susan and Lily in the photo ahead of me.


Posted at 12:23 PM


FL to CT Day 11
Brunswick, GA to Kilkenny, GA

Enjoyed our stay at Brunswick Landing Marina... they have a superb boaters lounge... FREE beer on tap...
Even the washer and dryers are FREE... never saw that at any marina before. So we did enjoy a couple of FREE beers.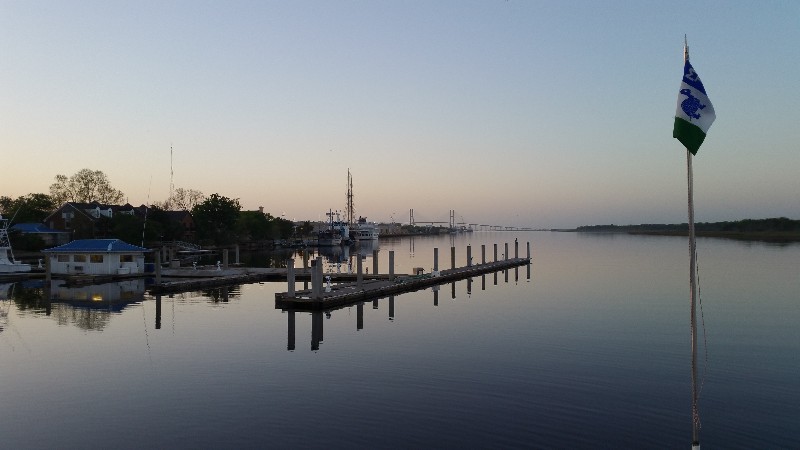 We left the marina at 0730 and headed back to ICW... had one boat from the marina pass us that left just after we did... not a very courteous boater... he waked us passing the day before and did the same thing today.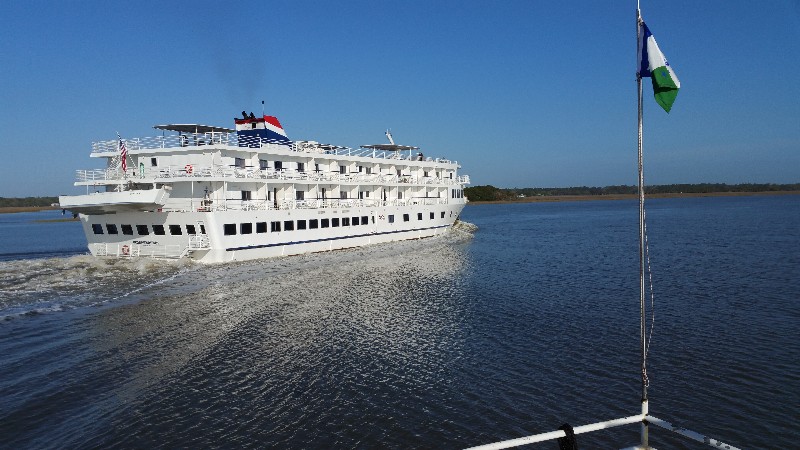 Mid morning the American Cruise Lines ship INDEPENDENCE passed us heading north... we saw them later anchored in the Duplin River just off the docks for the University of Georgia Marine Institute... guess they have a tour as part of the cruise...

Was a fairly windy day and mostly cloudy all day... very little boat traffic other than the INDEPENDENCE.

We arrived to our destination for the night... Kilkennny Creek and were securely anchored at 1645... N31°46.668', W081°10.887'. We traveled today for 9 hours and 15 minutes covering 62.2 nautical miles averaging 6.7 knots.



Posted at 4:10 PM