CT to FL Day 27
Jacksonville, FL to Palm Coast, FL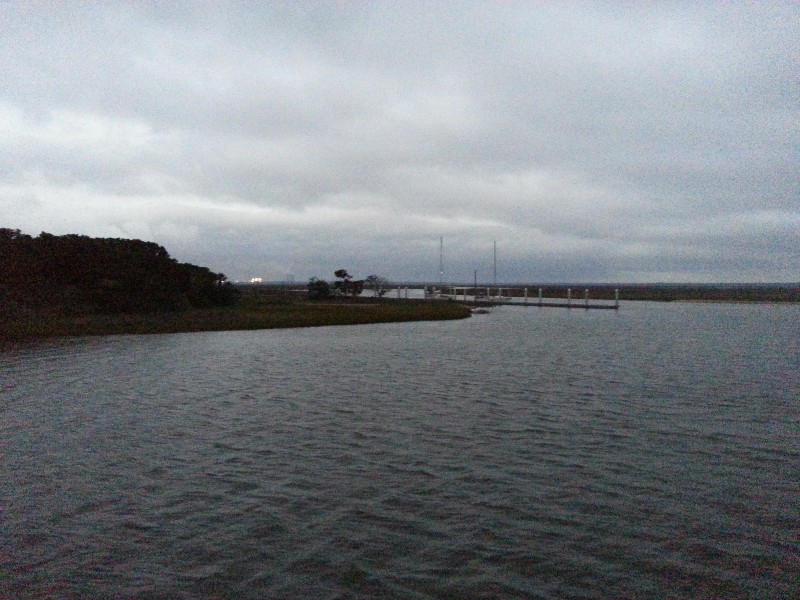 We departed from Jacksonville, FL at 0645.... NO FOG!!!! and headed south down Sister's Creek toward the St. John's River. The current was running very strong against us. We crossed the St. John's River crabbing at about 30 degrees to maintain a straight path due to the strong flood current. Soon as we were across the river the current was with us and we were soon running along at over 9 knots. Speed and no fog.... it was a great start to the day!
Nothing out of the ordinary today.... no boat traffic.... weather was not great and never saw the sun but NO FOG! After 4 days of running in dense fog this was awesome!
Destination for the day was Palm Coast and docking at Lowe's house. We arrived on a good day as well being able to attend a Christmas Party at the Blake's home allowing us to see a lot of our Palm Coast friends. Staying just for one night in Palm Coast it's hard to get to see everyone we know here.... but with the party it all came together and we had a great time.
Anyway, we arrived at 1530 and were docked at
N29°35.679', W081°12.338'
. We traveled today for 8.5 hours covering 55.2 nautical miles averaging 6.7 knots.


Posted at 3:30 PM


CT to FL Day 26
St. Simons Island, GA to Jacksonville, FL

It was pea soup fog again this morning so we hung out at St. Simon for a few hours in hopes that the fog would lift. Finally at 1000 with the fog even thicker we decided to depart and continue south. Fog did lift by late afternoon to about a mile visibility which was nice compared to the 100 feet past the bow of the boat.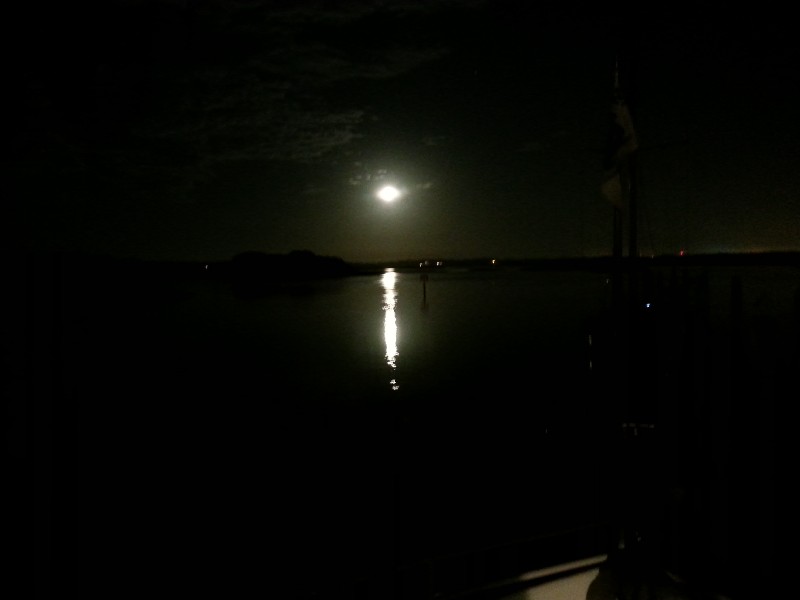 Leaving later than we had anticipated made us arrive to our destination hour and a half after sunset. But it was not long before this huge orange full moon rose over the saw grass to our east. It was beautiful. We tried taking photos with our phones but they do not do well at night. This photo was taken after we had docked and was the best of the dozen or so attempts.
We arrived to our destination in Jacksonville just before the Sister's Creek Bridge and were securely docked at 1830. Our location for the night
N30°23.889', W081°27.499'
. We traveled today for 8.5 hours covering 54 nautical miles averaging 6.4 knots.


Posted at 7:38 PM


CT to FL Day 25
Kilkenny Creek, GA to St. Simons Island, GA

We departed this morning at 0645 about 30 minutes before sunrise. It was another foggy day. Getting tired of the fog. Today it was windy as well. Nothing that would be any problem to us. A couple of sounds to cross but they were not that rough.
About an hour out the port engine dropped in RPM suddenly... going to the engine room and checking it I found we had blown a cooling hose to the turbo charger. Engine was not overheating but the turbo must of ingested some of the water vapor causing the reduction in RPM.
The hose that blew was a small formed hose from the turbo to a cooling pipe that runs to the front of the engine where another small hose connects the pipe to the water pump housing. I did not have a spare formed hose as I had used the one spare I had when I replaced the turbo on the port engine earlier this year. I had it on my list to buy a new spare but... I had not done that yet... So, I improvised and removed both small hoses and the cooling pipe and replaced it with a length of tubing I had on the boat. The tubing was not the correct type but it worked as a temporary fix till we could get the correct type hose when we stop for the night.
Of course this happens right in the middle of the Georgia swamps. Nothing but small fish camps between us and Brunswick. We called a few anyway but none had any cooling hoses or a supply store close to them. Closest place was Brunswick area and we found that Morningstar Golden Isles Marina at St. Simons Island had a courtesy car and several options to find the hose. We made a reservation and continued south toward Brunswick.
7.5 hours later we arrived to Morningstar Marina. My temporary fix had worked and we had no further issues. We were securely docked at 1530 at
N31°09.970', W081°24.898'
. We traveled today for 8.75 hours covering 58.0 nautical miles averaging 6.6 knots.


Posted at 3:03 PM