CT to NC Day 9
Heathsville, VA to Hampton, VA

We left Ingram Bay Marina at 0700 and were back in the Chesapeake Bay in no time alt all.. the one good thing about the marina... it is close to the Bay.
Weather was forecast for 2ft seas... of course it was about twice that once we got well out in the Bay... was supposed to be NW and was NE winds so we had a funky following sea that gives us that waddling ride... Susan hates it... it's better than a head sea where it's banging against you for sure.
Had one sailboat leave the Reedville area at the same time and they were with us for most of the day... We were moving just a bit faster than they were and soon they dropped behind us and out of sight.
Good thing was we had a nice boost of speed from the current... running over 8 knots a few times. Never seems to last though... especially on the Chesapeake Bay... We lost all our boost as we crossed the mouth of the York River. The wind had subsided some but was still solid 2-3 foots waves.
We arrived at our destination for the night Wayne and Judy McPhail's house located on the Salt Pond, Hampton, VA at approximately 1345 and were securely docked at 1400
37°03.547'N 076°17.047'W
. We traveled today for 7 hours covering 49.0 nautical miles averaging 7.0 knots.


Posted at 3:47 PM


CT to NC Day 8
North Beach, MD to Heathsville, VA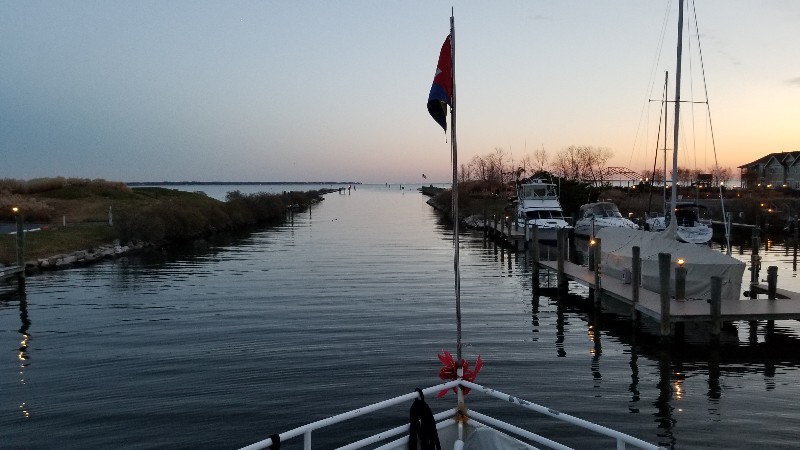 Up and underway just before sunrise at 0700... short trip back out to the Chesapeake Bay and southbound.... destination for the day Reedsville, VA.
Departing at slack tide gave us a favorable current for 90% of the day with a boost to over 8 knots at times... reaching Smith Point Lighthouse where we lost all boost and had current on our nose slowing us to 6 knots... but only an hour to reach Reedsville.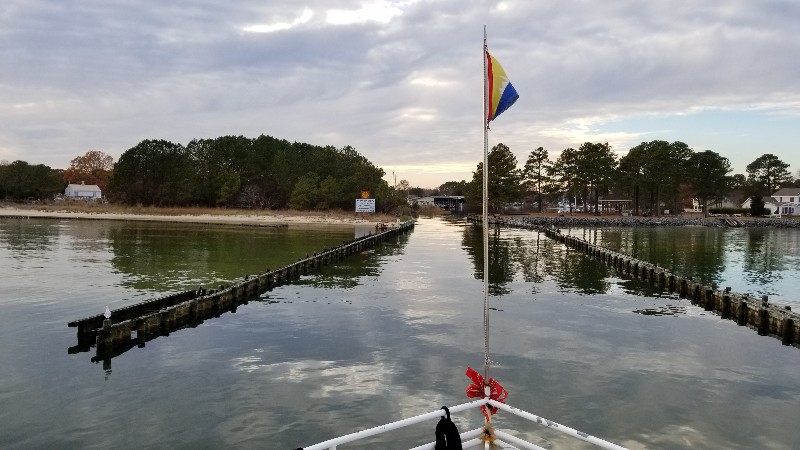 We decided at the last minute to try a new marina in the general area... had great reviews on Active Captain... Ingram Bay Marina... not a single poor review out of over 50 reviews.
We arrived at approximately 1545 and were securely docked at 1600
37°48.201'N 076°18.575'W
. We traveled today for 9 hours covering 64.5 nautical miles averaging 7.2 knots.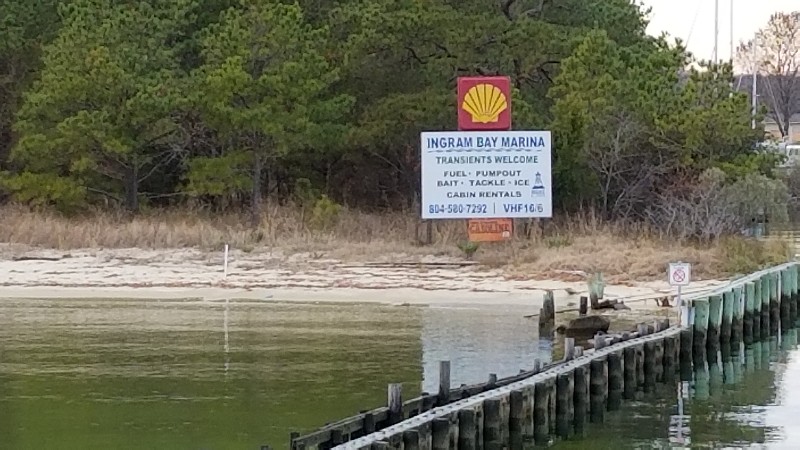 Posting this log entry a day afterwards... I can say now we will not visit Ingram Bay Marina again... it was very nice and quiet... owner was super nice... but, for the $1.25 per foot after BoatUS discount it was overpriced in our opinion. They did not have 50amp power... no slips that we would fit it although advertised as they had bot 50amp and 20ft wide slips... we had to dock at the fuel dock that was 30ft long at most and use an adapter for twin 30amp to 50amp... power popped breaker 3 or 4 times before we finally shut down enough things on SAILS to maintain power... we did finally get one heater to run without popping the breaker... breaker was in accessible to us after office closed as it was located inside the locked office... Luckliy we maintained power all night and breaker did not pop again until just before we left.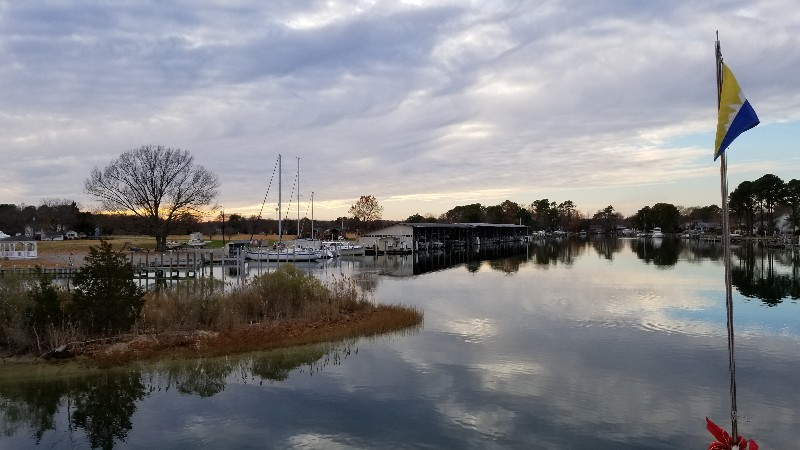 The small basin is very shallow about 6ft at most and entrance channel was narrow and also shallow.
WiFi was non existent... they had it but was unable to connect... Cell signal was ZERO bars...
It was a nice quiet evening but... :)


Posted at 7:32 AM


CT to NC Day 7
Layover in North Beach, MD

We opted to stay another day at Herrington Harbor South due to weather... winds on Chesapeake Bay out of the north at 20kts with gusts to 30kts.


Posted at 7:09 AM