FL to CT Day 31
Layover in Hampton, VA

Today the winds are still blowing over 25 knots with gusts to 35 knots... not going anywhere... sitting in Hampton another day... hoping tomorrow the winds will subside... forecast looking better.


Posted at 3:04 PM


FL to CT Day 30
Layover in Hampton, VA

Weather horrible here... today 30 knots plus all day out of the east... seas 5 to 6 feet... raining all day... weather looks to improve but not till Wednesday afternoon into Thursday... here in Hampton till this winds subsides.


Posted at 11:07 PM


FL to CT Day 29
Great Bridge, VA to Hampton, VA

We walked into Great Bridge for dinner... found this great Italian place called Vino Italian + Bistro... the food was awesome.
Weather forecast for the next few days is horrible... Northerly winds 20-30 knots on the Chesapeake Bay… seas 4 to 5 feet. Destination for today is Salt Ponds, Hampton, VA... we left Great Bridge early in hopes of getting to the Salt Ponds before it got too bad... we would have to run about an hour up the Chesapeake Bay to the inlet channel to Salt Ponds.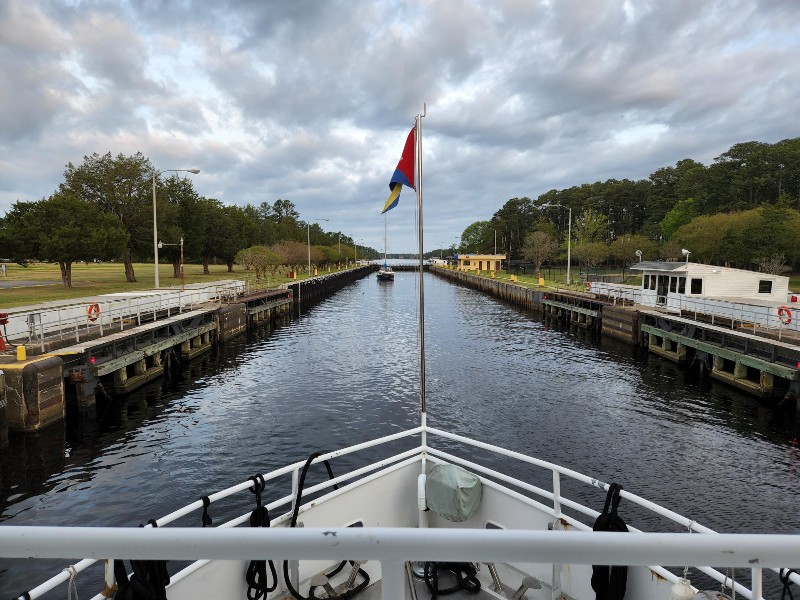 We left the bulkhead at 0645 and headed toward the Great Bridge Lock for it's 0700 lockage following the sailboat WILD OATS into the lock... great couple on board that we met at Alligator Marina. Took about 30 minutes to lock through and we were off toward the Norfolk/Portsmouth area.
Seas were fine within the protected ICW... once past the Navy Boatyard and heading out into the lower Chesapeake Bay the seas picked up quickly... we soon had 3 footers with spray flying over the top of the pilothouse... and the area is filled with crab pots. It was tough seeing them with the waves... thank goodness this lasted for only an hour and we were back in calm water at the Salt Ponds.
We were securely docked at Wayne McPhail's Home Dock at 1115... Our position until the winds subside is
N37°03.553', W076°17.049'
. We traveled today for 4.5 hours covering 25.7 nautical miles averaging 5.7 knots.


Posted at 12:19 PM