CT to FL Day 30
North Myrtle Beach, SC to McClellanville, SC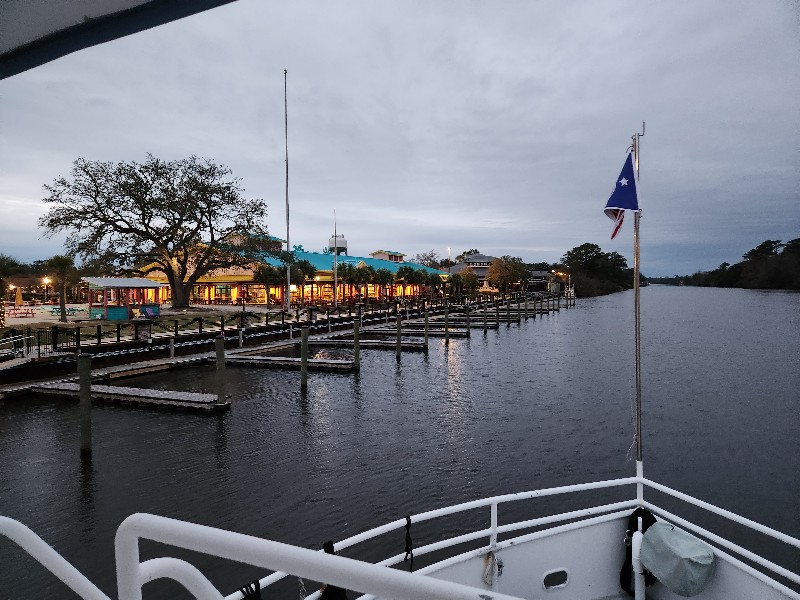 Well.... we had no issues with docking overnight at Barefoot Landing docks... no middle of the night wake up knock on the door... earlier I did notice a security patrol in a golf cart stop beside us and take a photo... but we slept peacefully all night and were back underway at 0700.
Weather forecast was for rain today but lucky we saw very little and not very heavy rain... cloudy and COLD all day barely reaching 40° mid afternoon... so generator ran all day for heat in the boat...


We saw a bit of boat traffic today... couple of boats being delivered and we had one trawler behind us most of the day.... they stopped and anchored just south of Georgetown in Mimic Creek... they had spent the night on the barefoot landing docks on the opposite end form where we were.... so I don't think it's an issue staying overnight there.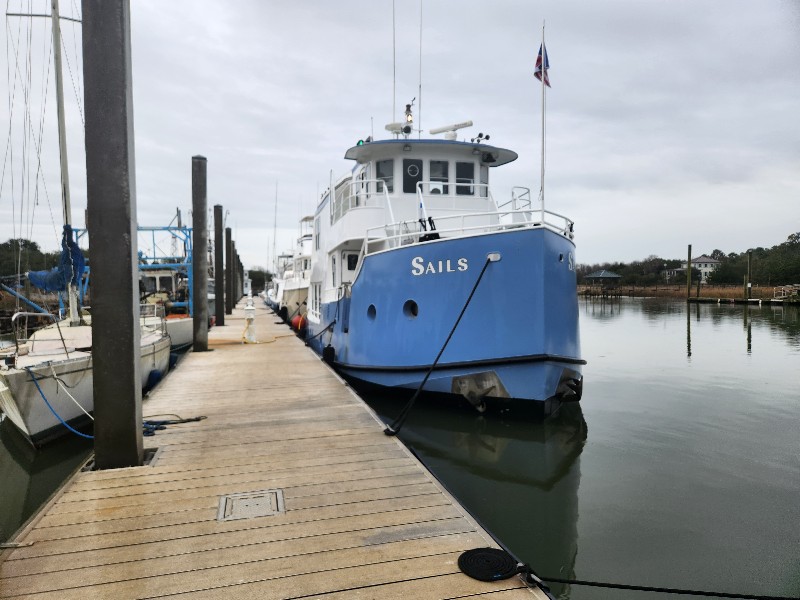 We arrived to our location for the night at Leeland Marina at 1545 and were secure with power at 1600...N33°04.981', W079°27.752'. We traveled today for 9.0 hours covering 66.8 nautical miles averaging 7.4 knots.


Posted at 4:52 PM


CT to FL Day 29
Carolina Beach, NC to North Myrtle Beach, SC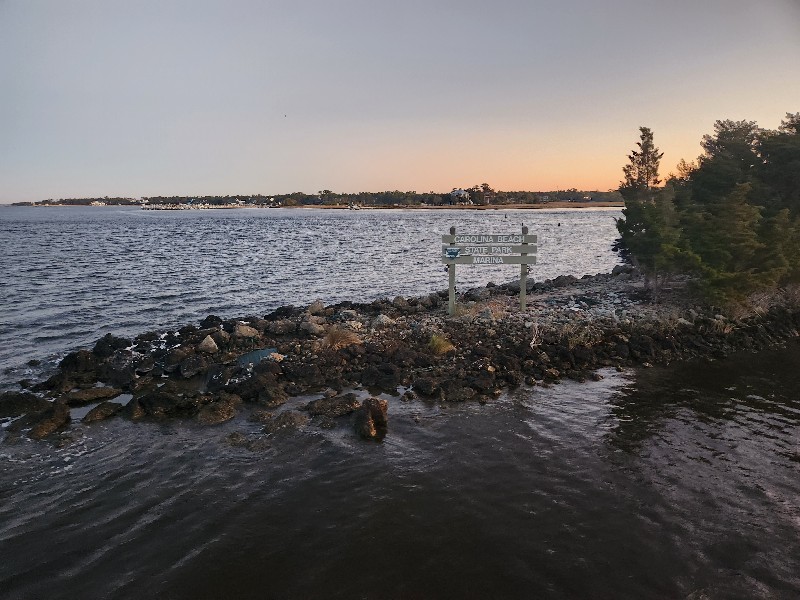 Up early and away at 0700 to catch a favorable current down the Cape Fear River to Southport... current pushing us over 9 knots for most of the way to Southport…


Made the turn into the ICW at Southport and the brakes came on... 9.5 knots to 6.0 knots in just a few seconds... CRAZY! with the various inlets we passed we were up and down with speed... less that 6 knots and near 8 knots... overall it averages out but it sure feels good to be running along with the current boosting your speed.

Was pretty cold this morning when we left... 28°... Brrrrrr! We turned the generator on so we could have heat...

Not many boats out today at all... the last two days being the weekend must of been why were were seeing more boats... Did have one boat pass us that passed us yesterday... and they were moving fairly fast... planning hull so they should have been far ahead of today.... not behind us....

We made plans for tonight to go to the Alabama Theater and see the Christmas special so we needed to stop at Barefoot Landing... have not stopped here a few years... they revamped the docks to support small recreational boats and daytime use only... no overnight allowed... we'll see how it goes cause we are docking and spending the night....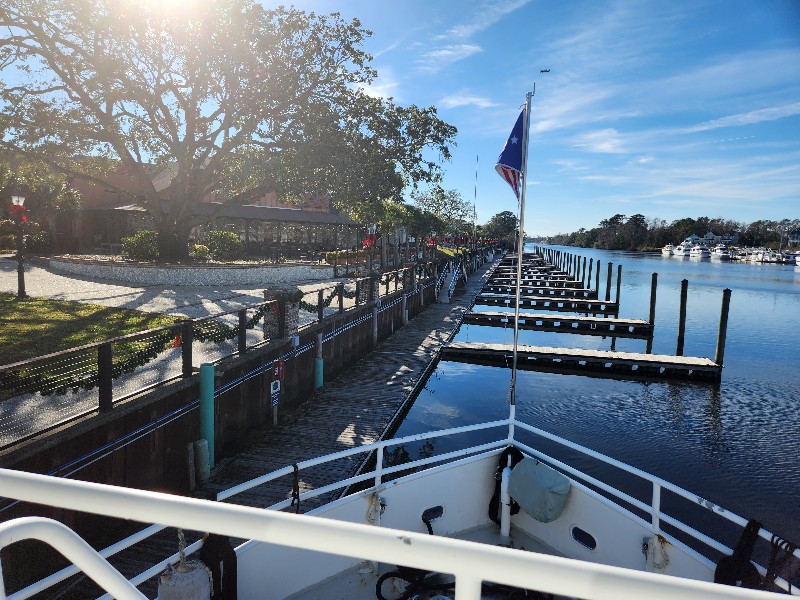 We arrived to our location for the night at the Barefoot Landing at 1345 and were secure with NO power at 1400...N33°48.091', W078°44.691'. We traveled today for 7.0 hours covering 49.2 nautical miles averaging 7.0 knots.

Did not see any signs posted about "No Overnight" docking... we'll see how this works out... hopefully, we won't get kicked off in the middle of the night... but won't be the first time we have been kicked off a dock...


Posted at 2:43 PM


CT to FL Day 28
Swansboro, NC to Carolina Beach, NC

Left from Swansboro at 0700... 4 bridges to contend with today... actually only two will require an opening... Onslow Beach Bridge and Wrightsville Beach Bridge. both have restricted opening times.
Tons of boat traffic today large and small... weekend and beautiful weather... a bit cold but bight and sunny... winds are not an issue in this stretch of the ICW.
We had no issues at eighter of the two bridges... arrived on time and had very little wait for the openings... which is very nice....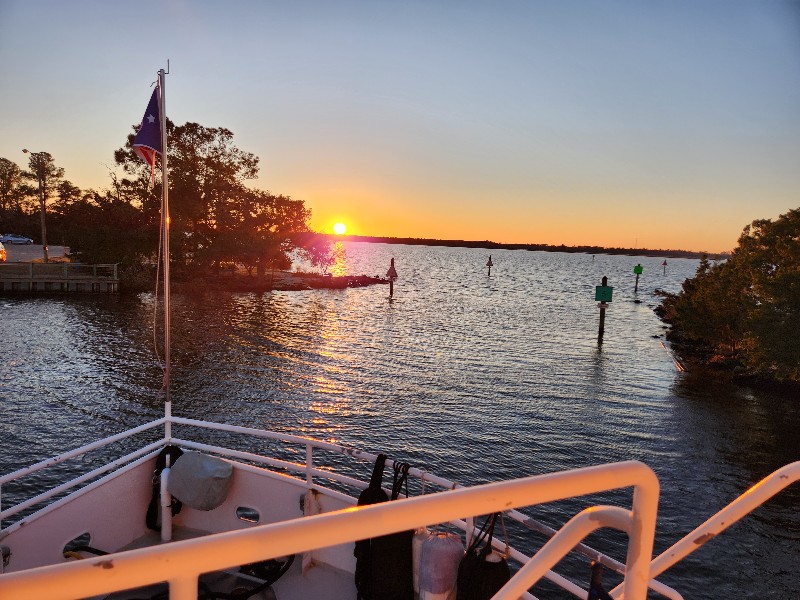 We arrived to our location for the night at the Carolina Beach State Park Marina at 1545 and were secure with power on at 1600...N34°03.016', W077°55.154'. We traveled today for 9.0 hours covering 58.7 nautical miles averaging 6.5 knots.


Posted at 5:16 PM