CT to FL Day 29
New Smyrna Beach, FL to Cocoa, FL

Wind howled all night long and it felt as if we were underway... so Susan slept like a baby... she's loves it when it's windy and the boat is rocking a bit. Woke at 0600 and the wind was still blowing.... not quite as bad but windy than we had anticipated.
We had one surprise that we had never had before on this dock... a homeless man arrived and set his house up for the night on the dock behind us. Fabricated out of cardboard and plastic not sure how he kept it from blowing away... of course Susan befriended him and gave him coffee in the morning....:)
We left New Smyrna Beach at 0710 and headed south... destination for today Cocoa, FL... one of my favorite stops... Ryan's Village Pizza... absolutely love the place. They moved to a new larger location since our last visit so this will be a whole new experience tonight. We will also be joined one of my friends from high school... Dennis Wilt... he going to drive up from the Sebastian area. It will be great to see him.
We did have some interesting interaction today with a sailboat... they kept passing us... stopping ahead of us and then passing us again... not a big deal except for the fact that they were motor sailing and would pass without giving us any notification and very very close to us... so close one time that his jib actually touched the railings around the pilothouse of SAILS.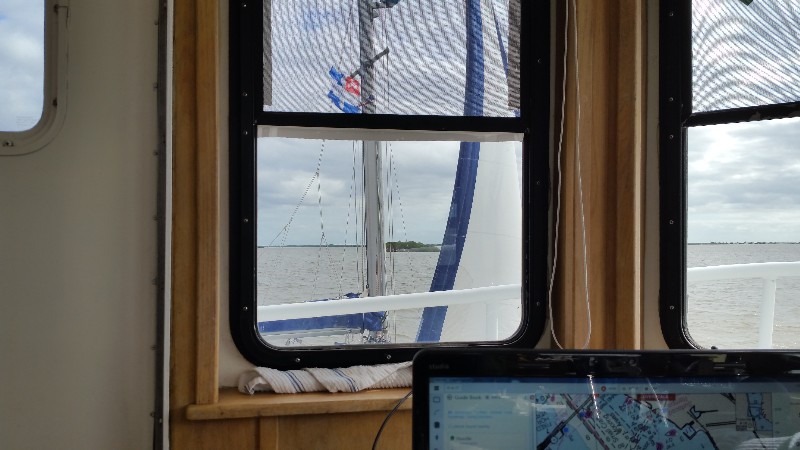 Tried to let him know he was way to close but they were French and did not understand English... :( I took a photo of his final pass where he was about 10 feet away. He finally made it past us and stayed ahead of us.
We had a few boats pass us that have been passing us every day... they must be cruising very short days for us to keep getting ahead of them... it's really funny to see their faces as they pass us... I'm sure thinking how the heck did that boat get ahead of us again.
We arrived to Cocoa, FL and were securely docked at the city docks at 1510. Our position for the night
28°21.295'N, 80°43.331'W
. We traveled today for 8 hours covering 45 nautical miles averaging 5.6 knots.


Posted at 3:20 PM


CT to FL Day 28
Marineland, FL to New Smyrna Beach, FL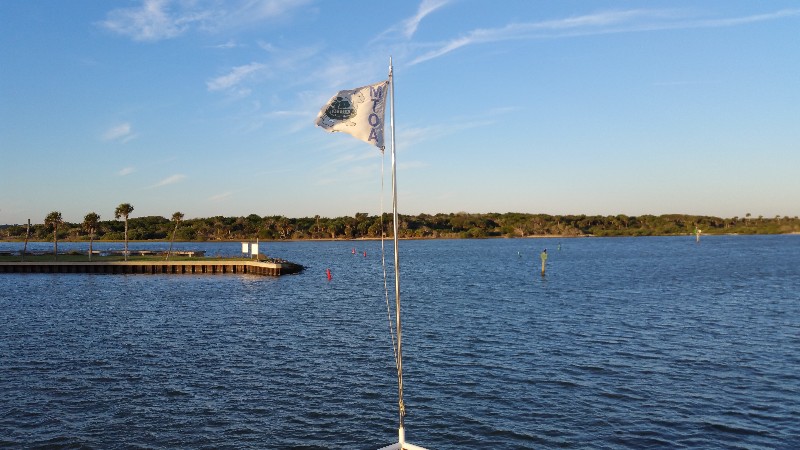 We left from Marineland Marina this morning at 0745. It was a little tough getting away from the dock and turned around as we were sitting on the bottom. We churned up a lot of mud got turned around and headed out their channel to the ICW.
Very windy today... although it had no effect on us in the ICW other than a little wind noise... 20-25 knots most of the day. WE also had the current in our favor today keeping us 6 to 7 knots until Daytona Beach where we had things turn against us and back to 4.5 to 5.5 knots... the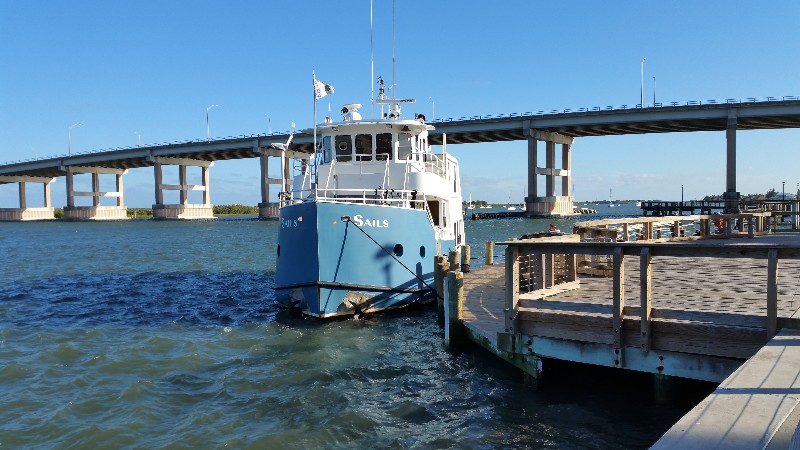 one final boost when we passed the Inlet at New Smyrna Beach and we zipped along at over 7 knots the last few miles to our stop for the night at the city docks in New Smyrna.
We were securely docked at 1500. Our position for the night
29°01.471'N, 80°55.138'W
. We traveled today for 7 hours and 15 minutes covering 43.7 nautical miles averaging 6.0 knots.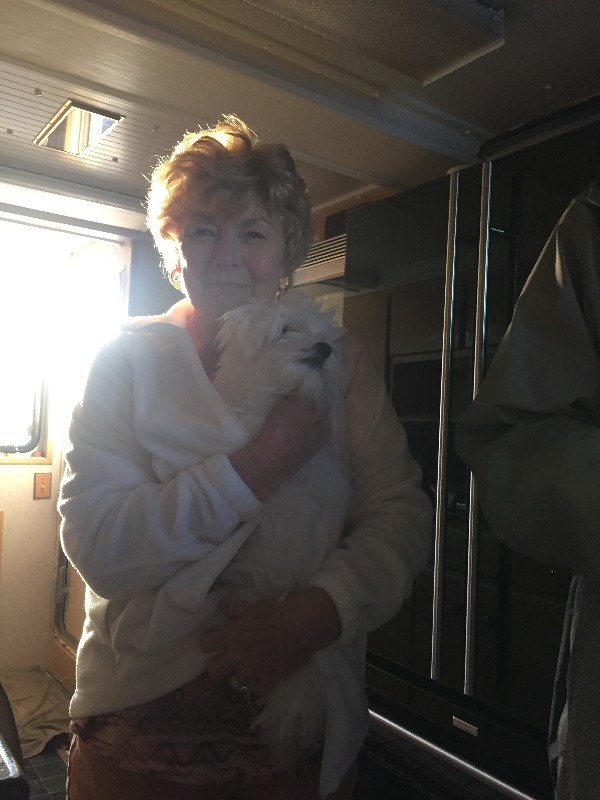 After docking we had the pleasure of having Peter and Charlotte Behr visit us aboard SAILS. They are great friends and we try to stop and see then as we pass through the area. Unfortunately, they had prior plans for the evening and we only were able to have a short visit. Charlotte wanted to take Lily home with her.... :)


Posted at 4:46 PM


CT to FL Day 27
Fernandina Beach, FL to Marineland, FL

We left from Fernandina Beach this morning at 0710 and headed south down the ICW... destination for the day planned as St. Augustine, FL.
It was windy and raining for the first couple of hours and we had current against us again. It was a great start for the day... NOT! The current did switch around in our favor just before Jacksonville and stayed with us till about an hour and a half out from St. Augustine when it turned back to on our nose.
We called St. Augustine Municipal Marina to reserve a mooring ball about noon and we were told they were full... no mooring balls and no marina slip space and asked if we wanted to go on a waiting list. So, the destination changed for the day to ????
We figured we would go until sunset and anchor... as we came to the first anchorage area it was packed with boats... a little too tight for us... we continued on and each anchorage area we came too was either already full or was a little dicey and not what we felt would be good for us.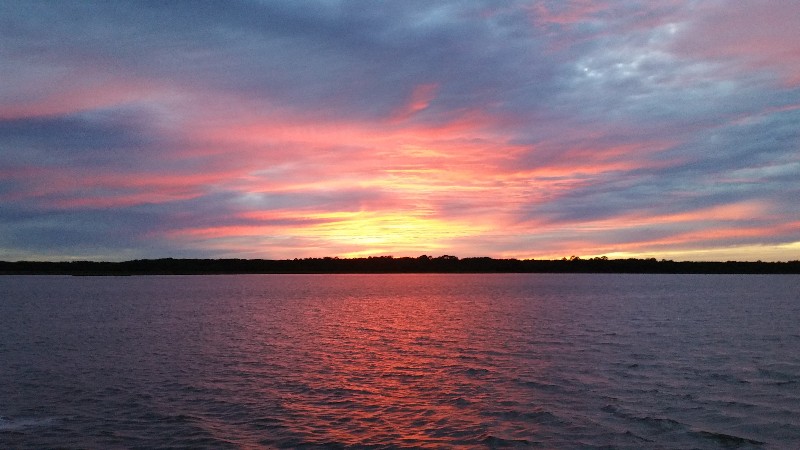 We continued on and soon it was dark... next option was anchor by the Matanzas Fort or the next marina was Marineland Marina. We opted for the marina. Susan called them and they had one spot left... 50 feet on their floating dock.
We were securely docked at Marineland Marina at 1910. Our position for the night
29°40.148'N, 81°12.899'W
. We traveled today for 12 hours covering 69.2 nautical miles averaging 5.8 knots.


Posted at 6:49 PM