CT to FL Day 15
Oriental, NC to Swansboro, NC

We had a lovely afternoon walking around Oriental and a nice dinner at the Toucan Grill. It was nice stopping early enough to be able to do this.
There were some new improvements to town dock... a pump-out station was added to the dock and new bathrooms at the top of the docks. Nice to see the town actually improving the docks.
We met a nice couple on the docks after dinner that were traveling south from Maine on their sailboat. They said they had seen us a few times prior to this along the way. I'm sure our paths will cross again.
We left Oriental at 0815 with our destination planned as Swansboro. We had a favorable current with us for a good portion of the day and arrived earlier than anticipated at 1430.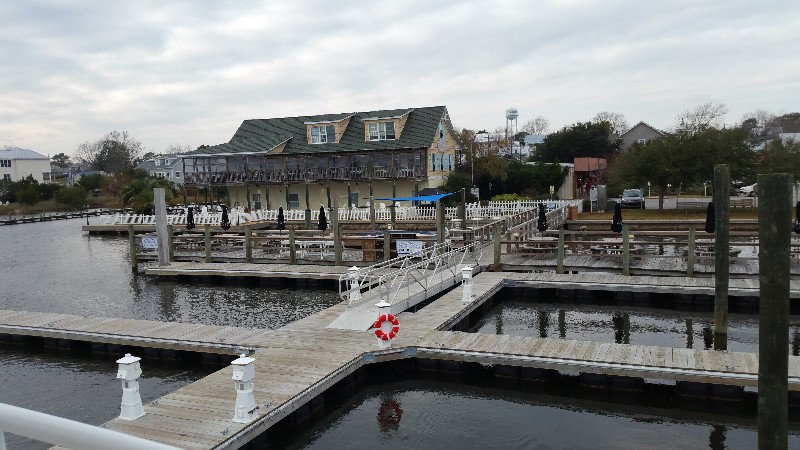 We docked at the new town docks behind the Saltwater Grill. This is our first time stopping here since they added these new docks. Our location for the night
N34°41.163', W077°07.148'
. We traveled today for 6 hours and 15 minutes covering 43 nautical miles averaging 6.9 knots.


Posted at 2:34 PM


CT to FL Day 14
Pungo River to Oriental, NC

After a very windy on the hook... 25-35 knots... we pulled the anchor and were underway at 0630. Again a very dark dark morning but sunrise came very quickly.
Nothing out of the ordinary today... few of the boats that had passed us yesterday... passed us again. Weather forecast was nothing spectacular and caused no issues on the Pamlico Sound or the Neuse River.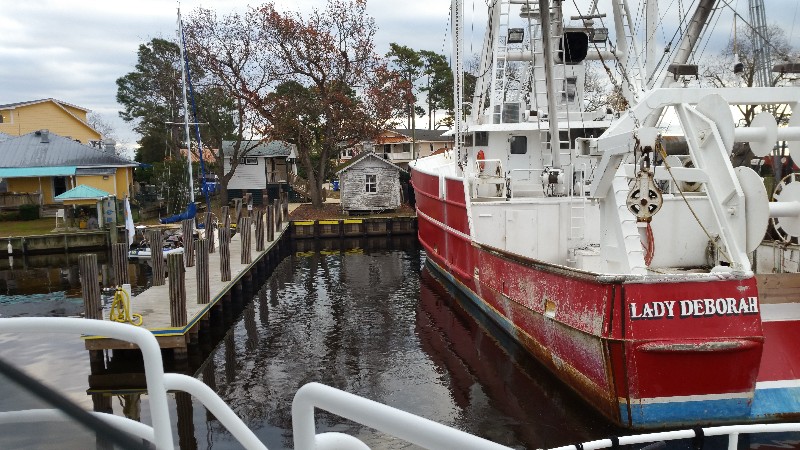 We arrived to Oriental and found one space left on the free town docks next to a large red scallop boat. We were secure to the dock at 1345. Our location for the night
N35°01.457', W076°41.472'
. We traveled today for 7 hours and 15 minutes covering 47.2 nautical miles averaging 6.5 knots.


Posted at 1:31 PM


CT to FL Day 13
Coinjock, NC to Pungo River

We had a longer day planned today with our destination to be the Belhaven area. We would have to cross the Albemarle Sound and the forecast was for east winds 10-15 knots with 2 foot seas in the morning. Afternoon winds changing to southeast 10-15 knots with gusts to 25 knots. So, the plan was to leave early and get across the Albemarle before things escalated.
We were up at 0500 to be ready to leave at 0600. That went as planned and we got away at 0600 on the nose... still very very dark and we also had rain... very nice. We got to the Albemarle and winds were already blowing at 20 knots plus out of the east. This gave a following sea and the waves were at the beginning of the sound about 2 feet... two hours later when we reached the far side at the mouth of the Alligator river seas had built to 3 - 4 feet with some random larger waves. It was not a bad ride but it was definitely not what we had hoped for.
Soon as we turned into the Alligator River things calmed down immediately and we had 1 foot seas for the length of the Alligator River. The A & P Canal being so narrow we had only a ripple from the winds disturbing the otherwise flat clam water.
Current today was either no help or against us... saw our speeds drop below 6 knot in the A & P Canal but otherwise it was around 6.5 knots.
We did have quite a bit of boat traffic... most of which seemed like all men crews that were most likely on a delivery... but it was nice to see other boats moving... not just us.
We arrived to end of the A & P Canal at 1630 and decided to call it day and pulled out of the ICW to the north to a spot we have anchored many times in the past. We were securely anchored at 1645. Our location for the night
N35°33.544', W076°28.103'
. We traveled today for 10 hours and 45 minutes covering 68.7 nautical miles averaging 6.4 knots.


Posted at 1:06 PM