CT to FL Day 2
Atlantic City, NJ to Chesapeake City, MD

Alarm went off this morning at 0400 and it felt like we had just gone to bed… we had another long day planned so we were off early… leaving Atlantic City at 0500. Forecast for NW 5-10 knot winds, less than 1 foot seas and partly cloudy.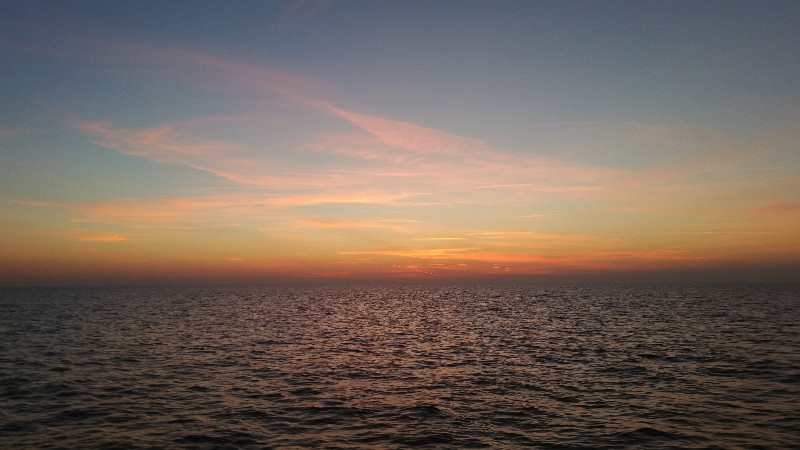 That was the forecast but you never know... We cleared the inlet and found the forecast for winds and seas were spot on. It was nearly flat calm... Hurray. It was too early to tell if the partly cloudy was going to be accurate. The sunrise was sure beautiful.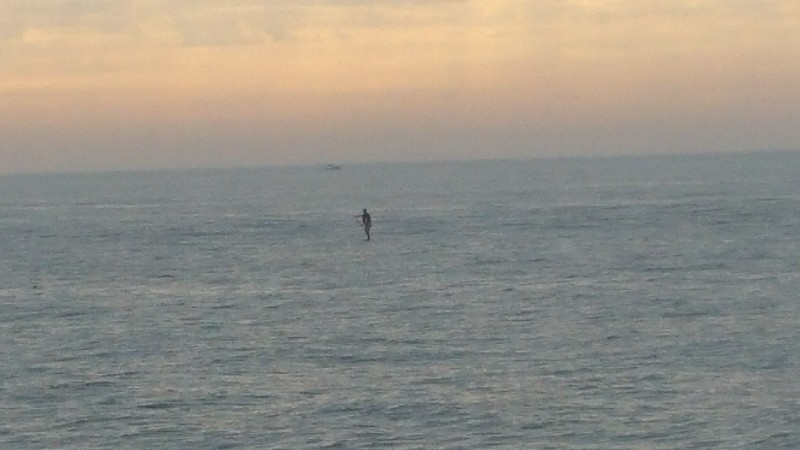 Just before Cape May we passed something that was totally unbelievable. We were about 3 miles offshore and we passed a paddle boarder. 45 degrees out and 3 miles from shore... REALLY ?? He did not even have a wet suit on... SHORTS. At least he was wearing a PFD. But was he doing do far from shore ???
Today we were not disappointed with the number of fishermen out... they may have taken Thanksgiving Day off, but were out full force today. I thought we had all the fishermen behind us as we entered the inlet going into Cape May. However, we came upon one straggler that decided to anchor right in the middle of the channel... and of course he selected the narrowest part of the channel and it was low tide. I thought as he saw us approaching he might decide to move but instead he waved us to go around him. Looked like there was plenty of water per the chart so I adjusted our course to move around his stern... this was a mistake... saw the depth sounder drop from 12 feet to 6 feet real fast... we did not hit the bottom but we picked up some debris from the bottom and fouled the port prop... CRAP! Managed to get back into deep water but we had lost all propulsion on the port side. I continued down the channel on one engine and pulled into the Canyon Club Resort Marina and tied up to their fuel dock.
Friday after Thanksgiving the marina was closed… thought I might be able to get a short haul out and clear the prop... Not happening... called TowBoatUS and they suggested the same thing a short haul as they did not have any divers available. A short haul was not going to happen till Monday. So, I dug out my dive gear and took a quick... VERY QUICK dive under SAILS... Water temperature 47°... BRRRRRR!
Found a huge piece of shrink wrap material totally encasing the prop... five to ten minutes and the prop was clear and I was FROZEN!!
Nice hot shower and an hour later we were back underway.

The reminder of the day was uneventful... Delaware Bay, Delaware River and the C & D Canal were glass smooth... had a nice boost from the current all the way to the C & D Canal... then the brakes came on... dropping from 8+ knots to 5 knots... hate when that happens but hard to complain when the current was pushing most of the day.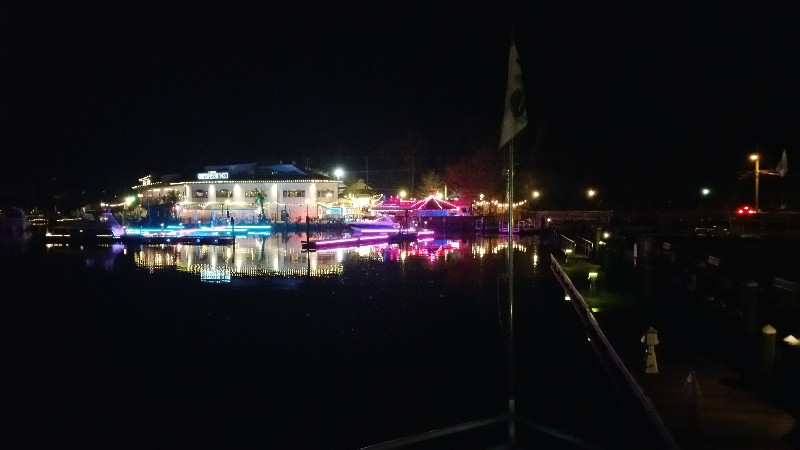 We arrived to Chesapeake City and pulled into docked at the city docks at 2045. Our position for the night at N39°31.638', W075°48.666'. We traveled today for 14 hours and 30 minutes covering 99.4 nautical miles averaging 6.9 knots.



Posted at 9:29 PM


CT to FL Day 1
Stamford, CT to Atlantic City, NJ

We departed from Stamford at 0510 and began our trip south. It was 32 degrees and felt like it. Weather was forecast for 30% chance of rain, NW winds 5-10 knots... Long Island Sound Seas less than 1 foot and the Jersey Shore 2 foot seas... Was not thrilled about the rain but the lower winds and calm seas would be nice.
Very little boat traffic... in New York there were a lot of NYPD boats moving around... we guessed it was due to the Macey's Day Parade today in the City. There were not even that many fishing boats along the Jersey shore. Normally we have to navigate around dozens of them but not today... guess being Thanksgiving kept some fishermen home.
We had a tremendous boost in speed through the East River and Hell Gate.. Saw 12 knots a few times... moving so fast it was tough to get any photos...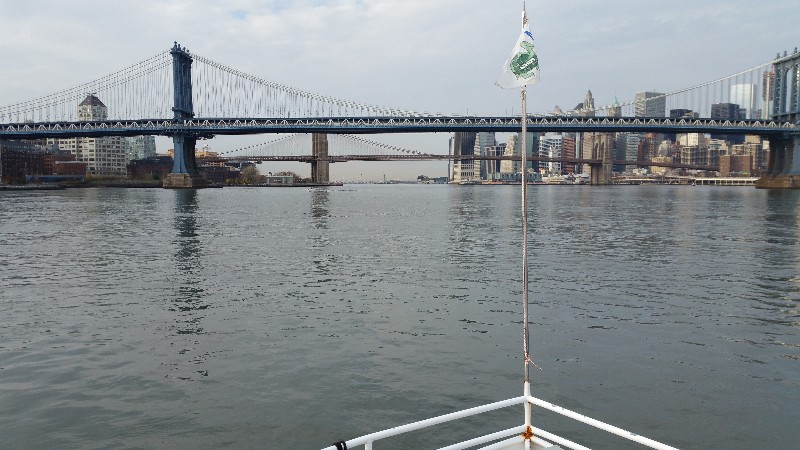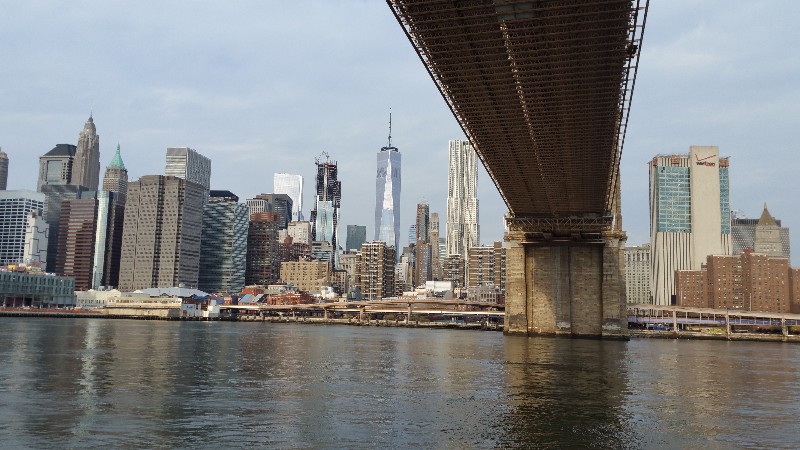 We were disappointed with the NOAA forecast for the Jersey shore... the 2 foot seas were more like 3-4 foot and very short period... made for a slightly unpleasant ride but not horrible... would of enjoyed it being calmer.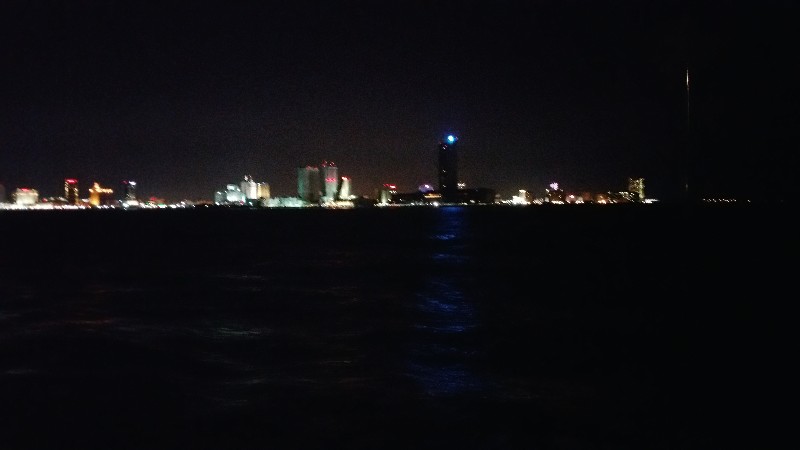 We arrived to our planned destination of Atlantic City at approximately 2145 and docked at the free docks adjacent to Gardener's Basin. We were secure at 2210 location at N39°22.582', 074°25.274'. We traveled today for 17 hours covering 122 nautical miles averaging 7.2 knots.


Posted at 10:21 PM


FL to CT Trip Statistics 2016 Trip North

We departed from Punta Gorda, FL on March 26, 2016 and arrived to Stamford, CT on May 10, 2016.

Overall: 46 days
Moving: 31 days
Stopped: 15 days
1 day at Cabbage Key Pineland, FL to clean running gear
1 day at Franklin Lock State Park Marina, Olga, FL
1 day in Stuart, FL
6 days MTOA Southern Rendezvous Fort Pierce, FL
1 day in Smithfield, VA
5 days in Brick, NJ - waiting on weather


Distance traveled: 1,750.84 statute miles
Moving: 233 hours
Averages:
56.5 statute miles per day
7.51 miles per hour
7 hours and 31 minutes per day

Marinas, Docks, Anchorages:
21 nights PAID docks
2 nights PAID Mooring Ball
13 nights FREE docks
10 nights anchored


Posted at 11:25 AM