FL to CT - Day 4
Moore Haven, FL to Stuart, FL

Alarm clocks set for 0600 this morning... need to get an early start to make all the last lock before 1630... the last lockage eastbound.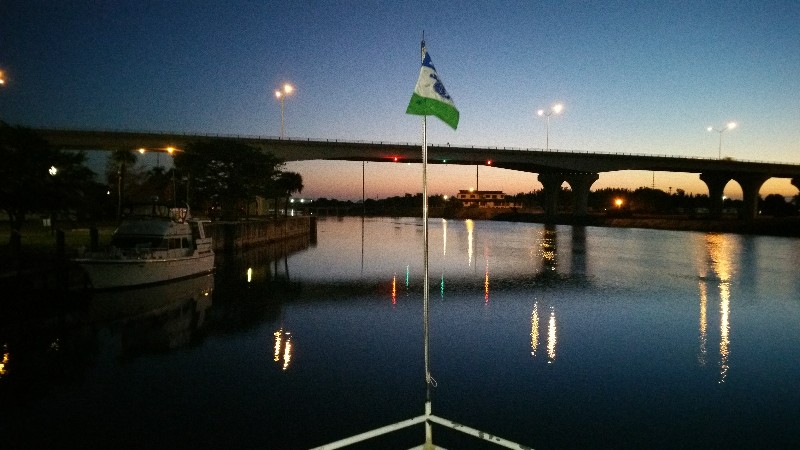 Sun just starting to light up the eastern sky as we departed Moore Haven at 0645 heading to the Moore Haven Lock that opens at 0700. Forecast for was for a sunny day with NW winds 5-10 knots... light chop on Lake Okeechobee... Perfect!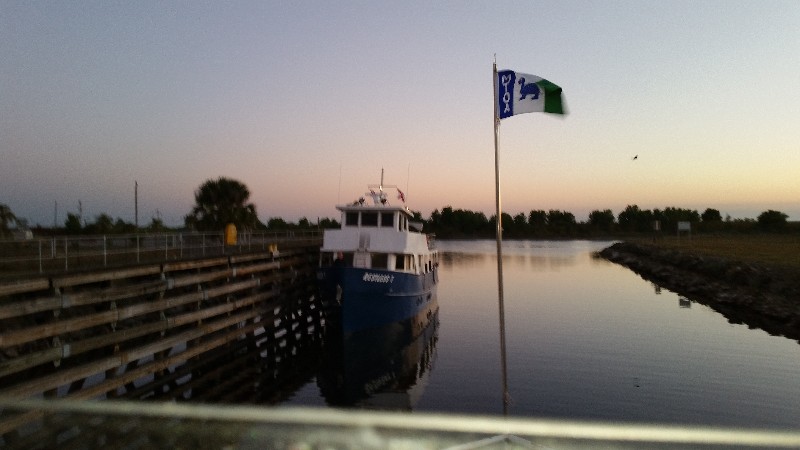 We had at most 5 minute wait to enter the Moore Haven Lock... only boat in the lock but we did meet a large steel vessel tie to the fenders as we exited the lock... guess they missed the last opening yesterday and tied there for the night.
Last few trips around the rim of the lake we have not seen many alligators... today was totally different... we saw a LOT of them... nothing real big but 40-50 smaller ones between Moore Haven and Clewiston. They are very skittish and drop under the water as you pass close to them. I like alligators that are scared of me...


Leaving earlier than normal we expected to not see so much boat traffic... had a lot boats pass us going east and west... always nice to have other boats moving around you.

We reached Stuart, FL around 1715 and decided to anchor east of the Roosevelt Bridge rather than west of it. The railroad bridge adjacent to the bridge can be very busy in the early morning and have you waiting hours to get through... wanted to bypass that and anchored in Hoggs Cove about 2 miles east of the Roosevelt Bridge... we were securely anchored for the night at 1745 at N27°12.954', W080°12.816'. We traveled today for 11 hours covering 64.1 nautical miles averaging 5.8 knots.


Posted at 5:19 PM


FL to CT - Day 3
Olga, FL to Moore Haven, FL

Decided no alarm clocks and but still woke up fairly early around 0700... a bit foggy but forecast was good... sunny with NW winds 10-15 knots that would have no effect on us in the ditch crossing to Lake Okeechobee.
Pull the anchor about 0845 and were underway toward the Franklin Lock at 0900. We just missed an eastbound lockage so we had about a 150-20 minute wait before we could enter the lock. We were joined by a small power boat about 20ft long in the lock.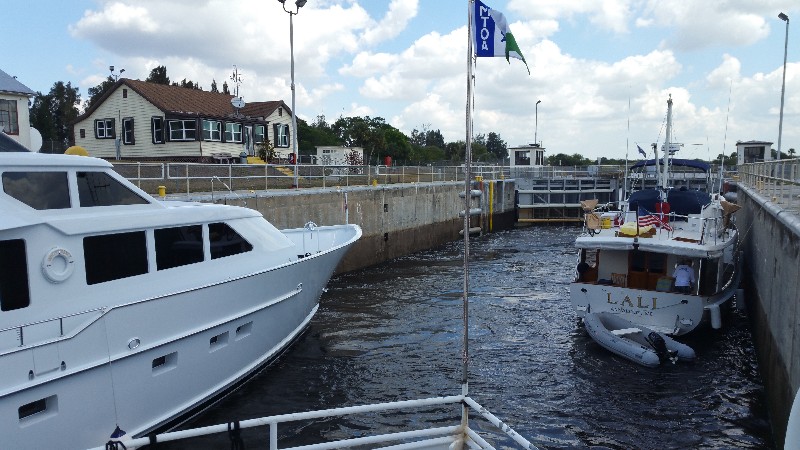 We were soon underway and headed east across the Okeechobee Waterway. There was a Krogen Trawler "LALI" just ahead of us that left the Franklin Lock State Park Marina just as we exited the lock. We followed them for the entire day. Going through several bridges and the Ortona Lock together. We were joined by an 82ft Burger "INDEPENDENCE" in the Ortona Lock... felt a little cramped for space with them beside us in the lock.
We parted company with "LALI" at Moore Haven... we stopped for the day at Moore Haven and they continued on planning to stop in Clewiston.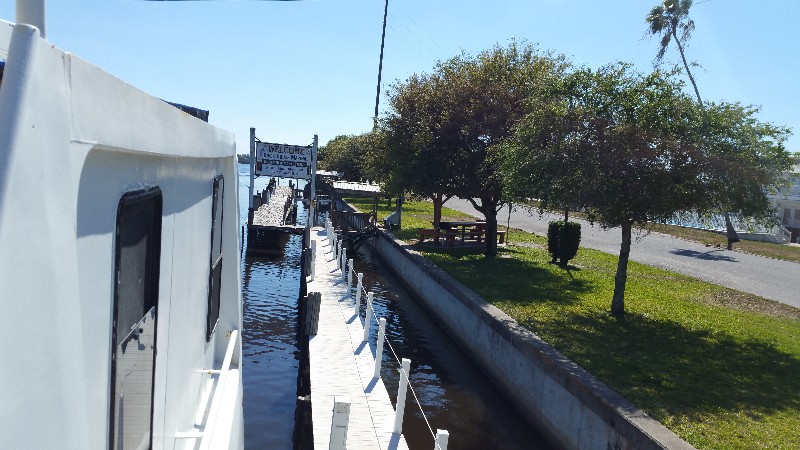 We arrived to our normal location the River House Marina for the night
N26°49.884', W081°05.423'
at 1515. We traveled today for 6 hours and 15 minutes covering 36.6 nautical miles averaging 5.8 knots.


Posted at 3:01 PM


FL to CT - Day 2
Cabbage Key, FL to Olga, FL

We had a late breakfast/brunch with our friends aboard Night Shift this morning... delaying the goodbyes as long as we could. After breakfast I took a few minutes to dive under SAILS to check and clean the running gear. It was not too bad only a few small barnacles. It's nice to have nice clean running gear for the trip.
Night Shift departed heading back to Punta Gorda about 1330 and we left shortly thereafter pulling the anchor and underway at 1400.
It was a beautiful day... warm and sunny with an nice breeze... This brought out many many boats... it was like a circus boats going every direction all speeds.
we got lucky and had a favorable current with us the entire day... hitting 8.6 knots going through the miserable mile near Tarpon Point Marina.
We could only as far a Franklin Lock which closes at 1700. We will catch the first lockage in the morning at 0700 and head across the state toward lake Okeechobee.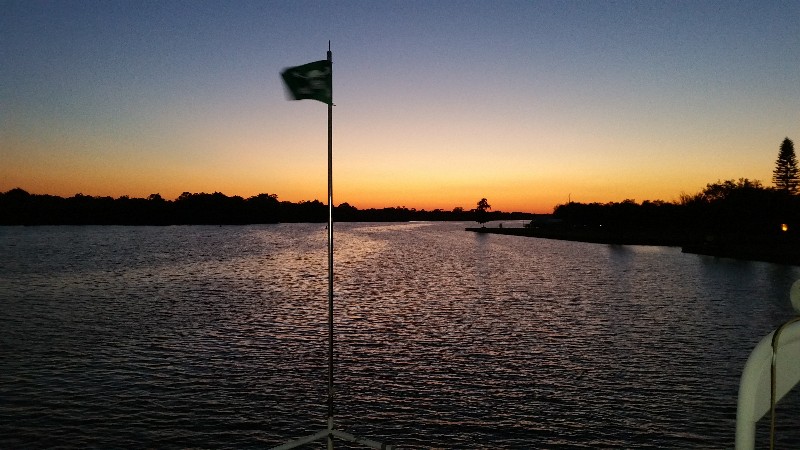 We arrived and were safely anchored just west of the lock at 2000 just after the sun had set. Our location for the night
N26°43.414', W081°41.765'
. We traveled today for 6 hours covering 42.1vnautical miles averaging 7.0 knots.


Posted at 7:22 PM