FL to CT Day 28
Deltaville, VA to Galesville, MD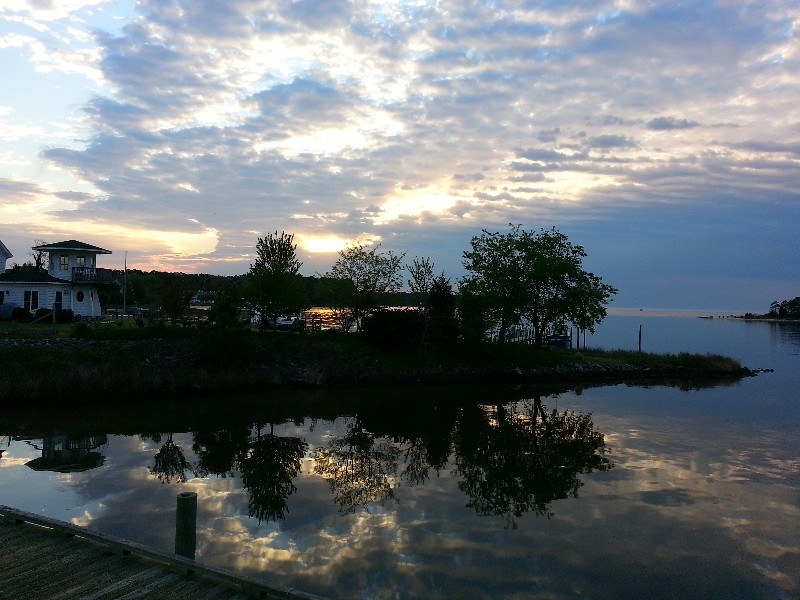 Long day planned trying to get back on track to our normal stopping spots… Galesville, MD will put us back to where we want to be… but it will be a long day.
We departed before sunrise at 0645 and headed out of Jackson Creek… a beautiful sunrise this morning… captured this photo just before departing.
The Chesapeake Bay was very calm most of the day with less than 1 foot waves until the last couple of hours where it we started getting 2-3 waves on the stern… and we never really got much help from the current… and we also did not get much current against us… seemed to be running at the same pace as slack tide..
There were a ton of fishermen on the water today… and the majority of them trolling with their toy boats on each side… that's what they look like but I guess they use them for attaching multiple trolling lines behind the boat… but they sure do not want to get out of the way… you would think if you saw SAILS bearing down on you… you would not move across our bow at 1 knot with trolling lines 300 yards behind you… but they do and they yell at you when they think you are too close to them… it's really quite funny.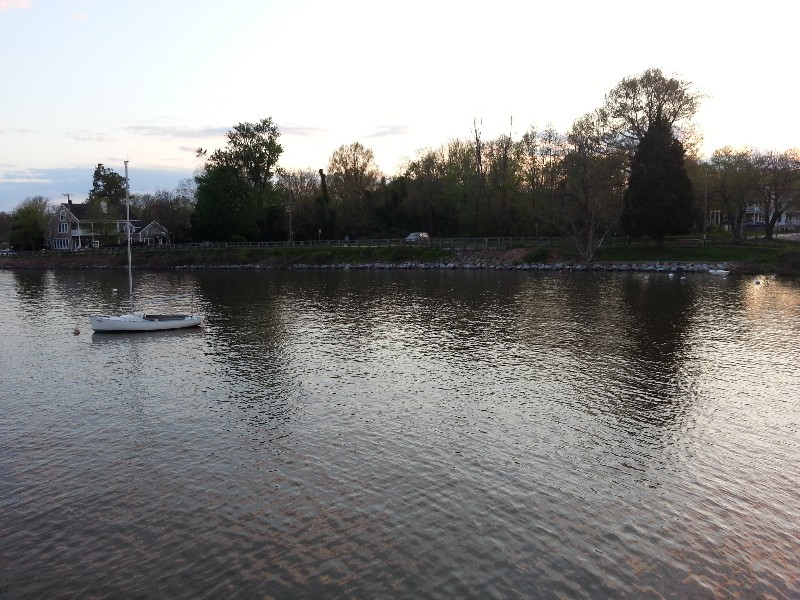 We arrived to Galesville and docked at the County Wharf… been here many many times and it's a nice stop and a beautiful area. We were secure at the dock at approximately 1930… Our location for the night… N38°50.545', W076°32.342'. We traveled today for 12.75 hours covering 89.13 nautical miles averaging 7.0 knots.


Posted at 7:12 PM


FL to CT Day 27
Smithfield, VA to Deltaville, VA

We spent 3 layover days in Smithfield, VA waiting on good weather… it was a good stop getting to see a lot of good friends we had not seen in ages. The weather forecast for today was good so we planned to depart.
However, we could not leave first thing… we had to wait for a higher tide in order to have enough water to leave the Pagan River… specifically, Bob's Shoal. We arrived at high tide and saw 6.4 feet at Bob's Shoal… high tide today was 1345… did not want to wait that long but planned to leave at 1130 when we should have enough water to skim across the bottom at the shoal.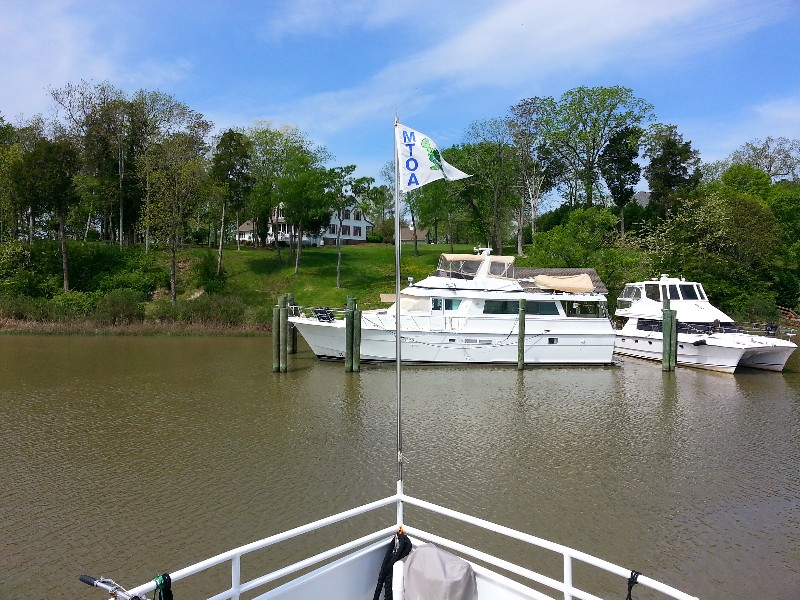 We tossed the lines at 1125 and I took a quick swing past Wayne and Judy' home to take photo from the water. They have an absolutely gorgeous home on the Pagan River. Snapped a few photos and we were off.
We got to Bob's Shoal and slowed to idle… watching the depth sounder closely… the spot I saw 6.4 coming in was at 5.3… plenty of water… 6 inches under the hull… ?
We proceeded out of the Pagan and into the James River… destination for the day to be Hampton Roads.
We arrived to the channel into Hampton at just before 1400… Hmmmm… way to early to stop… needed to cove some ground while we had a good weather (wind) window for the Chesapeake Bay plus we had the current in our favor pushing us along at over 7 knots. We continued around the Old Point Comfort and into the Chesapeake Bay.
Waves were as forecast at 1-2 feet and current… set the autopilot and we would go until we lost the current and then figure out where to stop… We lost the current at approximately Wolf Trap Light… next good place to stop would be Deltaville… We had been into Jackson Creek one time in 2008… good a spot as any to stop.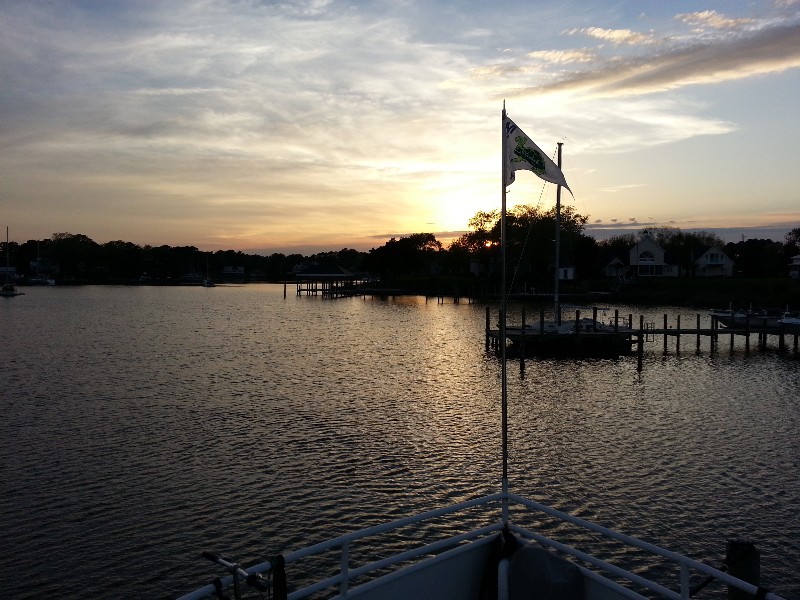 We arrived to Jackson Creek at approximately 1930 and tied up to the State Dock (Free).
Our location for the night… N37°32.743', W076°20.006'. We traveled today for 8 hours covering 54.3 nautical miles averaging 6.9 knots.


Posted at 7:22 PM


FL to CT Day 24, 25, and 26
Layover in Smithfield, VA

Arrived in Smithfield , VA three days ago on the April 28th and have not been able to leave due to weather. Looks like we will be able to depart in the morning Friday, May 2nd.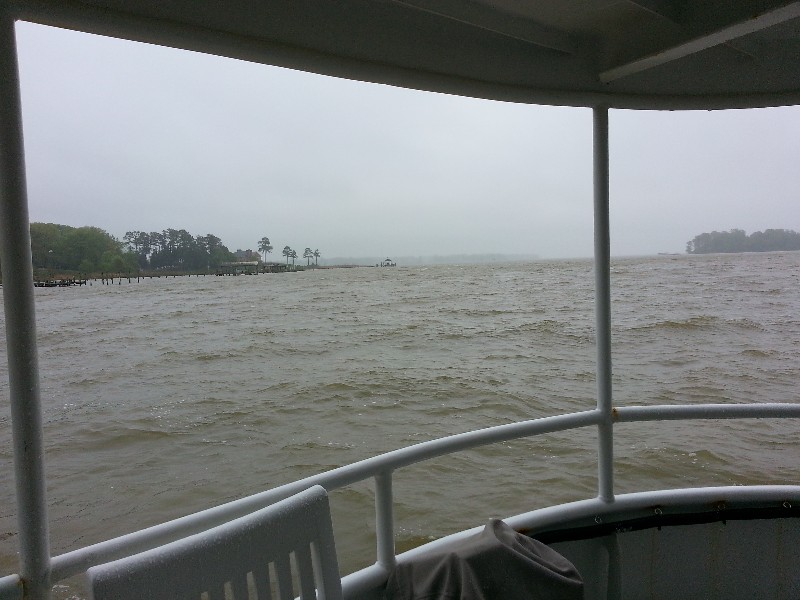 The weather has been horrible the last few days... rain and high winds... even protected on the Pagan River the wind was kicking up some pretty good size waves... 1-2 foot waves banging on the port side of SAILS... then when the tide was going out against the wind we saw 2-3 foot waves. The waves were real short period so they made more noise banging against the hull than rocking us. We did bounce a little bit as you could here the wood blinds clicking on the windows as they moved.
Besides the weather it has been a great layover getting to visit with a lot friends we had not seen in a few years. Wayne and Judy, McPhail, Brian and Melissa Nehrbass, Lee and Cynthia Wheelehan, and William and Connie Wells.
Below a few photos from Smithfield.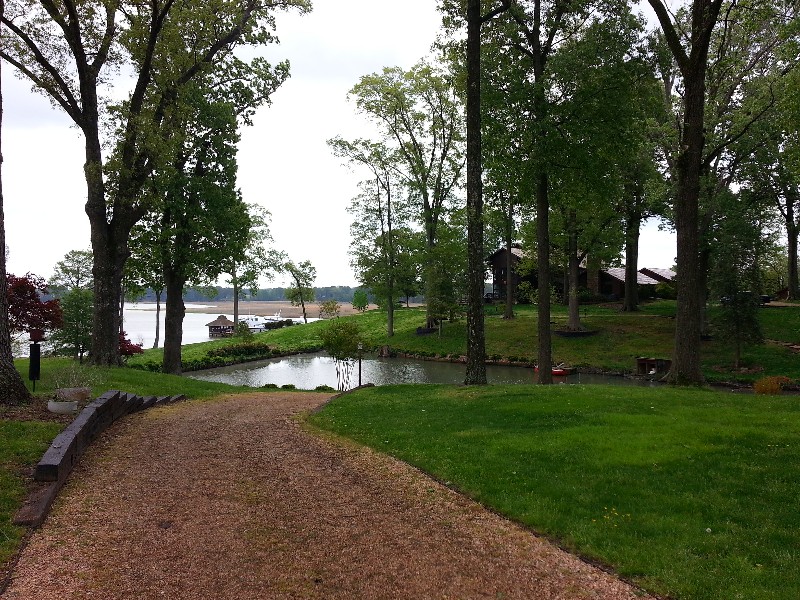 SAILS docked beside William and Connie's 72' Burger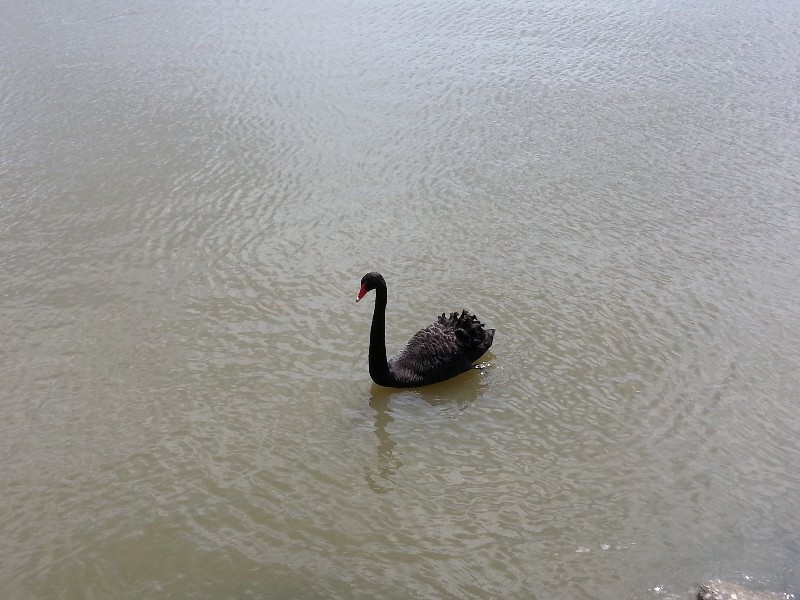 Black Swan that was hanging around the boat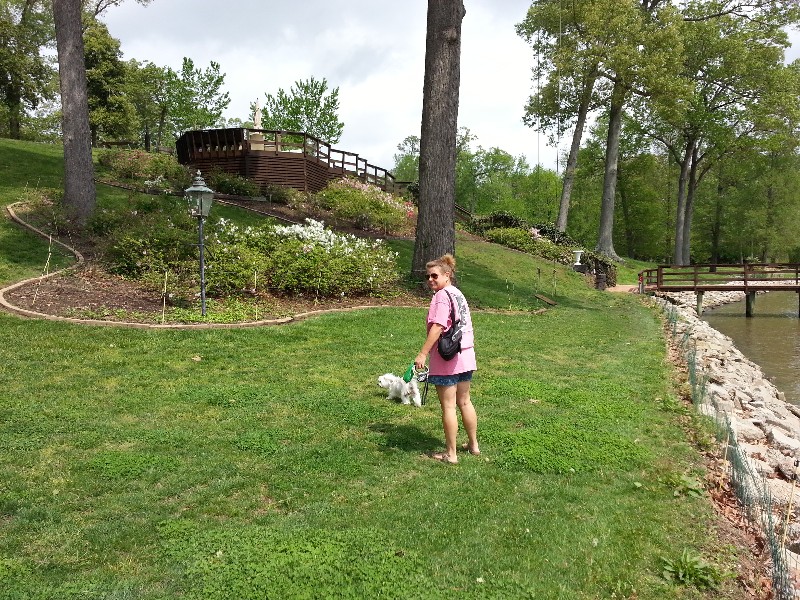 Susan walking Beecha behind Willaim and Connie's house.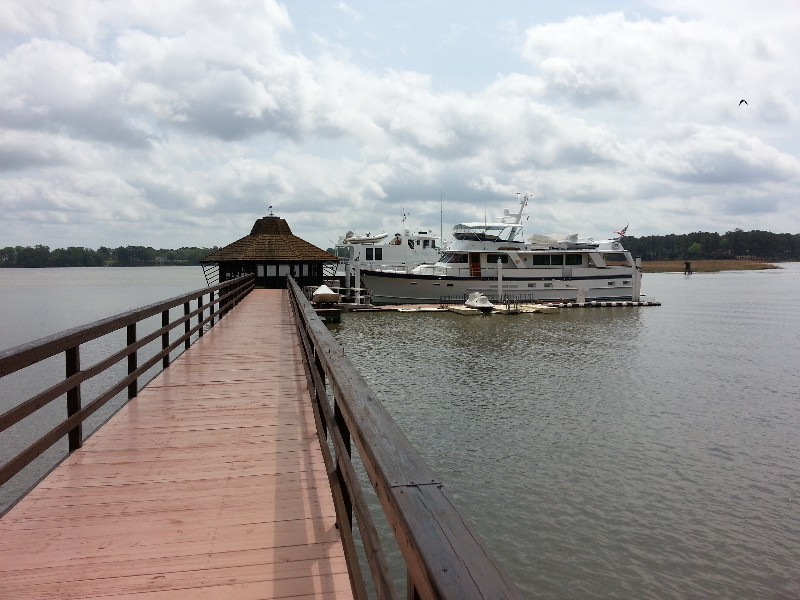 Looking down the dock at SAILS and SUMMER GIRL II


Posted at 12:34 PM