FL to CT Day 11
Fernandina Beach, FL to Jekyll Island, GA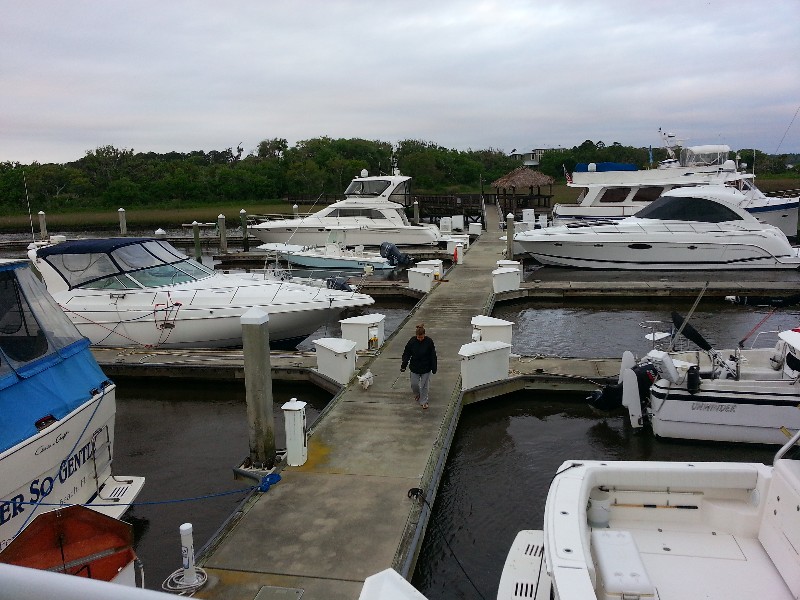 Woke this morning to 46 degrees outside... went to bed with the AC on and it switched to heat in the middle of the night... Susan had to wear her winter jacket to walk Beecha this morning... LOL
It was interesting getting away from the dock this morning as there was a very strong current that wanted to push SAILS immediately away from the dock as soon as any line was removed… but we made it away safely at approximately 0730 and soon were heading out Lanceford Creek toward the ICW.
The winds had howled all night long and were still steadily blowing over 20 knots out of the northwest. This would make the inlets rough as we crossed them... particularly St. Andrew Sound which is full exposed to the Atlantic.
Crossing St. Mary's Inlet was first one we had to cross… it is fairly protected from the NW winds and it was choppy… 3-4 waves… no sweat! Soon after crossing the winds started to pickup… 25 knots sustained with gusts to 35 knots…even the ICW was rough on the NW stretches… approaching St. Andrew Sound on the Cumberland River we were seeing 3-4 waves… we opted to not cross the sound and take an alternate back router turning to port in to Floyd Creek just north of ICW marker 40. This is marked as an alternate route on the charts… it adds about an 30-45 minutes to route… but much much calmer… need to have a good tide level as there are a few skinny places that are less than 5 feet at MLW. The back route returns you to the ICW just south of Jekyll Creek… ICW markers 25 and 27.
Just before this turn we had a small 25 – 30 foot boat arrive at our stern… I assumed he would hail us to pass… NOPE… he stayed 300 feet behind us… I believe using us to break the waves and smooth his ride… he followed us into Floyd Creek and the rest of the day until we stopped and he continued north.
It was a nasty windy day and I really needed some computer time to catch up on some of the cabinet design and web work that had come in over that last few days… so we opted to stop early at Jekyll Island. We arrived to our favorite free dock and were secure at approximately 1300 at N31°02.545', W081°25.390'. We had traveled for 5.5 hours covering 34.65 nautical miles averaging 6.3 knots.


Posted at 5:38 PM


FL to CT Day 10
St. Augustine, FL to Fernandina Beach, FL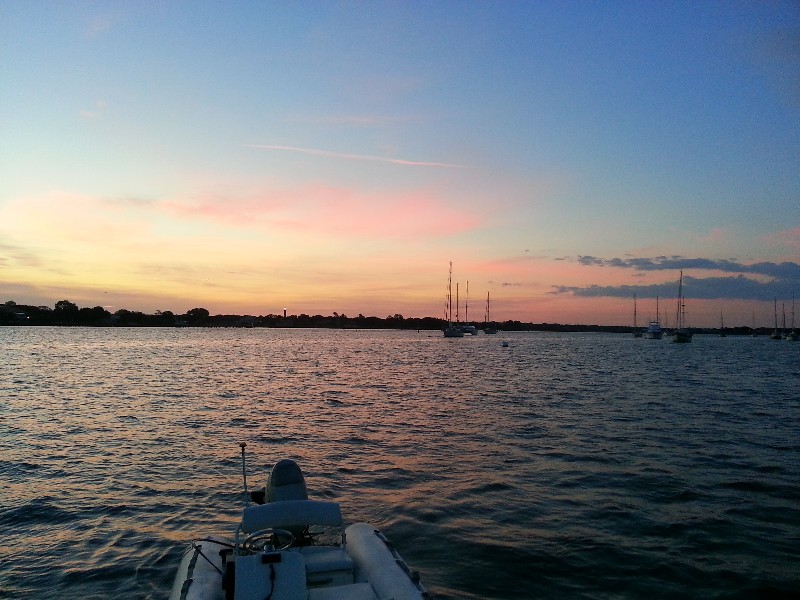 Set my alarm and got up at 0200 to see the lunar eclipse... stayed up watching for 30 minutes and went back to bed... figured I would see photos people that stayed up all night to watch it... I opted to sleep.
Alarm went off at 0615... the lunar eclipse watching for some reason made getting out of bed and going a little slower than normal... hit the snooze for 15 minutes or so before finally rising to a beautiful skyline just before sunrise.
Feed Beecha breakfast and off to land on the dinghy to walk Beecha. She decided this morning was the morning she wanted to dilly-dally... normal 10 minute walk turned into a half hour plus... did not get back to SAILS until after 0700... still had to do the engine checks and prep SAILS for the days cruise.... Destination for the day Fernandina Beach.
We dropped the mooring pendant at 0745 and were underway north toward the St. Augustine Inlet... a strong current against us... but this was good as soon as we crossed the inlet we would have a favorable current all the way to Fernandina Beach. In fact we had times we were doing almost 10 knots with he current pushing us... There were only a few short stretches that slowed us down... love these days.
Had one boat pass us and we passed one sailboat... other than that there was virtually no one else out on the water... could of had something to do with the approaching weather front... we were lucky and seemed to skirt through with very little rain... wind picked up a few times but for the most part the bands of rain passed in front and behind us.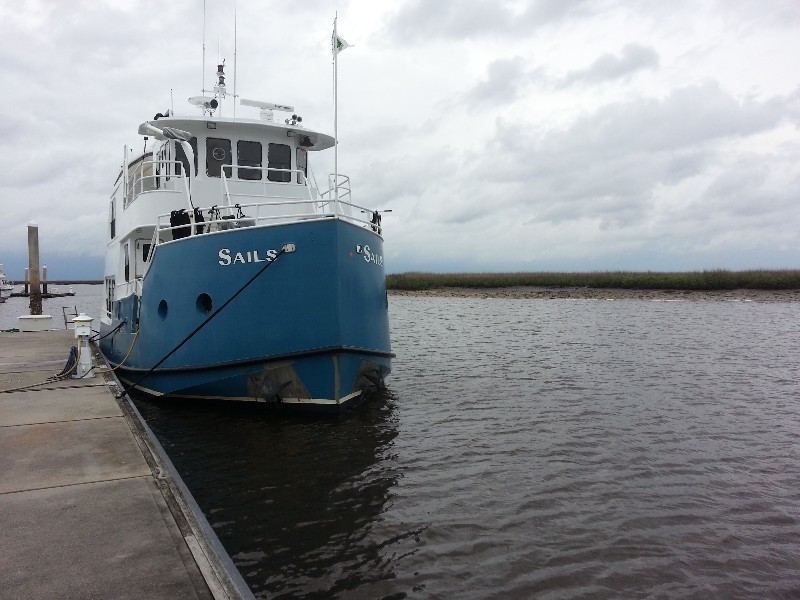 We had hoped to stay at the Fernandina Harbor Marina and called them to check on availability and was told they were sold out... I know the MTOA Southern Rendezvous is taking place there now... we had planned to attend as we do every year but this year with the issues with SAILS we were not sure if we would get there in time so we canceled our plans to attend.
Anyway, we had a certificate for a free complimentary night at The Oyster Bay Yacht Club just a couple miles west of the Fernandina harbor Marina so we contacted them to verify the free night offer was still valid...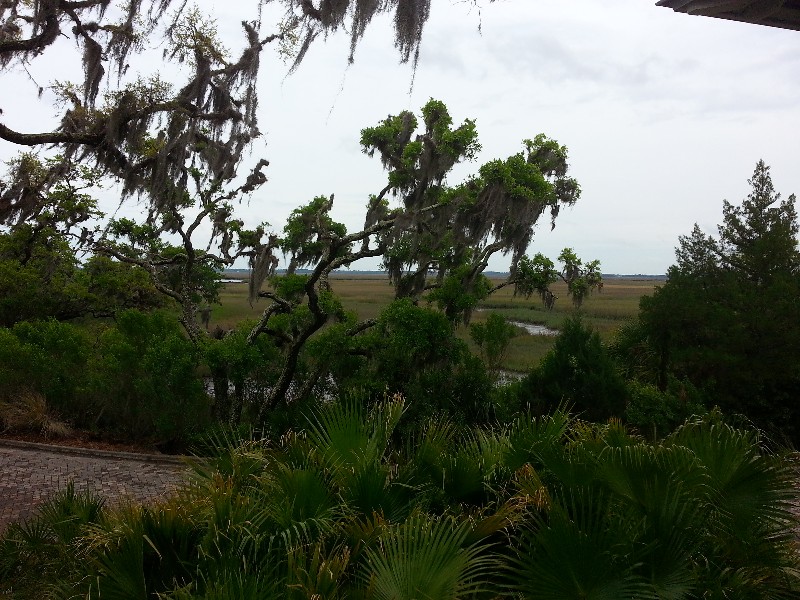 IT WAS! So we turned west out of the ICW at Fernandina Harbor Marina and were soon pulling up to the docks at The Oyster Bay Yacht Club. At approximately 1530 we were secure to the T-head of dock C at N30°39.943', W081°30.299'.
We traveled today for 7.75 hours covering 55.8 nautical miles averaging 7.2 knots.


Posted at 3:58 PM


FL to CT Day 9
New Smyrna Beach, FL to St. Augustine, FL

Last night we spent the evening with Peter and Charlotte... had a few drinks and an awesome dinner. It was great visiting with them and catching up on things... we really enjoyed the evening.
During dinner Susan and Charlotte made plans to go the grocery at 0800 in the morning before we left. Susan needed to restock a few things and Charlotte was so gracious to take Susan.
Alarm still went off at 0600 but this mornings routine was a little different which was sort of nice change of pace. Anyway we were at the docks behind the Peter and Charlotte condo at 0800 and of course Peter was there to greet us and help us tie up the dinghy. We walked up to the their condo and Charlotte and Susan were soon off to Publix. Peter and I enjoyed the morning sitting on his lanai watching the water... Coffee for Peter and TAB for me... a slow start to the day... very nice!
Soon Susan and Charlotte were back from the grocery and we all headed back to the dinghy with the groceries... We departed on the dingy back to SAILS... always sad leaving but knowing it won't be that long until we return in the fall makes it easier... We had a grief but great time with Peter and Charlotte.
Arriving back on SAILS we prepared to depart... lift the dinghy, weigh the anchor and we were underway at 1015 heading north... destination undetermined at this point.
We had an outgoing current sitting at anchor so I assumed that being on the south side of the inlet we would be faced with the same outgoing current on the north side of the inlet... nope! We got a boost of speed soon running 7.5 knots... at times we were hitting 9 knots... with this boost in speed we could easily make St. Augustine... so we made St. Augustine the destination for the day.
Just before Palm Coast we were running along 12 feet of water and 7.6 knots... BAM! the boat lifted up on the port side... we had hit something... I quickly throttled back to idle and checked the depth sounder and we were still in 12 feet of water and dead center of the channel... we were actually between a red and green day marker one to port and one to starboard... not sure what we hit but it sure startled both of us... I checked behind us and could see nothing in the water... I checked the bilges to be sure that whatever we hit had not punctured the hull... All good... I brought SAILS slowly back up to speed... no vibrations... All was good other than we hit something... Susan thinks it was a manatee or more than one manatee... seemed to solid to me and don't think a manatee could jar the boat the way this had... it's a mystery we will probably never solve.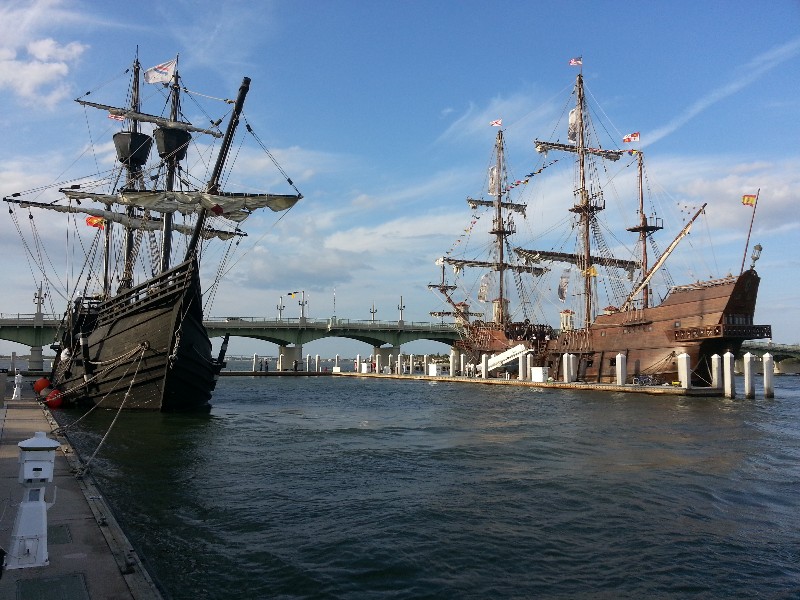 After this this the rest of the trip went smoothly and we arrived to St. Augustine at approximately 1800. We hailed the marina and they gave us our mooring ball assignment... M5... the same ball we had used last time we stopped here... always a pain finding the mooring ball... numbers always facing the wrong way... but knew exactly where this one was... at 1815 we were secure on the mooring ball.
Our location for the evening…. N29°53.345', W081°18.442'. We traveled for 8 hours covering 57.6 nm averaging 7.2 knots.


Posted at 7:56 PM