SC to CT Day 8
Great Bridge, VA to Reedville, VA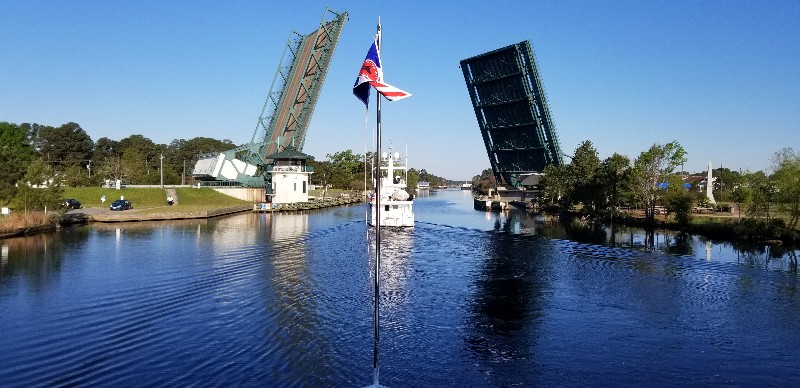 We left the dock at Great Bridge at approximately 0745 to stage for the 0800 opening of the Great Bridge Bridge. We pulled behind another boat that was already waiting for the same opening.
Passed through the bridge and proceeded to the Great Bridge Lock... The lock notified us via VHF that the lock attendants were not helping with lines in the lock and we would have to tie up to the starboard/west wall... We have heard and read various things about the Corona Virus and what other cruisers have faced... but this was the first place we came across any restrictions due to the Corona Virus first hand. We exited the lock and were underway at 0820 bound for Norfolk.
It was dead low tide and slack tide... soon the tide would turn and we would be running against it... we had planned to stop in Norfolk but with he current changing to flood very soon we opted to continue past Norfolk... we would have a favorable current pushing us up the Chesapeake Bay and the weather was great to continue.
We made almost to the Potomac River before we decided to call it a day... windy bad weather was forecast for the next couple of days so we pulled into Reedville, VA to hold up till the weather passed.
We arrived to Fairport Marina and were securely docked at 1815 at
N37°49.950', W076°17.133'
. We traveled today for 10 hours and 30 minutes covering 73.4 nautical miles averaging 7.0 knots.


Posted at 6:52 PM


SC to CT Day 7
Layover Great Bridge, VA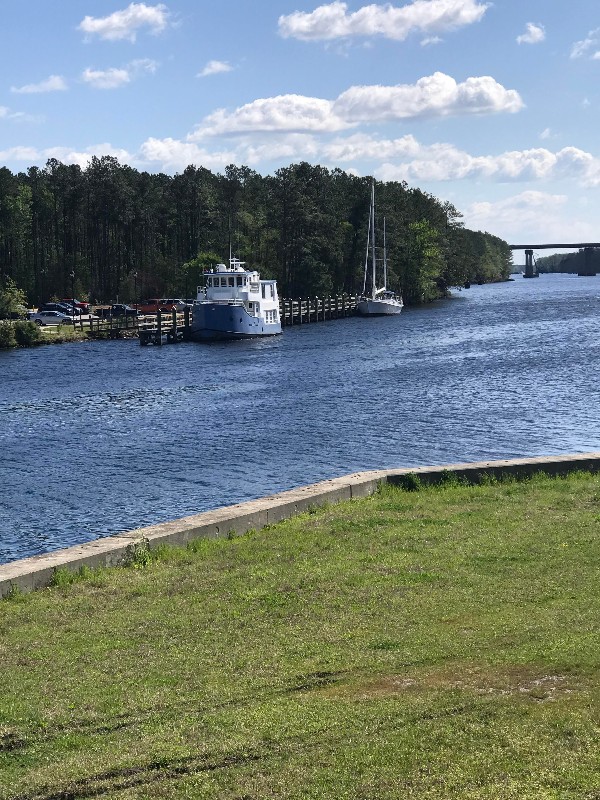 With the weather forecast... winds still blowing 20-25 kts all day today... we decided to stay put for a day here in Great Bridge. Susan plans to walk to grocery and see what fresh produce she can get and I'll catch up on some overdue cabinet design work.
Weather looks better tomorrow as far as winds, but picks up again over the weekend... so, we'll make our way up to Norfolk/Portsmouth area tomorrow and hang there what looks like 2-3 days waiting for winds to subside so we can continue up the Chesapeake Bay.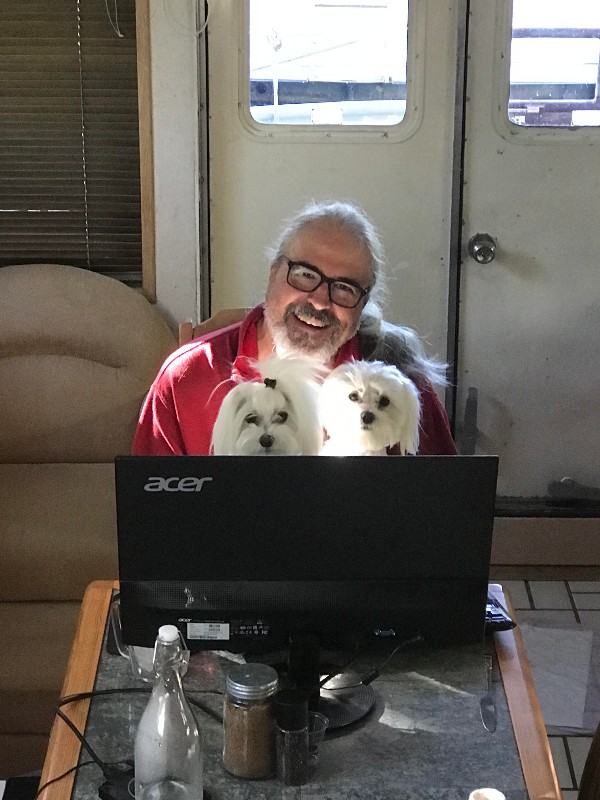 Lily and Herman decided they wanted to assist writing todays blog entry...


Posted at 10:28 AM


SC to CT Day 6
Little Alligator River, NC to Great Bridge, VA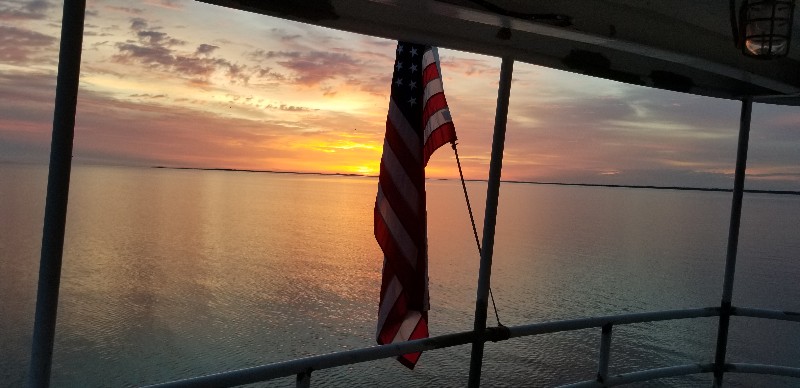 We pulled anchor as the sun was rising behind and were underway at 0715. Forecast was for the weather to deteriorate late after noon with high winds... 30 to 40 knots... our plan was to cross the Albemarle Sound and stop at Coinjock Marina.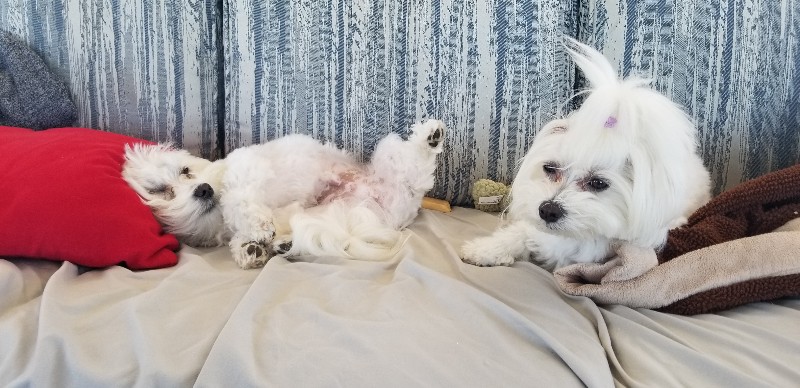 Crossing the Albemarle was uneventful with less than 1 foot seas to begin with... as we reached the far side the winds forecast for late afternoon started to pickup... seas increased to 2 foot. All-in all a good crossing... Herman and Lily enjoyed the crossing... :)
Winds were forecast to last into Friday... so we changed our plan and passed by Coinjock and continued to Great Bridge.
After Coinjock we had to transit Currituck Sound... winds were howling at point... steady 25 knots with gusts to near 40 knots... was a bit choppy but waves were on the port quarter most of the way and we did not really affect us much... a little spray was all.
We made the North Landing Bridge for it's 1500 opening... rather than push hard to make the Centerville Bridge at it's 1530 opening we took our time and arrived for it's 1600 opening... wind now steady at 30 knots and seeing over 40 knot gusts... wind was not creating any waves but was tough navigating at 3 knots with the gusts of wind.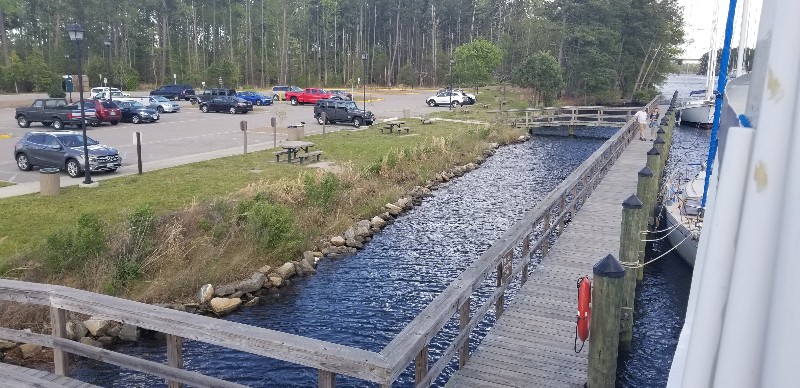 We arrived to Great Bridge at 1620 and luckily there was space on the free dock across from Atlantic Yacht basin for us to dock. We were securely docked at 1630 at
N36°43.244', W076°14.287'
. We traveled today for 9 hours and 15 minutes covering 61.7 nautical miles averaging 6.7 knots.


Posted at 5:14 PM