CT to FL Day 11
Coinjock, NC to Pungo River Anchorage

We departed from Coinjock Marina at 0710... there was dense fog alert issued until 1000 however there was not a trace of fog to be seen... it was a very clear morning.
We found the fog as we exited the North River in to the Albemarle Sound... it was like passing through a wall... clear on one side... dense fog on the other with at most 500 feet of visibility.
This fog remained with us all the way across the Albemarle Sound and into the Alligator River. As we approached the Alligator River Bridge we could not see it and had monitored on the VHF that it was not opening due to the dense fog... reason... It was not safe for car traffic and they feared they would not see the flashing lights and gates down.
We waited about 30 minutes before the fog had cleared enough to allow to swing the bridge open for us and the other 5 boats waiting for an opening.
About a mile past the bridge the fog just disappeared... again like walking through a wall... pea soup think to nothing.
We continued down the Alligator River and were soon approaching the A&P Canal. (Alligator River / Pungo River Canal) when we heard a tug and barge hailing another boat on the VHF asking them if they were anchored. The other boat responded... Yes, we're anchored... do you have enough room to get around us? The tug captain responded are you broken down?... the other boat replied... no we stopped and anchored to have a little picnic. The tug captain replied... Not to wise to anchor in the middle of the channel... you need to move... they replied... no problem we were just doing that as we are done with our picnic.... Too Funny! We passed this boat about an hour later... small sailboat with a young couple sailing it.
Sun was setting and we decided we would stop and anchor at the far west end of the A&P Canal. There is a nice anchorage area to the northwest that we have anchored in many times.
We arrived to anchorage at 1730 and were securely anchored for the night at 1740. Our position tonight is
N35°33.460', W076°28.128'
. We traveled today for 10 hours and 30 minutes covering 68.4 nautical miles averaging 6.5 knots.


Posted at 6:21 PM


CT to FL Day 10
Portsmouth, VA to Coinjock, NC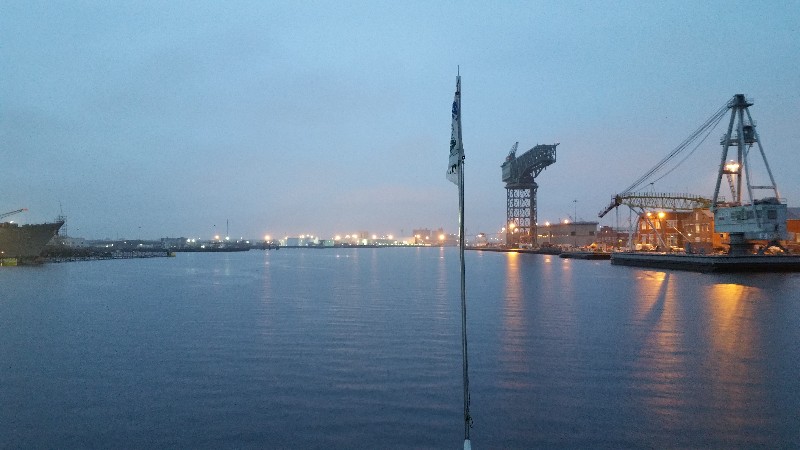 We departed from Ocean Marine this morning at 0650 with Coinjock, NC as our destination for day. It was raining and cold…. Not as cold as it has been but cold never the less.
We had several bridges to go through but only few of them would slow us down… the first possible slow down would be the railroad bridge directly adjacent to Gilmerton Bridge. It is an automated bridge and closes for 15 to 20 minute periods when a train is coming. Today we were not affected by it…. No trains.
Next bridge is the Steel Bridge… this year it was gone and had been replaced by a new high rise bridge… sailed right through it…very nice.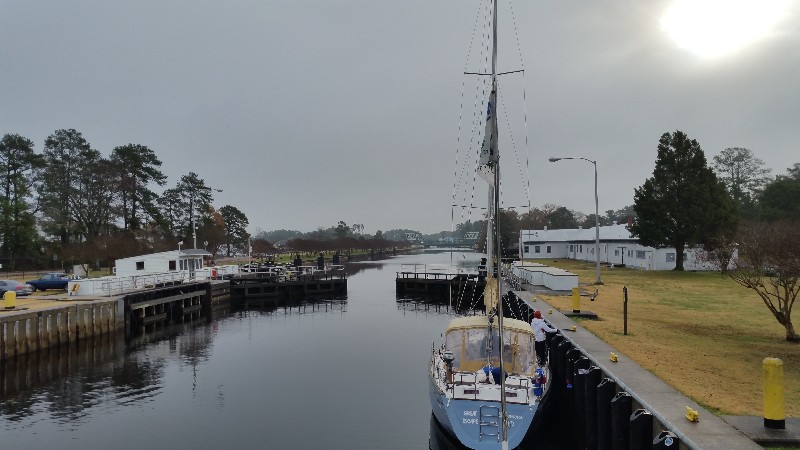 Following this come the Great Bridge Lock and Great Bridge Bridge… there's no missing these… however they are coordinated locking and opening so when you lock through you go right out and the bridge is ready to open… takes a little time for the whole process but 40 minutes after entering the lock we were clear of the bridge… We locked through with a sailboat and a small barge and push tug.
The next two bridges are the one that opening schedule slow us way down… the Centerville Turnpike Bridge is the first one we come to… it opens only on the half hour… and is just over 2 miles south of the Great Bridge Bridge that you pass through on the top of the hour… have 30 minutes to about 2 miles… that's about a 5.5 knot pace or you sit and wait at the bridge… we passed through it a 0930.
The come the North Landing Bridge that is about 5 miles south of the Centerville Bridge… it opens on the hour and half hour… we can't make the 5 miles in 30 minutes so we have to slow way down to transit the distance over an hour period… 4.5 knots… we passed through the North Landing Bridge at 1030.
From this point we have free sailing… no bridges. Today we have seen a few boats heading south… nice to see other boats heading south… no fishermen at all today.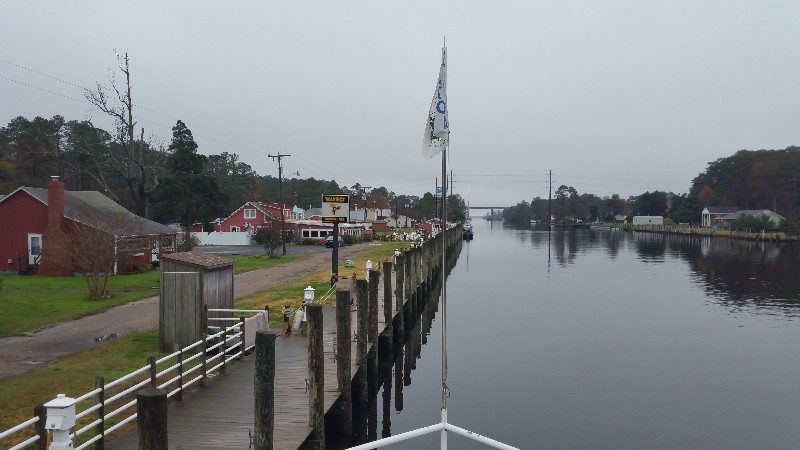 We arrived to Coinjock at 1415 and were securely docked at Coinjock Marina at 1420. Our position tonight is
N36°21.0', W075°56.878'
. We traveled today for 7 hours and 30 minutes covering 47.6 nautical miles averaging 6.4 knots.


Posted at 2:30 PM


CT to FL Day 9
Smithfield, VA to Portsmouth, VA

We had to wait for high tide before we could leave Smithfield making our departure time at 1230. It was a cold and raining... well not really raining but a heavy mist like a fog… would rather have had it raining… limited visibility and was just miserable conditions.
Last year going south we purchased fuel at Ocean Marine in Portsmouth and we had an issue with being the price included all taxes and when we paid they charged us tax… anyway, we had to pay the tax but to apologize for the misunderstanding they gave a free nights dockage to use when we passed through Portsmouth again and that was today... The late departure made stopping for the night at Ocean Marine perfect timing… just before sunset and on a day like today we were ready to stop.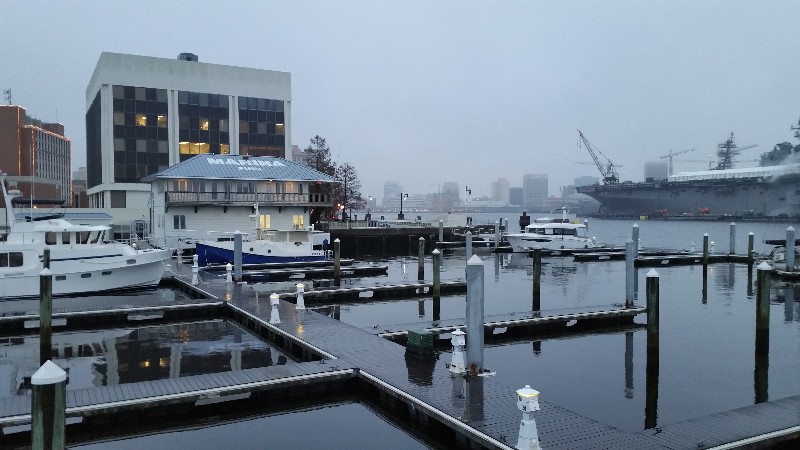 We were securely docked at Ocean Marine at 1615. Our location for the night...
N36°49.908', W076°17.768'
. We traveled today for 3 hours and 45 minutes covering 23.0 nautical miles averaging 6.1 knots.


Posted at 4:26 PM