CT to NC Day 2
Oyster Bay, NY To Manasquan, NJ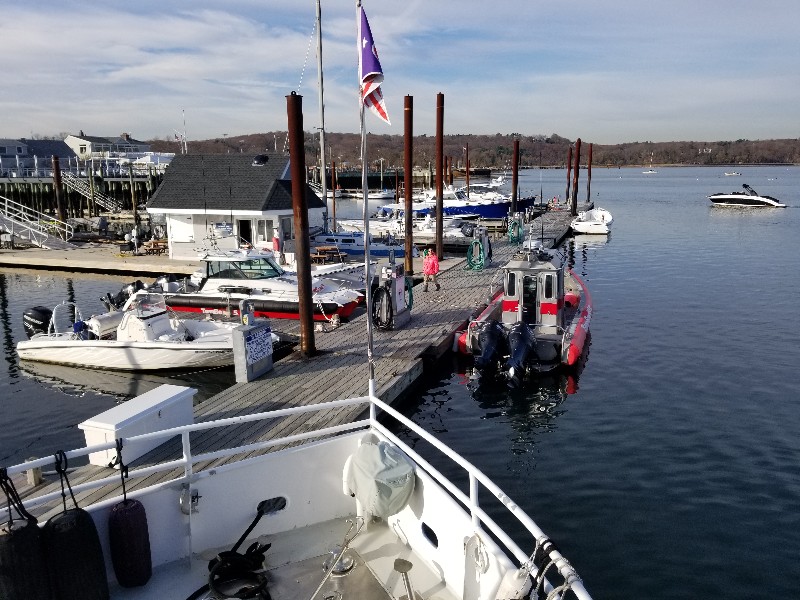 We departed Oyster Bay Marine Center at 0900... not an early start but let us arrive to Hell Gate on the East River at slack before an ebb tide. This would give us a favorable current as travel through New York City and out of New York Harbor.
Throgs Neck Bridge entering the East River...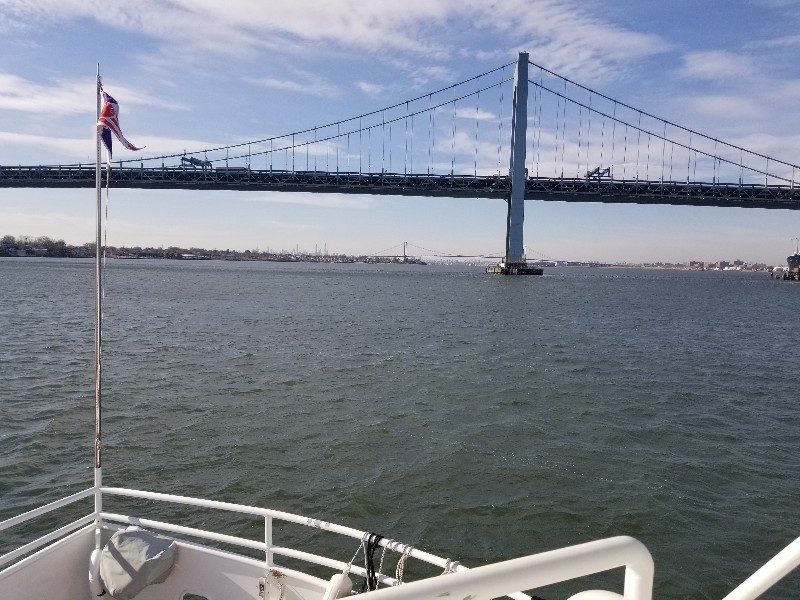 We arrived to Hell Gate as planned at 1300 and the tide was just beginning to go out... gave us a slight boost in speed... not like we have experienced in the past but a boost.
The wind was really blowing from the SW.... over 20 knots... the forecast for the Atlantic between New York and Manasquan was for a 2 foot swell from the SE with a 15 second period... everything looked good for a nice transit to Manasquan. We exited New York Harbor and things seemed good... as we reached Sandy Hook the 2 ft SE swell was more like 4 ft and maybe a 5 to 6 second period... anyway, it was not a very comfotable ride to Manasquan... 4 plus hours...


We arrived to Manasquan and docked at the Shrimp Box... expecting to have a nice seafood dinner... only to find they were closed till March 2021... dinner on the boat.

Our location at 40°06.109'N, 074°02.255'W. We traveled today for 10 hours and 30 minutes covering 71.2 nautical miles averaging 6.8 knots.


Posted at 7:59 PM


CT to NC Day 1
Stamford, CT to Oyster Bay, NY

We departed from Stamford at 1615 with the towboat alongside SAILS... just outside of Westcott Cove I stopped to drop the towboat behind SAILS to tow it across the sound in stern tow... everything was free and clear and I used the stern helm controls on SAILS to move forward... BAM! Not all was clear... I fouled the port prop of SAILS with the towline... CRAP!
I tried to free it without getting in the water but nothing worked... we dropped anchor on SAILS and broke out the dive gear... time to go for a swim in about 50 degree water... no dry suite so I donned my wet suit, hooked up the Hookah for air and jumped in... the water actually felt good as the air temperature was 29 degrees... 3 minutes in the water and the towline was free from the port prop. We were back under way in 15 minutes max... not a great way to start the trip south and a bit embarrassing for a towboat captain to foul the towline in the prop...


Enjoyed a beautiful sunset as we crossed Long Island Sound with the New York Skyline in the distance...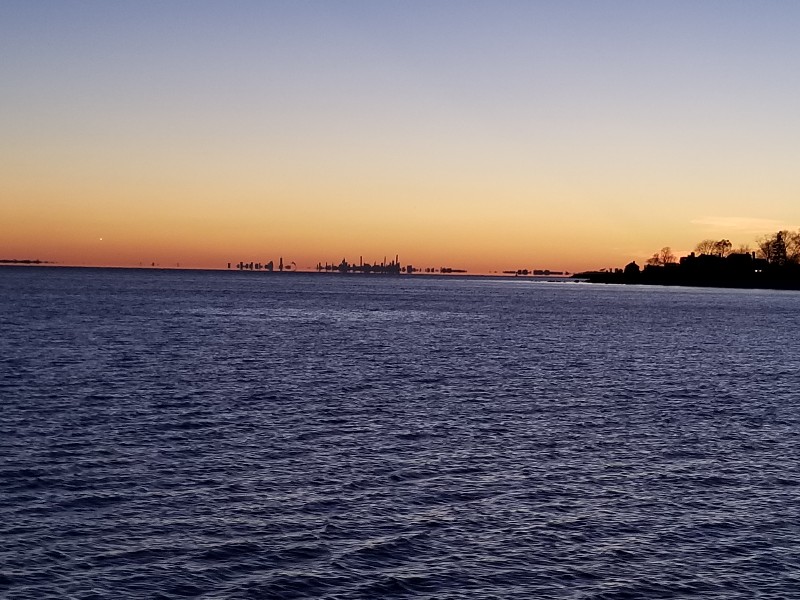 We reached Oyster Bay and stopped to bring the towboat back alongside so we could dock at Oyster Bay Marine Center easily... it had been windy but just after stopping the wind started blowing really hard and SAILS and the towboat alongside (wrong side) were sailing across Oyster Bay... I jumped in towboat and drove it around SAILS and we managed to get it secured and we were off... wind carried maybe quarter of a mile... when I returned to the pilothouse of SAILS the nanometer was ready 30 knots with higher gusts.

We managed to get to the dock safely... was not much skill involved in docking as I pulled along side the dock and the wind blew right in against the dock.

We were secure at the dock at 1845...Our location at N40°52.685, W073°31.657. We traveled today for 2 hours and 30 minutes covering 11.7 nautical miles averaging 4.4 knots.


Posted at 8:54 PM


SC to CT Day 19 and 20
Chesapeake City, MD to Stamford, CT

We departed from Chesapeake City on Wednesday 4/22 AT 1100. Leaving at 1100 in order to get a favorable current out the C&D Canal and down Delaware Bay.
We traveled non-stop overnight to Stamford, CT. Arriving on Thursday 4/23 at 2015. Our location for the summer
41°02.392'N,73°31.318'W
. We traveled for 33.25 hours covering 227.4 nautical miles averaging 6.8 knots.


Posted at 8:49 PM