CT to FL Day 22
Kilkenny Creek, GA to Jekyll Island, GA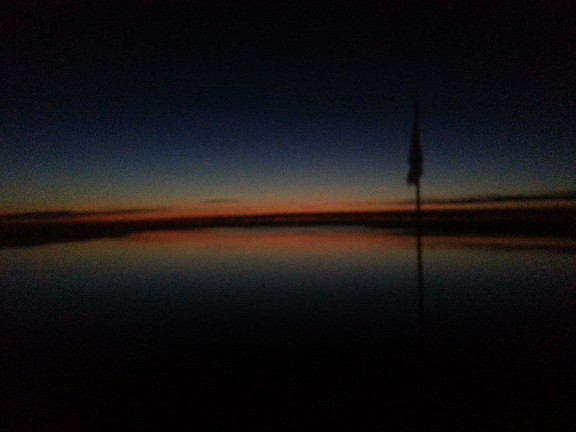 We departed from Kilkenny Creek before sunrise at 0630. Destination for the day Jekyll Island, GA.
We arrived to Jekyll Island, GA at 1530 and docked at N31°02.543', W081°25.387'. We traveled for 9 hours covering 62 nautical miles averaging 6.9 knots.


Posted at 4:47 PM


CT to FL Day 21
Port Royal, SC to Kilkenny Creek, GA

Last night we stopped at the Dockside Restaurant in Port Royal, SC. We had an awesome dinner... Susan had Potato Crusted Grouper and I had the special which was a Cajun Grouper and Shrimp over a Grits Cake and Cajun sauce... both were fantastic! I highly recommend this restaurant.
When we arrived there were signs... "No Overnight Dockage" but we spent the night... dropped a hundred bucks in the restaurant... damn if we were not getting to stay overnight on their docks. No problems and we had a very nice evening.
We departed at 0715 and headed down Port Royal sound with a boost of speed from the current... 9 knots plus at times... of course we had the tropical stretches that we slowed down but not that much today... saw the speed over 7 knots most of the day.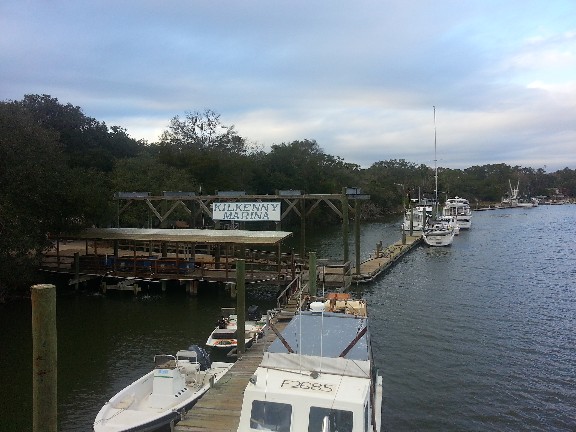 Destination for the night was Kilkenny Creek Marina in Georgia... WOW! we got into Georgia today... one more day and we'll be back in Florida... YAY!
We arrived to Kilkenny at 1600 and were met by two of the nicest men to help us dock. Our approximate location is N3147.314', W08112.155'. We traveled today for 8.75 hours covering 65 nautical miles averaging 7.4 knots.


Posted at 4:48 PM


CT to FL Day 20
Charleston, SC to Port Royal, SC

We departed from St. Johns yacht harbor at 0730 this morning and began our trek south...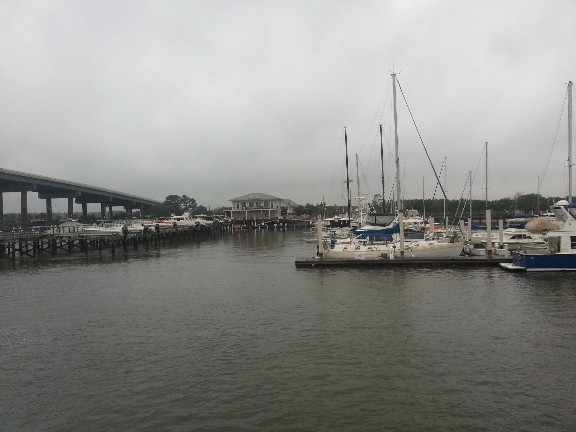 destination tonight planned for Beaufort, SC. We had another day of "yo-yo" currents and a lot of wind... saw gusts over 30 knots today. The wind was not a big issue since we were inland on the ICW... the only place that any waves had enough space to fetch up into anything significant size was on the Coosaw River just before Beaufort. We saw some 2-3 foot waves on that leg of the trip.
Other weather... RAIN and more RAIN... but north of us it was SNOW so can't really complain about it... just thankful we got far enough south to miss the SNOW. A few times the sun did try to shine but only for a few minutes.
We did cross paths again with the trawler we traveled with yesterday... not sure of the boat name spelling but it sounds like... "DORCAS ANN"... believe it is a 43 foot Albin. Very nice people aboard... they were ahead of us all day and we would see them from time to time in long straight stretches. We did talk on the VHF a couple of times... they stopped at Port Royal Landing Marina in Beaufort... we continued on for a couple more miles to Battery Creek.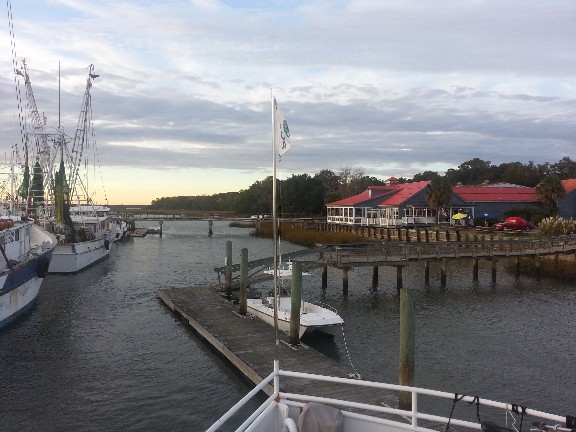 We wanted to try a new spot... possible FREE dock at a restaurant... Dockside Restaurant in Port Royal on Battery Creek. We called them and said we could come to their dock with "SAILS" but after arriving we are wondering about the overnight dockage as there are signs stating "NO Overnight Dockage"... It's a seafood restaurant and from the reviews we read it should be pretty good.... we'll see.
We were securely docked at 1645 at N32°22.525', W080°41.775'. We traveled for 9.25 hours covering 61 nautical miles averaging 6.6 knots.


Posted at 5:19 PM