SC to CT Day 13
Layover Chesapeake City, MD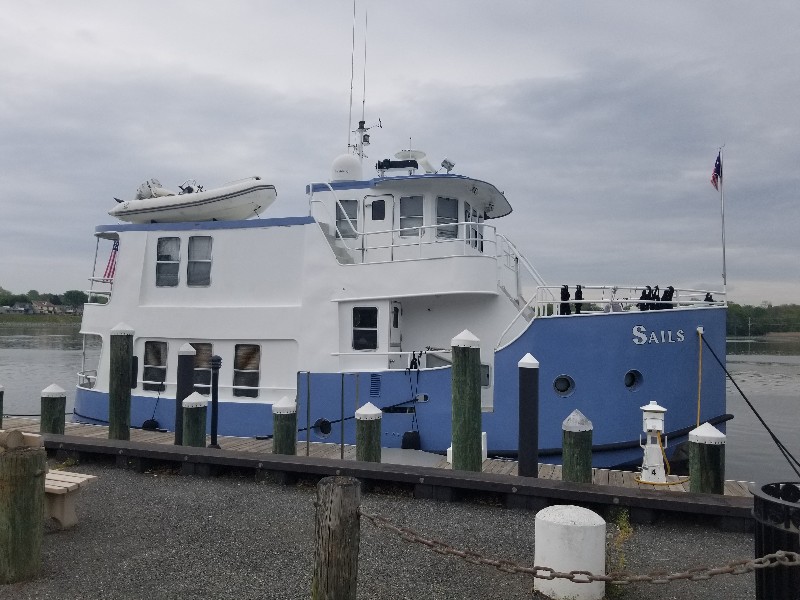 Another layover day in Chesapeake City... last night we thought the wind was going to blow us and the dock away... gusts over 50 knots and steady winds over 25 knots... was a noisy night.
Woke this morning and still have 20-25kt winds with gusts around 35 knots... bright and sunny though.
Tested my muffler repair and all seems to be good... no leaks. Ran engine till it reached operating temp and then ran it at cruising RPM for about 15 minutes... No Leaks! We are good to go... now all we need is a weather window to go up the Jersey Shore... Forecast today...
NW Winds 25 to 30 knots, becoming West 10 to 15 knots with gusts to 25 knots. Seas 6 to 7 ft.... not going anywhere today...


Posted at 12:56 PM


SC to CT Day 12
Layover Chesapeake City, MD

Another day in Chesapeake City, MD... 0930 left via our rental car to Annapolis to pick up the new raw water pump for port engine... it was due to arrive via overnight air shipment around 1100... arrived back to Chesapeake City at 1330.
Susan returned the rental car to Enterprise in Elkton, MD while I installed the raw water pump....
A note if you are ever in Chesapeake City... there is no Uber service... Susan had to take a cab service back and it was a long wait for the cab to arrive... appears there is only one cab and driver for the area.
Had just finished installing the raw water pump when Susan got back... went to the pilot house and started the engine... checked to see if we had water flow out the exhaust... All good. Returned to engine room to check pump and hoses for any leaks... walked into engine room to see the bilge with about 3 inches of water in it... YIKES! I saw immediately where it was coming from... the joint between the exhaust hose and the muffler was gushing out water... I killed the engine with the emergency kill switch on the engine.
I inspected the area where I saw the water leaking out,,, the hose clamps were loose... I tightened them and restarted the engine... NO GOOD! SHUT DOWN... I removed the exhaust hose from the muffler... I discovered the 3" diameter connection was burnt looking and deformed... it had melted... evidently the exhaust without any water flow had been hot enough to melt the mufflers connection....


What to do ? I immediately went to the my computer to see if I could locate a new Vetus WaterLock P75 muffler... every place I found online that had them was closed... not open again till Monday... CRAP!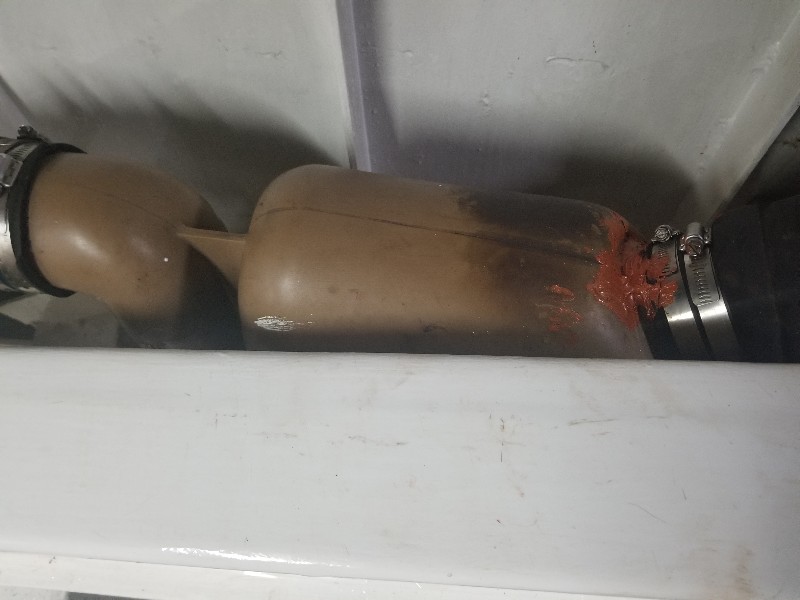 Plan B... got out my heat gun and softened the muffler connection and reformed it the best I could... used a lot of high temp gasket maker and reinstalled the exhaust hose... hopefully this will stop it from leaking... will still need to get a new muffler but hopefully the repair will get us back to Stamford.

Giving it all night to let the gasket maker dry and cure... will start the engine in the morning and fingers crossed it's fixed.



Posted at 8:30 PM


SC to CT Day 11
Layover Chesapeake City, MD

This morning the boats that were at the Town Dock had left so we decided to move over to the Town Dock about 1,000 feet away.

I then got into the problem with the port engine... it was definitely not pumping raw water... removed the raw water pump cover plate and immediately saw that the impeller was bad... all eight blades sheared off... Great a simple repair.., I pulled the impeller... which came out way too easily... located and removed the eight sheared blades... upon inspecting the pump housing and shaft I noticed why the impeller came out so easily... the shaft splines were also badly worn to the point that the entire raw water pump needed to be replaced.... :(

Was able to locate a Yanmar dealer in Annapolis that located a raw water pump for me and is having shipped in next day air... of course we are a hour half away by car from Annapolis... rented a car from Enterprise for one day...can drive to Annapolis tomorrow and pick up the pump.. return and install it.

Luckily we had our friends Cathy and Jim Fisher meeting us today for lunch in Chesapeake City so they were able to give me a ride to Enterprise to pick up the rental car on their way home.

Fingers crosses all goes as planned and the pump arrives to Annapolis tomorrow.... so for now we are here in Chesapeake City for another day.



Posted at 5:40 PM