SC to CT Day 11
Reedville, VA to Heathsville, VA

We left Fairport Marina this morning at 0715 and headed back to out to eh Chesapeake Bay. Forecast was for 1-2 seas and NW winds 8-12 knots... Forecast was totally off in regard to winds and seas... soon as we out of the lee of Smith Point we started getting 3-6 seas and winds 20 knots plus... it was like someone turned on a switch for wind and waves. We were just not in the mood to endure these conditions for what could be hours so we turned 180 and headed back toward Reedville.
We had virtually no cell or internet service in Reedville...marina had to wifi so we opted to head into Ingram Bay Marina just a bit south of Reedville where we would have wifi and cell service.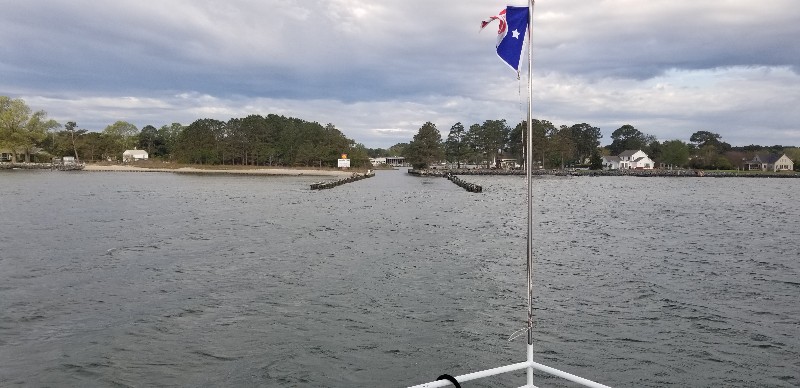 We arrived to the Ingram Bay Marina breakwater at 0815 and once into the harbor we were greeted by Billie the dockmaster waving us toward a slip... slip looked really narrow... we cleared the out pilings no problem... the inner columns we attempted to spread them a bit wider with SAILS... we came to a stop 10 feet short of making into the slip... wedged tight between the two inner pilings... so, we went to plan two and backed out of the slip and to the outside of the furthest east slip... which was basically a side tie with no slip/pier to our port side.
We were securely docked at 1830 at
N37°48.176', W076°18.534'
. We traveled today for 1 hours and 15 minutes covering 7.6 nautical miles averaging 6.1 knots.


Posted at 2:59 PM


SC to CT Day 9 and 10
Layover Reedville, VA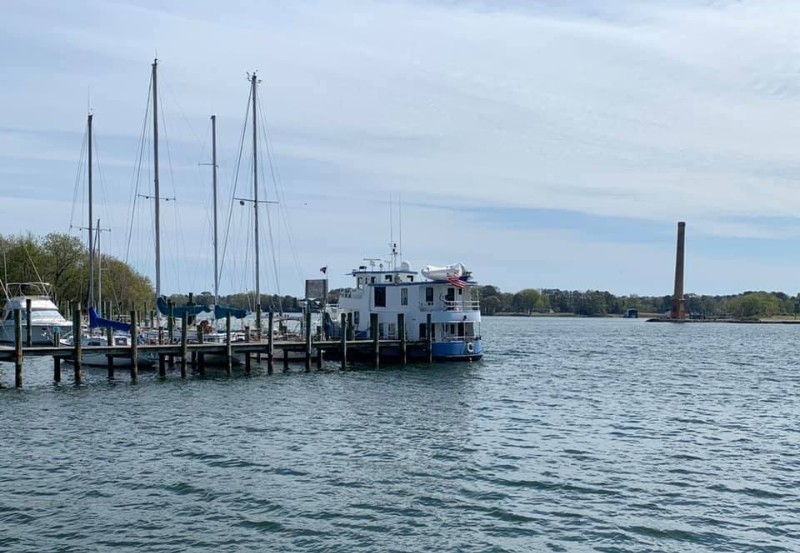 We stayed in Reedville two days due to weather... rain and 50 knot winds we were not going anywhere.


Posted at 2:32 PM


SC to CT Day 8
Great Bridge, VA to Reedville, VA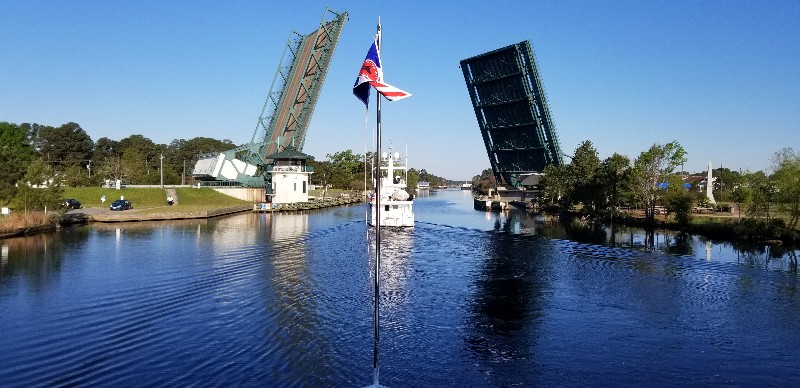 We left the dock at Great Bridge at approximately 0745 to stage for the 0800 opening of the Great Bridge Bridge. We pulled behind another boat that was already waiting for the same opening.
Passed through the bridge and proceeded to the Great Bridge Lock... The lock notified us via VHF that the lock attendants were not helping with lines in the lock and we would have to tie up to the starboard/west wall... We have heard and read various things about the Corona Virus and what other cruisers have faced... but this was the first place we came across any restrictions due to the Corona Virus first hand. We exited the lock and were underway at 0820 bound for Norfolk.
It was dead low tide and slack tide... soon the tide would turn and we would be running against it... we had planned to stop in Norfolk but with he current changing to flood very soon we opted to continue past Norfolk... we would have a favorable current pushing us up the Chesapeake Bay and the weather was great to continue.
We made almost to the Potomac River before we decided to call it a day... windy bad weather was forecast for the next couple of days so we pulled into Reedville, VA to hold up till the weather passed.
We arrived to Fairport Marina and were securely docked at 1815 at
N37°49.950', W076°17.133'
. We traveled today for 10 hours and 30 minutes covering 73.4 nautical miles averaging 7.0 knots.


Posted at 6:52 PM