CT to FL Day 28
Sebastian, FL to Fort Pierce, FL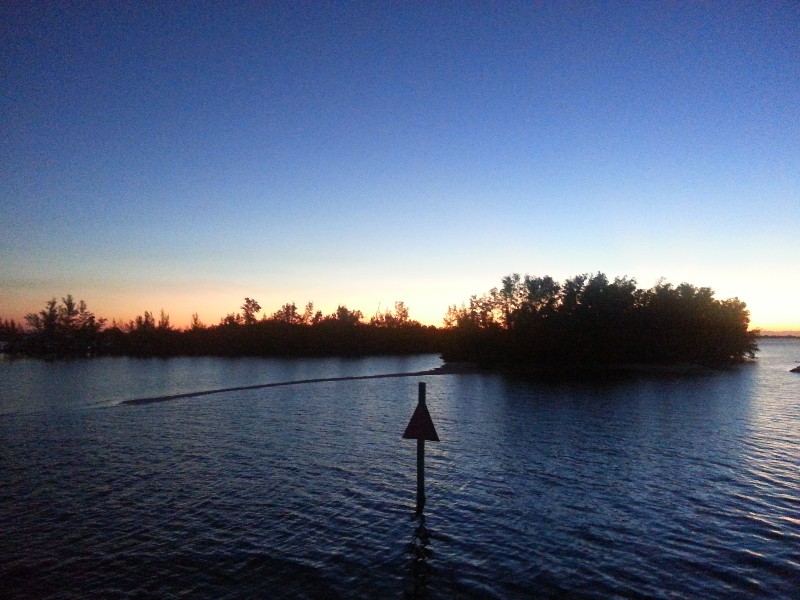 Even though we left late I was up before sunrise anyway... took a photo of the pre dawn sky.
We departed Sebastian this morning at 0900 and headed out the channel from the marina. Tide was slightly lower going out than coming in... We had 6.5 feet at the dock but once we turned around and headed out the depth sounder stopped working... We were not hitting the bottom but we were sure churning up some mud as we exited. Once we hit the ICW and turned south the water depth went back to 11 feet.... still not deep but much better than what we had.
We did not have a long day planned... only going to Fort Pierce where we had a certificate for a free night in the Fort Pierce City Marina. We had never been in this marina before so it will be neat to see what it's like. Any time we have stopped here in the past we have anchored near the Fort Pierce North Bridge.
We did have one neat surprise... well not really a surprise as we knew this person was heading north on a boat delivery... but we were not sure where we would cross paths... today was the day... Just south of Vero Beach we met Mike Efford who was delivering a 78' Huckins to Jacksonville. We chatted for a few minutes as we passed... neat surprise.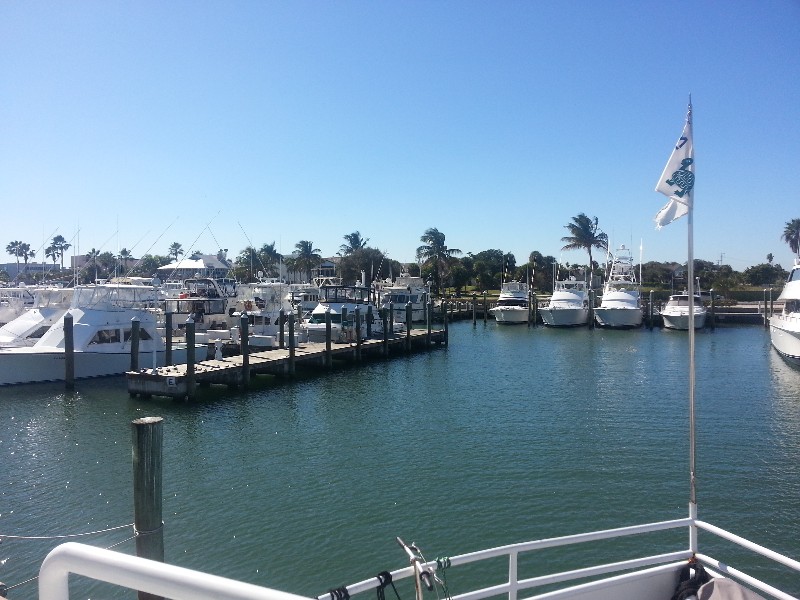 We arrived to the City Marina at approximately 1230 and docked at N27°27.034', W080°19.325'... we traveled for 3.5 hours covering 25 nautical miles averaging 7.1 knots.
Peter... I hope you noticed that with this blog post I enlarged the photos just for you... LOL


Posted at 1:03 PM


CT to FL Day 27
Cocoa, FL to Sebastian, FL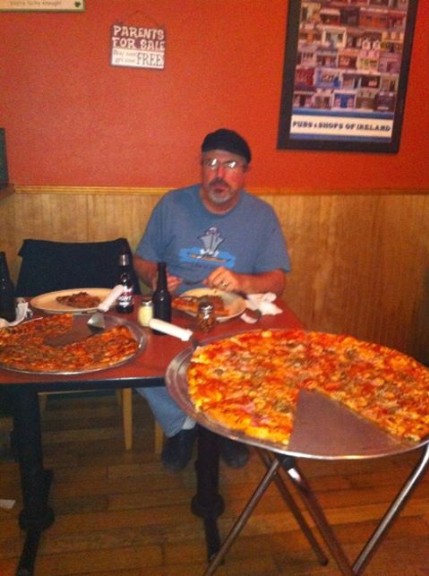 Last night we went to Ryan's Village Pizza and had some pizza... giant pizza... and boy was it good! We ate about half of what we ordered and will enjoy the rest of it as we cruise south.
We departed this morning 0745... another short day planned with our destination Fin's Marina in Sebastian, FL. I had made plans via Facebook to meet an old friend from high school. I graduated 40 years ago and I am not sure when the last time I saw him. We are suppose to have dinner with him and his wife and catch up... 40 years is a lot of catching up.... LOL
We were not sure about water depths to get into Fin's Marina... checking the cruising guides we found mixed reports of less than 2 feet to 6 feet deep channel off the ICW. I called the marina and they told me that we would have no problem.... minimum depth would be 5.5 feet.
We arrived to Fin's channel and turned west out of the ICW and slowly crept in following the channel markers... no problems... 5.5 was the lowest we saw... tied up to the T-head of a long wooden dock.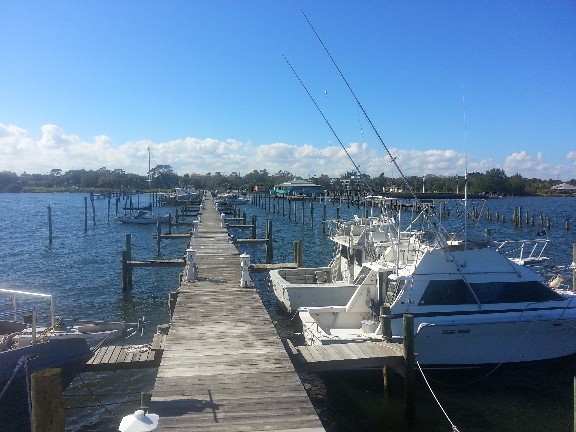 The restaurant Squid Lips is located here... suppose to be very good. We won't be eating here but may go up and have a beer later.
My friend from high school was tied up this afternoon but was very thoughtful and called me and asked if we needed a car to get anything when we arrived. Very nice! We graciously accepted his offer and will be able to go the grocery to pick up some needed fresh items... produce specifically.
We are docked at N27°49.645', W080°28.216'... we traveled today for 5 hours covering 35 nautical miles averaging 7 knots.


Posted at 7:26 AM


CT to FL Day 26
New Smyrna Beach, FL to Cocoa, FL

We departed from New Smyrna Beach this morning at 0745. Destination for the night Cocoa, FL... a short day... but we always have to stop in Cocoa... it's one of favorite stops... Ryan's village Pizza!
We did have a boost of speed from current running over 7 knots the entire way to Cocoa. Wind was on our stern for most of the trip as well... blowing about 15 knots and creating 2 foot waves in most places.
Saw only two boats today... two larger Searay style cruisers passed us just before the Haulover Canal. But nothing else besides that... well maybe a couple of recreational fishing boats under 20 feet here and there.
We had two bridges today... Haulover Canal Bridge and the Adison Point (NASA Causeway) Bridge... both we can clear without an opening.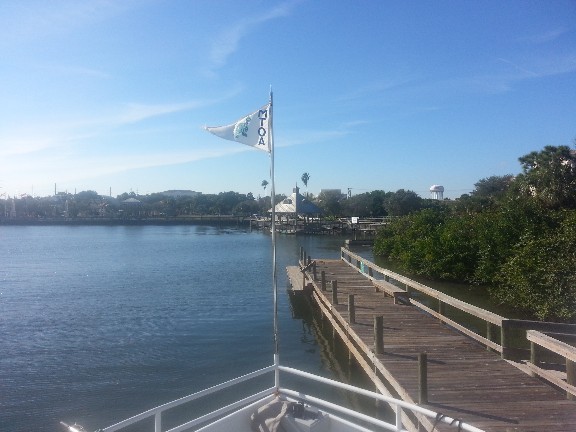 We arrived to Cocoa and docked at the city free docks just south of the high rise bridge in Cocoa at N28°21.293', W080°43.318'. We traveled today for 6.25 hours covering 45 nautical miles averaging 7.2 knots.
PIZZA TONIGHT!!!!!!!!!!!


Posted at 2:19 PM