CT to FL Day 29
Alva, FL to St. James City, FL

We left Franklin Locks Park Marine at 1200 and arrived to St. James City at 1600 and anchored off of York Island. We met friends here from Fishermen's Village that are going to Fort Myers Beach over Christmas.
Our location for the night
N26°29.074', W082°05.384'
. We traveled today for 4 hours covering 28.4 nautical miles averaging 7.1 knots.


Posted at 3:35 PM


CT to FL Day 28
Moore Haven, FL to Alva, Fl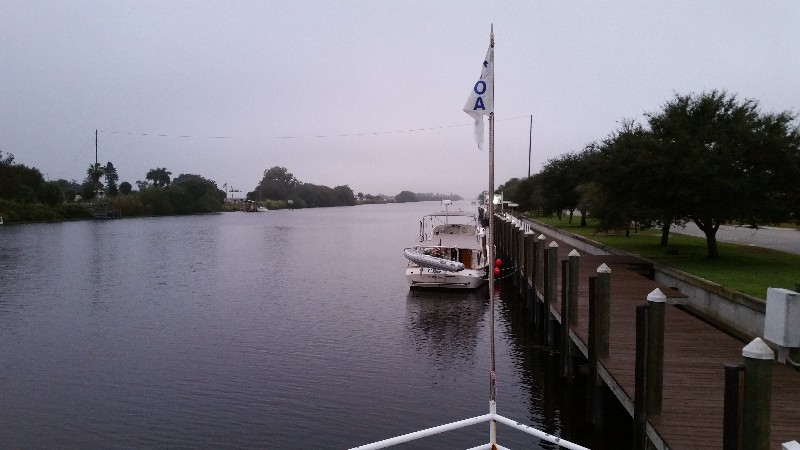 We left from Moore Haven this morning at 0700 just before sunrise... however you would not know it close to sunrise... very gloomy out and a bit foggy. Our dock mates just ahead of us were also leaving... they were headed north... doing the Great Loop.
Had a slight boost from the current...evidently the Army Corp of Engineers is still releasing lake water to the west coast of Florida.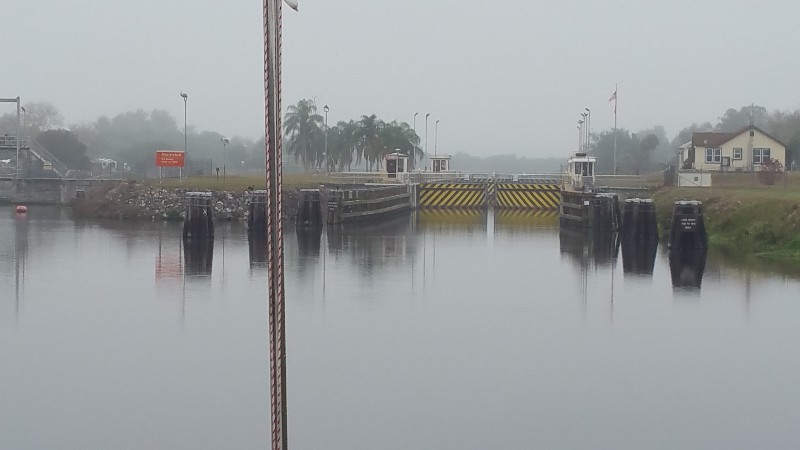 Reached Ortona Lock and had to wait about 5 minutes for the gates to open and then he dropped us really fast... 8 feet in about 10 minutes... could actually feel us dropping. Was nice but just not use to them lowering us so fast.
Several bridges today but only one we needed to open.. Fort Denaud Swing Bridge... and she was very prompt and we only waited about 5 minutes for her to open the bridge... she does have to walk from the shoerline out to the middle of the bridge so most of the wait was for her walk out...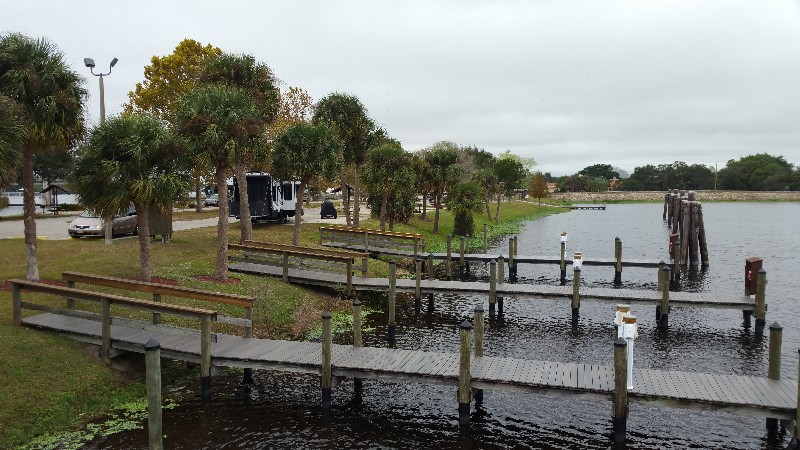 We decided to not go that far today with our destination being Franklin Lock Park Docks... We arrived to find no other boats at the docks... even the RV park was fairly empty. We were secure at the docks with power on at 1240. Our location for the night N26°43.384', W081°41.447'. We traveled today for 5 hours and 40 minutes covering 36.2 nautical miles averaging 6.4 knots.


Posted at 4:24 PM


CT to FL Day 27
Stuart, FL to Moore Haven, FL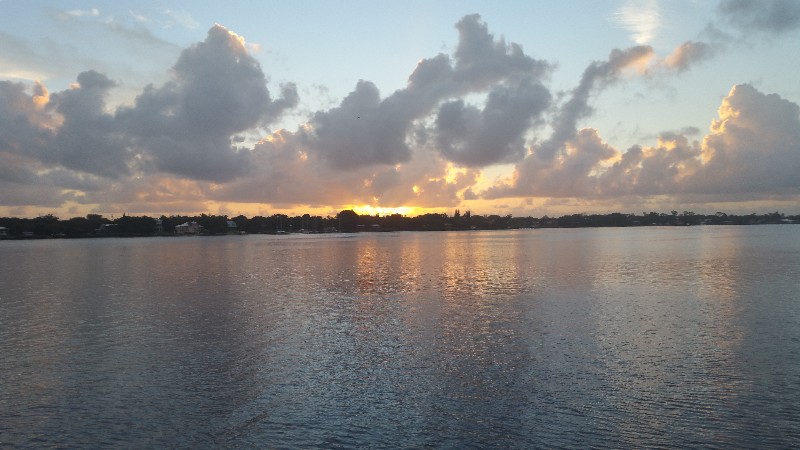 We left a little later than anticipated departing at 0715... later departure due to the anchor chain being heavily caked with mud... took a little longer to raise it and clean the chain.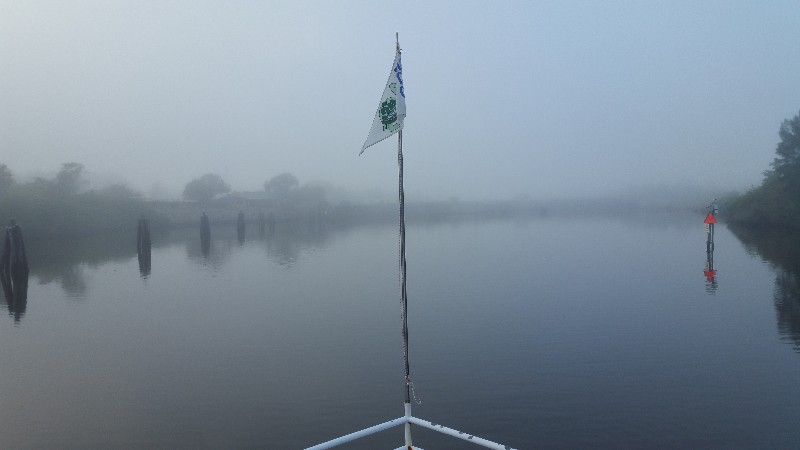 Was a warm muggy day and some heavy fog for about 3 hours... could barely see the St. Lucie Lock. Just missed a westbound lock through and had to wait about 25 minutes to lock through. The fog was surprising with the way it looked at sunrise when we left.
This 25 minutes played havoc with our timeline. Our destination for the day planned as Moore Haven we had to make it to the Moore Haven Lock before it closed at 1700... after we exited the St. Lucie Lock GPS was indicating ETA to Moore Haven Lock 1649... 11 minute buffer... YIKES
and we still had the Port Myakka Lock between us and More Haven.
We got a little boost of speed from something and ran the ETA improved to 1638... the we rounded the bend just before Indiantown Marina and the Indiantown Railroad Bridge was closed... hailed them on the VHF and they said they had a train due any minute... luckily as we approached we saw the train pass over the bridge and a few minutes later the bridge started swinging open... we did not even have to slow down before the bridge and sailed right through it... luck on our side.
Our next possible delay was the Port Myakka Lock... as we approached we heard another east bound boat coming off Lake Okeechobee hail the lock... the lock gates were open on both ends and the boat was able to go straight through... we got to do the same thing when we arrived... had to slow to idle speed but no real delay... luck with us again.
We exited the lock and were out in the lake and luck was with us again... the Northeast wind was creating a current and also on our back and we zoomed across the lake at 7.0 to 7.1 knots. This improved our ETA to 1630 to Moore Haven Lock.
The only thing that was left that could delay us was the rim canal at Clewiston... there could be a current against us and slow us down to make the ETA to lock very close or possibly miss it and get stuck on the rim canal at Moore Haven.
We arrived to Clewiston and turned west into the rim canal and we had a current... but it was pushing us at over 7.5 knots... NICE! We made the Moore Haven Lock with time to spare.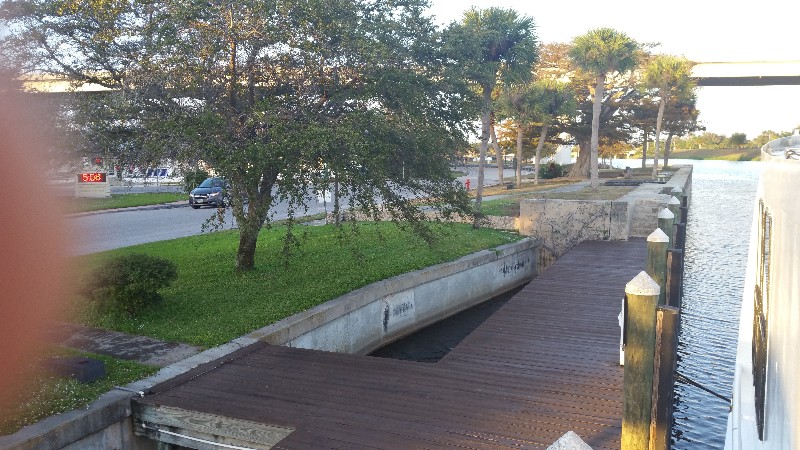 We arrived to our normal location... River House Marina and pulled close to it... it was all taped off with caution tapes... looked to be in pretty rough shape... there was a sign that said they were doing renovation and still open but we opted to not dock here and backtracked 1/8 of a mile to the Moore Haven Town Docks. We were secure at the docks with power on at 1700. Our location for the night
N26°49.923', W081°05.388'
. We traveled today for 9 hours and 45 minutes covering 61.0 nautical miles averaging 6.3 knots. Pretty good average since this includes our wait time at the St. Lucie Lock.


Posted at 4:44 PM