FL to CT Day 21
Layover Murrell's Inlet, SC

Family visiting from Fort Mill, SC.. spent a great day and night with Sharon and Mitch Lozinski.


Posted at 1:37 PM


FL to CT Day 20
Dewees Island, SC to Murrell's Inlet, SC

We pulled anchor at 0730 and underway north up the ICW... destination today Waca Wache Marina, Murrell's Inlet. SC located on the Waccamaw River. We have family driving from Fort Mill, SC to spend the weekend with here at Waca Wache... YAY!
Seems like this was the first nice day since we started the trip 3 weeks ago... bright and sunny and not real windy... and it is cooler than it has been... was 55° last night and low 70's today... was wonderful cruising weather... and from the boat traffic everyone else thought it was a good day to move... must have had a dozen boat pass us heading north and several heading south... tons of small boat traffic as well.
Favorable current most of the day pushing us over 7 knots plus all day... arriving to Waca Wache at approximately 1600... after some dock ballet moving from one to spot to another, we finally settled in a slip on the inside of the fuel dock... it was time to feed SAILS... we've traveled just over 1,800 nautical miles since the last feeding... have approximately 750 nautical miles to get back to Stamford.
Finished fueling SAILS at approximately 1745... She was real hungry... good thing we arrived today for fuel... the dock guys told a fuel truck was arriving tomorrow morning and price was going up $1.50 a gallon... we got the last of the low price fuel.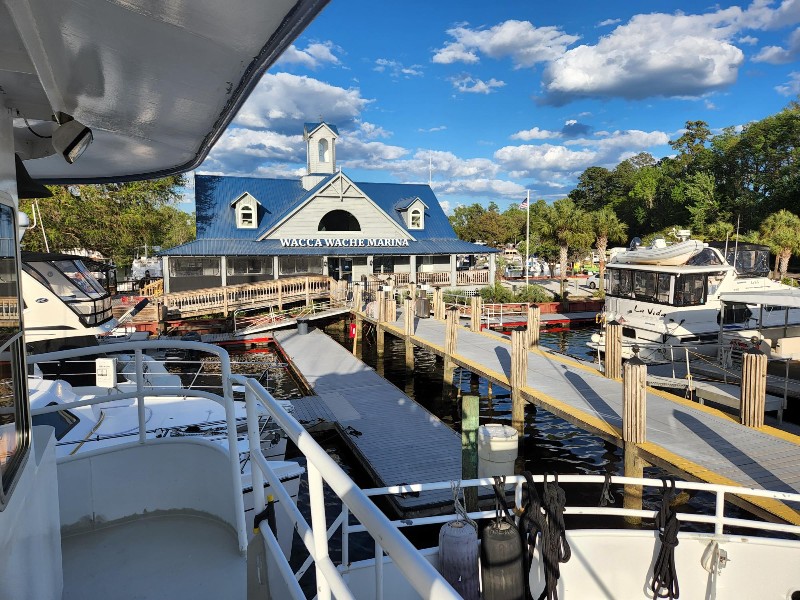 Our position for the weekend is
N33°33.750', W079°05.174'
. We traveled today for 8.5 hours covering 62.1 nautical miles averaging 7.3 knots.


Posted at 7:46 PM


FL to CT Day 19
Hilton Head, SC to Dewees Island, SC

We had a scary evening with storms hitting us around 2200... extreme lightning, winds to 40 knots and heavy rain for about an hour... during this we had an alert pop up on phones for tornado warnings... it was quite a light show... Anchor held strong. Around 2300 the light show stopped, and the winds dropped to around 20 knots with light rain.
Woke at 0630 and prepared SAILS to depart... underway at 0730... destination planned... anchorage just south of Charleston, SC near Elliott's cut.
We have plans to meet family in the Myrtle Beach area on Friday night... we also want to fuel up at Waca Wache Marina on the Waccamaw River... maybe combine the visit with the fuel stop... checking our distance from Waca Wache we needed to go further today that Elliott's Cut... we had favorable current, so we reached Elliott's Cut and kept going...


Problem was once you cross Charleston Harbor there are not any options for anchoring until you get past Palm Island... That extended our cruise day past sunset... I hate running the ICW in the dark... once past Palm Island we stopped at the first viable anchorage we came to... Dewees Island... we have been to this anchorage before and is easy to get into and plenty of width to swing.

We arrived and dropped the anchor at 2100. Our position for the night is N32°49.967', W079°43.682'. We traveled today for 13.5 hours covering 96.0 nautical miles averaging 7.1 knots.

Shortly after anchoring we hear a boat horn just off the side of SAILS... 5 blasts and he had us lit up light it was daylight with every light he had on the boat... he yelled to us and asked if we planned to anchor here for the night.... I responded that we were... he said we needed to move as we were in the path, he takes to get to the Dewees Island Ferry Docks... I asked if he had a problem getting around me it's a very wide waterway... he was not happy with my answer and yelled that he would be passing by us a few more times and there would be boar wake and it would not be safe... I told him we were not moving and the boat wake would not disturb us... it was a "no wake" zone... he did not like my answer and moved away... only to turn around blast his horn 5 times... all lights on us and he increased his speed just enough to create the largest wake he could... he was being a total jerk... then he turned around and came past us again doing the same thing... he went beyond jerk status to a total ASSHOLE. About an hour passed and he was back doing the same thing as he passed us going to the ferry dock and again on his return trip... I wondered if this was going to happen all night long... found the ferry website and the schedule... last trip is at 2230... so this would be the last time he would be harassing us tonight.... But the ferry runs start again at 0600 in the morning...

I was up at 0600 prepared to meet Mr. Ferry Captain in the daylight... ferry arrived at about 0620 and it passed by at idle speed... captain and everyone onboard waving... evidently not the same captain as we had overnight...



Posted at 9:12 PM