SC to CT Day 1
Myrtle Beach, SC to Little River, SC

This year our trip is filled with unknowns... Corona Virus is upon us and many marinas are closed and we fear that even the waterways may end up being closed to all boat traffic... All reports from boats cruising north have been positive and nothing stopping them from moving... many marinas allowing transients with restrictions on coming ashore and others still fully operational. We are planning on keeping very safe and anchoring away from everything and everyone... :)
We planned to leave in the morning but still had many odds and ends to finish... we wanted to top off the fuel and water tanks before we left... not sure if we will be able to get fuel and water as we move north. Fuel really would not be an issue but water could become an issue if we are not able to get more as we move north... reports have been good so we are hoping things do not change.
We left our dock and proceeded to the fuel dock at Osprey at approximately 1115 and by 1215 tanks were topped off and we were ready to go... departing at 1230.
This stretch of the ICW does not offer a lot of options for anchorages... very narrow waterway with virtually no tributaries... our first option for tonight is Calabash Creek, Little River, SC and then Bird Island also just north of Little River... checking the recent Army Corp of Engineer surveys we ruled out Calabash Creek due to shoaling at the entrance... this left Bird Island which is actually off the ICW located in the Little River Inlet just off the Atlantic Ocean... we opted to anchor there... and if weather and wind permits continue north tomorrow morning in the Atlantic Ocean... forecast at this point looks good for an offshore transit tomorrow.
There was quite a bit of small boat traffic on the ICW... being Saturday this was normal... but we were not sure with the SC restrictions for the Corona Virus... did not seam to stop many of them as we had dozens of them passing us all afternoon.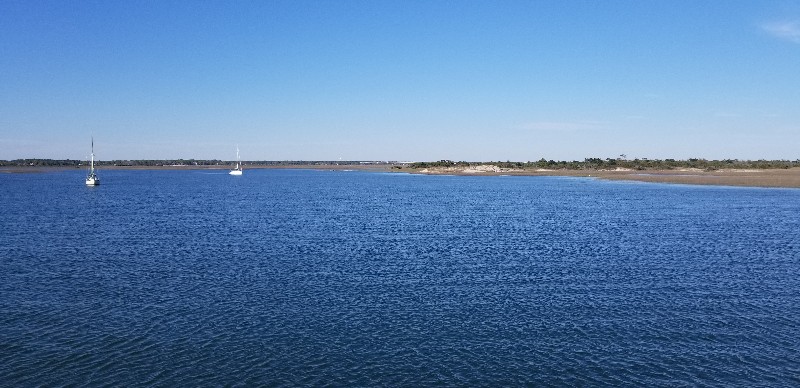 We arrived to Bird Island and dropped the hook adjacent to two other sailboats already anchored there. We were securely anchored at 1700.
Our location at
N33°51.305', W078°32.614'
. We traveled today for 4 hours and 30 minutes covering 29.8 nautical miles averaging 6.6 knots.
I just realized after entering the Google Maps location that we are in North Carolina... as we anchored we crossed over the state lines... :)


Posted at 5:52 PM


CT to SC Day 21
Little River, SC to Myrtle Beach, SC

With only a few miles to travel today to our winter home at Osprey Marina Myrtle Beach, SC we had a leisurely morning not departing until 1045.
We encountered a bit of wait at the Little River Swing Bridge with maintenance crew on the bridge when we arrived... 15 minutes or so... no wind no current so not a big issue holding position at the bridge.
We did have a current against us all day slowing us way down sometimes below 6 knots... luckily we did not have far to travel.
We arrived to Osprey Marina at approximately 1445... only to find out that the slip/dock we were supposed to dock was occupied until Saturday the 14th and we would have to dock on the transient dock that has no power and water until a space opened up... pretty cold to not have power and we were also running low on water... oh well... we would make due.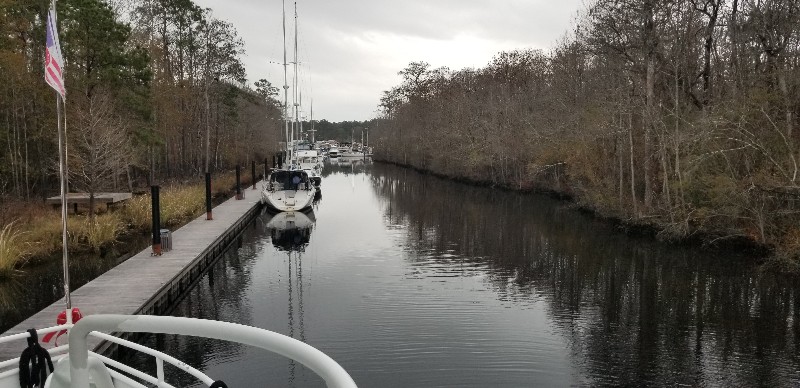 We were securely docked at 1500... Our position tonight is
33°41.005'N, 079°02.595'W
. We traveled today for 4 hours and 15 minutes covering 24.0 nautical miles averaging 5.6 knots.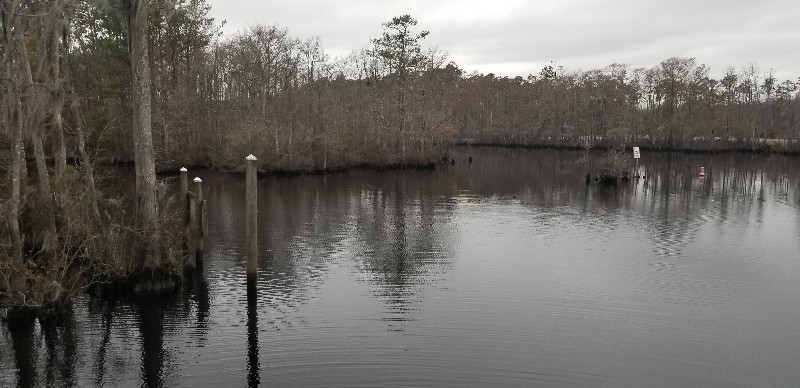 Posted at 5:03 PM


CT to SC Day 20
Wrightsville Beach, NC to Little River, SC

Last night was the first night that we have anchored since getting Herman... he was not a happy camper last night... every time the anchor chain made a noise he would bark thinking someone was getting on the boat... he did this literally all night long so none of us got a lot restful sleep. Alarm went off a 0600 and was quickly turned off... did not leave early... We weighed anchor at 0845 and headed south with no specific destination in mind.
Today we passed through a lot of the ICW problem areas... shoaling at the inlets... we had no trouble at all but passed by two sailboats at Lockwood Follys that had gone aground and were waiting on the tide.
We had called ahead to a marina in Little River, SC... Harbourgate Marina and Resort to make a reservation and after talking to them and their attitude we decided against staying there and instead called Lightkeepers Marina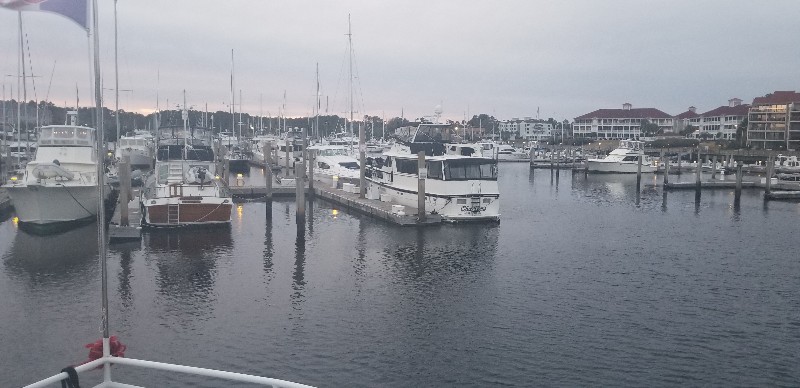 in Little River... they were very accommodating and pleasant on the phone... even though they had closed at 1600 and it was 1620 when we called... there was no question about it... Lightkeepers Marina would be our destination.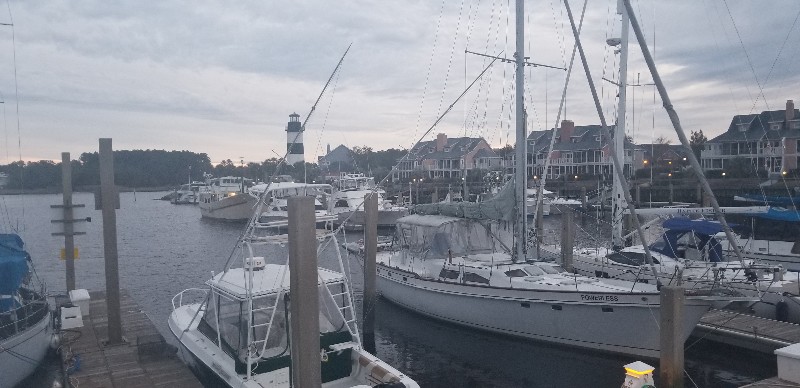 We arrived at approximately 1630 and we were securely docked at 1645... Our position tonight is
33°51.704'N, 078°38.265'W
. We traveled today for 8 hours covering 55.2 nautical miles averaging 6.9 knots.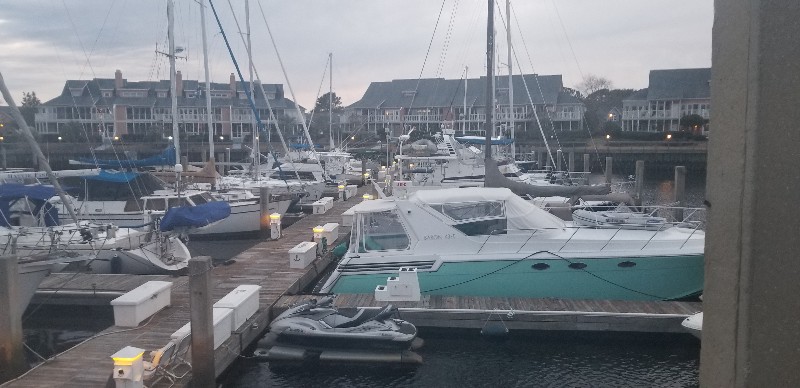 Posted at 5:29 PM