FL to CT Day 16
Palm Coast, FL to Fernandina Beach, FL

We have a great time visiting with friends in Palm Coast... Sarah and Phil Lowe and Mary and John Slattery... wish we had more time to stay as we have several other friends in Palm Coast...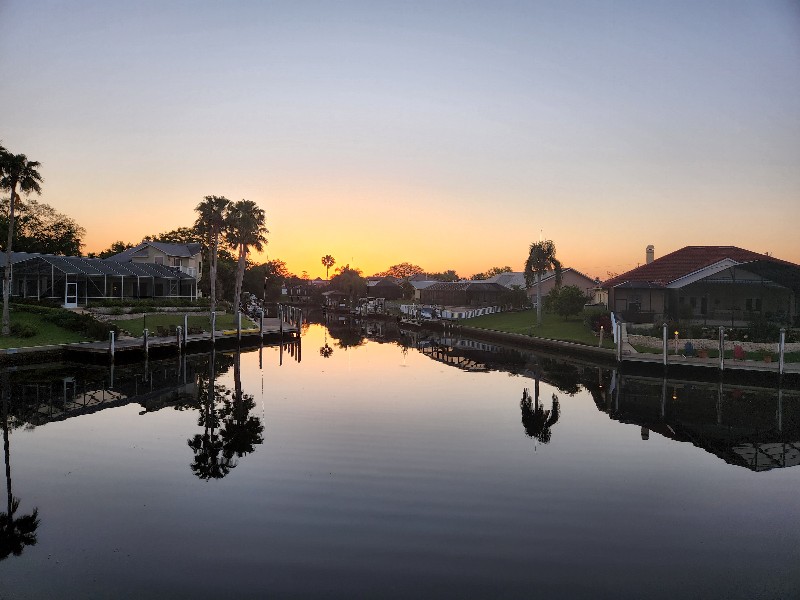 Up early at 0630 and prepared SAILS for departure... underway at 0730... tide a bit low but we did not have any issues other that the depth alarm going off... once we turned into the ICW we had deep water... well not deep but much deeper than the canal coming out....

We had a favorable current pushing most of the day... couple of times it was against us but overall, in our favor... couple of bridges we had to deal with... Crescent Beach Bridge and the Bridge of Lyons in St. Augustine... we can make it under both of these bridges with everything lowered but timing was just right and other boats were requesting openings and we were able to go through with them.

We were actually in a parade of boats going north today... 4 or 5 other boats all running about the same speed as we were... slowly they all disappeared on AIS... I assume stopping for the night earlier than we were. We wanted to make Fernandina Beach and get a mooring ball... had hoped to get hear early enough to get a little fuel... want to get about 200 gallons to get us to the Carolinas where fuel is not so expensive... seeing fuel in Florida in the $6.00 to $7.00 range per gallon for diesel... a few places in South Carolina still have fuel at less than $4.00 per gallon... so we will 200 gallons in the morning as the marina closed at 1700.

We arrived at Fernandina Beach at approximately 1745 and were secure on a mooring ball at 1800. Our position for the night is N30°40.479', W081°28.089'. We traveled today for 10.5 hours covering 74.4 nautical miles averaging 7.1 knots.



Posted at 6:42 PM


FL to CT Day 15
Layover in Palm Coast, FL

Storms have passed and we awoke to a bright and sunny day... a bit cooler than it was which is very nice.


Posted at 9:00 AM


FL to CT Day 14
Daytona Beach, FL to Palm Coast, FL

Spent a great evening with Terri and Wes Malone… happy hour at the Chart House right in the marina and drinks and dessert at Little Italy in Daytona… capped it off with breakfast before we left at a great little Cuban place… was a good visit.
We got back from breakfast around 0945 and were underway at approximately 1000… destination today Palm Coast, FL to visit with friends we have there.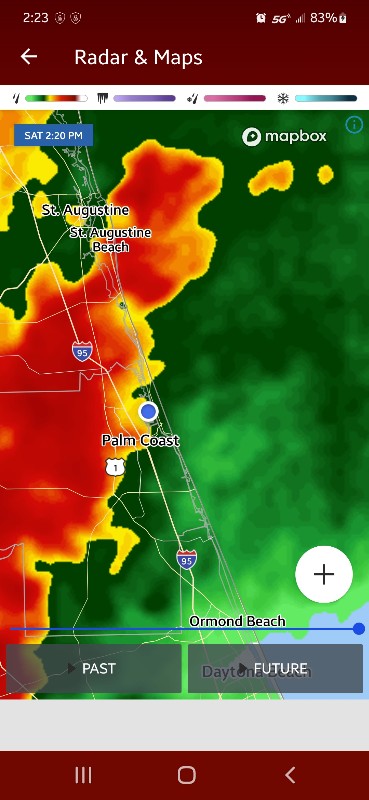 Another very short day arriving to Palm Coast at approximately 1400…. We were secure at the dock at 1415. Our position for the night is
N29°35.470', W081°12.448'
. We traveled today for 4.25 hours covering 26.6 nautical miles averaging 6.25 knots.
At 1430 all hell broke loose with the weather… 20 to 30 knot winds, lightning and down pouring rain… I think I even saw some small hail bouncing off the foredeck… we arrived just in the nick of time…


We will spend 2 days here in Palm Coast departing on Monday.



Posted at 2:51 PM