CT to FL Day 18
Bucksport, SC to McClellanville, SC

Weather has turned COLD again... we thought we would not get any more COLD weather but it was 39 degrees when we left Bucksport Marina this morning at 0700.
It was a cold and gray day cruising down the Waccamaw River. Normally, this is a very pleasant area to cruise through but it was very dreary today. We did see some other boats traveling both north and south. One in particular I had seen most every day while we were in Stamford, CT this summer. "Wanderbird" a very large offshore style trawler that was docked at Brewer Yacht Haven East.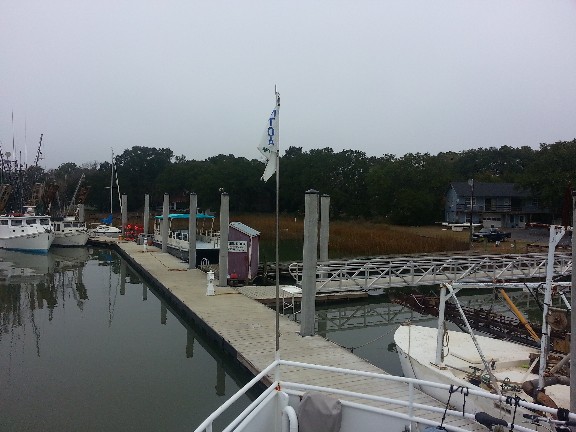 We had a fairly short day planned only going to McCellanville, SC and stopping at Leeland Oil Company. We have never stopped here and thought it would a nice change of pace. We arrived shortly after 1300 and docked on a large face dock. We were met by two people on the dock and a very friendly dog. she came aboard as soon as we were close enough for her to jump and she thoroughly inspected every nook and crevice of "SAILS"... LOL
We were secure at the dock at 1330 at N33°04.975', W079°27.743'. We traveled for 6.5 hours covering 46 nautical miles averaging 7.1 knots.


Posted at 2:08 PM


CT to FL Day 17
Carolina Beach, NC to Bucksport, SC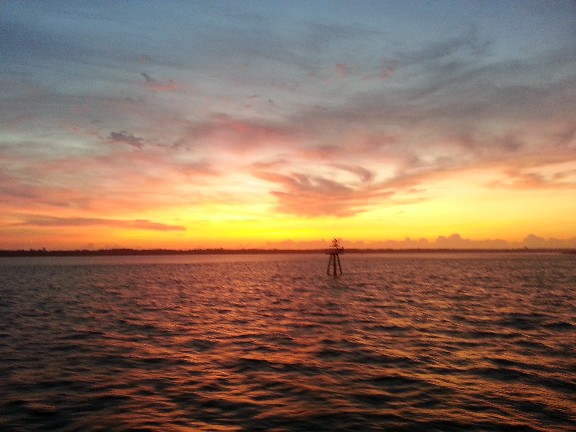 We departed from Carolina Beach this morning at 0630 and headed out toward the ICW... maybe a 1000 yards at best out the channel. This first leg of the ICW is basically the Cape Fear River and really need to plan to have this leg with current running with you... otherwise you can be slowed down to 3-4 knots fighting against the current. Today I had hoped to leave by 0600 so we would have the current in our favor for the entire length of the river down to Southport... however, we got away about 30 minutes late and we did suffer for it... made it about two thirds of the way down the river and we started to slow down... running 8.5 knots to begin with and down to 5 knots before we turned up the ICW at Southport. Then we immediately got the boost back and running 8 knots again. But, we had the "yo-yo" effect today due to the various inlets we would pass... but overall I think we had more favorable current.
As we passed Southport we were hailed by Robert Creech... he lives there and is the MTOA port captain for the area. Not sure how but he never seems to miss us as we pass and always hails to chat on the VHF with us.
Today the weather was forecast for high winds...20-25 knots and rain... we got it all... rain actually did not start until after we had passed Southport but once it started it did not seem to stop... and it turned COLD again... missed the 70's we had yesterday.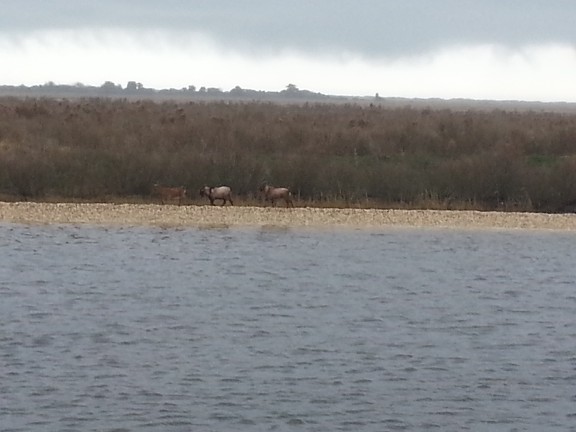 We did see one odd thing just past Southport... out in the middle of nowhere there were three goats just strolling along the side of the ICW... as we approached they started to move away until they saw me come out of the pilothouse with the camera... then they stopped as if they were posing for me... LOL soon, as I snapped the photo they disappeared into the marsh grass.
Very little boat traffic today...a couple of sailboats as we passed through Little River area and some small fishing boats... oh we did have the two gambling boats pass us heading out to sea at the Little River Inlet... "Big M Casino" and the "Jacks or Better".
Bridges were no problem... Little River Swing Bridge opened promptly which is unusual... and the Socastee Bridge also opened promptly for us... nice when you do not have to wait on bridge openings... of course both bridges are on demand which helps.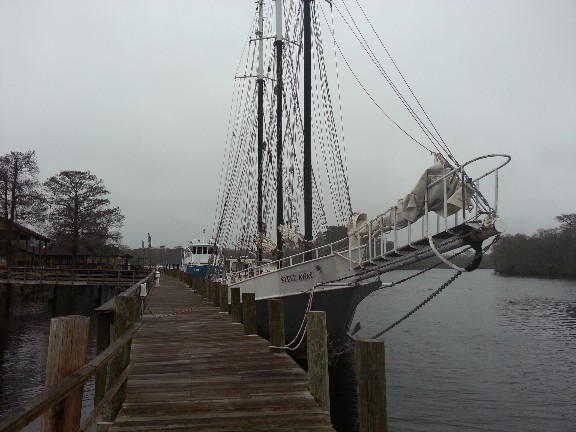 We arrived to our destination for the night at approximately 1630 and tied up behind a large three masted sailing vessel named "Steel Away"... all steel hull very large... maybe 70 feet... was pretty cool.
This stop we also always buy some sausage... they have the best sausage around... at least I think so... Susan does not care for it. and we made it just in time before they closed at 1700.
Today we traveled for 10 hours covering 70 nautical miles averaging 7.0 knots. Our approximate location for the night is N33°39.041', W079°05.671'.


Posted at 5:41 PM


CT to FL Day 16
Swansboro, NC to Carolina Beach, NC

Last night we went to dinner at the Saltwater Grill where we were docked and was pleasantly surprised to find out that there was going to be live music. The duo was quite talented... "Wild Honey" was their name and we really enjoyed listening to them perform. They were also very friendly and we really enjoyed talking with them between songs. It was not a huge crowd but those that came were also very friendly and I think we left with some new friends. We look forward to stopping here in the spring of 2014 and hopefully get to see all of our new friends.
We departed this morning at 0645 and spent the day with "yo-yo" currents as we passed inlets along the ICW... 4.5 knot to over 8 knots back and forth all day.
Today we also had several bridges to contend with... Onslow Beach, Surf City, Figure Eight and Wrightsville Beach bridges. They open at various times... Onslow every 30 minutes so it was an easy one to make it... then Surf City opens only on the top of the hour... the current gods were good to us and we were able to make the bridge at it's 1100 opening... the Figure Eight bridge we are able to clear without an opening as long as we are at the right tide level... today we were and slipped under it without a problem. The Wrightsville bridge we can clear at mid tide or lower and we arrived to it planning to go under without an opening but we found a work barge in place under the bridge taking up half the width of the channel. IN order to clear we need to pass under dead center of the span... that was not happening today... luckily we arrived just a few minutes before there scheduled 1400 opening and we did not have to wait very long at all for the bridge to open for us.
I will say that today was very windy as forecast 15-20 knots with 25 knots gusts... ICW was a little choppy in places but nothing to worry about. It was quite a bit warmer today with temps into the 70's in the afternoon and the boat traffic was like we back into the summer... tons of people out on the water. Several boats... all sail... traveling south as well.
From here it's not far to our planned destination for the night... Carolina Beach State Park at the south end of Snow's Cut.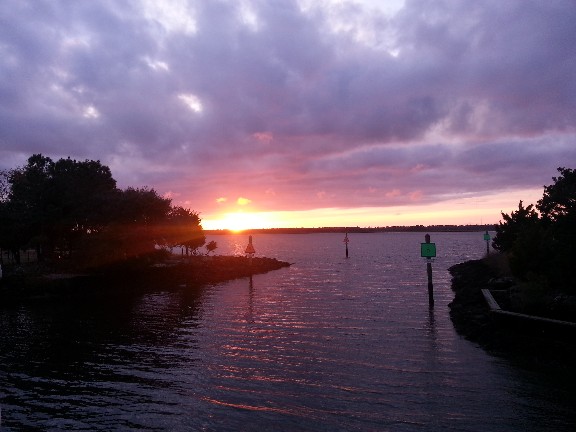 We did have to travel this last stretch at low tide and it's very shallow in a lot of places... SAILS hates shallow water and especially side shoals just off the side of the channel... so not auto pilot for this stretch... manual steering.
We arrived to Carolina Beach State Park Marina and were securely docked at 1615. We traveled for 9.5 hours today covering 58.8 nautical miles averaging 6.2 knots. Our location is N34°03.016', W077°55.150'.


Posted at 4:55 PM