FL to CT - Day 26
North Myrtle Beach, SC to Carolina Beach, NC

One of our favorite places to go while at Barefoot Landing is The Flying Fish for Happy hour... we made there but missed happy hour by minutes... but we did have a beer and a couple of shots... My pleasure was an Oyster Shooter and Susan had Fireballs. We did not see anything on the menu that we really wanted so we went walking around to find someplace different to try... we came upon Bully's Pub and Grille... Susan got her burger fix and tried a buffalo chicken sandwich... it was good but we probably will not go back real soon.
When we got back the dock and SAILS we ran into another couple Mike and Cathy... they had been out to dinner at Greg Norman's and had a great meal... maybe we should of went there... anyway, we stood on the dock talking with them for about 30 minutes or so and eventually ended up aboard SAILS to enjoy a nightcap together. They are doing the loop and started in Florida... their boat is named... TRAWLER LIFE. They are super people and hope we get to see them again along the waterway.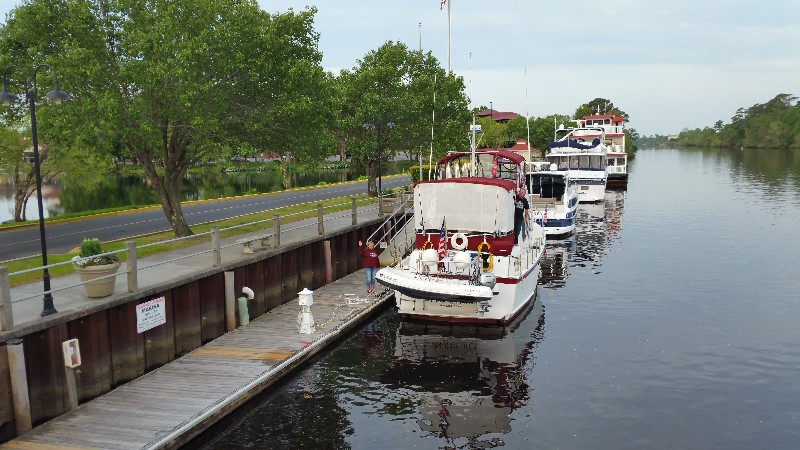 We departed Barefoot Landing at 0745... several boats that had been docked had already left... ahead of us our new friend Cathy and Mike were getting ready to leave as well... shot a photo of them as we pulled away.
The forecast today was for 10-15 knot NE winds shifting to 15-20 E winds in the afternoon... forecast was slight off... winds were E 20-30 knots all afternoon... saw a few gusts to 35 knots... really tired of the wind... had a couple of nice days before today... let's hope the wind goes away soon.
Today the excitement was at Lockwoods Folley Inlet... heard a vessel aground hailing TowBoatUS... as we approached we could see them listing a little to one side... they were trying to get off and had the boat in reverse... you could see the prop wash rushing towards the bow of the boat. Just as we arrived we saw them jump backwards... they had ungrounded themselves... YEAH! Well... then they proceeded to back up towards the channel right in front us... I had slowed to near idle speed luckily as they were 100 feet in front of... they whipped it around and took off forward and what did they do again but go on the wrong side of the marker and nearly ran aground again... they pushed through it throwing up mud and sand behind them... they continued north and we followed at a safe distance... was not sure what they were going to do next but I wanted to well behind them... :) And I was glad I did stay back... next day mark we came to they suddenly veered to port heading right toward shore... aground again... saw the dry stack puffing black exhaust smoke and they were backing in front of us again... this time they stopped and waved us on... I slipped past them and continued north... they followed us all the way to
Southport... nice boat... 47-50 foot Nordhaven... just a little less bottom paint now... :)
All day we were up and down in current... one minute pushing over 8 knots and the next back to 6 knots... then we came to the Cape Fear River at Southport... as we turned into it... I watched the speed drop... 6.5... 6.0... 5.5... 4.5... 4.0... 3.8 knots... :( Never saw it go over 5.1 knots all the way up the river to our stop for the night... Carolina Beach State Park Marina.
We were secure at the dock with power on at 1615. Our location for the night
N34°03.014', W077°55.153'
. We traveled today for 8 hours and 30 minutes covering 49.4 nautical miles averaging 5.8 knots.


Posted at 4:33 PM


FL to CT - Day 25
Bucksport, SC to North Myrtle Beach, SC

We left Bucksport this morning at 0900 with a full load of Bucksport sausage... short day planned to Barefoot Landing Marina in North Myrtle Beach, SC. I have some work to catch up on and need a good WiFi connection and Susan loves it here... :)
A lot of boat traffic moving north today... was 45° last night but suppose to be 88° today. Sail boats, power boats, trawlers, small runabouts... everyone was out on the water. Can't blame them it's a gorgeous day.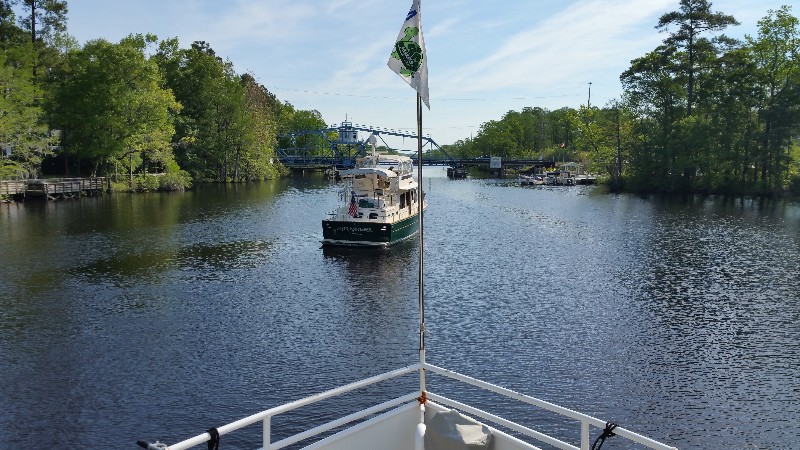 We got held up at the Socastee Bridge shortly after leaving Bucksport... sat and waited abut 15 minutes for an opening... trawler ahead of us and a couple of sailboats behind us. Good thing was we had current in our favor the entire day pushing at 7.5 to 8.0 knots.
We kept hearing on the VHF a boat names ENTICER from Newport, RI... everyone was complimenting them as they passed the boats behind us... When it passed we saw why... 1935 wood motor yacht with teak, teak and more teak... not sure what make it was but it was beautiful.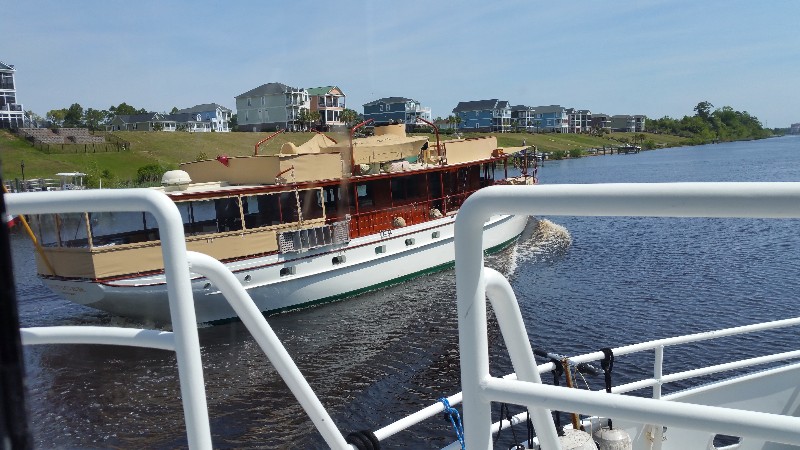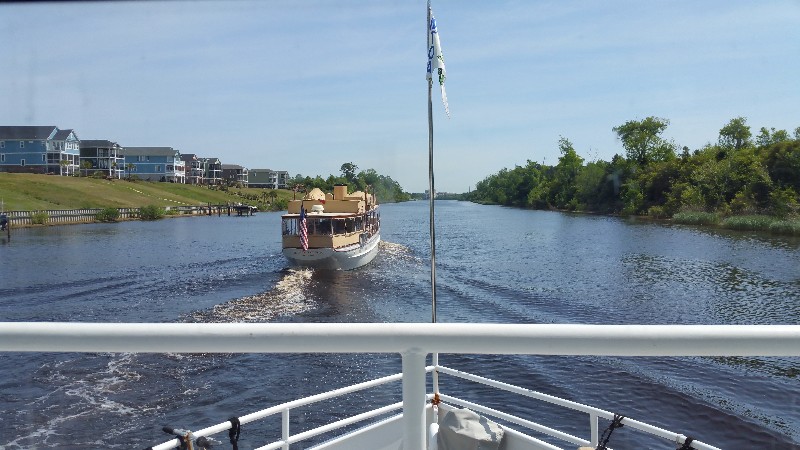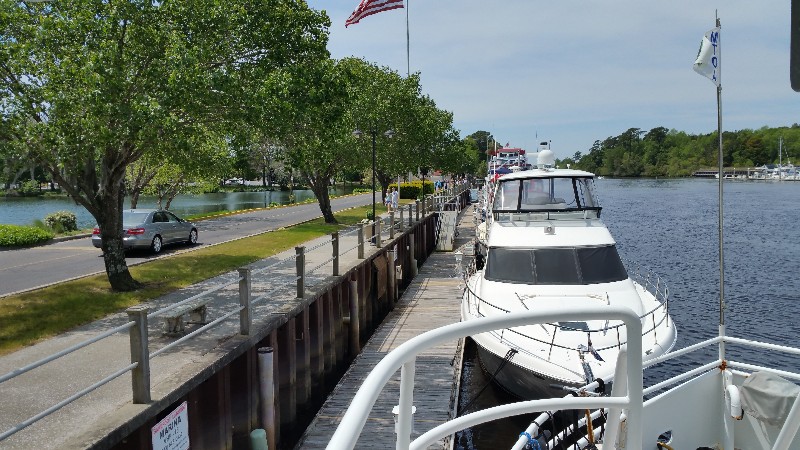 We arrived at Barefoot Landing Marina at 1200 and were secure at the dock power on at 1215. Our location for the night
N33°48.076', W078°44.734'
. We traveled today for 3 hours and 30 minutes covering 20.9 nautical miles averaging 6.0 knots. Those waits at bridges sure kill your average speed... :)


Posted at 12:16 PM


FL to CT - Day 24
St. Johns Island to Bucksport, SC

The evening on anchor was great... nice cool breeze... windows open... 48°... Brrrrr! I ask why are we heading north?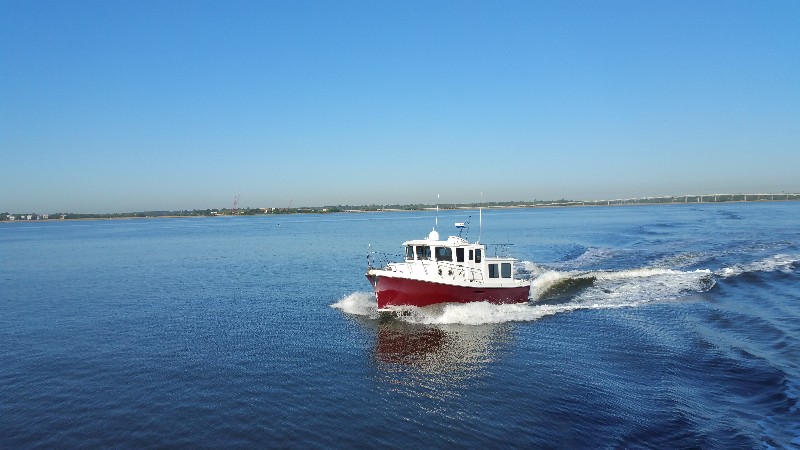 We pulled the anchor and were underway at 0745... short distance back to the ICW and Elliot's Cut toward Charleston. EArlier I had seen C_LIFE depart the St. John's Yacht Harbor and just before we left another bost we first met in Delegal Creek Marina... BIRD OF PREY also left the marina. We followed them through Elliott's Cut and passed them just before the Wappoo Creek Highwway 30 Bridge... but soon they passed us across Cherleston Harbor... heard thema few times on the VHF throughout the day but never saw them again... very nice folks that were in the process of doing the Loop.
We had a falling tide as we Sullivan Island Narrows under the Ben Sawyer Swing Bridge toward Islae of Palms... in thepast this has been a real trouble area with very skinny water... last year heading south they were dredging this stretch and as we passed through there were no issues... appears the dredging is holding up well.
Can't say the same thing about the ICW near McClellanville... as we passed through this area is was almost dead low tide and our depth sounder stopped wroking a few times falshing that dreaded... "LAST" with 5.0 feet on the guage... we have a 5 foot draft so needless to say we were pushing through the mud a few times... hate when this happens... :)
As we were passing through Estherville Minim Creel Canal toward Winyah Bay we came to the Tom Yawkey Wildlife Center Bridge... this is a barge that they swings across the canal and drop ramps on both sides to allow cars to pass... in the last 15 trips north and south we have nver seen this closed... today ot was closed... w3e waited about 10 minutes and a few cars passed across... think it was employees as they all had the Wildlife Center logo on the side of them... slowly the barge swung out of the way... pretty cool to watch it operate.
Our planned destimation of Georgetown was just ahead... we had picked up the incoming current at this point and were being pushed 8 knots up the Waccamaw River... it was only 1600... great speed... we opted to continue till we lost the boost of speed... 2.5 hours to Wacca WAche Marina... a good stop... reached it and still had current... another hour to Bucksport Marina... we continued... arriving to Bucksport at approximately 1930.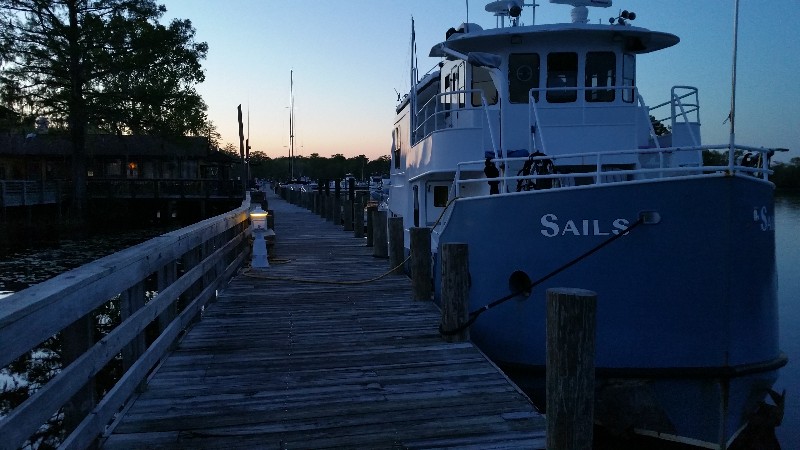 We were secure at the dock with power at 1945. Our location for the night
N33°39.046', W079°05.670'
. We traveled today for 121 hours covering 83.12 nautical miles averaging 6.9 knots.


Posted at 8:34 PM