FL to CT Day 38
Cape May, NJ to Cape May, NJ

All morning I had been researching all I could about the NJ ICW between Cape May and Atlantic City... we have done this stretch before in SAILS back in 2008... a lot shoaling reported about the stretch but many reports of boats transiting it safely with 4 foot draft... we're 5 ft draft but with a 5 foot tide range we could leave with a rising tide and hit the trouble spots at mid to high tide... worst case would be would have to anchor and wait for tide in bad areas... but felt it was doable... so we planned to leave at 1130 low tide in Cape May and give it a shot...


While getting ready to pull the anchor I heard a sailboat that was anchored next to us on the VHF radio hail a passing swift trawler that was headed out the inlet... they asked for a sea state report from the trawler once they got outside in the Atlantic... a few minutes later the swift trawler hailed the sailboat and provide a very positive report of the sea state...
The swift trawler had reported a 2 foot ground swell with 10 to 15 second period... hmmmmmmm

I talked with Susan and we decided to give it a go and see if it had really calmed down as reported... 1130 we were once again headed back out the Cape May Inlet... inlet was a bit lumpy but that is always the case... we turned north after exiting the inlet and we indeed did have a swell... but not a 2 foot swell with large period... it was a 3 to 4 swell with about a 6 second period directly on the beam... it was NASTY... nothing we were going to ride for 5 hours in to reach Atlantic City... we turned around and headed back to Cape May.... back to our original plan to go inside on the NJ ICW.

It was slow going a lot places charted as deep water (10-15 feet) were less than 6 feet and vice versa... shallow areas on the chart were deep... so it was slow going... we had several bridge to pass through that we did not require an opening... we reached the first bridge that we needed an opening for at Stone Harbor at approximately 1400... hailed the bridge for an opening... was shocked when he replied... bridge is non-operational... waiting on parts will be at least a month... CRAP!

We could go no further... only option was to turn around and return to Cape May.... Which is what we did...

It was a much faster return trip as I knew where we had issues with depth and we also were at nearly mid tide giving us about 3 foot more water... so the 5 foot spots were 8 feet now... no need to slow down.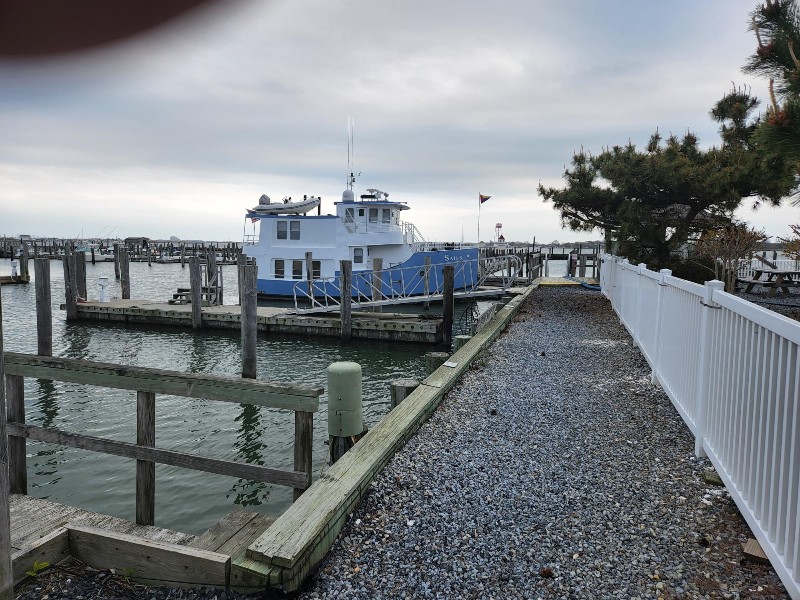 Since we will most likely be waiting on weather a few days we decided to get a slip at a marina rather than anchor... we called Utsch's Marina and made a reservation.

We were securely docked with power at 1530... our location is N38°57.044', W074°54.310'. We traveled for 4.0 hours covering 23.7 nautical miles averaging 5.9 knots.


Posted at 4:47 PM


FL to CT Day 37
Cape May, NJ to Cape May, NJ

We were optimistic this morning and pulled anchor at 0730 and headed out the Cape May Inlet... a 40 foot sailboat was about 1/2 ahead of us. We had a large 3 to 4 foot swell coming in the inlet... I watched the sailboat as they approached the end of the inlet and moved out into the Atlantic. The sailboat was really thrashing around and then it started disappearing from sight... I could only see about half the mast... the hull disappeared entirely as it dipped in the waves... it was ROUGH... VERY ROUGH SEAS! The sailboat turned around headed back in the inlet... that was enough signal for us to do the same thing... we turned around and headed back to the anchorage... looks like we are stuck in Cape May until the Atlantic settles down some....


We dropped the hook back in the same anchorage area we had left earlier at approximately 0800... slightly different position at N38°57.014', W074°53.080'. We traveled today for 30 minutes covering 1.5 nautical miles averaging 3 knots.

Going to investigate doing the NJICW from Cape May to Atlantic City... see if it is doable for us with our draft... we did it once back in 2008 but there have been a lot of shoaling reports since then.


Posted at 8:23 AM


FL to CT Day 36
Chesapeake City, MD to Cape May, NJ

Checking when the best time to leave Chesapeake City for the most favorable currents to Cape May, NY was 0200… we were not going to leave that early… we decided just to leave at our normal time around 0730 and just not worry about the current. Up at 0630 and prepared SAILS for departure by 0730… engine room check, etc… We were clear of the dock at 0730 on the nose.
We had full current against us when we left… appeared to be 2 knots plus slowing us to 4.5 to 5.0 knots till we reached the end of the C&D Canal and turned into the Delaware River and we got a big boost in current running at 8 to 9 knots for the next 3 or so hours when we started to slowly loose our boost and once again back to 5 to 5.5 knots… it did improve slightly anear Cape May running 6 to 6.4 knots for the last couple of hours.
The winds were 15 to 20 knots out of the East all day which made the Delaware Bay quite choppy with 2 to 3 foot waves… with the strong winds and short chop we had spray hitting the pilothouse windows most of the day… and it was COLD… mid 50's and the wind made it feel like 40's…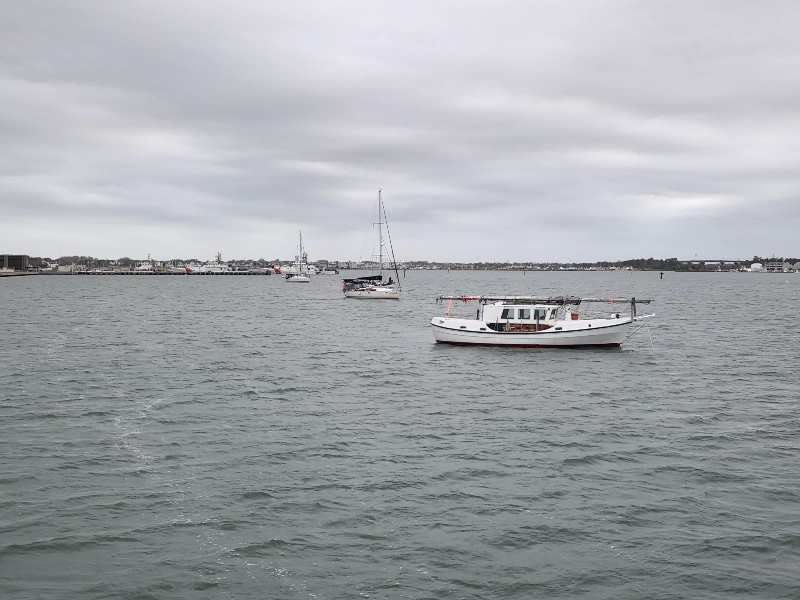 We arrived at Cape May at approximately 1700 and decided to anchor near the Coast Guard Station… there were three other sailboats already anchored here. We were securely anchored at approximately 1715... Our position is N38°57.024', W074°52.956'. We traveled today for 9.75 hours covering 63 nautical miles averaging 6.5 knots.


Posted at 5:51 PM