SC to CT Day 2
Carolina Beach, NC to Swansboro, NC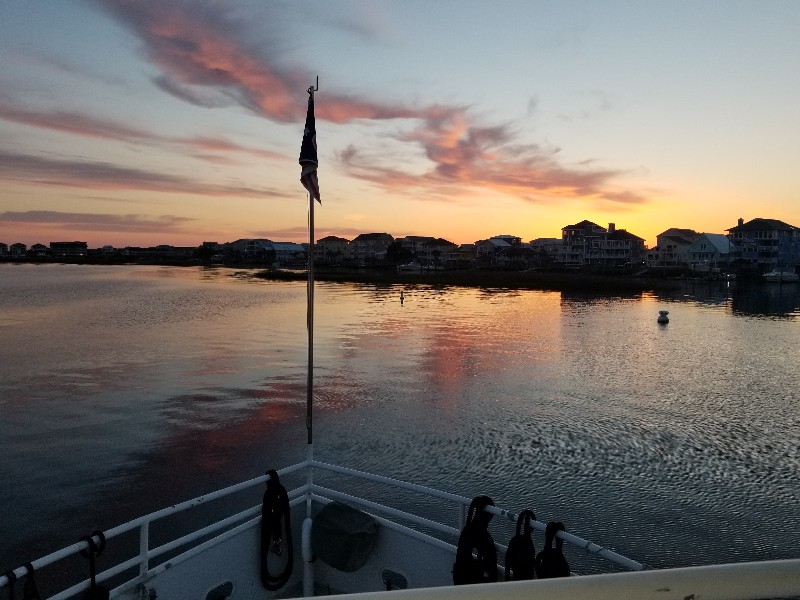 Up just before sunrise and underway from the mooring at 0700... the sunrise was beautiful... :) And the weather for today was picture perfect.
Shorter day planned for today with our destination being Swansboro, NC. Stopping an hour or so early will let me catch up on a little work.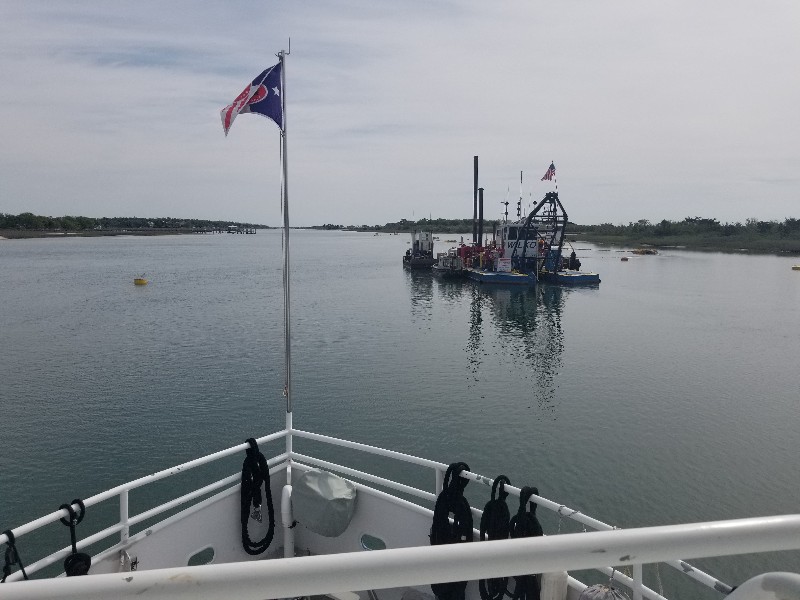 It was nice to find most of the trouble spots had been dredged in this stretch of the ICW... or at least the dredges were there working on the shoaling. Mason Inlet and Topsail Inlet had both been dredged. Dredges were working at New River Inlet and the shoals were still present.
Several bridges today... Wrighstville Beach that we squeezed under at low tide with maybe 6" clearance... Figure Eight Bridge which is passable with VHF antennas and mast down... 3 feet clear. The one bridge that we always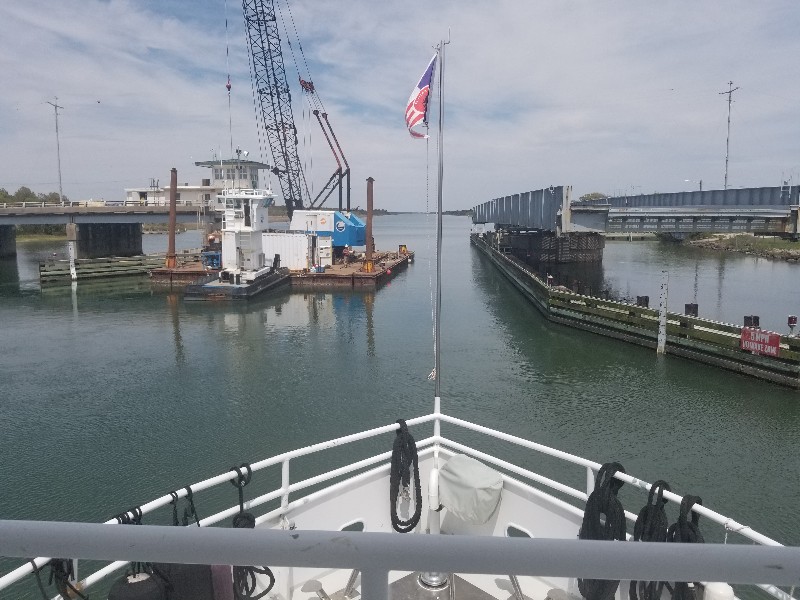 have to have opened is the Onslow Beach Bridge... today we were surprised to find it open with a construction barge in the opening... was a tight squeeze between the barge and the bridge fenders... they said it was 25 ft when I hailed to ask... but it sure seemed much tighter... :)
Very little boat traffic today which is surprising us... getting away later than normal for the winter season we expected to see many more boats cruising north... saw only one today and it was heading south.
We arrived to Swansboro Church St Docks at 1550 and were securely docked at 1600. Our location for the night at
N34°41.162', W077°07.153'
. We traveled today for 9 hours covering 57.7 nautical miles averaging 6.4 knots.


Posted at 4:45 PM


SC to CT Day 1
Little River, SC to Carolina Beach, NC

Awake at 0600 with a busy morning prepping to leave... stowing all the last minute items... top off water tanks... which took forever... should have done that yesterday but did not realize we were as low as we were. Finally at 0800we were ready to depart... disconnected shore powder and tossed the dock lines and underway at 0815.
Two bridges to contend with today... Socastee Swing Bridge and Little River Swing Bridge... at both we arrived just in time for an opening with virtually no wait... passed the local TowBoatUS at the Little River Swing Bridge... lots of boat traffic for a Monday... a few cruisers but mostly small local boats and wave runners... all making enough wake to just be annoying.
It was nice to pass through two trouble spots (shoaling) with no issues at all... both Shallotes Inlet and Lockwoods Folly had both been dredged... saw nothing less that 14ft at low tide... very nice compared to the 2020 trip south.
Had favorable current for the most of the day until we reached the Cape Fear River... about 2 knots on our bow slowing us to just over 5 knots... then the wind picked up... totally not forecast for today... 25 knots steady and gusting to over 30 knots... did not produce any wave action but just one of those annoying things.
We had planned to go to Wrightsville, Beach today, but with the current against us it would have had arriving after sunset .... so, we opted to stop in Carolina Beach... made a reservation for mooring ball via Dockwa.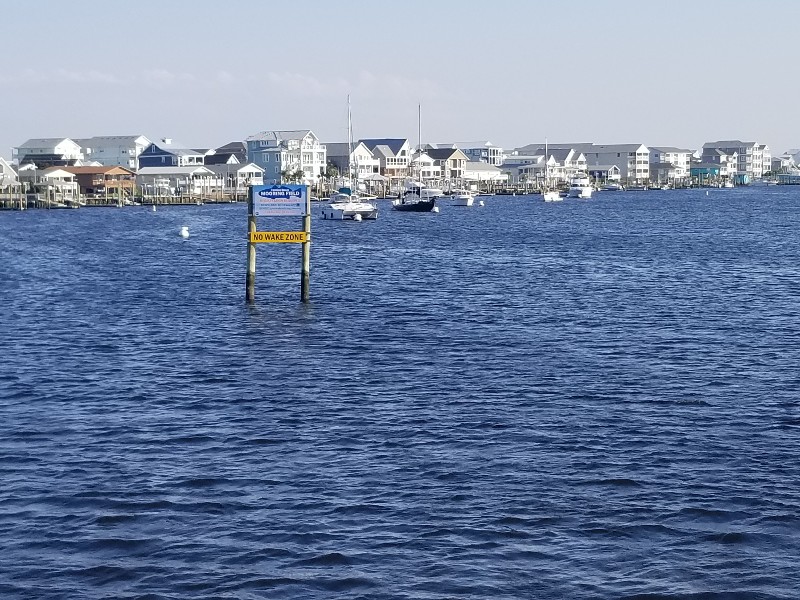 We arrived to the mooring field at 1810 and were securely moored by 1815. Our location for the night at
N34°02.844', W077°53.385'
. We traveled today for 10 hours covering 68.7 nautical miles averaging 6.8 knots.
Susan, Lily and Herman out on the bow watching me secure the mooring ball.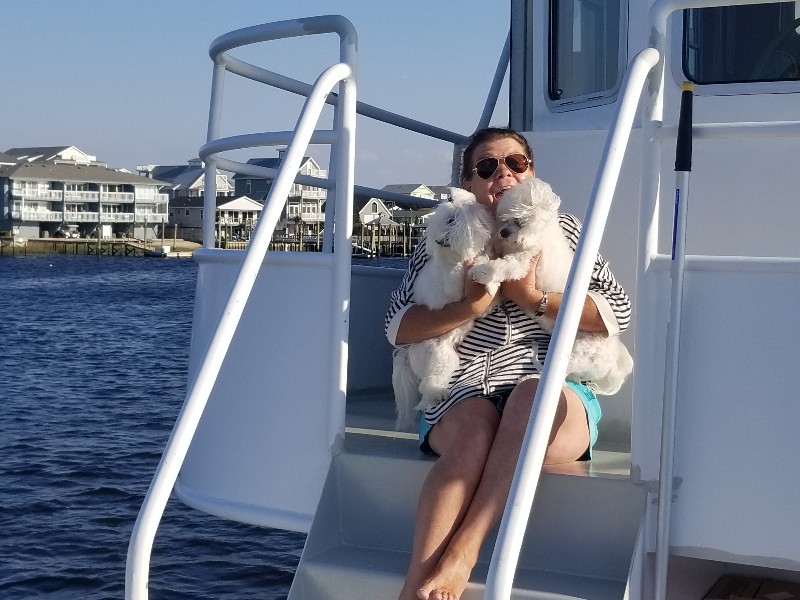 Posted at 7:21 PM


NC to SC Day 3
Carolina Beach, NC to Myrtle Beach, SC

Last night Susan and I went out for dinner to celebrate our 19th wedding anniversary... short walk to a very nice place called The Deck House... seafood and steaks... I had grouper with lump crab and asparagus covered with a lobster sauce... it was delicious... Susan had filet mignon and these yummy mashed potatoes... and of course a few cocktails... was a great evening out.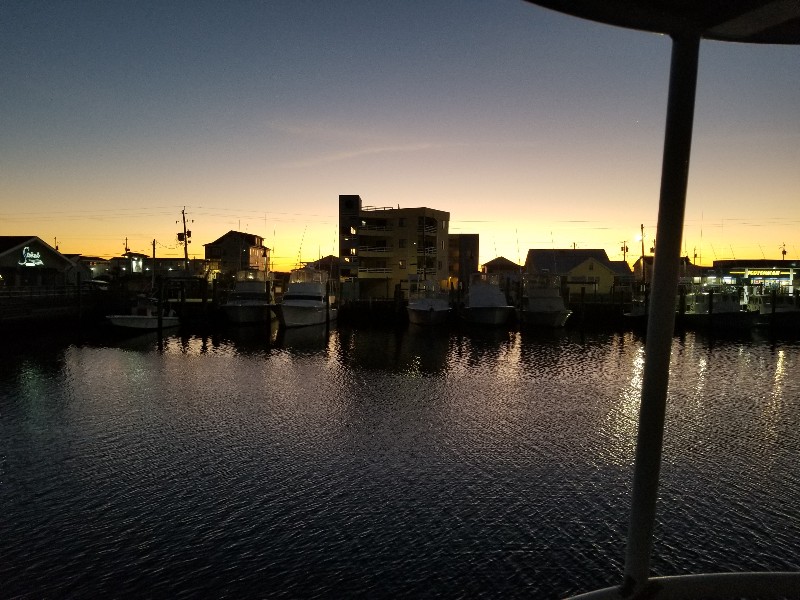 We left Carolina Beach Municipal Marina this morning at 0715... just as the sun was rising behind us... had another bright and sunny day... We flew down the Cape Fear River running over 9 knots... always nice to run with a boost from the current... we had a boost a few more times but nothing close to 9 knots.
Todays cruise had some trouble spots for shoaling that we had to deal with... using the Army Corp of Engineers surveys overlaid on the chart we had no issues in any of the trouble areas... Lockwoods Folly and Shallotte Inlet being the most severe.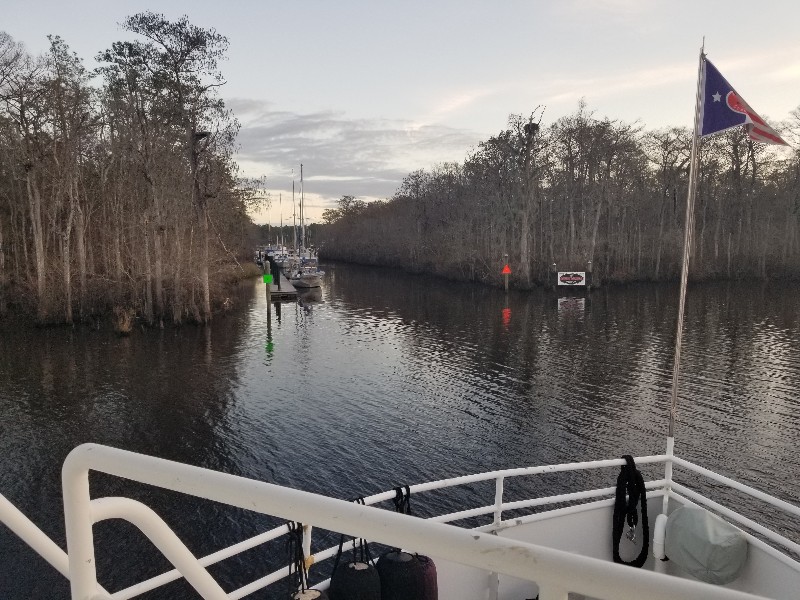 We arrived to Osprey Marina at approximately 1645 and were securely docked by 1700. Our position is
N33°40.938', W079°02.532'
. We traveled today for 9 hours and 45 minutes covering 69.32 nautical miles averaging 7.1 knots.
Since leaving CT we have traveled 814 nautical miles.. We will be spending the winter here at Osprey Marina.


Posted at 6:18 PM