FL to CT - Day 2
Cabbage Key, FL to Olga, FL

We had a late breakfast/brunch with our friends aboard Night Shift this morning... delaying the goodbyes as long as we could. After breakfast I took a few minutes to dive under SAILS to check and clean the running gear. It was not too bad only a few small barnacles. It's nice to have nice clean running gear for the trip.
Night Shift departed heading back to Punta Gorda about 1330 and we left shortly thereafter pulling the anchor and underway at 1400.
It was a beautiful day... warm and sunny with an nice breeze... This brought out many many boats... it was like a circus boats going every direction all speeds.
we got lucky and had a favorable current with us the entire day... hitting 8.6 knots going through the miserable mile near Tarpon Point Marina.
We could only as far a Franklin Lock which closes at 1700. We will catch the first lockage in the morning at 0700 and head across the state toward lake Okeechobee.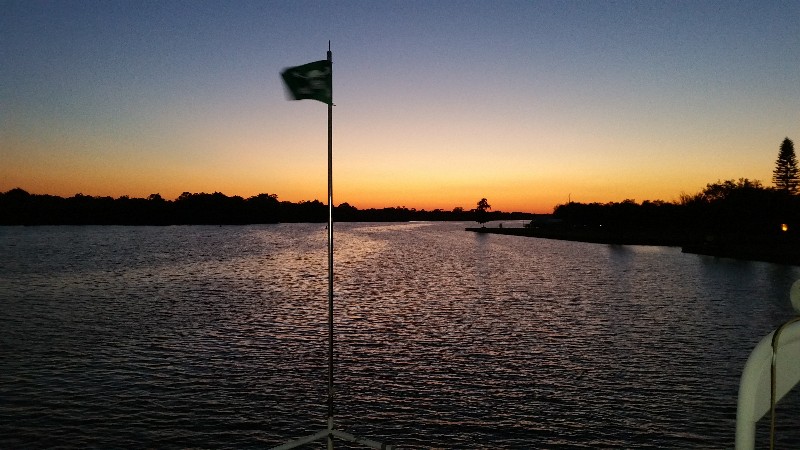 We arrived and were safely anchored just west of the lock at 2000 just after the sun had set. Our location for the night
N26°43.414', W081°41.765'
. We traveled today for 6 hours covering 42.1vnautical miles averaging 7.0 knots.


Posted at 7:22 PM


FL to CT - Day 1
Punta Gorda, FL to Cabbage Key, FL

Delayed start.... planned on leaving the 12th and did not get away until today... 3/17 St. Patrick's Day.
Short day stopping and anchoring across from Cabbage Key next to Useppa Island. Anchoring for the night at 1645 at
N26°39.327', W082°12.958'
. We traveled today for 4 hours covering 22.58 nautical miles averaging 5.65 knots.
Night Shift arrived shortly after we anchored and we are rafted together.


Posted at 4:34 PM


Trip Statistics
2016 Trip South

We departed from Stamford,CT on November 24, 2016 and arrived to Punta Gorda, FL on December 23, 2016.

Overall: 30 days
Moving: 26 days
Stopped: 4 days
1 day in Chesapeake City, MD for my birthday.
2 days is Crisfield, MD for weather.
1 day in Smithfield, VA to visit friends.

Distance traveled: 1,714.2 statute miles
Moving: 215.26 hours
Averages:
65.9 statute miles per day
7.96 miles per hour
8 hours and 17 minutes per day

Marinas, Docks, Anchorages:
9 nights PAID docks
1 night mooring ball
13 nights FREE docks
7 nights anchored



Posted at 11:08 AM