CT to NC Day 6
Kent Narrows, MD to North Beach, MD

Up before sunrise today to be able to leave at slack tide. The current is very swift at the Bridges Restaurant docks and it's 90 degrees to the boat... much easier leaving at slack tide.
We departed at 0715 and headed south... destination for the day Herrington Harbor South where we will feed SAILS about 1000 gallons of diesel.
Forecast for the morning was miserable... south winds 15 to 25 knots with 2ft seas and a chance of rain.... afternoon forecast was worse... not a nice day of moving at all.
We arrived to Herrington Harbor South and docked at the fuel dock at 1030... two pumps running filling up SAILS with diesel... about 90 minutes and both tanks full.... 971 gallons.
Off the fuel dock to our location for night... t-head just north of the fuel dock...
38°43.612'N 076°32.539'W
. We traveled today for 3 hours and 15 minutes covering 22.2 nautical miles averaging 6.8 knots.


Posted at 1:02 PM


CT to NC Day 5
Chesapeake City, MD to Kent Narrows, MD

We had to wait high tide this morning... no way we were getting away from the dock at anything but high tide... departing at 1000 and a healthy boost of current once we got back into the C & D Canal pushing to over 8 knots all the way out of the C & D and in to the Chesapeake Bay... where we slowed but still maintained over 7.5 knots all the way to the channel going into Kent Narrows. To make it even better the seas were flat calm... not even a ripple... occasional boat wake was all we had.... it was awesome!
When we left it was a bit foggy but not too bad... but it fogged in to about 1/2 mile visibility for about an hour... USCG came across the VHF and announced that the C & D Canal was closed until further notice due to fog... this had commercial traffic piled up at the top of the Chesapeake Bay... we must of passed a dozen tugs with barges just sitting or barely moving waiting for the fog to clear and the Canal to open. It did eventually reopen about 1130.
Our destination for the day was Kent Narrows... We had made reservations the Bridges Restaurant... it's a free dock, power and water as long as you dine in the restaurant. It was located about a 1/4 mile south of the Kent Narrows Bridge.
The bridge was interesting... we had been through here back in 2008 but I had forgotten how narrow the span is and how swift the current is here... it was an interesting transit through it... current on the nose so not too bad but had to pay attention...


WE arrived to the Bridges Restaurant at approximately 1530 and made an attempt to get into a slip... I was told that the slips were 20ft wide and good for up to 65ft length. SAILS is 18ft wide so that would leave plenty of room to get in to a slip. What I found was that the majority of the slips were about 17' wide and the fingers piers for each slip were maybe 20ft long max with outer pilings to secure your stern or bow if you backed in. First attempt we made it in about 10 feet past the outer pilings before the rub rails were tight against the pilings on both sides... backed out and moved down the slips to another that looked much wider and we made it in with maybe 6" on each side... almost no need for dock lines...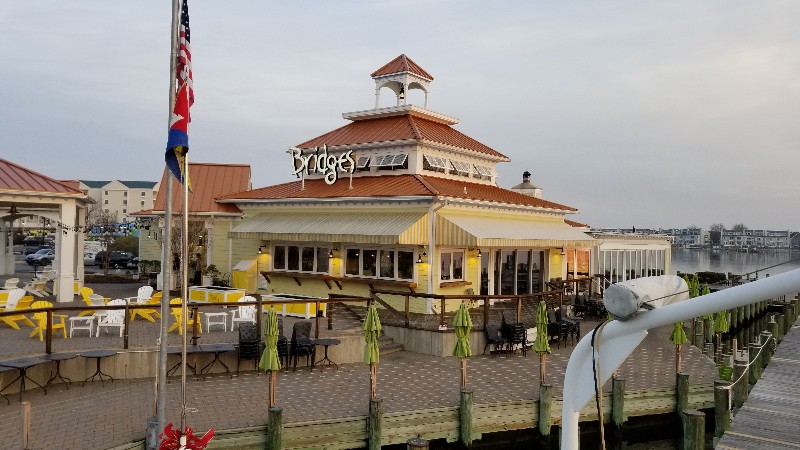 We were secure at the Bridges Restaurant at 1600... our location at N38°57.972', W076°14.609'. We traveled today for 10 hours covering 45.6 nautical miles averaging 7.6 knots.



Posted at 5:06 PM