Yesterday we had a very interesting evening in Palm Coast to say the least... plans were to ride on Barbara and Barry Kipnis' boat in the lighted boat parade. We arrived on time and headed over to the Kipnis' house with Phil Lowe at 1630. There were about 15 of us going on the boat. Shortly after arriving the parade was cancelled due to weather. No problem... party at Kipnis' house. We had snacks and a great lasagna dinner and then Barbara suggested we go for a boat ride... their boat was decorated and ready to go...weather looked good outside... 15 minutes later we were underway music blaring and lights so bright Barry was having a hard time seeing to drive the boat... we were having fun!
Thirty minutes or so into the trip it started raining and first one side of the Christmas lights went out and then the other side and the music stopped... raining and GFI outlets do not mix... still raining lightly so Barry headed back to home dock.
Arriving to the dock everyone's weather alerts on their phones started going off... TORNADO ALERT for the area... we quickly unloaded the boat and party was over... the sky opened up and it was pouring raining now. we headed back to "SAILS" with a lift from Jon and Mary Slattery.
shortly after getting back to "SAILS" we found out that several homes right in the area where we were on the Kipnis's boat were damaged by a tornado... the home of some good friends was missing it's lanai screen enclosure. No one was hurt... just property damage but none the less very scary! Overall, in spite of the weather and tornado we did have a good time... always great getting to see friends.
Plans for today were to cruise to New Smyrna Beach where we would get to see some more very good friends... Peter and Charlotte Behr and of course Beecha was very excited that she would get to see Chester the Behr's cat.
Not having a long day I took the extra time in the morning and did some maintenance on "SAILS"... changed the oil on both engines before we left. They were not quite due for the change but we were at a dock with power and it is much easier to perform engine room maintenance with 110 volt lighting opposed to 12 volt lighting. Maintenance completed we departed at 1000 and headed out of the Palm Coast canals to the ICW.
I had not really checked the current/tide to see what we would have but was pleasantly surprised to find we had a nice boost in speed from the current when we turned into the ICW heading south. We carried this boost in speed all the way to New Smyrna Beach.... 7 to 9 knots all day... awesome!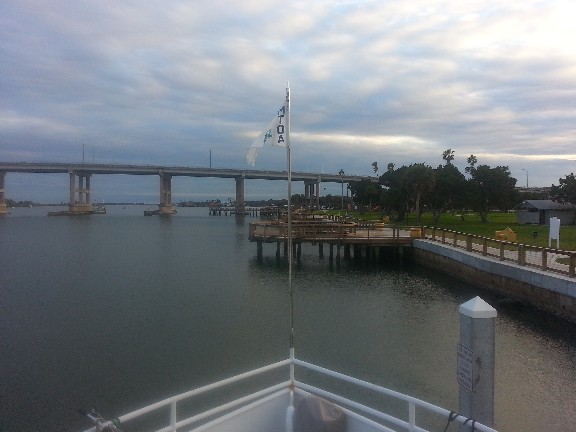 We arrived to our destination for the night at approximately 1515 at N29°01.535', W08°055.152'. We were docked at the free city docks. We traveled today for 5.25 hours covering 39.6 nautical miles averaging 7.5 knots.
Shortly after docking I was completing my logs and I heard someone outside on the dock knocking on the hull and saying "hello... SAILS"... I went out to the side deck and who did I see but Elaine Bartholomew looking up at me. A total surprise to see her... she said she was driving across the bridge and saw us docked and came to say hello... we invited her in and chatted catching up on what her and Bill (her husband) had been up to since we last saw them... it had been several years. They had sold their boat and now had a motor home and were "land cruising"... all over the US... even Alaska. Seeing her was a great surprise. did not get to see Bill but did talk with him on the phone briefly. Seems like every time we see them it is just like it was this time... totally unexpected.
1700 arrived and another knock on the hull... this one was expected... Peter Behr had arrived to pick us up for dinner at their home. We soon arrived and was greeted by Charlotte Behr. Beecha was pulling at her leash... "Where's Chester?"... we searched for Chester but he was no where to be found. We returned to the kitchen and Peter prepared cocktails for us. As the four of us and Beecha stood in the kitchen Chester appeared and was strolling toward the kitchen totally unaware Beecha was just around the corner. but it was not long before their eyes met... Beecha with her tail wagging so happy to see Chester... and Chester not so happy... his back arched and fur raised... you could see his dismay... "what is this white dog doing in my house?"... Chester and Beecha spent the evening staring at each other... Beecha wanting so badly to be friends and Chester very curious but not ready to be chums yet... some day maybe.
We spent the evening catching up with Peter and Charlotte... an awesome dinner and wonderful evening as always. Thank you Peter and Charlotte!