We departed from Deltaville this morning at 0630 and headed out the channel into the Chesapeake Bay. The forecast for the day was N winds 5-10 knots switching to W winds 5-10 knots with 1 foot seas. The winds seemed accurate but the seas were way off... it was flat calm all day long and the sun was out all day as well. It was an awesome day of cruising.
Well not totally perfect... about 3 hours into the trip I had a bilge alarm light come on for the aft compartment... lazarette... I turned the helm over to Susan and went to check it out... sometimes the rudder stuffing boxes will leak a little more and their overflow reservoir will overflow... but other than that the bilge in the lazarette is dry.
Upon entering the lazarette I notice d a small amount of water in the lowest part of the bilge where the pump is located... just barely enough to raise the float switch. I checked the rudder post reservoir and it was empty and totally dry... my mind then started spinning... where was this water coming from... I tasted it and it was fresh water... that's a relief... if it was salty then I had water coming through the hull some way... but fresh meant it coming from the interior of the boat. since it had been so cold I then figured it was condensation that had frozen and with it being warmer today had thawed out and formed the water I saw... it was maybe a gallon at most. I went and got a sponge and bucket and began to remove the water. I sat my flashlight down so I had both hands free... the flashlight was shinning to the starboard side of the boat... while I was sponging up the water I noticed a shimmering of light on the lazarette wall... the kind you see when light is reflecting off a water surface.
I stopped sponging and moved some things that are stored in the lazarette around to inspect the starboard side... low and behold I discovered a small lake... at least it looked that way to me when I first saw it... the entire right side of the lazarette was filled with water... The sides of the lazarette do not drain into the center until quite a bit of water is present... the weep hole is located in the middle and there is quite a bit of slope to the hull in this area so it holds a lot of water before any ever weeps into the lower bilge area where the bilge pump is located.
So, I scanned round the lazarette for a source of a fresh water leak as there was no way frozen condensation caused this much water. Then I saw it... a pin hole leak in a water line that feeds the rear deck shower head... and I mean "pin hole"... it was spraying a fine stream of water straight in to the side wall of the lazarette. It took all of 2 minutes to fix... tightened the hose clamp and it was fixed.
It evidently had been leaking for some time to accumulate this much water... a sponge was not going to come close to handling this. I retrieved a hand pump and began pumping the water from the right side into the center portion of the bilge where the bilge pump did it's job and pumped the water overboard. I estimate there was 20-30 gallons of water.
I cleaned up the small portion the pump did not remove with the sponge and we were good.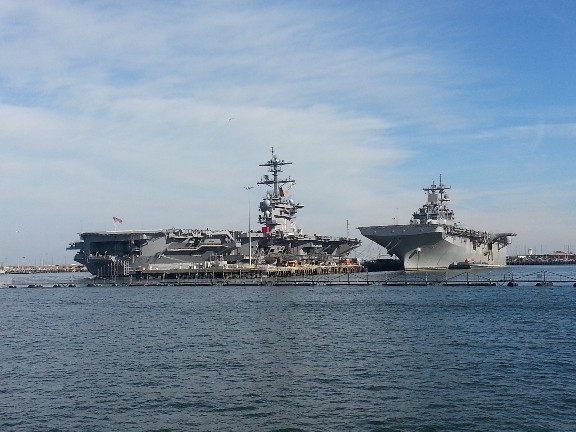 Boat traffic was again way up from what we have seen so far... even several other boats heading south. Tons of small fishing boats. We did have one neat encounter with another boat as we were entering the Norfolk area. We were hailed by "Curious Cat" on the VHF... and found it was one of very good friends that we visit quite often in Smithfield, VA... Wayne McPhail... this was his new boat he had just purchased and was on his way home with it. It was nice to hear his voice and wave to him as he passed by... wish we had had the time to go to Smithfield and visit him and his wife Judy... they are the best!
This trip we decided we would skip the Virginia Cut and take the Dismal Swamp route for a change. We have been stopping in different spots so this seemed the logical thing to do... we have not been this route since October 2008. We will miss the hassle with all the bridges starting with the Steel Bridge, Great Bridge Lock and Bridge...particularly the Centerville Turnpike and North Landing bridges... they have opening schedules that are just impossible to make at 7 knots... so you either have to push really hard or slow way down... pushing very hard with SAILS is just not happening... we have tried to make this in the 30 minutes between openings and just can't do it... so we have to slow down and take an hour to go 5 miles... really sucks.
So we opted for the Dismal Swamp route... two locks to deal with, one each end and two bridges at each lock. We had hoped to make the last opening today at 1530 for the northern lock... the "Deep Creek Lock"... but we were running about 15 minutes too late... we had current against us all day long... 4.5 to 6.3 knots.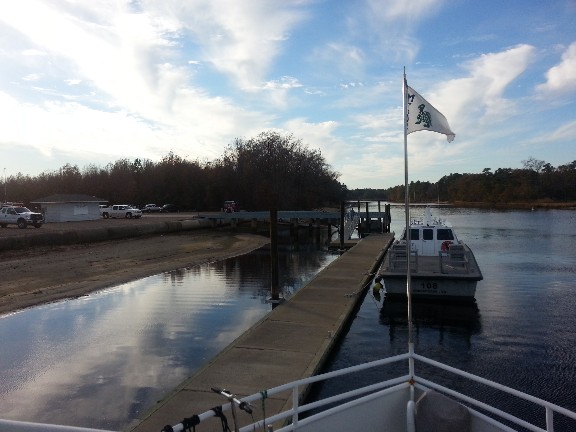 So unable to make the 1530 locking, we stopped at Chesapeake Yachts... they have a large floating dock... it's about 2 nautical miles from the Deep Creek Lock and best part it is FREE... no power or water but FREE works for us.
Our location for the night is N36°45.403', W076°18.079'. We traveled for 9 hours covering 55.8 nautical miles averaging 6.2 knots.