CT to FL Day 3
Atlantic City, NJ to Chesapeake City, MD

Departed Atlantic City at 0600 approximately 45 minutes before sunrise. The Atlantic was almost flat calm with only a small easterly swell.
We passed our first boat heading south in Cape May, NJ... prior to this we have only seen local fishermen. They looked so cold bundled in what looked like 20 layers of clothes... can't imagine doing this... the pilothouse has sure spoiled us.... :)
We had current against us most of the day averaging around 6 knots until we reached the Cohansey River area on Delaware Bay where we started to see a boost in speed.... reaching 8.5 knots by the time we reached the C&D Canal. But of course the minute we turned into the Canal the brakes came on... barely making 5 knots the rest of the way to our destination for the day... Chesapeake City, MD.
We arrived at approximately 2115. There was a catamaran sailboat at the town docks docks... boat 2 heading south. We docked behind them and were secure at the docks at 2130. The new town docks are very nice!
Our location for the night is
N39?31.626', W075?48.670'
. We traveled today for 15 hours covering 99.6 nautical miles averaging 6.6 knots.


Posted at 8:48 PM


CT to FL Day 2
Layover in Atlantic City, NJ

We stayed at the dock today waiting on weather... The winds howled all night from 20 to 30 knots out of the west and were forecast to continue all day today... and they did.

This would not of affected us for the trip from Atlantic City, NJ to Cape May, NJ... however, Delaware Bay would of been nasty... forecast for 3-5 foot seas... Wednesday the winds look good for both offshore and Delaware Bay and we will leave Atlantic City in the morning.


Posted at 6:38 PM


CT to FL Day 1
Oyster Bay, NY to Atlantic City, NJ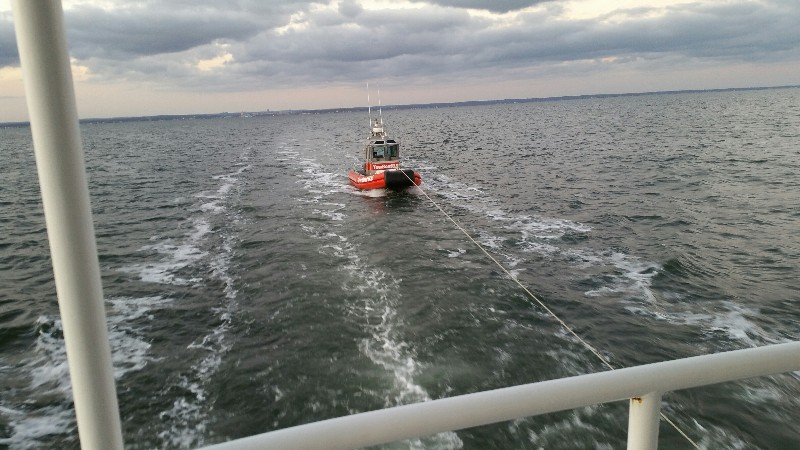 First day of our trip from Stamford, Connecticut to Punta Gorda, Florida… well, actually we left Stamford, CT yesterday on 11/21 and cruised across Long Island Sound to Oyster Bay, NY returning my towboat to Oyster Bay. We needed to depart at 0400 to have a favorable current through East River and Hell Gate… that was a too early our normal end of season routine… Normally, we would leave from Stamford towing the towboat… Once out into Long Island Sound, Susan would take control of SAILS and I would jump on the towboat and run it to Oyster Bay….then Mitch (my employer) would run me back out to rendezvous with Susan on SAILS. So, we left yesterday and spent the night in Oyster Bay… this also enabled us to have dinner with Mitch and his wife Donna which is always a pleasure.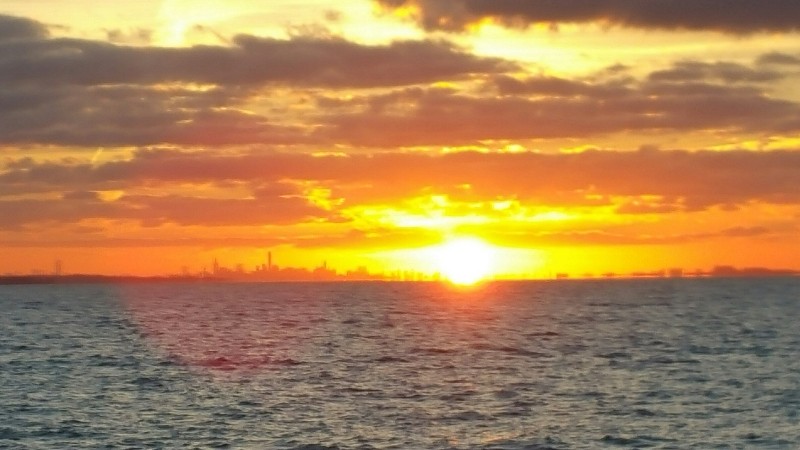 Gorgeous sunset as we crossed Long Island Sound with the New York City Skyline... :)
We departed this morning from Oyster Bay a bit later than planned at 0440 and headed out to Long Island Sound and west toward New York City. Even departing 40 minutes later than planned we still ran with a good boost from the current… hitting a top speed of 13 knots passing through Hell Gate. We carried the boost in speed well out of New York never dropping below 7 knots until well down the Jersey shoreline.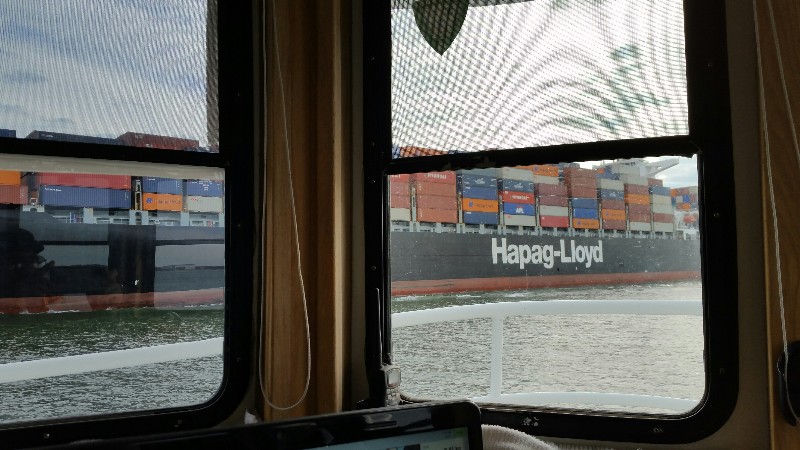 One whistle please... as we passed port to port with this gigantic container ship at the Verrazano Bridge exiting New York Harbor.
Of course as always the Jersey shore is filled with fishermen… this year seemed to be even more than normal and they all feel like they own the water and several of them would blowing their horns at us and waving us off when they felt we were too close to them.
Conditions offshore were not that bad… we had a west wind 15 to 20 knots and a southeast 4-6 foot swell but had a very long period…. Felt like you were being rocked in a cradle… and we hugged the shoreline eliminating any wave action from the west winds… the ride was not flat clam but very comfortable!
Arrived to our originally planned destination Manasquan at approximately 1400… made a command decision… continue to Atlantic City… another 7 hours or so but the sea state was pretty good… tomorrow could be horrible... ETA 2100.
We arrived to Atlantic City at 2110… winds had increased to steady 25 knots with gusts over 30 knots out of the WNW… We did nto notice any increase in wave height as we were heading into Atlantic City when this happened like someone turning a light switch on… We were securely docked at Gardner's Basin at 2140. Our position tonight is
N39°22.597', W074°25.264'
. We traveled today for 17 hours covering 122.8 nautical miles averaging 7.2 knots.


Posted at 9:06 PM