FL to CT Day 5
Stuart, FL to Vero Beach FL

We slept in today… we were both up quite bit during the night for Beecha… she was just not settling down and very restless… finally figured out it was just a little too warm for her. I broke out the fan and plugged it in and pointed it right at her and she settled right down and fell asleep in minutes… of course that was at 0430.
My alarm still went off at 0600… but no snooze button today… turned it off and rolled over and did not wake up until 0745... Susan and Beecha were both snoring away. I let them sleep until abut 0830 before waking them up. Beecha had her breakfast and we were off in the dinghy for her morning walk.
When we returned Susan had breakfast going and we sat and enjoyed it. Normally, while we are cruising north breakfast is in the pilothouse after we are underway… it was nice to sit at the table this morning.
0945 the engines were running and electronics ready to go… raise the anchor and we were underway at 1000 heading out of the Manatee Pocket towards the St. Lucie River.
Forecast for the day was for 10 knot winds out of the east and that's what we had. It producing a 1 foot chop on the beam… could not even feel it move SAILS. Of course we had a ton of boats out and they provide enough wake to rock us every now and then.
One bridge today in Fort Pierce that we needed a lift to get through… he was very responsive to our hail and we zipped right through with only a slight slow down before the bridge.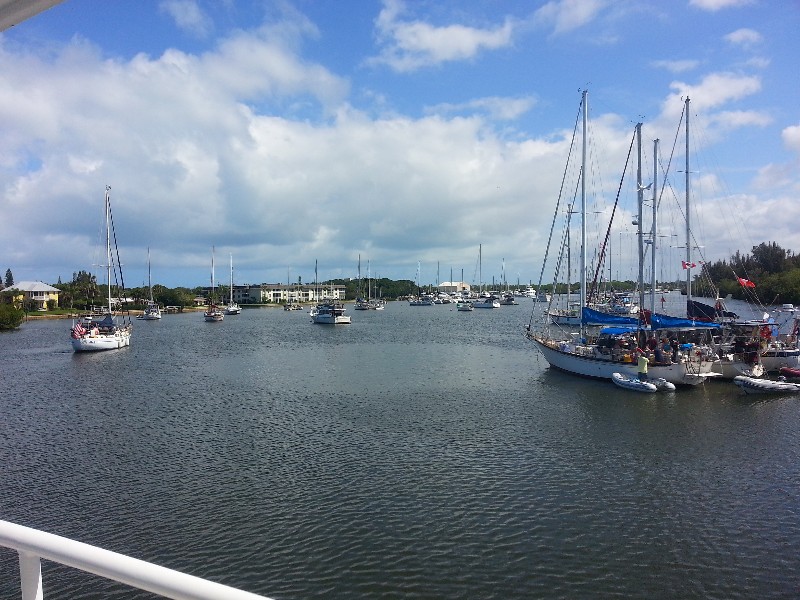 We did have a good delay when we arrived to our destination for the day. We had called early in the morning to reserve a mooring ball at the Vero Beach City Marina. The can fill up and we wanted to be sure to get a mooring ball. We arrived at 1445… hailed the marina on the VHF. They acknowledged but had no idea what mooring ball to assign to us or what mooring balls were even available…
we patiently waited for them to assign us a mooring ball… finally 45 minutes later at 1530 they assigned us a mooring ball. They also were very quick to inform us that if we return in the fall we would not be allowed to stay here… they were not going to allow larger boats in the future as they were damaging to their mooring balls…. Very Nice Welcome to Vero Beach Marina! NOT!!! As we headed toward our assigned mooring there were more than one mooring ball that had multiple boats attached to a single ball… not just 2 boats but 3 and 4 boats rafted together on a single mooring… I just have to think that this is a little hard on the mooring tackle… but this is acceptable.... ?

At 1545 and we were securely moored at position N27°39.706', W080°22.356'. We traveled today for 5 covering 32.24 nautical miles averaging 6.7 knots.


Posted at 3:10 PM


FL to CT Day 4
Clewiston, FL to Stuart, FL

Rise and Shine at 0600… well maybe 0630 as the snooze was hit several times before we actually got out of bed. Planned departure time of 0730… cross the Lake Okeechobee and have a 30 minute buffer to make the 1130 locking at Port Mayacca Lock.
We departed with several other boats all that were at Roland Martins Marina… We were boat number two underway at 0730 just as planned. I had to back out of the marina fairway… had been a while since backing any distance… but all went smoothly.
The forecast was for 5-10 knot winds again and it was not too far off. We had a one foot chop on the lake and had a very pleasant crossing. The other boats that departed after us soon passed us and they all rushed to the lock… WHY? I have no idea as they sat and waited… some of them a couple of hours… we arrived with about 15 minutes to spare at 1115. Right on the dot… 1130 the lock gates opened and all five boats proceeded directly through the lock into the St. Lucie Canal as both gates were open for a straight through no stop passage.
Within a few minutes all the other boats were out of sight and we were alone heading east. A lot of boats passed us heading west… evidently none of them aware of the lock being closed until 1630 as they were all in a hurry to get there only to have to wait.
We had one more lock today… the St. Lucie Lock and we missed making an east bound lockage by about 15 minutes so we had to wait at this lock for almost an hour before we made it through. This was the first real delay we had to endure so far this trip. The lock dropped us about 14 feet to the level of the St. Lucie River.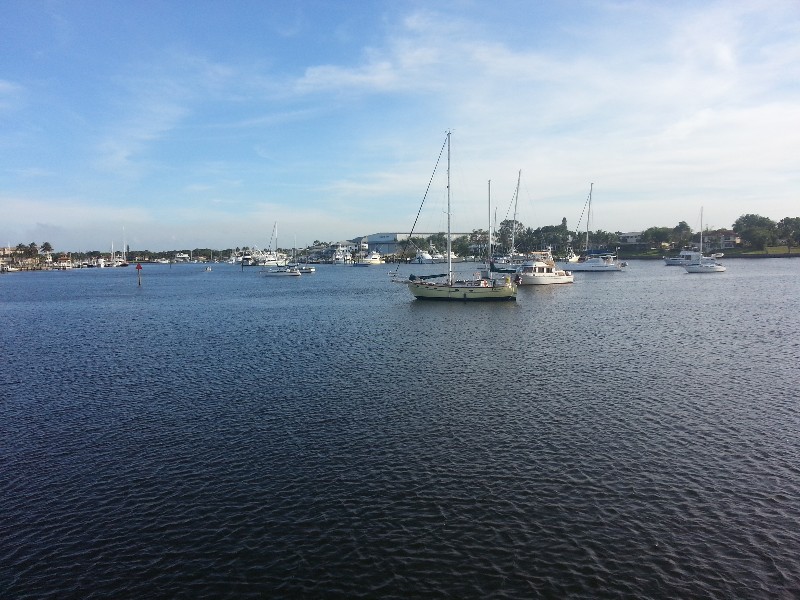 We decide to change things up a little this trip so instead of stopping at the Stuart City Docks we continued on to an area we had not been into since 2011… the Manatee Pocket. A very popular well protected anchorage. We arrived to find it packed with boats… I counted 25 boats anchored in a very small area. We managed to find a large enough gap and dropped the hook.
At 1800 and we were securely anchored at position
N27°09.257', W080°11.699'
. We traveled today for 10 hours 30 minutes covering 57.0 nautical miles averaging 5.43 knots.


Posted at 5:37 PM


FL to CT Day 3
Fort Myers, FL to Clewiston, FL

Departed from Fort Myers Yacht Basin at 0730 and headed east up the Caloosahatchee River. Destination for the day Clewiston, FL.
Forecast for the day was east winds 5-10 knots… which of course was way off and we had 15-20 knots winds all day. The winds did nothing as far as the sea state and it was smooth cruising all day. The only issue we had today with waves were boats passing us with huge wakes… no radio calls… just get beside us and plow through the water creating 4-5 wakes as they passed.
Had to transit 3 locks today… Franklin Lock, Ortona Lock and Moore Haven Lock… with a total rise of al most 14 feet to put at the level of Lake Okeechobee. All the lockings went smoothly with little to no wait.
We saw tons of boat traffic today and all were larger cruising style boats. A few headed east but the majority were heading west back toward Fort Myers. We expected to see just the opposite traffic flow with a lot of boats heading back north this time of the year.
We had several bridges to transit as well and all required a lift for us to pass through… Wilson Pigott Bridge, Alva Bridge, Fort Denaud Bridge and the Labelle Bridge. They always hold you up a few minutes at each bridge but today was very nice with very little wait at any of them.
We had left Fort Myers planning to make Clewiston as we needed to be in a good position to depart on Tuesday for the Port Mayacca Lock which is on restricted opening schedule due to divers repairing the Manatee protection netting at the locks… they are only allowing lockings three times a day for a 30 minute period… 0700-0730, 1130-1200 and 1630-1700. so we planned to be in Clewiston to leave… cross the lake and be a the lock for the 1330-1200 locking. It takes us about 3.5 hours to cross the lake so we will leave at about 0730 to give ourselves a 30 minute buffer… rather be early than late.
We arrived to Clewiston at approximately 1710 and were securely docked at Roland and Martins Marina with power on at 1720. Our location for the night is
N26°45.444, W080°55.118
We traveled today for 9 hours 50 minutes covering 59.23 nautical miles averaging 6.02 knots.


Posted at 4:54 PM