NC to CT Day 1
Beaufort, NC to Oriental, NC

After spending 3 months on the hard at Bock Marine, Beaufort, NC we are finally back in the water and headed north... HURRAY!
New bottom paint and a lot of rust repair and a new paint job on SAILS... not total.. just the blue hull... weather did not really let us work as often as we would have liked so we did not complete the decks and house but got a good start on them... will try to finish up over the summer little by little... :)
We were put back in the water on Monday 4/16... spent the night on the docks at Bock Marine and departed at approximately 0920 and headed north on Core Creek toward the Neuse River. Winds were WNW 20-25 knots... not much of anything for waves until we reached Neuse River then we had 2-3 ft. waves initially and they slowly diminished as we approached opposite shoreline and Oriental, NC.
Heard a lot of boats on the VHF as we traveled today... only saw one other boat... a sailboat named GRACE that we passed in Core Creek. Was funny seeing another boat named GRACE as we had some new friends at BOCK that were on a sailboat named GRACE.
With the Neuse River a little rougher than we desired we opted to stop in Oriental, NC for the night. Needed water so rather than our normal docking at the free Oriental Town Dock we stopped at Whittaker Point Marina on Whittaker Creek. WE have stayed here in the past and they have a courteous car and very nice club house.
We called the marina about an hour out and reserved a slip and asked about the depth of the approach channel to the marina. Last time we were here the channel was a little skinny and with fresh bottom paint we did not want to be kissing the bottom with SAILS. They told us approach depth is 7 ft. and 8 ft. at the docks... Well, we found that this was not true, and we saw typically 5.5 ft. in the channel and about the same at the dock. SAILS never kissed the bottom luckily.
Another boat was not so lucky coming in the channel and went aground coming in... 40' sailboat that called TowBoatUS for assistance. Was not long after this that TowBoatUS came in towing the sailboat GRACE we had passed in Core Cree earlier.
We were docked at approximately 1130 at Whittaker Pointe Marina located 34°
35°01.752'N 076°40.909'W
. Traveled today for 2 hours and 10 minutes covering 13.7 nautical miles averaging 6.3 knots.


Posted at 1:43 PM


CT to NC
New Bern, NC to Beaufort, NC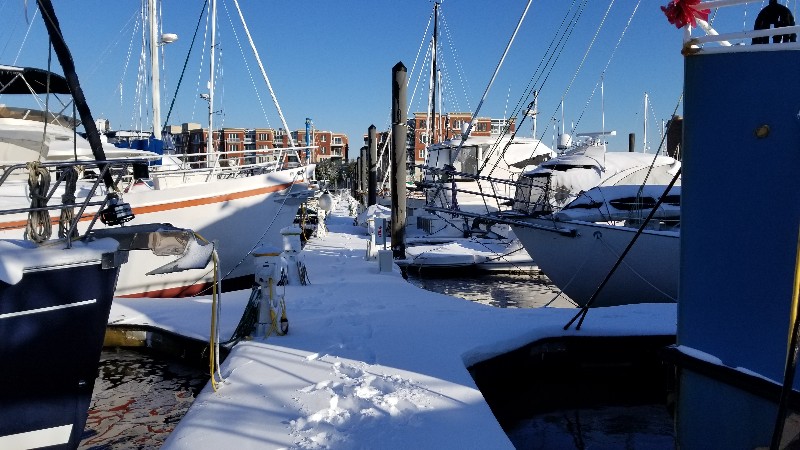 We ended up spending longer than expected in New Bern due to a Winter Storm that kept temps below freezing for about a week... temps ranging from 7° at night to low 20's during the day... I would guess about 6" of snow.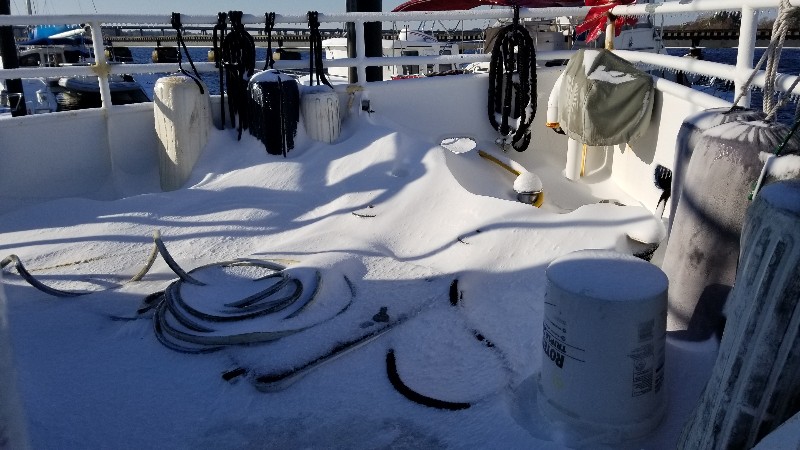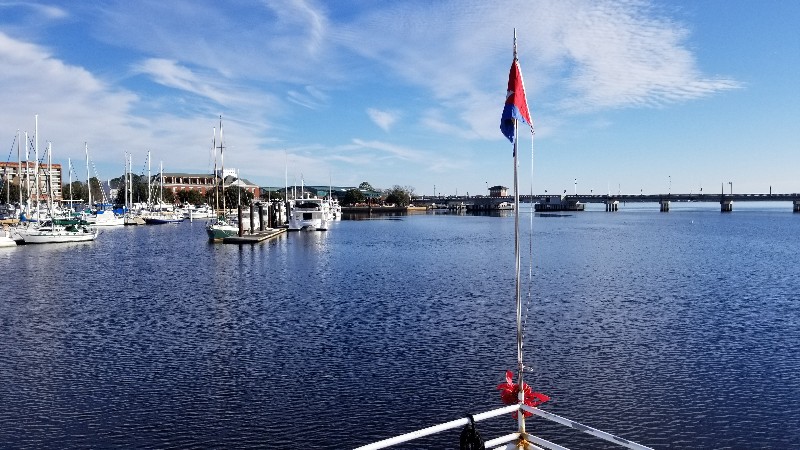 Departed from New Bern Grand Marina on 1-10-2018 at 0945... I was solo on the boat with susan staying behind to drive our car from New Bern to Bock Marine in Beaufort, NC.
Was flat calm on the Neuse River despite forecast of 2 foot seas... Even saw a few boats moving around... was a nice day.
I arrived to Bock Marine at approximately 1450 and was securely docked at 1500
34°49.440'N, 76°41.424'W
. Traveled today for 5 hours and 25 minutes covering 31.5 nautical miles averaging 6.0 knots.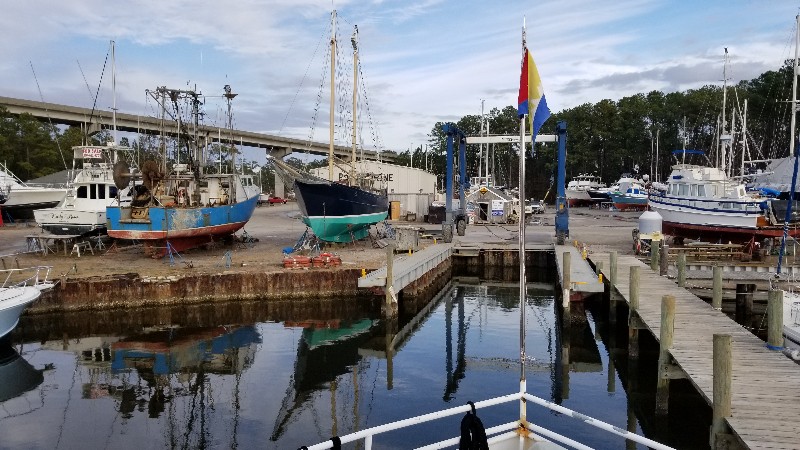 SAILS will be hauled out of the water tomorrow morning 1/11/2018. We will be the hard for the next couple of months for SAILS to get a little TLC.


Posted at 4:03 PM


CT to NC Day 17
Belhaven, NC to New Bern, NC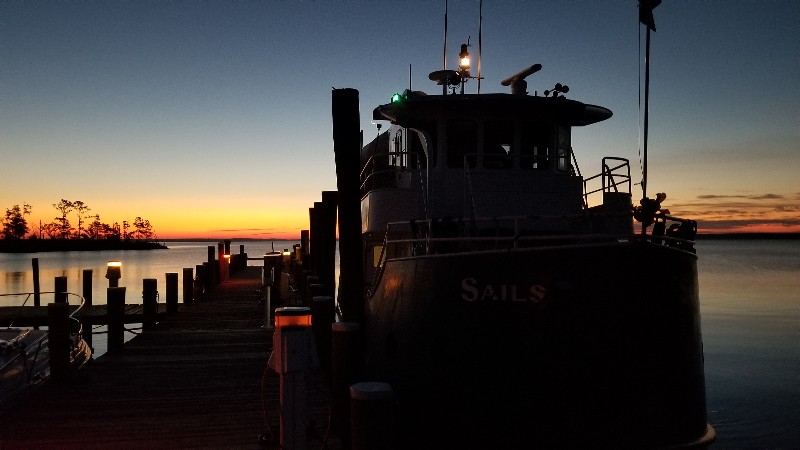 While at the marina we were able to use their courtesy car and go to Food Lion in Belhaven for some milk, bread and eggs... also got a big peperoni pizza to have for dinner... been 2 weeks since we had pizza and we ere both craving it...


We left before sunrise this morning at approximately 0640 and headed out Dowry Creek channel toward the Pungo River and the ICW... We saw no other boats until we reached Hobucken where we came upon three sailboats that spent the night on the docks there... they pulled out ahead of us and we followed them out to the Neuse River where we finally were able to pass them.

Out destination for night was New Bern Grand Marina and Yacht Club in New Bern, NC... about 21 nautical miles up the Neuse River past Oriental. Was very strange not stopping at Oriental... we have stopped there on just about every trip north and south.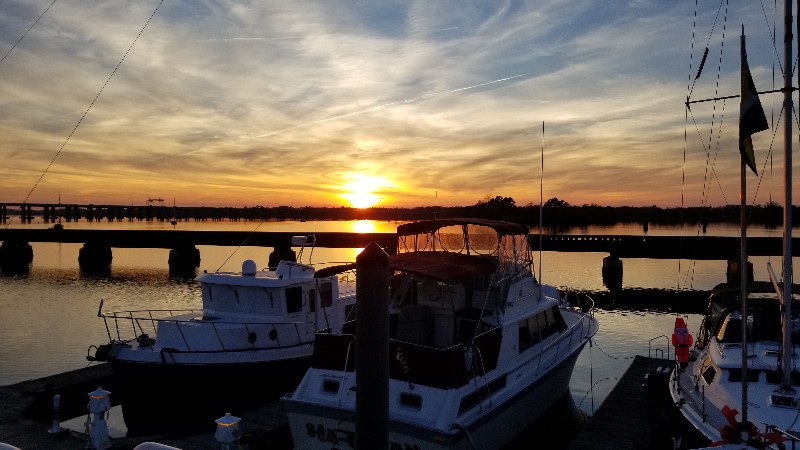 We arrived to New Bern, NC our destination for the night just before sunset at approximately 1630 and were securely docked at 1640 35°06.114'N, 77°02.467'W. We traveled today for 10 hours 64.1 nautical miles averaging 6.4 knots.

We will leave the boat here in New Bern over the holidays... returning in January 2018.


Posted at 5:13 PM