CT to FL Day 8
Crisfield, MD to Hampton, VA

I fell asleep just after midnight listening to the winds howl and heavy rain... I thought there was no way the conditions were going to be calm enough for us to leave in the morning... I was wrong! Awoke around 0500 and there was NO WIND. Looked at the weather forecast and it had not changed since I last looked... so we prepared to leave.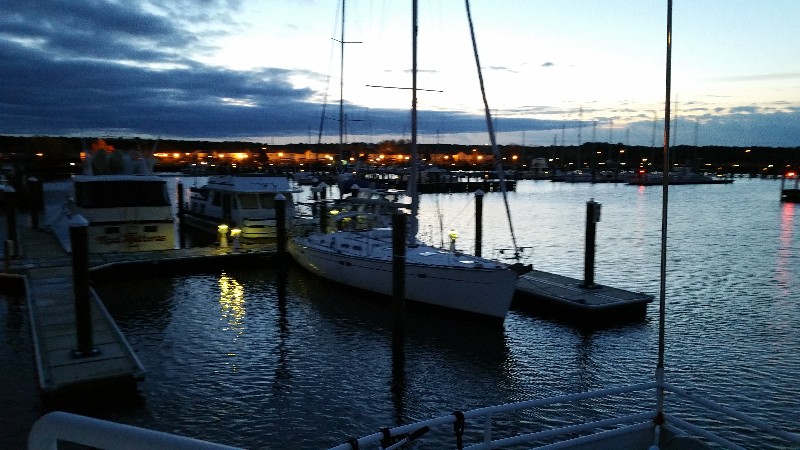 After a slow to get started morning we finally dropped the lines and were underway at 0630. The sun was just beginning to brighten the horizon as we backed out of the slip. Appeared like it was going to be a nice day... todays destination Hampton, VA as a staging point for our Friday destination of Smithfield, VA to visit Wayne and Judy McPhail who live on the Pagan River there. We can only get in to their home at high tide which is at noon on Friday... Hampton for the night and then only 3-4 hours to Smithfield on Friday where the new inverter/charger has already been delivered and waiting for me to install.
We had a favorable current for about 3 hours pushing us over 7 knots... but all good things seems to end and we slowed down as the current changed from ebb to flood... but stayed above 6 knots.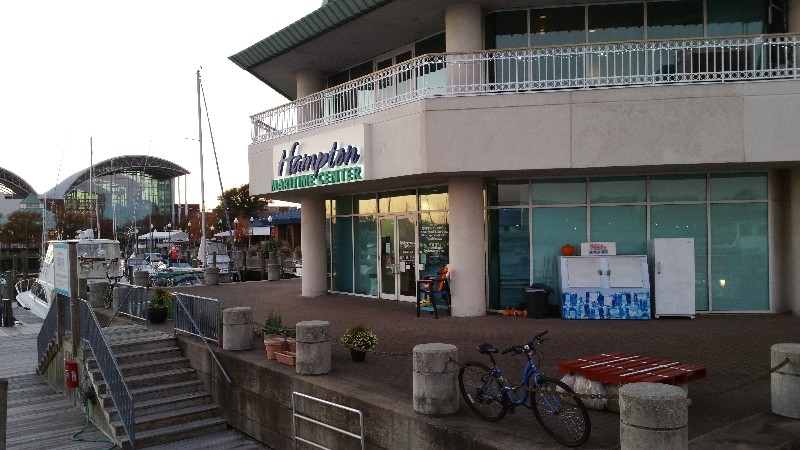 We arrived to our destination for the night Hampton Public Piers Hampton, VA and were securely docked at 1645. Our location for the night
N37°01.445', W076°20.478'
. We traveled today for 10 hours and 15 minutes covering 66.8 nautical miles averaging 6.5 knots.


Posted at 4:09 PM


CT to FL Day 6 & 7
Layover in Crisfield, MD

After spending 3 days in Crisfield waiting on the winds to subside we finally had a weather forecast that would allow us to continue our voyage south. Forecast was for the high winds to continue through the night but would drop to 10-15 knots out of the west northwest with seas 1-2 feet. So we plan to leave early in the morning and head to Hampton, VA..


Posted at 6:42 PM


CT to FL Day 5
North Beach, MD to Crisfield, MD

This morning we needed to fuel up SALIS before departing so we could sleep in as the marina fuel dock did not open until 0900... HURRAY... no alarm clocks today.... so of course we wake up early anyway... 0530 and wide awake... at least I woke up that early... Susan did sleep till abut 0700.
About 0730 I called the marina just to leave a voice message to let them know we were at the fuel dock waiting... wanted to be sure they knew we were there... winter months they are probably not that busy at the fuel dock.
Around 0850 someone arrived an opened up and started us fueling with 2 pumps at once...one in the hose in the starboard tank and one hose in the port tank. Still took about an hour to top off both tanks... 1001 gallons total. Last year we fueled at the same location and only put in 905 gallons... so almost 100 gallons more. We had some dock power issues at the marina over the summer and had to run the genreator while they repaired the problem over several days... did not think it was 100 hours though...WOW! The generator does burn about 1 gal an hour, so it is possible I guess.
We dropped the lines and were underway at 1000 heading back out into the Chesapeake Bay. Destination for the day planned as Crisfield, MD. Weather forecast looked pretty good with South winds at 10-15 knots seas 2 feet.
We did not get lucky with the current today and had current against us most of the day... slowest speed I saw was 5.0 knots... but typically around 6 knots... we should be doing about 6.8 to 7.0 knots with no effects from wind or current.
Towards late afternoon the winds changed from the forecast and we soon had 20-30 knot winds out of the south that very quickly kicked the seas up to steady 3-4 footers with some very nasty 6 foot rogue waves every so often. The worst part was they were directly on the bow and stacked up on top of each other. This produced a very uncomfortable ride. What we have come to call a "bell ringer ride". We call it this because the wave motion rings our bell that is mounted outside the pilothouse with each wave we hit...


We only had to endure these seas for about 2 hours... we eventually turned to the east and cut through Hooper Straight and left the Chesapeake Bay and entered Tangier Sound. In Tangier Sound we had some protection from the southerly winds and the seas dropped to 1-2 footers which are very nice to compared to what we had been in. We also got a break from the opposing current and soon were experiencing a slight boost in speed that lasted all the way to Crisfield.

We arrived to our destination for the night Somers Cove Marina Crisfield, MD and were securely docked at 2130. Our location for the night N37°58.643', W075°51.403'. We traveled today for 11 hours and 30 minutes covering 67.5 nautical miles averaging 5.9 knots.


Posted at 8:53 PM