CT to NC Day 12
Great Bridge, VA to Coinjock, NC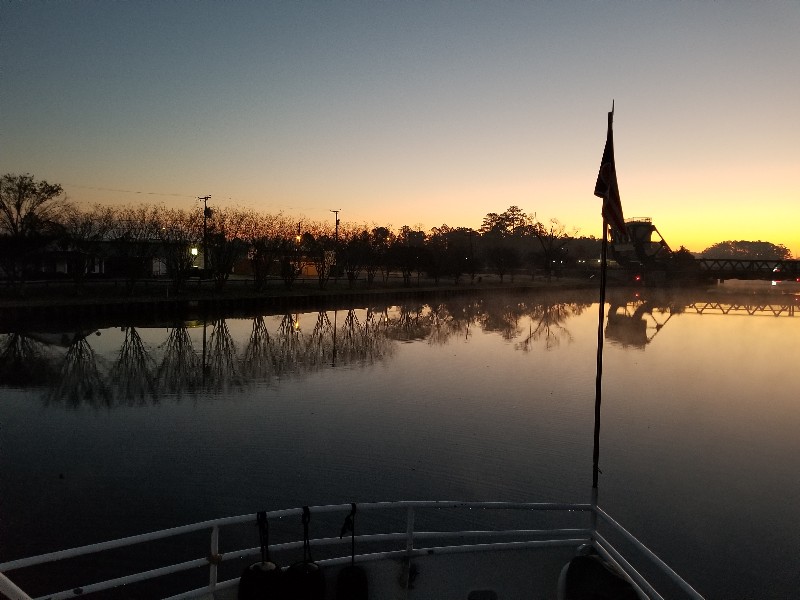 Up early and underway before sunrise to catch the Great Bridge Bridge 0700 opening. There was a heavy mist or fog that was almost like rain till the sun came up and it disappeared.
Forecast today was variable winds less than 5 kts and sunny... a great day to transit the Currituck Sound that can be a bit sloppy if the winds are up... so we had flat calm waters.... like glass.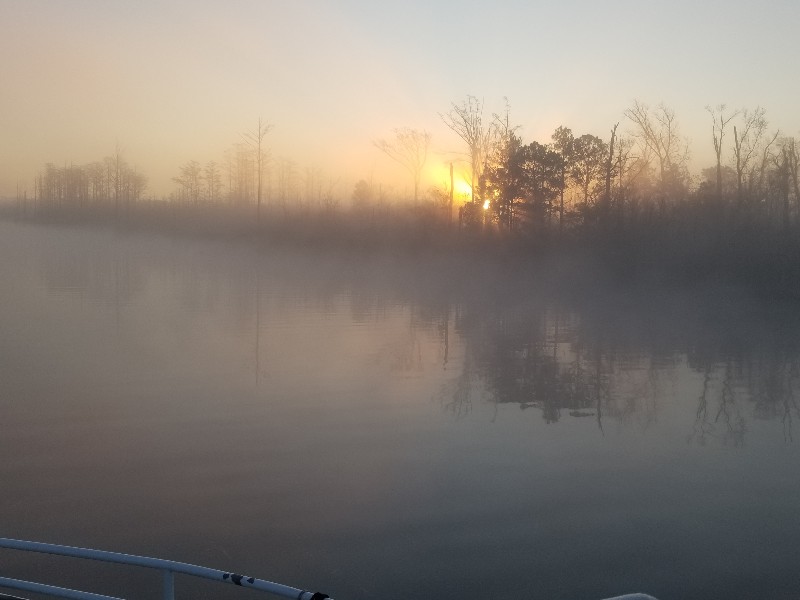 We are seeing more and more boats heading south... a few cruiser but most seem to be delivery captains.
We did have an unusual experience at the North Landing Bridge... a NICE bridge operator... these are a RARE thing... he was actually proactive and hailed us as we approached the bridge informing us about two deadheads (logs) he saw in the water between us and the bridge and wanted to be sure we saw and avoided them... we were shocked at how NICE he was.... made for a nice start to the day.
Weather also forecast a front coming through later today and tomorrow... winds to 40 kts and 100% chance of rain... we had to decide to go for along day and go all the way to Alligator River or stop at Coinjock Marina... Coinjock would be a noon arrival and Alligator River would closer to 1700... we opted for the shorter day and made a reservation at Coinjock... rather spend 2 days at Coinjock than 2 days at Alligator Marina and it would give me a day and half to catch up on some cabinet work.
We arrived to Coinjock at approximately 1130 and were securely docked at 1145... Our position tonight is
N36°21.010, W075°56.873'
. We traveled today for 4 hours and 45 minutes covering 32.1 nautical miles averaging 6.8 knots.


Posted at 12:59 PM


CT to NC Day 11
Deltaville, VA to Great Bridge, VA

We pulled the anchor at 0700 and were underway at 0715 leaving Jackson Creek heading back out to the Chesapeake Bay. Anchor and chain came up fairly clean with only minimal clay and mud mixture that washed off easily as the chain came in. The anchor was really set in the mud/clay... the windlass did not want to pull it free from the bottom... had to drive forward over it... no need to worry about dragging anchor here.
Seas were calm with wave being 1 foot or less... mostly sunny... so there were quite a few boats out today... the normal for a weekend and Saturday. Several sailboats around us that were cruisers heading south. I think we will begin to start seeing more and more each day from here south... we'll be on the ICW starting in Norfolk and the cruisers should pickup... hope so.... much more interesting day with other cruisers nearby.
We were not as lucky today in regard to current... we had current against us all day at one point as existed the Chesapeake Bay into the Hampton Roads we were running less than 5 knots...
I had not accounted for the slow speed and it screwed up our arrival time to the Great Bridge Lock.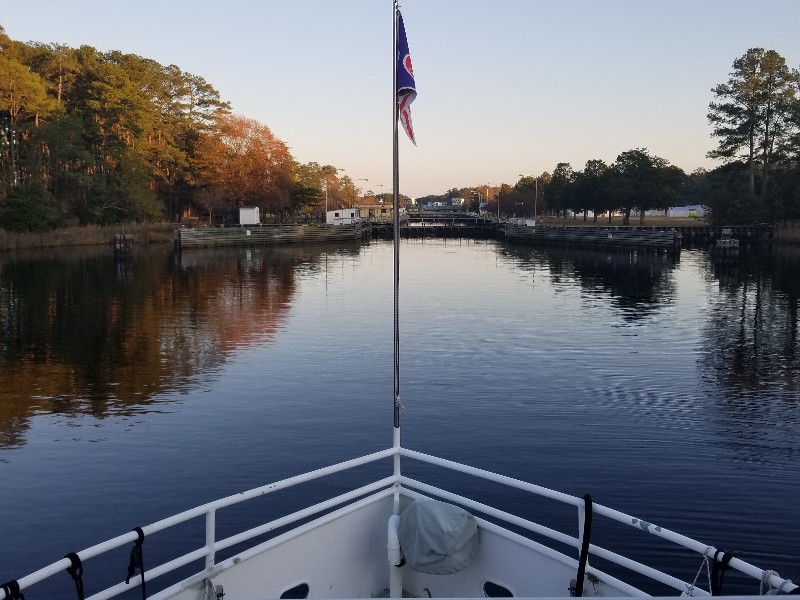 I had planned to lock through at the 1545 locking but we did not make it in time and had to wait serval minutes at the lock... not locking through until 1645. Not a big deal since the bulkhead between the lock and the Great Bridge was our destination for the night.

We were securely docked at 1700... Our position tonight is N36°43.290, W076°14.523'. We traveled today for 9 hours and 45 minutes covering 57.74 nautical miles averaging 5.9 knots.


Posted at 5:51 PM


CT to NC Day 10
Solomons, MD to Deltaville, VA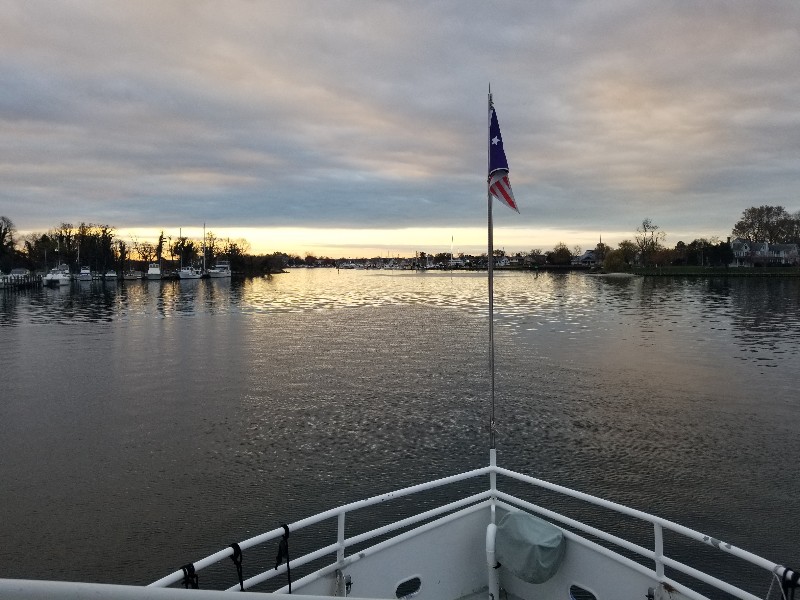 We departed from Calverts Marina this morning at 0715. Forecast was for 5 to 10 kts out of the north 1 ft seas... perfect!
Had a slight boost from current for about half the day running at 7.5 knots...midday we slowed to 6.5 knots... not too bad but prefer the boost.


Several sailboats were leaving the area this morning heading south... two were at the docks with us at Calverts… and saw 2 to 3 others during the day..... and of course the local fishing boats... commercial and recitational.... was a very nice day out on the bay... could of been sunnier but we were happy with partly cloudy and calm seas.

We had no real destination planned for the day when we left other than "south"... we came to the Reedville area at around 1230... too early to stop... we decided to find a nice place to anchor... with a little research of where we would be around 1600 we decided to venture into Jackson Creek in Deltaville... been a few years since we have been there and it's a nice peaceful anchorage.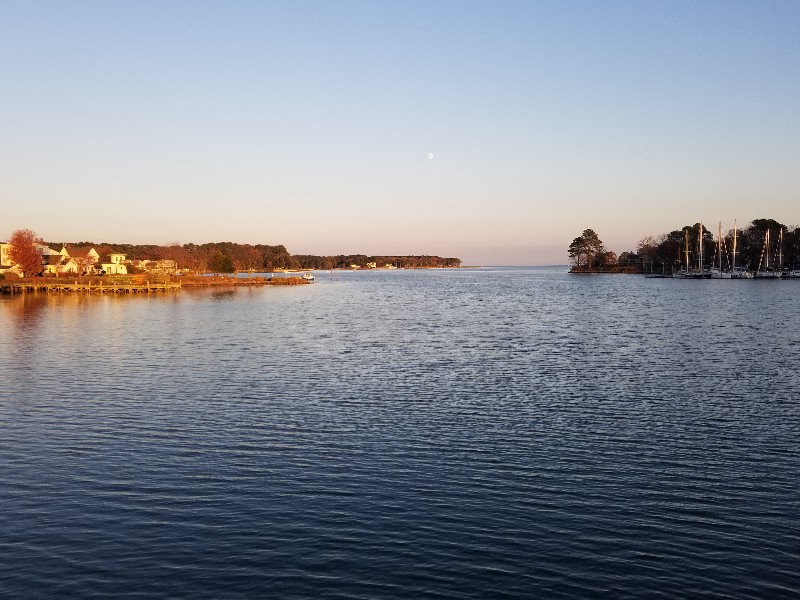 We dropped the hook and were securely anchored at 1530. Our position tonight is N37°32.698', W076°20.093'. We traveled today for 8 hours and 15 minutes covering 56.6 nautical miles averaging 6.9 knots.


Posted at 4:52 PM