Shortly after docking last night we had a knocks at the door... some fellow MTOA members were docked at the Moore Haven City docks just ahead of us. They saw our MTOA burgee and had came down to greet us... Larry and Theresa Valentine... they were traveling on their 42' Jefferson "Lauren Grace".
While Susan was talking with Larry and Theresa another woman came up and started talking with Susan. Susan thought it was the lady from the docks and proceeded to tell her we had just arrived and not yet put our dockage fee in the honor drop box. To her surprise it was not the lady from the marina but the sister of one of other MTOA friends... it was Charlotte Behr's sister... Charlotte and Peter Behr are some our best friends that we always try and stop and visit as we travel north and south each year. They always welcome us into their home.... GREAT FRIENDS! So happy to meet Charlotte's sister.
After getting settled in at the docks and Susan had dinner cooking so we took a walk with Beecha and went to better greet Larry and Theresa with a cocktail in hand. Spent a few minutes chatting with them and made plans to travel together the next day... Susan's timer went off... Dinner Ready! we returned to SAILS... nice dinner... some TV time and off to bed... long day to Stuart planned.
Alarm clock awoke us at 0630 and we went through the morning routine before departing at approximately 0715. As we left the docks I could see activity on "Lauren Grace".. Larry was on the fly bridge and yelled he would be ready momentarily and asked if I had called the lock yet. I acknowledged him and said I would call the lock.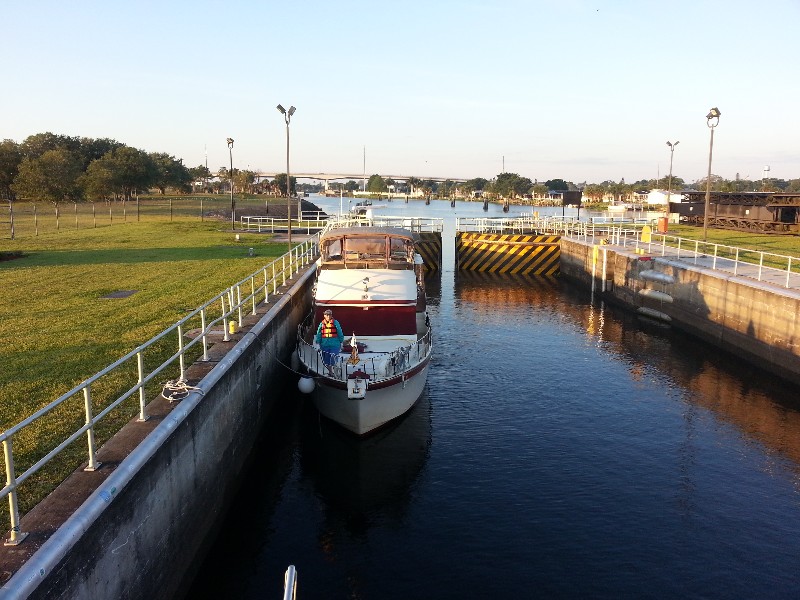 First agenda of the day was the Moore Haven Lock that was maybe a quarter of mile away. I hailed the lock and the lockmaster said he would have it ready by the time we arrived and he did. Saw the green light and enter the lock with no delay. "Lauren Grace" entered right behind us. 15 minutes later we were exiting the lock and cruising down the Lake Okeechobee Rim Canal toward Clewiston.
A few minutes later "Lauren Grace" hailed and asked to pass... they were running just a little faster than we were... not a problem... they passed and were soon well ahead of us soon only seeing them occasionally on the longer straight stretches of the canal.
Just before Clewiston we were met by several other boats heading west... seven larger motor yachts all with a hundred feet of each other and all attempting to pass a single sailboat also heading west... it just happened that they wanted to do this passing right as they were also passing us. It was quite the spectacle... if you can image SAILS on one side... a sailboat opposite us on the other side of canal and all these motor yachts between us... at one time two of them between us as they also were trying to pass each other.
Once out into Lake Okeechobee we were passed by a small caravan of boats... 8 or 9 total and they all were flying the same burgee... so must of been a yacht club cruise or similar... normally, you see one of two cruising boats in this area... never have we seen so many. There were still the numerous small fishing boats scattered along the way... seems fishermen are always present... rain or shine. It was a little windy today and the lake was choppy but nothing bad and the ride was very nice.
As we got close to the east side of the lake and Port Mayaca Lock I started monitoring VHF 13... communication with the lock take place on this channel... I could hear several boats communicating with the lock... then to our shock we heard... "East bound cruiser... you're the last boat we are locking through..." WHAT??? I hailed the lock and asked if we would make it... 15 minutes out from the lock... response... "no captain... divers going in the water for repairs... minimum 2 hour delay"... WOW! Change of plans needed... proceed to lock... anchor and wait and hope it is only 2 hours... or ??? We opted for the "OR" and changed course to Pahokee... we had stopped there on the way south and found it to be very nice stop.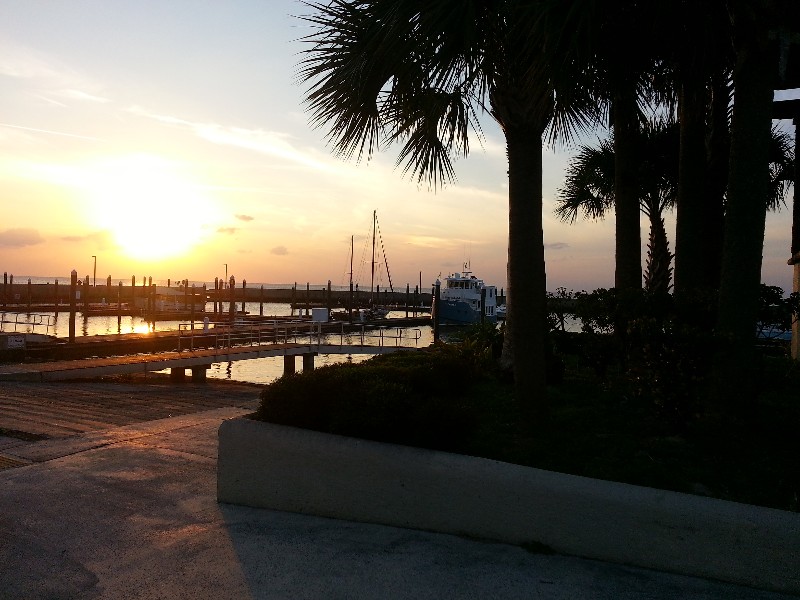 Changed course and an hour later we arrived to the Pahokee Marina. Not sure exactly what the current name of the marina is as it has changed many times over the past year or so.
We arrived at approximately 1300... location N26°49.528', W080°40.089'. We traveled today for 5.75 hours covering 35.6 nautical miles averaging 6.2 knots.